First and Only Weekly Online Fanzine Devoted to the Life and Works of Edgar Rice Burroughs
Since 1996 ~ Over 15,000 Webpages in Archive
Volume 1955

TARZAN'S FIGHT FOR LIFE
Gordon Scott
Film number 3 of 6 in the Scott series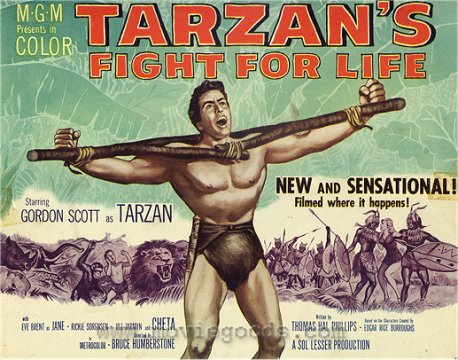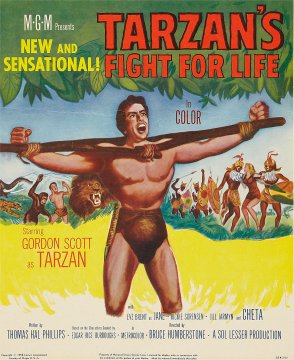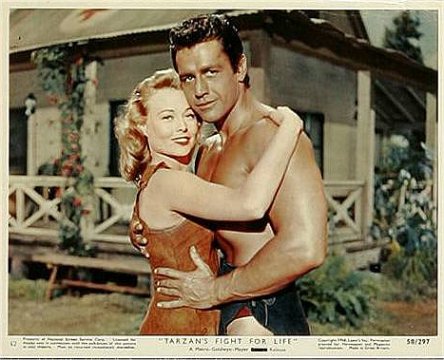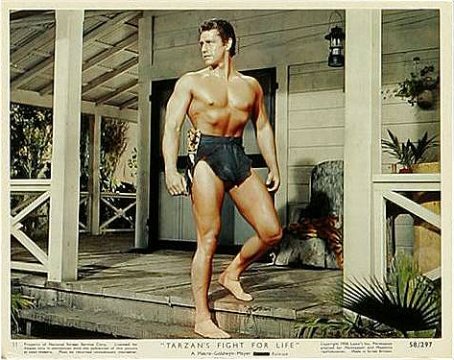 ---


Sol Lesser's Tarzan and the Lost Safari (1957) was the first Tarzan film to be presented in colour, and for the first time the cast and crew were sent to filming locations in British East Africa, and the Ape Man began to speak like an educated human. However, for the follow-up film, Tarzan's Fight For Life (1958), Lessor must have suspected that the Tarzan franchise was wearing out its welcome. He put much less money and effort into the production and his efforts to bring the jungle lord to television also stalled.

The three pilots that were intended to launch the TV series were edited together to form the black and white television release, Tarzan and the Trappers.

Tarzan's Fight for Life was shot before, but released after Tarzan and the Trappers. The film was the last release by Tarzan producer Sol Lesser. His last few efforts, this one included, were artistic and commercial failures, so Lesser made the difficult decision to sell the franchise to Sy Weintraub and Harvey Hayutin, who went on to revitalize the series with Tarzan's Greatest Adventure.

In Tarzan's Fight for Life, Gordon Scott makes his third appearance as the Lord of the Jungle, while Eve Brent costars as Jane and Rickie Sorensen plays a Boy-like character named Tartu (characters absent from the the two previous Tarzan flicks). The film is the epitome of everything that was wrong with the series at this point. It features the same ridiculous plot lines, the same illiterate Tarzan, the same cliches and cliffhangers and uninspired dialogue. Jane and Tartu are painfully generic and used only as plot devices.

Tarzan comes to the aid of medical missionary Dr. Sturdy (Carl Benton Reid), whose efforts to minister to the natives are being undercut by witch doctor Futa (James Edwards). Relying on superstition and fear, Futa hopes to foment a native riot, despite the more temperate atttitudes of tribal chieftan Ramo (Woody Strode).

Although film features relatively little action, the scene where Gordon Scott wrestles an eighteen-foot python is noteworthy. The snake nearly strangled him and required six men to pry it off the actor.


---

TRIVIA
* During African location filming with Miki Carter for this mostly studio bound film, Gordon Scott got along well with some natives involved in the movie. A Masai warrior nicknamed him "Mtu Ule Na Panda Mitu Minegu" (Warrior Who Climbs Tall Trees).
* Gordon Scott was nearly killed by the 5.6-metre python with which he was wrestling in this movie. It took six men to pull the snake off him.
* This was the final feature for producer Sol Lesser, ending a career that produced over one hundred features, including many other Tarzan features.
* During the location shoot, Scott won a bet by capturing and riding a wild giraffe for five minutes. Carter filmed this incident and it was included in the movie, as well as in the feature re-cut from an aborted TV series, Tarzan and the Trappers (1960).
* Under constant pressure from the all powerful Production Code, still in control of film making at this time, even Cheetah wears a loin cloth.
* M-G-M's studio mascot, Leo the Lion, has a cameo as a caged beast in the native village.
* All three of this film's principal actors (Gordon Scott as Tarzan, Eve Brent as Jane and Rickie Sorensen as Boy) would later reprise their roles in a failed 1960 attempt to feature Edgar Rice Burroughs' character in a television series. Three episodes were filmed, but when none of the TV networks at the time picked up the project, M-G-M spliced all three episodes together and they eventually aired as the TV movie Tarzan and the Trappers.
* This is the only film in the Gordon Scott era of Tarzan movies to feature the character of Jane.
* The picture was the second Tarzan film released in color, and the last to portray the ape man speaking broken English until Tarzan, the Ape Man (1981). The filming locations were in Africa and Hollywood, California.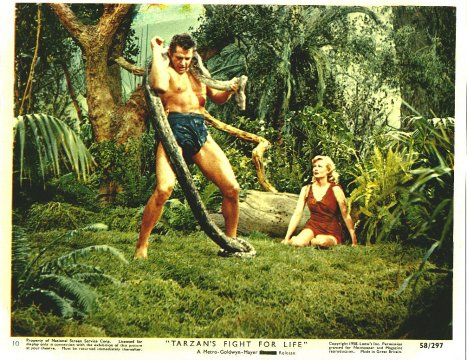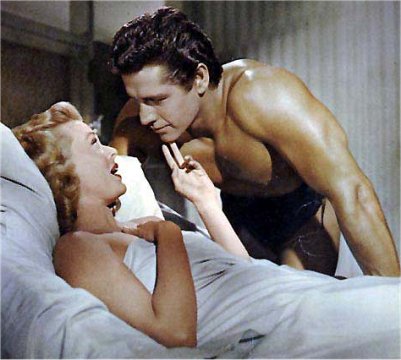 ---

CREDITS

---

TARZAN'S FIGHT FOR LIFE
Producer: Sol Lesser
Director: H. Bruce Humberstone
Released by Metro-Goldwyn-Mayer
Writing credits: Edgar Rice Burroughs (characters) ~ Thomas Hal Phillips
Release Date: July 1958 (USA) (Metrocolor)
Runtime: 86 min
Plot Summary: Dr. Sturdy is trying to establish a modern hospital in the jungle. His efforts are strongly opposed by Futa, the witch doctor, and Ramo, a native warrior. There are kidnappings, a race against time for serum, capture of Tarzan, the struggle of modern medicine against magic, etc. (Contributed by Ed Stephan)
Filming locations: Burney Falls, McArthur-Burney Falls Memorial State Park - Highway 89, Burney, California, USA
CAST
Gordon Scott ~ Tarzan
Eve Brent ~ Jane
Rickie Sorensen ~ Tartu, Tarzan's Adopted Son
Jil Jarmyn ~ Ann Sturdy
James Edwards ~ Futa
Carl Benton Reid ~ Dr. Sturdy
Harry Lauter ~ Dr. Ken Warwick
Woody Strode ~ Ramo
Cheeta (chimp) ~ Herself

---

REVIEWS

---

Bongo Bongo Boffo
TIME Magazine Review ~ July 21, 1958

Last week, 40 years after his first swing on a back-lot liana, Tarzan of the Apes ooo-eee-ooed the famed yodel, dropped from the treetops into his 32nd movie. Since the other 31 were all financial successes—a combined total gross of more than $500 million and a total audience of 2 billion people—the new Tarzan's Fight for Life showed the sort of promise most appreciated by Cinemogul Sy Weintraub, new head of Sol Lesser Productions, owner of the ape man.

The film also shows a Tarzan who has evolved in a wide arc from the original character of Edgar Rice Burroughs' novels, first played on the screen by the late Elmo Lincoln in 1918. Compared to Elmo, who was built like a water tower and once —on the set—killed a lion that tried to rough him up, the Tarzans of mid-century are sissies.

Tarzan's dialogue, over the years, has improved from a simple grunt to almost literate palaver.

The first Tarzan who actually spoke whole sentences was Lex Barker, of the New York Social Register, who in 1948 replaced Johnny Weissmuller, the mobil-est Tarzan of them all.

An Olympic champion and once the fastest swimmer in the world, Weissmuller also holds the record for longevity as the jungle hero: twelve versions over 16 years.

Today's Tarzan is Gordon Scott, 30, with a 50-in. chest. A onetime lifeguard at a Las Vegas hotel, Scott is the first Tarzan in color and CinemaScope.

In Tarzan's Fight for Life, Scott carries on with Jane No. 19 (Eve Brent), demonstrates what has become of Novelist Burroughs' inarticulate hero, the offspring of titled British parents whose deaths left him as a child to the motherhood of the jungle. The pristine Tarzan of the screen who hated all white men—although his name, in Burroughswahili, meant white (tar) man (zan)—is now the champion of modern medical science.

Tarzan 1958 knows a simple defense against the slings and arrows of mumbo jumbo. His prescription: "Take pill quick."



---

Tarzan's Latest Swings Into the Rialto
N.Y. TIMES REVIEW ~ August 16, 1958


You can get away with almost anything in a Tarzan picture, but Sol Lesser is pushing his luck with the latest one, "Tarzan's Fight for Life," which opened yesterday at the Rialto. It's not that it falls remarkably short of some of the others in the seemingly infinite Tarzan series. It's just that it's so awfully dull.

One reason is the tired and dated story material and dialogue that Thomas Hal Phillips set down in the script. It utilizes standard plot number so and so about the white missionary doctors trying to ward off the threat of a witch doctor, who doesn't want any outsiders cutting into his practice. Et cetera.

This is Gordon Scott's second stab at the role of Tarzan. As noted last time, he acts more like a cautious gymnasium instructor who runs to fat if he doesn't watch his weight than he does like the fabled apeman. Jane, the boy and the chimp, who were missing from the last one, are back in the act. Eve Brent as Jane is a blonde.

The footage of Africa is the same old business, but this time much of it doesn't even come close to matching the studio shots. This makes what is already silly seem even more ridiculous. Like the natives, the audience was restless.

---


Colorful, Entertaining, and Despite its Critics, Worth a Watch ~ IMDB Review
This is the Tarzan Movie that Stopped a Decades Long Franchise and sent the Tarzan Films in a New Direction. It sure has its Detractors, and it is Mediocre, but not Without some Entertainment Value.
It's Only the Second in Color and it is Colorful, check out the Native Attire. This Good Looking Tarzan also has the Very Good Looking Gordon Scott, and Jane (Eve Brent) is Stunning.
For Tarzan Action, He Rides a Giraffe and Fights an 18 foot. Python. Both Scenes with Real Animals with the Snake Unwilling to Let Go causing some On Set Panic. Tarzan is Captured and Bound Spread Eagle with a Caged Lion, and there is some Witch Doctor Eeriness for Suspense. Jane is in Peril a Few Times and Tarzan must Fight for Her Life as well as Others.
There are some Silly Things (Cheetah in loincloth) and some Bad Dialog. The other Female Character, Jill Jarmyn, Overacts Greatly and gets on the Nerves. But...
There's just too much Fun Going On here for this Entry to be Dismissed as Worthless. It's Worth a Watch.
---
LOBBY CARD DISPLAY
---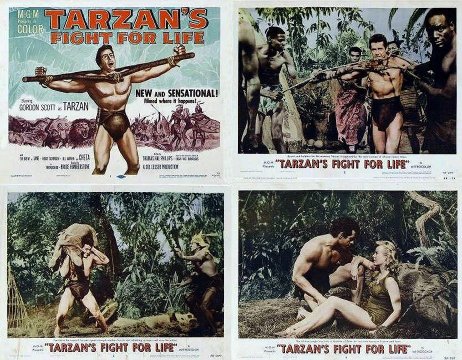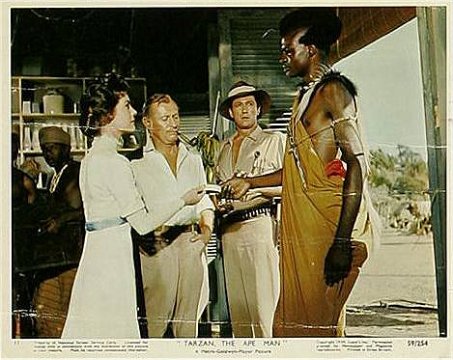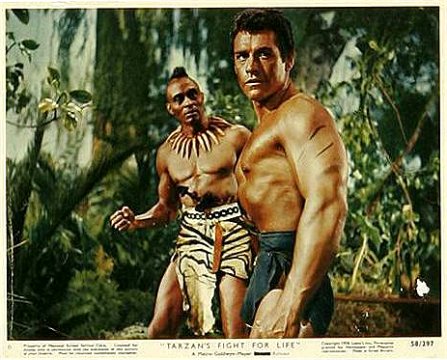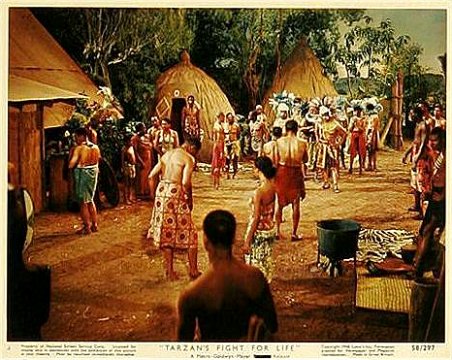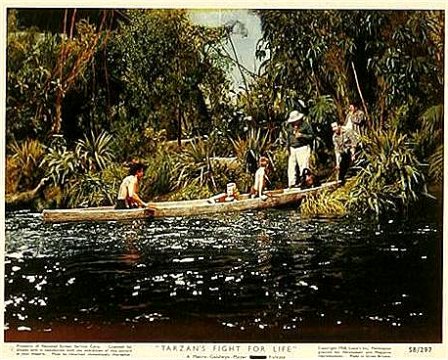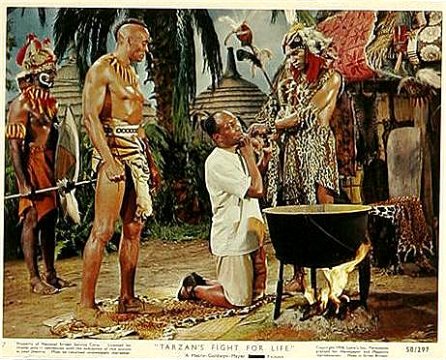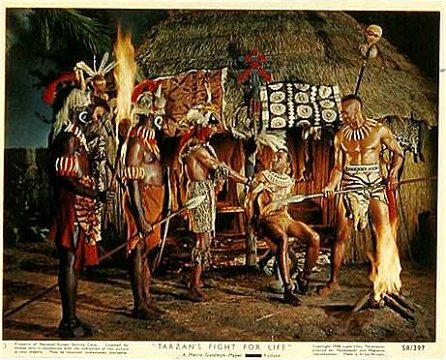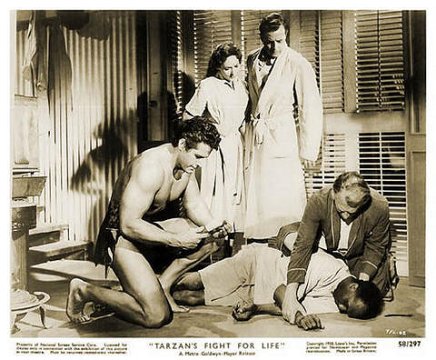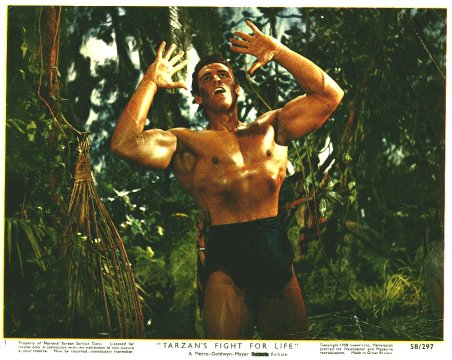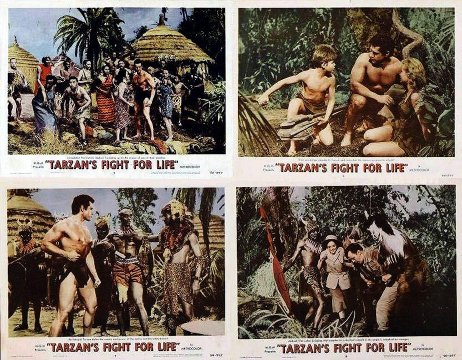 ---
DVD Size
Artist David Hoover has created a matched set of DVD jackets for the Warner Archive releases.
Click on the image for a larger print-out copy.
See more of David's excellent Tarzan art in our series starting at:
ERBzine 0340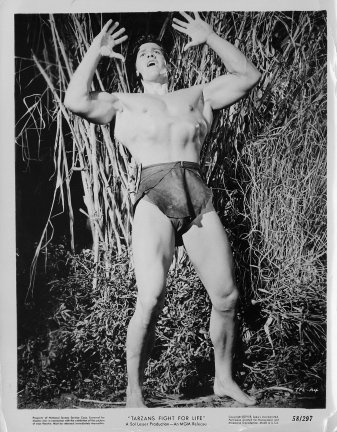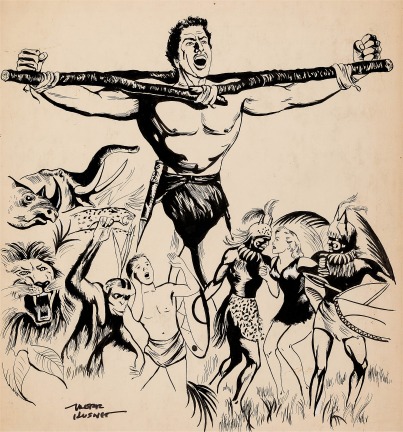 Tarzan art by Kusnet (né Morris Kusnetov)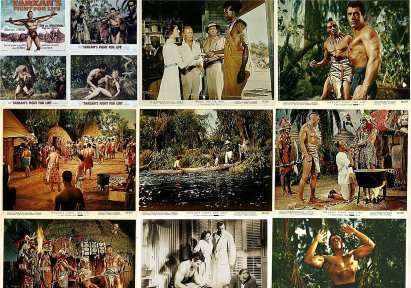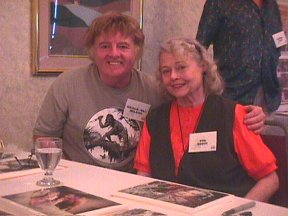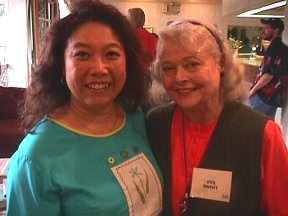 The Hillmans meet Eve Brent
Tarzana ECOF 2002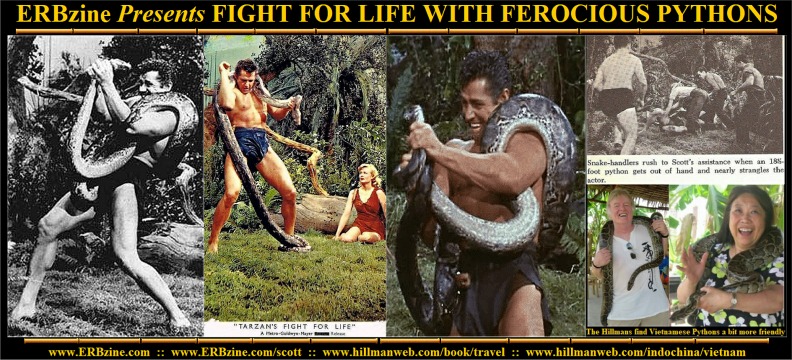 Click for full-size splash bar


GO TO THE EVE BRENT PHOTO GALLERY
www.erbzine.com/mag19/1955a.html



WEB REFS
ERBzine SILVER SCREEN COMPENDIUM
IMDB
Biography
In the Balcony

ERBzine.com
Presents
The Fantastic Worlds of Edgar Rice Burroughs
ERB Companion Sites Created by Bill Hillman
| | | | |
| --- | --- | --- | --- |
| Tarzan.com | ERBzine.com | DantonBurroughs.com | Tarzan.org |
| BurroughsBibliophiles.com | JohnColemanBurroughs.com | Tarzan.com/tarzine | JohnCarterOfMars.ca |
| ERBzine.com/edgarriceburroughs | Weekly Webzine | Weekly Webzine | Pellucidar.org |
| John Carter Film | ERB, Inc. Corporate Site | ERB Centennial | tarzana.ca |




WEBJED: BILL HILLMAN
Visit our thousands of other sites at:
BILL and SUE-ON HILLMAN ECLECTIC STUDIO
All ERB Images© and Tarzan® are Copyright ERB, Inc.- All Rights Reserved.
All Original Work ©1996-2011/2018/2021 by Bill Hillman and/or Contributing Authors/Owners