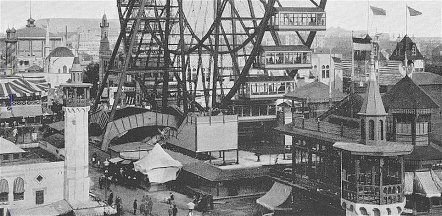 Ferris's Great Wheel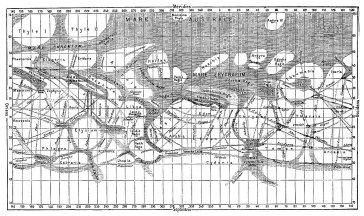 Schiaparelli Map of Mars 1886
The music that had, a few minutes ago, been a wave of cacophony, we could now hear but faintly in the distance: the plaintive wailing of an Arab's flute melded with the dull, monotonous pounding of a Turk's tamtam and barbaric war chants. All this was mingled incongruously with the majestic strains of the German national hymn wafting up from a passing marching band.

It was an impressive, almost surreal scene -- a memorable experience, especially for the girls who were taking it in for the first time, this wondrous street with its teeming throng of thousands. Farther to the east we could see the wonderful White City of glistening palaces and beyond that, the heaving waters of Lake Michigan. Even more impressive than the distant waters of the lake was the sparkling reflections of the many lagoons, ponds and canals woven in a complex pattern among the Fair's complex layout of buildings, avenues and islands.

My first thought upon seeing the network of canals far below was of the canal map of Mars drawn by a Mr. Schiaparelli of Italy. I just recently discovered this unusual document among the science textbooks that George and Harry had brought home from Yale. Indeed I could almost imagine myself on some distant planet as we hurtled through the skies on this great wheel -- looking down on the fantasy land below us with its teeming courtyards, majestic avenues, eclectic mix of unusual vehicles, parkland filled with exotic trees, complex waterways, shining palace-like buildings. All of this played out to a background of foreign music, sounds, and languages.