NEWS: Sacramento ECOF
August 12-14, 2004

Guests of Honour: Danton Burroughs ~ Richard Lupoff ~ Dan Parsons ~ Tom Yeates ~ Lydie Denier

First and Only Weekly Webzine Devoted to the Life and Works of Edgar Rice Burroughs
Since 1996 ~ 3,000 Web Pages in Archive

Master of Imaginative Fantasy Adventure
Creator of Tarzan®
and
"Grandfather of American Science Fiction"
August 6 - 12, 2004
A NEW EDITION EVERY FRIDAY
Thousands of Back Issue Features in Archive
THIS WEEK'S ERBzine CONTENTS
A Special Art & Photo Issue
NEWS & NOTICES: Click Here
---
---
---
---
---
FEATURE 5: Motes & Quotes Newzine ERBzine 1150
ERB Personal Library Collection
(Announcement of the Sept. 1 Release of 50 Huge Web Pages)
plus
One-Legged Tarzan Sketch by Peter Cook & Dudley Moore
ERB Mail Files: Letters and Postcard and Cheque
General Charles King Photo ~ Tarzana 1920s Brochure
LA SubERBs Meet ~ Digest Collectibles ~ Satellite images 'show Atlantis'
ERB Inspires Yet Another Star Wars
Why Stalin loved Tarzan and wanted John Wayne shot
Lost in the Translation: Spanish Titles
ERB is still remembered back in Idaho
Unauthorized Tarzan Movie from India ~ Trivia
Mailstrom: German Weissmuller Documentary
Top 100 Sci-Fi, Horror & Fantasy Films chosen by Cinescape
Recent Headlines in ERBzine News
http://www.erbzine.com/mag11/1150.html
---



FEATURE 6
We have collated many of our
Burroughs Bibliophile features into one directory.

History of the Burroughs Bibliophiles and Bulletin by George T. McWhorter

McWhorter's Index of the Burroughs Bulletins

Burroughs Bulletin Cover Galleries

Burroughs Bulletin (Old Coriell Series) Covers and Contents

House of Greystoke Publications and Dum-Dum Hilites: 1960 to Now

McWorter Memorial ERB Collection University of Louisville Virtual Tour

BURROUGHS BIBLIO-PRO-PHILE SERIES

Dum-Dum Dossier and News Events

www.ERBzine.com/bb
---
FEATURE 7: Archive
ERB ILLUSTRATED COMICS BIBLIOGRAPHY
COMICS: Early Years ~ Tip Top ~ Funnies ~ Dell ~ Gold Key ~ DC ~
Marvel ~ Dark Horse ~ Korak ~ UK ~ Holland ~ Israel ~ Australia
SUNDAY PAGES: Maxon ~ Foster ~ Manning ~ JCB
COLLECTIBLES ~ TRADING CARDS ~ BIG LITTLE BOOKS
www.ERBzine.com/comics
---
---

Over 10,000 of our ERB Web pages
Check the Master Index for the ERBzine Back Issues at:
www.erbzine.com/all


Lifetime Achievement Award
Louisville Dum-Dum 2003


Official Site from Danton Burroughs and ERB, Inc.
Art Galleries ~ Photo Albums ~ Family Anecdotes
www.johncolemanburroughs.com
---

Entertainers of the Year Award

July 11, 2002

PLEASE NOTE:
Our stable of writers thrive on feedback. . .
let them know that you are reading their work.
Our hit counters indicate thousands of weekly visitors to our sites
so let them know that you are out there.

---

Remember: we always welcome submissions ~
contact:
Bill Hillman at hillmans@westman.wave.ca
---

LAST WEEK'S FEATURES
July 30 - August 5, 2004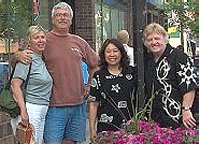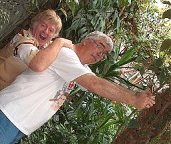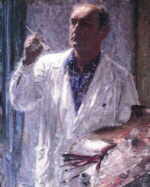 OKAR'n'R: Rescue & Respite for Joog, the Giant and his princess, Joogina
ERB Discusses Books & Collecting plus anecdotes from the early years
Tarzan Artist: Zdenek Burian Part I ~ Part of our Caz Profile
UPDATE: ERBzine 1161 ~ ERBzine 1162 New photos added to the Farewell Tarzana Features
News Updates www.ERBzine.com/news: Check out the regular news updates ~ often hourly ~
Dum-Dum 04 Update: Denny Miller added a report so Jerry O'Hara's Photo Journal
---

NEXT WEEK: August 13 - 19, 2004
JCB Letters
The ERB / Oak Park Connection
James Killian Spratt ~ Part II
COMING SOON ~ IN THE WINGS
Profile Tribute on Stan Vinson
Otis Adelbert Kline V: OAK Speaks & Weird Gallery
Bomba the Jungle Boy: The Tarzan Connection Part II
Hal Foster: Mysterious Maiden II Comics Summary
ERB and Buffalo Bill at the Chicago 1893 Columbian Exposition

From
Our FanFare section is always open as a showcase for ERB fan comments and creative work...
Send your submissions to
Bill Hillman
hillmans@westman.wave.ca

!!! READERS PLEASE NOTE !!!
Tarzan® is the property of Edgar Rice Burroughs, Inc., Tarzana CA

These e-Fanzines have been posted as a non-profit bibliographic and biographic reference for ERB scholars, fans and collectors. Material not created by myself has been collated largely from other sites on the web -- and I believe it to be in Public Domain or to fall under the category of "product promotion" or "fair use". Everything has been collated into this on-line repository to promote interest in the works of Mr. Burroughs. If there is any objection to the way in which any of this material has been displayed, or if I have infringed unlawfully on any copyright, I will implement its immediate removal. Bill Hillman

---

WEBJED: BILL HILLMAN

Visit our thousands of other sites at:
BILL & SUE-ON HILLMAN ECLECTIC STUDIO
ERB Text, Images and Tarzan® are Copyright ERB, Inc.- All Rights Reserved.
All Original Work ©1996-2004/2010 by Bill Hillman and/or Contributing Authors/Owners
No part of this web site may be reproduced without permission from the respective owners.