NEWS: New Tarzan Study in UK ~ Denny Miller Speaks ~ Sacramento ECOF
August 12-14, 2004

Bill Shell Remembered ~ John Eric Holmes Ill
Happy Birthday to Bill Ross O.F.C.

First and Only Weekly Webzine Devoted to the Life and Works of Edgar Rice Burroughs
Since 1996

Master of Imaginative Fantasy Adventure
Creator of Tarzan®
and
"Grandfather of American Science Fiction"
July 30 - August 5, 2004
A NEW EDITION EVERY FRIDAY
Thousands of Back Issue Features in Archive
THIS WEEK'S ERBzine CONTENTS
NEWS & NOTICES: Click Here
---

Joogina ~ Joog, the Giant
Dejah ~ JoN

FEATURE 1: ERBzine 1167
Most Burroughs fans are familiar with the various
ERB gatherings and conventions in the U.S.: The Dum-Dum, ECOF, etc.
But more and more fans are becoming aware of a unique Canadian event -
OKAR'n'R: Rescue & Respite which provides rest and recreation
for ERB fans who find themselves lost, stranded or under attack
while travelling in the wild northern regions of Okar - the Forbidden Land.
Our latest OKAR'n'R event plays host to
Joog, the Giant and his princess, Joogina
known by some by their Jasoomian names:
Dick and Ginnie Spargur
http://www.erbzine.com/mag11/1167.html


Swinging through the
upper terraces
---
FEATURE 2: ERBzine 1165
ERB Discusses Books & Collecting
This issue features a rare find by Danton Burroughs.
Among the Burroughs Archive he has retrieved correspondence between
Edgar Rice Burroughs and Herbert Hungerford of
"The American News Trade Journal."
These letters lead up to an article by Mr. Burroughs in which he expresses his love of books
and the collecting of books, as well as his views on book marketing.
He also shares entertaining anecdotes about his early years as a bookstore owner in Pocatello, Idaho
and as a door-to-door book salesman in Chicago and Oak Park.
http://www.erbzine.com/mag11/1165.html
---
FEATURE 3: ERBzine 0820
Tarzan Artist
Zdenek Burian
Introduced to American ERB fans by
Camille (Caz) Cazedessus back in the '60s.
Much of the Burian Tarzan art is now
showcased in the front office of ERB, Inc., Tarzana
http://www.erbzine.com/mag8/0820.html
---
---
FEATURE 5: News Updates www.ERBzine.com/news
Check out the regular news updates ~ often hourly ~
at our ERB News Site.
Some recent headlines:
"Me Tarzan, you pre-feminist symbol of patriarchal repression"
"Tarzan of the capes and mortar boards"
"Denny Miller Speaks Out: Your Tax Dollar at Work"
"ECOF GATHERING, SACRAMENTO, CA ~ August 12-14, 2004"
http://www.erbzine.com/news/
---
FEATURE 6: Dum-Dum 04 Update: ERBzine 1163
Denny Miller has added Dum-Dum and career memories to
the Dum-Dum 04 feature
This supplements Jerry O'Hara's super photo album and Dum-Dum account.
Thanks guys...
Keep 'em coming.
http://www.erbzine.com/mag11/1163.html
---

Over 10,000 of our ERB Web pages
Check the Master Index for the ERBzine Back Issues at:
www.erbzine.com/all


Lifetime Achievement Award
Louisville Dum-Dum 2003


Official Site from Danton Burroughs and ERB, Inc.
Art Galleries ~ Photo Albums ~ Family Anecdotes
www.johncolemanburroughs.com
---

Entertainers of the Year Award

July 11, 2002

PLEASE NOTE:
Our stable of writers thrive on feedback. . .
let them know that you are reading their work.
Our hit counters indicate thousands of weekly visitors to our sites
so let them know that you are out there.

---

Remember: we always welcome submissions ~
contact:
Bill Hillman at hillmans@westman.wave.ca
---

LAST WEEK'S FEATURES
July 23 - 29, 2004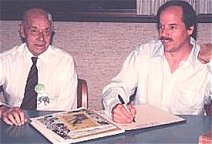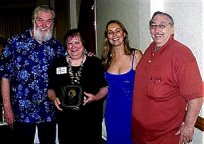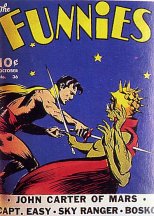 Frank Shonfeld: ERB Super Fan and ECOF Founder
DUM-DUM MEMORIES and PHOTO SCRAPBOOK by Jerry O'Hara
CHARLES KING: SOLDIER AUTHOR & ERB: MASTER OF ADVENTURE: Part II
ERB Comics & Collectibles Emporium: Update ERB Comics
FUNNIES Mosaic of JCB John Carter Comics: An Illustrated Bibliography

---

NEXT WEEK: July 30 - August 5, 2004
ERB Artist Profile: James Killiam Spratt: Master Jetan Sculptor
JCB Letters
Zdenek Burian: Tarzan Artist "discovered" by Caz II
The ERB / Oak Park Connection
COMING SOON ~ IN THE WINGS
Profile Tribute on Stan Vinson
Otis Adelbert Kline V: OAK Speaks & Weird Gallery
Bomba the Jungle Boy: The Tarzan Connection Part II
Zdenek Burian: Tarzan Artist I & II
Hal Foster: Mysterious Maiden II Comics Summary
ERB and Buffalo Bill at the Chicago 1893 Columbian Exposition

From
Our FanFare section is always open as a showcase for ERB fan comments and creative work...
Send your submissions to
Bill Hillman
hillmans@westman.wave.ca

!!! READERS PLEASE NOTE !!!
Tarzan® is the property of Edgar Rice Burroughs, Inc., Tarzana CA

These e-Fanzines have been posted as a non-profit bibliographic and biographic reference for ERB scholars, fans and collectors. Material not created by myself has been collated largely from other sites on the web -- and I believe it to be in Public Domain or to fall under the category of "product promotion" or "fair use". Everything has been collated into this on-line repository to promote interest in the works of Mr. Burroughs. If there is any objection to the way in which any of this material has been displayed, or if I have infringed unlawfully on any copyright, I will implement its immediate removal. Bill Hillman

---

WEBJED: BILL HILLMAN

Visit our thousands of other sites at:
BILL & SUE-ON HILLMAN ECLECTIC STUDIO
ERB Text, Images and Tarzan® are Copyright ERB, Inc.- All Rights Reserved.
All Original Work ©1996-2004/2010 by Bill Hillman and/or Contributing Authors/Owners
No part of this web site may be reproduced without permission from the respective owners.