HAPPY BIRTHDAY DANTON ~ CONGRATS TO BB AWARD WINNER JOAN BLEDIG

NEWS: Denny Miller New Book at the Dum-Dum 2004 ~ Lydie "Jane" Denier at Dum-Dum ~ Clarke On Mars

Tarzana Ranch Sale Finalized: See photo and announcement

First and Only Weekly Webzine Devoted to the Life and Works of Edgar Rice Burroughs
Since 1996

Master of Imaginative Fantasy Adventure
Creator of Tarzan®
and
"Grandfather of American Science Fiction"
June 25 - July 1, 2004
A NEW EDITION EVERY FRIDAY
Thousands of Back Issue Features in Archive
THIS WEEK'S ERBzine CONTENTS
NEWS & NOTICES: Click Here
---
---
---
---
FEATURE 4: Rare ERB Influence
Illustrated excerpts from the writings of
Captain Charles King Pt. II
~ ERB's Commandant at the Michigan Military Academy ~
King was a role model for the young cadet
and perhaps the biggest influence on Burroughs' writing style and
his lifelong fascination with the military.
http://www.erbzine.com/craft/king2.html
---
---
---
---
Burroughs Bibliophiles
Lifetime Achievement Award
Louisville Dum-Dum 2003
---

Entertainers of the Year Award

July 11, 2002

PLEASE NOTE:
Our stable of writers thrive on feedback. . .
let them know that you are reading their work.
Our hit counters indicate thousands of weekly visitors to our sites
so let them know that you are out there.

---

Remember: we always welcome submissions ~
contact:
Bill Hillman at hillmans@westman.wave.ca
---

LAST WEEK'S FEATURES
June 18 - 24, 2004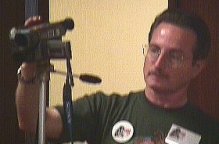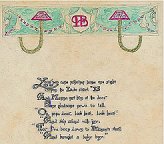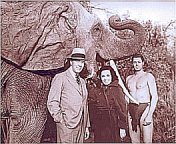 Wayne James Biblio-Pro-Phile: Part IV ~ Audio / Visual
Bill Ross: ERB Collector Presents DARK HORSE II
Burroughs Biblio-Pro-Phile: Camille "Caz" Cazedessus ~ ERB-dom Index II
ERB Influence: Henry Herbert Knibbs' JIM WARING OF SONORA-TOWN III
Danton Archive Update: ERB Timeline Bio: "Hillman" poem from Hully's 1909 baby book.
"Out There Somewhere" by Henry Herbert Knibbs: The Poem That Inspired The Mucker
ERBzine Silver Screen: TARZAN'S SEVEN LIVES by Edgar Rice Burroughs
---

NEXT WEEK: July 2 - 8, 2004
Special Farewell Tarzana Ranch Issue
Dum-Dum Reports
COMING SOON ~ IN THE WINGS
Zdenek Burian: Tarzan Artist "discovered" by Caz
General Charles King
Otis Adelbert Kline V: OAK Speaks & Weird Gallery
Bomba the Jungle Boy: The Tarzan Connection Part II
Zdenek Burian: Tarzan Artist I & II
Hal Foster: Mysterious Maiden II Comics Summary
ERB and Buffalo Bill at the Chicago 1893 Columbian Exposition
NEWS
DANTON BURROUGHS HITS THE BIG SIX O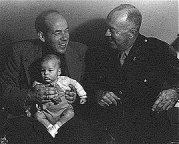 HAPPY BIRTHDAY KID
---
Congratulations to ERB super fan and scholar
Joan "J the V" Bledig
Joan was awarded the Liftetime Achievement Award at this year's Dum-Dum banquet at Fort Collins.
Wish we coulda been there J.
---
Fans in full swing at Tarzan convention
Report in the Coloradan
---
DUM-DUM 2004: Fort Collins ~ Honoring Glenn Morris with Guests Denny Miller & Lydie Denier~ June 25-27
---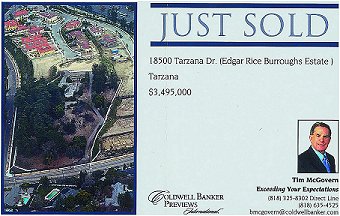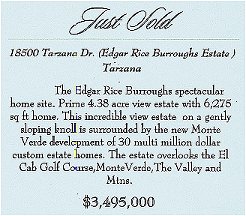 Click photo for large image
See more news in www.ERBzine.com/news
Just Sold
18500 Tarzana Dr. (Edgar Rice Burroughs Estate) Tarzana
The Edgar Rice Burroughs spectacular home site. Prime 4.38 acre view estate with 6,275 sq. ft. home.
This incredible view estate on a gently sloping knoll is surrounded by
the new Monte Verde development of 30 multi million dollar custom estate homes.
The estate overlooks the El Cab Golf Course, Monte Verde, The Valley and Mtns.
$3,495,000

---
Interesting article on Mars:
Leaving Home: Sir Arthur C. Clarke on Terraforming
". . . The mirage of Percival Lowell's canals was beginning to fade, though it would not vanish completely until our space probes began arriving in the late 1970's. It was still generally believed that Mars had a thin but useful atmosphere, and that vegetation flourished--at least in the equatorial regions where the temperature often rose above the freezing point. And where there was vegetation, of course, there might more more interesting forms of life--though nothing remotely human. Edgar Rice Burroughs' Martian princesses had joined the canals in mythology. . . . "

---
John Carter of Mars Pre-Production Film Art at our ERBzine News site:
www.ERBzine.com/news
---
New Tarzan Boxed Set Release ~ Completely Remastered for DVD
with a feature documentary featuring Tracy Griffin
"The highlight of the special features is the new full-length documentary, Tarzan: Silver Screen King of the Jungle (01h:19m:54s), which was co-produced by Turner Classic Movies. Film historians Rudy Behlmer and Robert Osborne are interviewed, as are Johnny Weissmuller, Jr., Burroughs historian Scott Tracey Griffin, and Maureen O'Sullivan (though hers is not new to this documentary). . . . " "Thanks to Warner Bros., the best collection of Tarzan adventures ever to grace the screen is now available to own in an appetizing boxed set."
---
Tarzan and Jane on the Trail to the Suburbs
New York Times Review By Dave Kehr ~ June 27, 2004
---
New Autobiography by Dum-Dum Guest: Denny Miller
See our Breaking News Page for details
---
See the ERBzine Archive for lead up stories featured in previous issues
---
ECOF GATHERING, SACRAMENTO, CA ~ August 12-14, 2004 ~ Guests: Lupoff ~ J.E. Holmes ~ Yeates
Free T-Shirt Offer: See the Update at the Convention Dossier Page
Visit the Tarzana Community and Cultural Center: www.mytarzana.org

Our FanFare section is always open as a showcase for ERB fan comments and creative work...
Send your submissions to
Bill Hillman
hillmans@westman.wave.ca

!!! READERS PLEASE NOTE !!!
Tarzan® is the property of Edgar Rice Burroughs, Inc., Tarzana CA

These e-Fanzines have been posted as a non-profit bibliographic and biographic reference for ERB scholars, fans and collectors. Material not created by myself has been collated largely from other sites on the web -- and I believe it to be in Public Domain or to fall under the category of "product promotion" or "fair use". Everything has been collated into this on-line repository to promote interest in the works of Mr. Burroughs. If there is any objection to the way in which any of this material has been displayed, or if I have infringed unlawfully on any copyright, I will implement its immediate removal. Bill Hillman

---

WEBJED: BILL HILLMAN

Visit our thousands of other sites at:
BILL & SUE-ON HILLMAN ECLECTIC STUDIO
ERB Text, Images and Tarzan® are Copyright ERB, Inc.- All Rights Reserved.
All Original Work ©1996-2004/2010 by Bill Hillman and/or Contributing Authors/Owners
No part of this web site may be reproduced without permission from the respective owners.