NEWS: Denny Miller New Book ~ Opar? ~ PM Pre-Prod Art ~ Coens to do Tarzan? ~ Griffin in WB Doc.


First and Only Weekly Webzine Devoted to the Life and Works of Edgar Rice Burroughs
Since 1996

Master of Imaginative Fantasy Adventure
Creator of Tarzan®
and
"Grandfather of American Science Fiction"
June 11 - 17, 2004
A NEW EDITION EVERY FRIDAY
Thousands of Back Issue Features in Archive
THIS WEEK'S ERBzine CONTENTS
NEWS & NOTICES: Click Here
---
FEATURE 1: ERBzine 1156
Bill Ross: ERB Collector Presents
Who's Who Behind the Comics
DARK HORSE I
Tarzan/Mugambi ~ Tarzan/John Carter ~ Return of Tarzan ~
Tarzan vs Predator at Earth's Core ~ Tarzan/Carson of Venus ~
Tarzan: The Savage Heart
http://www.erbzine.com/mag11/1156.html
---
---
---
FEATURE 4: Rare ERB Influence
Novel and Poetry by one of ERB's Favourite Authors
Henry Herbert Knibbs'
JIM WARING OF SONORA-TOWN
or
TANG OF LIFE
The second of three parts appears this week in our Library Section
http://www.erbzine.com/craft/hhk2.html
---
FEATURE 5: ERBapa Update
The Latest Issue from OE Henry Franke:
ERBapa 81 Spring 2004 ~ Issue No. 81
Cover art by Tom Yeates and Shaun Hoadley
and a detailed list of contents
have been added to our ERBapa site
www.erbzine.com/apa
---
FEATURE 6: ARCHIVE: ERBzine 0255
Meet the Master of Adventure
MEET THE AUTHORS by ERB - Amazing Stories - June 1941
FOOLS RUSH IN by ERB ~Tarzan Triumphant dust jacket - September 1, 1932
TARZAN'S AUTHOR, EDGAR RICE BURROUGHS, DIES AT AGE OF 74
~ Associated Press~ Obituary
http://www.erbzine.com/mag2/0255.html
---
FEATURE 7: ARCHIVE ERBzine 0298
MEET BURNE HOGARTH
An Informal Chat With "The World's Greatest Comics Artist"
---

Over 3,000 of our ERB Web pages
have been transferred to the new ERBzine.com location.
Check the Master Index for the ERBzine Back Issues at:
www.erbzine.com/all


Visit the Official John Coleman Burroughs Site
from Danton Burroughs and ERB, Inc.
Art Galleries ~ Photo Albums ~ Family Anecdotes
www.JohnColemanBurroughs.com
---

July 11, 2002
PLEASE NOTE:
Our stable of writers thrive on feedback. . . let them know that you are reading their work.
Our hit counters indicate thousands of weekly visitors to our sites so let them know that you are out there.
---
Remember: we always welcome submissions ~ contact:
Bill Hillman at hillmans@westman.wave.ca
---

LAST WEEK'S FEATURES
June 4 - 10, 2004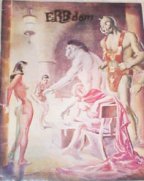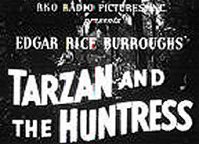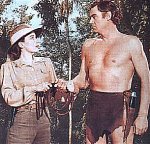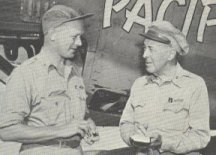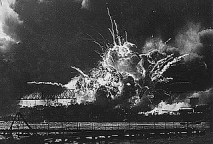 Camille "Caz" Cazedessus: Burroughs Biblio-Pro-Phile
Caz's ERB-dom: Index IV: Issues 76 - 90
Bomba the Jungle Boy: Tarzan Similarities in Titles 1-5 by Steve Servello
ERBzine Silver Screen: Tarzan and the Huntress
Henry Herbert Knibbs' JIM WARING OF SONORA-TOWN: Pt. 1
Archive: ERB: THE WAR YEARS:
ERB -Truman H. Landon Connection
ERB - SS Shaw Connection
---

NEXT WEEK: June 18 - 24, 2004
Bill Ross: ERB Collector ~ Who's Who Behind the Comics ~ Dark Horse II
Contents Checklist Pt. II of Cas'z ERB-dom ~ Part of the Camille "Caz" Cazedessus Biblio-Pro-Phile
Wayne James Biblio-Pro-Phile: Part IV ~ Audio / Visual
Henry Herbert Knibbs' Novel: Jim Waring Part III

COMING SOON ~ IN THE WINGS
The ERB-dom Story: A Camille "Caz" Cazedessus Biblio-Pro-Phile
Zdenek Burian: Tarzan Artist "discovered" by Caz
Bill Ross: ERB Collector Series: ERB Softcovers
Bill Ross: ERB Collector Series: Dark Horse Illustrated Biblio II
Bomba the Jungle Boy: The Tarzan Connection Part II
Zdenek Burian: Tarzan Artist I & II
Hal Foster: Mysterious Maiden II Comics Summary
Otis Adelbert Kline V: OAK Speaks & Weird Gallery
Another page from the John Coleman Burroughs Family Album
NEWS
---
John Carter of Mars Pre-Production Film Art at our ERBzine News site:
www.ERBzine.com/news
---
New Tarzan Boxed Set Release ~ Completely Remastered for DVD
with a feature documentary featuring Tracy Griffin

"The highlight of the special features is the new full-length documentary, Tarzan: Silver Screen King of the Jungle (01h:19m:54s), which was co-produced by Turner Classic Movies. Film historians Rudy Behlmer and Robert Osborne are interviewed, as are Johnny Weissmuller, Jr., Burroughs historian Scott Tracey Griffin, and Maureen O'Sullivan (though hers is not new to this documentary). . . . " "Thanks to Warner Bros., the best collection of Tarzan adventures ever to grace the screen is now available to own in an appetizing boxed set."
---
REAGAN THE AMERICAN DREAMER
An excerpt from the Ronald Reagan Tribute in NINEMSN Bulletin
"Confronted by a chaotic childhood, Reagan sought refuge in a world of legendary exploits. This is not uncommon in the boyhoods of Great Men. Winston Churchill, long and painfully ignored by his parents, constructed an elaborate imaginary life as he grew up. The future British prime minister collected thousands of toy soldiers and devoured stories of great English military heroes; the young Reagan voraciously read Edgar Rice Burroughs's tales of adventure in outer space."
---
OPAR ORIGINS?
Satellite images 'show Atlantis'
A scientist says he may have found remains of the lost city of Atlantis.
We have in the photos concentric rings just as Plato described
Dr Rainer Kuehne, University of Wuppertal
"Satellite photos of southern Spain reveal features on the ground appearing to match descriptions made by Greek scholar Plato of the fabled utopia. Dr Rainer Kuehne thinks the "island" of Atlantis simply referred to a region of the southern Spanish coast destroyed by a flood between 800 BC and 500 BC. The research has been reported as an ongoing project in the online edition of the journal Antiquity. . . . "
---
New Autobiography by Dum-Dum Guest: Denny Miller
See our Breaking News Page for details
---
See the rave review of the fascinating new book: Tarzan Presley
Review featured at our ERBzine News Site
---
Latest ERB Film News:
Coen Brothers to make TARZAN?
Also see Ain't It Cool News May 26, 2004
---
See the ERBzine Archive for lead up stories featured in previous issues
---
DUM-DUM 2004: Fort Collins ~ Honoring Glenn Morris with Guest Denny Miller~ June 25-27
Check out the latest releases from ERBvillePress.com
ECOF GATHERING, SACRAMENTO, CA ~ August 12-14, 2004 ~ Guests: Lupoff ~ J.E. Holmes ~ Yeates
Free T-Shirt Offer: See the Update at the Convention Dossier Page
Visit the Tarzana Community and Cultural Center: www.mytarzana.org

Our FanFare section is always open as a showcase for ERB fan comments and creative work...
Send your submissions to
Bill Hillman
hillmans@westman.wave.ca

!!! READERS PLEASE NOTE !!!
Tarzan® is the property of Edgar Rice Burroughs, Inc., Tarzana CA

These e-Fanzines have been posted as a non-profit bibliographic and biographic reference for ERB scholars, fans and collectors. Material not created by myself has been collated largely from other sites on the web -- and I believe it to be in Public Domain or to fall under the category of "product promotion" or "fair use". Everything has been collated into this on-line repository to promote interest in the works of Mr. Burroughs. If there is any objection to the way in which any of this material has been displayed, or if I have infringed unlawfully on any copyright, I will implement its immediate removal. Bill Hillman

---

WEBJED: BILL HILLMAN

Visit our thousands of other sites at:
BILL & SUE-ON HILLMAN ECLECTIC STUDIO
ERB Text, Images and Tarzan® are Copyright ERB, Inc.- All Rights Reserved.
All Original Work ©1996-2004/2010 by Bill Hillman and/or Contributing Authors/Owners
No part of this web site may be reproduced without permission from the respective owners.