Happy Birthday to George McWhorter ~ May 10th

NEWS: Free T-Shirt for ECOF Early Birds ~ ERBville TA Release ~ PM Rumours


The First and Only Weekly Online Fanzine Devoted to the Life and Works of Edgar Rice Burroughs
Since 1996

Master of Imaginative Fantasy Adventure
Creator of Tarzan®
and
"Grandfather of American Science Fiction"
May 7 - 13, 2004
A NEW EDITION EVERY FRIDAY
Thousands of Back Issue Features in Archive
THIS WEEK'S ERBzine CONTENTS
NEWS & NOTICES: Click Here
---
FEATURE 1: ERBzine 0623
ERBzine Silver Screen Presents
Tarzan Triumphs
Summary ~ Posters ~ Credits ~ Stills
Cast Bios ~ Reviews ~ Links
---
---
---
---
FEATURE 5: Archive ERBzine 0144
. . . and now in the very words of Mr. Burroughs
From 1934: TARZAN AND THE DIAMOND OF ASHER

"We bring you Tarzan, that immortal fictional character of Edgar Rice Burroughs,
in a new and exciting serial entitled TARZAN AND THE DIAMOND OF ASHER,
which is adapted from the novel, 'Tarzan And The Forbidden City.'"

Read the summary of this radio serial spread over 15 Webs
http://www.erbzine.com/mag1/0144.html
---
FEATURE 7: ARCHIVE UPDATE

Over 3,000 of our ERB Web pages have been transferred to the new ERBzine.com location.
Check the Master Index for the ERBzine Back Issues at:
http://www.erbzine.com/all/
---

July 11, 2002
PLEASE NOTE:
Our stable of writers thrive on feedback. . . let them know that you are reading their work.
Our hit counters indicate thousands of weekly visitors to our sites
so let them know that you are out there.
---
Remember: we always welcome submissions ~ contact:
Bill Hillman at hillmans@westman.wave.ca
---

LAST WEEK'S FEATURES
April 30 - May 6, 2004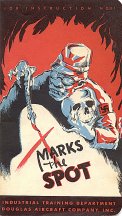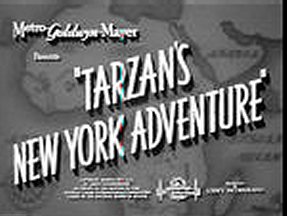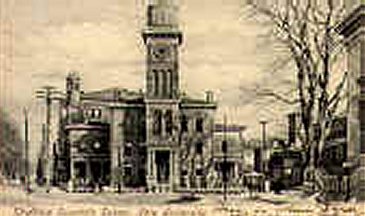 1932 Signal Oil OTR Story: Tarzan Radio ~ Premiums ~ Club
Tarzan's New York Adventure: Weissmuller #6
George T. Burroughs, Jr. letters home to Chicago Yale 1888
Flashback: JOHN COLEMAN BURROUGHS' WWII JOB INSTRUCTION MANUAL NO. 11
An entire booklet of rare JCB WWII art: Full-Screen Images
All-Gory Pulp Parody Section presents: The Ratnaz Files

---

NEXT WEEK: May 14 - 20, 2004
Burroughs/Lovecraft Connection
Tarzan's Desert Mystery
Zdenek Burian: Tarzan Artist Part I
Expanded ERB Illustrated Pulp Biblio with Doug Turner-submitted covers
COMING SOON ~ IN THE WINGS
Bomba the Jungle Boy: The Tarzan Connection Parts I & II
Zdenek Burian: Tarzan Artist I & II
Hal Foster: Mysterious Maiden II Comics Summary
ERBzine Silver Screen: All 12 Weissmuller Tarzan Films
Otis Adelbert Kline V: OAK Speaks & Weird Gallery
NEWS
---

John Carter of Mars Film Project:
Latest Rumour:
Matthew McConaughey, Josh Harnett and Leonardo DiCaprio
are being considered for the title character role.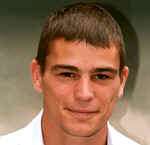 Who is your favourite?
Jackman ~ Clooney ~ Cruise ~ Pitt ~ Crowe ~ Newcombers?
Send us your choice.

---
Minnie "Jane" Driver touts country album
Canadian Press: May 1, 2004
NASHVILLE (AP) - Minnie Driver or Minnie Pearl?
The 33-year-old British actress has recorded a country music album and is negotiating with Rounder Records to release it.
---
See the ERBzine Archive for lead up stories featured in previous issues
---
Watch For It!
TCM: Turner Classic Movies ~ 4 Weissmuller Tarzans ~ June 3/4, 2004
---
Tarzan Boxed Set June Release
Completely Remastered for DVD
---
Check out the latest releases from ERBville Press
Tarzan of the Apes - Original Pulp Version - is now available
ECOF GATHERING, SACRAMENTO, CA ~ August 12-14, 2004 ~ Guests: Lupoff ~ J.E. Holmes ~ Yeates
Free T-Shirt Offer: See the Update at the Convention Dossier Page
DUM-DUM 2004: The date of the 2004 Dum-Dum at Fort Collins has been moved to June 25-27
Visit the Tarzana Community and Cultural Center: www.mytarzana.org

Our FanFare section is always open as a showcase for ERB fan comments and creative work...
Send your submissions to
Bill Hillman
hillmans@westman.wave.ca

!!! READERS PLEASE NOTE !!!
Tarzan® is the property of Edgar Rice Burroughs, Inc., Tarzana CA

These e-Fanzines have been posted as a non-profit bibliographic and biographic reference for ERB scholars, fans and collectors. Material not created by myself has been collated largely from other sites on the web -- and I believe it to be in Public Domain or to fall under the category of "product promotion" or "fair use". Everything has been collated into this on-line repository to promote interest in the works of Mr. Burroughs. If there is any objection to the way in which any of this material has been displayed, or if I have infringed unlawfully on any copyright, I will implement its immediate removal. Bill Hillman

---

WEBJED: BILL HILLMAN

Visit our thousands of other sites at:
BILL & SUE-ON HILLMAN ECLECTIC STUDIO
ERB Text, Images and Tarzan® are Copyright ERB, Inc.- All Rights Reserved.
All Original Work ©1996-2004/2010 by Bill Hillman and/or Contributing Authors/Owners
No part of this web site may be reproduced without permission from the respective owners.