The Gridley Wave #336 ~ September 2010
Alternate PDF Version
Visit the Gridley Wave Archives
EARLY BLACK AND WHITE EDITIONS | MORE RECENT COLOUR EDITIONS

.

---

2010 Dum-Dum, Hillside-Chicago

---

The Chicago Muckers chapter of The Burroughs Bibliophiles hosted a truly memorable convention 19-22 August, featuring guests of honor George T. McWhorter, Tom Floyd, and Stephen Korshak.

A special illustrated hardcover edition of The Mucker and The Return of the Mucker was a highlight of the Dum-Dum. Published by The Muckers chapter as a Dum-Dum souvenir, this 368-page book features 41 illustrations by 17 contributing artists, with dustjacket art by Tom Floyd.

Limited to 250 copies, the book will never be reprinted.

A limited number of extra copies are available for sale to those who did not attend the convention. Copies are available for $25 each plus $5 S&H in the U.S.

Make checks payable to
Joan Bledig
5724 N. Leonard Ave,
Chicago, IL 60646-5514

Overseas buyers may purchase a copy for $25 plus $9 Air Mail; use PayPal and send money in U.S. funds only to jthev@jthev.com

.
.....
The Burroughs Bibliophiles' tour of Oak Park and visit to the ERB display at the current location of
the Historical Society of Oak Park and River Forest were chronicled by the online "Oak Park Patch."
See reporter/photographer Derek Walker's article, "Edgar Rice Burroughs Fans Meet in Oak Park,"
posted on 25 August at http://oakpark.patch.com/articles/burroughs-torch-shines-in-oak-park.


Guest of Honor George T. McWhorter proudly displays the accolades of grateful friends, fans, and admirers for his devotion to Burroughs.

These include original art by Scott Beachler depicting George surrounded by ERB and his creations, the Golden Lion Award and Lifetime Achievement Award from The Burroughs Bibliophiles, and a framed proclamation from The Muckers chapter.
.
Guest of Honor Tom Floyd (left)
and his Golden Lion Award.

Manning a table in the dealer"s room is Guest of Honor publisher
and author Stephen Korschak, who spoke on artist J. Allen St. John.
.
.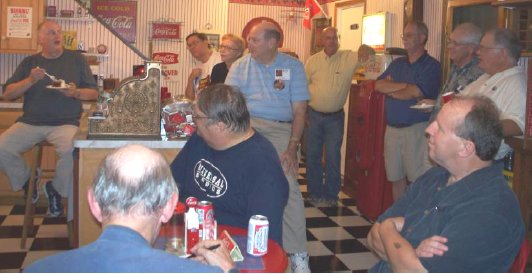 Combined meeting at Jerry's of the Muckers and Panthans chapters.
.
Host of a party at his home,
Jerry Spannraft prepares to cut
The Burroughs Bibliophiles 50th anniversary cake

Linda, Jane, and Dejah Burroughs;
this was the first time the family visited
the Burroughs homes in Oak Park.
,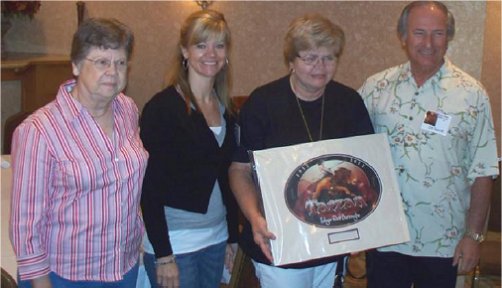 Willie Jones, Cathy Wilbanks, Janet Mann, and corporation President Jim Sullos of ERB, Inc.
display the official logo for the Tarzan Centennial celebration.
.
A stop during the tour of ERB's Oak Park homes and office;
posing in front of 414 Augusta Street, where ERB lived from 1914 to 1917.

.

Bob Burrows looks on as Frank Lipo, Executive Director of
the Historical Society of Oak Park and River Forest,
describes the future location of the society,
where an ERB "museum within a museum" is planned.
..

The Gridley Wave #336

September 2010
Published monthly for The Burroughs Bibliophiles as a supplement to The Burroughs Bulletin. © 2010, The Burroughs Bibliophiles, Inc.
Edited by Henry G. Franke III, 318 Patriot Way, Yorktown, VA 23693-4639; e-mail BurroughsBibliophiles@gmail.com.
Editor Emeritus, George T. McWhorter.
ERBzine Refs:
For more Dum-Dum 2010 photos see the series starting at: ERBzine 3320
Alternate Press Coverage: Oak Park News I | Oak Park News II
ERBzine Photo Tours of the present Oak Park ERB Museum:
ERBzine 3333: LIFE | ERBzine 3334: WORKS | ERBzine 3335: FILM | ERBzine Earlier 2005 Visit
George T. McWhorter Tributes in ERBzine : www.ERBzine.com/george


Official Burroughs Bibliophiles site:
www.burroughsbibliophiles.com



See the Gridley Wave Colour Archive HERE
See the Early Gridley Waves in Black and White HERE


Webmaster: BILL HILLMAN
Visit our thousands of other sites at:
BILL AND SUE-ON HILLMAN ECLECTIC STUDIO
All ERB Images© and Tarzan® are Copyright ERB, Inc.- All Rights Reserved.
All Original Work © 1996-2011 by Bill Hillman and/or Contributing Authors/Owners