The First and Only Weekly Online Fanzine Devoted to the Life and Works of Edgar Rice Burroughs
Official Edgar Rice Burroughs Tribute and Weekly Webzine Site
Since 1996 ~ Over 15,000 Web Pages in Archive
Issue 0657
The Many Worlds of


ERBzine Eclectica
ERB-Date: 2001.08.30


News from Hollywood

BIBLIOPHILES HIT THE BOARDS
The Hollywood stage is about to be overrun by a band of Burroughs Bibliophiles led by "Lord Passmore of Ghenzi." Scott Tracy Griffin is about to launch a new production of the classic Dark of the Moon at the Ruby Theatre on Santa Monica Boulevard for a six-week Los Angeles run on September 14, 2001.

The band of Bibliophiles spearheading this production include Tracy (lead and co-director), Tom Yeates (artwork), Rob "Tasor of Gathol" Greer (Burt Dinwitty ~ website design), and Lisi Gordon (Dark Witch ~ promotional copy).

ERB fans who attend receive a special discount rate of $15. Just tell the box office you're with the Burroughs Bibliophiles.

Visit the Dark of the Moon website for complete production and boxoffice information:
www.darkofthemoon.la
or E-Mail:
praesto_productions@hotmail.com
A fable filled with the richness, songs and superstitions of the American Smoky Mountains, Dark of the Moon, a play by Howard Richardson and William Berney, begins its six-week Los Angeles run September 14, 2001. Since its 1946 New York debut, the play has staged in theatres throughout the world and featured many up-and-coming actors, among them Paul Newman, Shelly Berman and Marge Champion.

Dark of the Moon tells the story of John, a witch boy driven by his love for Barbara Allen, a human girl. Eager to build a life with Barbara, John strikes a bargain with the dark forces of his world to become human and attempts to live among mortals - something he can never truly do, being irrevocably tied the shadows of his origins.

Not a musical but rather a play with music, Dark of the Moon features many well-known songs, including "Down in the Valley", "Hard ain't it Hard", "Old Time Religion" and the haunting and poetic "Ballad of Barbara Allen."
---
Scott Tracy Griffin
"John" & Co-Director

Lisi Gordon
"Dark Witch"

Rob Greer
"Burt Dinwitty"


---
New Young Tarzan in New York TV series
The WB Network is swinging into action on drama development for next year, giving a put pilot commitment to Warner Bros. Television for a new take on Tarzan from producer Laura Ziskin and feature scribes Mike Werb and Michael Colleary.

The latest incarnation of Edgar Rice Burroughs' enduring tale of Lord Greystoke revolves around a WB-ified 17-year-old Tarzan who is sent to live with his aunt in New York after being seriously injured by poachers in the African jungle.

In Gotham, the teen Tarzan "becomes the protector of the ultimate urban jungle," the studio said.

Ziskin is shepherding the project through her deal with Warner Bros. TV. Werb and Colleary are busy film writers whose credits include the summer hit "Lara Croft: Tomb Raider" and 1997's "Face/Off."

A sci-fi pitch by Werb and Colleary was among the first projects Ziskin, formerly president of Fox 2000, purchased last year after she set up her film production banner at Columbia Pictures.

Tarzan is one of filmdom's most heavily mined franchises, with about 88 film listings alone in the Internet Movie Database, most recently the 1999 Walt Disney Co. animated feature. He is set to turn 90 next year, having first appeared in short-story form in 1912. Elmo Lincoln was the first to wear the loincloth on the big screen in 1918's "Tarzan of the Apes."

Hollywood Reporter

---

ERB featured on the Biography Website:
www.biography.com
Burroughs, Edgar Rice 1875 -- 1950

Writer, born in Chicago, Illinois. Son of a wealthy businessman, he attended the Michigan Military Academy, then served briefly in the US cavalry until he was dropped for being underage. For the next 15 years (1896--1911) he worked at a variety of jobs including as a cowboy and miner, finally deciding to try his hand at writing. He published his first story, Under the Moons of Mars (using the pen name "Normal Bean') in the pulp magazine All-Story in 1912; it would become the beginning of a serialized novel (published in 1914 as Princess of Mars). In the years that followed he wrote several more science-fiction series but he would remain best known for a series of novels he began in 1914 with Tarzan of the Apes, a story about an English boy raised by apes in Africa; it was so successful that he went on to write another 27 titles in the Tarzan series. He moved to Hollywood in 1919 to supervise the filming of the first of what would eventually become an extremely popular series of Tarzan movies. The Tarzan story also inspired a comic strip, radio and television programmes, and countless other spinoffs, all of which made Burroughs very rich. Although he lost money in early investments, he eventually made enough to buy a large ranch near Tarzana, a suburb of Los Angeles named after his creation. During World War 2 he served as a war correspondent. Churning out two or three novels a year, he wrote in a rather crude style, but the sheer narrative thrust of the Tarzan story engaged millions throughout the world.

---

Wild Times
From Disney Magazine Fall 2001, page 74

Tarzan fans can get a daily dose of jungle life this fall when Disney's "The Legend of Tarzan" joins "Buzz Lightyear of Star Command," "Recess," and "Sabrina, the Teenage Witch" on UPN's One Too lineup.

To maintain the spirit of the "Tarzan" novels in the series, executive producers Bill Motz and Bob Roth met with author Edgar Rice Burrough's grandson, Danton Burroughs. "He filled us in on family history," says Roth, "and took us on a tour of the bungalow in Tarzana, California, where his grandfather wrote the stories." Motz and Toth also took a cue from the "Tarzan" books they pored over. "Shortly into the stories, funky characters appear," explains Motz, "and the novels are filled with science fiction and fantasy."

The creators incorporated the fantasy aspect of the stories by including lesser-known characters, such as super-natural vixen Queen La (voiced by Diahann Carroll) and her half-human, half-leopard army .In one episode, the authors veer away from the Burroughs novels and take a page from the history books. "In 1911, Teddy Roosevelt, an avid outdoorsman, spent some time in Africa," says Motz. "That is about the time in which the novels take place, so we thought, `Why not have Tarzan run into him in the jungle?'"

Motz reveals some crossover of Disney themes in the series: "If you keep your eyes open, you'll see things like the Kisimmee Kate boat from the Jungle Cruise ride at Disneyland."
The caption under a picture of the Disney characters of Tarzan, Jane, Prof. Porter, Terk, and Tantor reads:
NOVEL CHARACTERS:
Tarzan and his Jungle family meet an uncommon cast from the Burroughs stories in a new animated TV series.
---
HOT OFF THE PRESS

ERB-APA #70
Summer 2001
Special Edition

The Women of ERB
with
Great Original
Cover Art
by
Dave Hoover
COVER: Dave Hoover: The Women of ERB: Dian ~ Jane ~ Nemone ~ Thuvia ~ La
Contents ~ Roster ~ Kaor ~ Page Count 254
Ferrier, Joe: Greystoke Guns ~ Tarzan Triumphant ~ 8 pages with guns & cover illos ~ Grunts & Groans
Ross, Bill: ERB Collector #50 ~ Ace ERB paperback bio Pt. II: Venus ~ 8pp ~ Comments
Cuthbert, Raymond A.: Jeanine of the Jungle Chapters 9-21 ~ Frazetta illo, comments, 38pp
Hyde, Bob & Daley, Jack: Odyssey Ch. LII ~ Ethel Dwyer star of TA stage 1921: photos, articles
Thompson, Jim: APA #70: Evening with Darrell Richardson reprint ~ recent ERB articles
Menegazzo, Tony: A Dream of All Dreams ~ cartoon, Wray clipping, Rigid Tool Calendar girls ~ comments
Brown, Ralph: Never Ending Story: Weissmuller postcards & photos in Windber, PA ~ eBay poster, Disney, razor blades
Adams, Duane: Women in the Dell Comics ~ first 40 issues ~ Adams Nemone art ~ comments
Dunn, Laurence: LaurenceCon III report ~ Hyde, Ross, Bohnett, Albert, Richardson, Huckenpohler, Wadding visits ~ ComicCon, ChillerCon ~ Denier, Munro, Kahluta.etc.
Howell, DJ: Lord of Two Worlds: Destiny of Jer'ok-ta Ch. XIV fiction: Postscript comments
Adams, David: La of Opar and Her Relatives
McGeeney, Bob: The Little Door discussion (Forgotten Tales of Love and Murder)
Hanson, Alan: The Women of Opar ~ St. John art, mailing comments
Huckenpohler, J.G.: The Ladies of ERB: charts & discussion of heroines Princesses, Savages, Outdoor, Slave), villainesses, supporting & bit players ~ art ~ Comments
Webber, Ken: La, Burroughs' Tragic Priestess ~ 14pp ~ much art: Yeates, St. John Frazetta, etc.
Dumont, Richard: Lost in Pal-ul-don: The Dryrth of Pellucidar ~ research & art
Richardson, Darrell: Tarzana Times repro: "ERB Museum," "History" Hulbert Burroughs photo
Martin, John: Edgardemain: Jane of the Jungle discussion and art ~ Converging Trails comments
Conran, Mike: Dum-Dum 2001: A Florida ERB Odyssey report ~ many photos & info
Woodley, Robert: Tarzan of the Apes: A Personal Journey Through 24 Volumes - Pt. 1 ~ 18pp
Guidry, John: Forgotten Tales: Behind the scenes with the Forgotten Tales of Love & Murder project
Burrows, Robert: Precambrian Winter: Ch. 6: Bhallero Bhandari fiction ~ Comments
Myrhoj, Nels: ERBQUEST: Local BC ECOF ~ Repro: Police Reporter May 1929: Citizen and the Police by ERB
Shelhorse, Brooks: Second String Ladies ~ Comments
Hillman, Bill: ERB Heroines of Hearth, Stage, Screen & Radio: Chrono checklist with bios, titles, dates, times, trivia and 90 photos ~ ERBzin-e index issues 101-150 ~ On the Spoor comments ~ 26pp
Miller, Steve: Growing Danger ~ discussion of ERB heroines ~ St. John & Krenkel art
Franke, Henry: ERB Press Fever ~ Dum-Dum 2001 report & 8 photos ~ OAK Argosy colour cover
McGeehan Wild, Mary: She-Who-Must-Be-Attained: ERB Women Pt. I: Survey of Secondary Sources ~ literary research (Stableford, Moskowitz, Aldiss, Gunn, Holtsmark, et al)
Morse, Bill: On Safari: News: WB series, Universal nix PM, Morrow strip replaced, Hogarth suit, etc. ~ comments
Wilcutt, Dennis: Dum-Dum 2001 report ~ ERB Heroines: Art: Yeates, Morrow, Manning, Foster ~ Robin Cook
OE Ken Webber Last Word comments with much art: Yeates, Blevins, Jusko, Frazetta, Hughes, Hildebrand Bros., Buscema, Lubbers. Back cover photo of Kala and son by Lord Snowden.
Official Editor Ken Webber has a limited number of issues available for ERB fans.
For purchase info contact Ken at:
shade2@earthlink.net
The ERBzine ERBapa Archive Site at
ERBzine0328
features
ERB Amateur Press Association History, HiLites, Membership Info, Member Bylines,
List of Members Past and Present, Links to APA reprint articles featured in the Hillman ERB Cosmos.
ERBapa Cover Gallery is located at ERBzine 0652
ERBapa Index is located at ERBzine 0651
---
TONY MENEGAZZO ~ TARZAN FAN
The Tarzan collection of Rolling Meadows resident
Tony Menegazzo has incited a small amount of Tarzan mania at
the Rolling Meadows Library. Complete with Tarzan toys, cups and games,
the collection has grown over more than 50 years.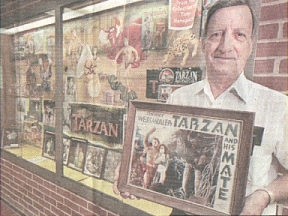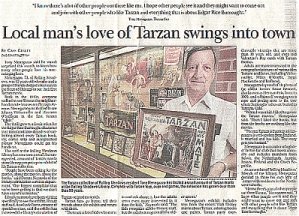 LOCAL MAN'S LOVE OF TARZAN SWINGS INTO TOWN
Daily Herald ~ Saturday, August 25, 2001

Tony Menegazzo said he wasn't surprised this month to learn how many other people love his tree-swinging hero. Menegazzo of Rolling Meadows, was 12 years old when he and a group of friends dodged streetcars in the heart of Chicago to see their first Tarzan film.

Back in the 1940s, everyone walked to see films in the neighborhood movie houses on Chicago Avenue. Menegazzo was thrilled to see Johnny Weissmuller and Maureen O'Sullivan in the first Tarzan "talkie."

The thrill grew to a fascination for the Edgar Rice Burroughs character that translated into decades of collecting every Tarzan book, toy, comic strip and autographed picture Menegazzo could get his hands on.

The staff at the Rolling Meadows library has now seen a small, but unexpected, of Tarzan mania since Menegazzo put up an exhibit of his Tarzan collection.

"People have been asking for the movies, about the movies," said Donna Maynola of the library's circulation services department. "Our biggest complaint that we've been getting is that we don't have any of the movies."

Library patrons have been visiting specifically to see the exhibit, library staff said. Roselinde Davis, director of special services, said the exhibit has increased the library's circulation of Tarzan-related materials.

Tarzan fans go home, tell their friends about the exhibit and return with them.

"There are a lot of kids who come in and ask about it, but the adults seem even more interested in it than the kids," Maynola said. "The kids recognize all the Disney stuff but the adults recognize all the older actors."

Menegazzo's exhibit includes toys from the recent Walt Disney movie about Tarzan, coloring books and paints, Tarzan party cups, chewable vitamins that are more than 10 years old, and even old Valentine's Day cards with Tarzan themes.

Adults are more interested in the autographed pictures of various film Tarzans and Janes, including Weissmuller, Miles O'Keeffe, Joyce MacKenzie and Bo Derek.

Menegazzo is proud of his photo of the oldest Tarzan, Bruce Bennett, also known as Herman Brix, born in 1909 and of himself swinging on a rope and posing next to the tree where Burroughs' ashes are buried in Tarzana, Calif.

"When I was a kid I liked to go see the Tarzan movies," Menegazzo said. "Then I liked the books but the books are nothing like the movies."

"The real Tarzan is fluent in six languages, is well-spoken from England, is married and has kids. The story gets you hooked."

Menegazzo is a member of a global Tarzan fan club that meets annually and includes members from Russia, the Netherlands, Austria, France, Finland and the Czech Republic.

As a member of the Rolling Meadows' Friends of the Library, Menegazzo decided to share his own love of Tarzan with residents in the Northwest suburbs.

"I know there's a lot of other people out there like me," Menegazzo said. "I hope other people see it and they might want to come out and join with other people who like Tarzan and everything that is about Edgar Rice Burroughs.
---
Now Available

The latest edition of
Huck's
ERB COLLECTOR'S
CHECKLIST
In Pocket or Full-Sized Editions
Contact
J. G. Huckenpöhler
CONTENTS: Magazine and Newspaper Publications ~ First Editions ~ Hardbound Reprints ~ Paperback Printings ~ Burroughs Stories in Anthologies ~ Stories Adapted for Young Readers ~ Non-Burroughs Additions ~ Big Little Books and Fast Action Books ~ Comic Books ~ Secondary Works ~ Canadian Hardback Publications ~ Canadian Paperback Publications

---
New from
University of Nebraska Press

Beyond Thirty
By Edgar Rice Burroughs
Introduction by David Brin
with essays by Phillip R. Burger & Richard A. Lupoff
Paper: 2001, xiii, 124, CIP.LC 00-051191, 0-8032-6184-5, $9.95

CONTACT:
Gary H. Dunham ~ Acquisitions Manager ~
University of Nebraska Press ~ 233 N. 8th Street
Lincoln NE 68588-0255 ~ USA
Phone: 402-472-4452 ~
E-mail: gdunham1@unl.edu ~ FAX: 402-472-0308
---
MAILSTROM
---
FROM BRAZIL

A Kubert Tarzan Comic Cover
contributed by Lirio

Oi, Bill.
One cover of Tarzan - serie Lança de Ouro
published in Brazil (1975).
Lirio
Lirio Propagandas Ltda
Dear 2001 issue friends:
NCLR 2001, featuring science fiction and fantasy in North Carolina, went to the printer the second week in July, so might come in early (September rather than October). In any case, we are preparing the mailing in order to get them out as soon as possible. I'm writing today to ask those of you who were so helpful to us as we put this issue together if any of you would like to order additional copies beyond the complimentary copy we are already sending you. The cover price is $15.00, but we are offering you a special price of $12 per issue, postage paid. It would save us on postage if you would order any additional copies you want before we do the initial mailing. If you already know you want additional copies (they make great gifts), please let me know (via e-mail) how many and then mail a check for the amount, payable to NCLR, to the address below ASAP (additional copies can not go out until checks are received.)

It's been a pleasure "virtually meeting" you, and I again thank you for your help with this issue.
Best,
Margaret Bauer, Editor
North Carolina Literary Review
Department of English
2201 Bate Building
East Carolina University
Greenville, NC 27858-4353
252-328-1537

---
The Fantastic Worlds of Edgar Rice Burroughs
ERB Companion Sites Created by Bill Hillman
| | | | |
| --- | --- | --- | --- |
| Tarzan.com | ERBzine.com | DantonBurroughs.com | Tarzan.org |
| BurroughsBibliophiles.com | JohnColemanBurroughs.com | Tarzan.com/tarzine | JohnCarterOfMars.ca |
| ERBzine.com/edgarriceburroughs | Weekly Webzine | Weekly Webzine | Pellucidar.org |
| John Carter Film | ERB, Inc. Corporate Site | ERB Centennial | tarzana.ca |




Issue 0657



BILL HILLMAN
Visit our thousands of other sites at:
BILL AND SUE-ON HILLMAN ECLECTIC STUDIO
ERB Text, ERB Images and Tarzan® are ©Edgar Rice Burroughs, Inc.- All Rights Reserved.
All Original Work ©1996-2001/2018 by Bill Hillman and/or Contributing Authors/Owners
No part of this web site may be reproduced without permission from the respective owners.