Official Edgar Rice Burroughs Tribute and Weekly Webzine Site
Since 1996 ~ Over 15,000 Webzines and Webpages In Archive

Master of Imaginative Fantasy Adventure
Creator of Tarzan® and "Grandfather of American Science Fiction"

A Private Reference Page for Researchers
(Click on the embedded links in the above ERBzine Logo for areas of interest)
WORK IN PROGRESS
www.ERBzine.com/refs
---
THE BURROUGHS / CUSHING CONNECTION
---
Edgar Rice Burroughs: The WarYears
http://www.erbzine.com/mag10/1019.html
(quick link at . . . )
www.ERBzine.com/war
Much WWII info and links to his Cavalry/Apache days in Arizona
and WWI involvement.

---

ERB: Dean of WWII War Correspondents in the Pacific Theatre
Many links at:
http://www.erbzine.com/mag0/0001.html
---
Captain John G. Bourke's Influence on Edgar Rice Burroughs
http://www.erbzine.com/mag34/3482.html
A few relevant excerpts linking ERB to Cushing:
. . . The question remains, did Burroughs read all of On the Border With Crook or at least the chapters that dealt with Apache wars? ERB attended the Michigan Military Academy in the1890s. The Academy would have had a library. On the Border With Crook would probably have been in that library. It is just the sort of book that a young Edgar Rice Burroughs, filled with visions of military glory, would have perused with relish.
. . . several similarities between elements found in On the Border With Crook and some of ERB's writings. One of these was Bourke's mention of certain caves with "peculiar medicine qualities, which would prevent an enemy from gaining possession of it." Such medicine caves are reminiscent of the strange cave that John Carter discovered in his flight from hostile Apaches in Chapter One of A Princess of Mars.
. . . There is another parallel that can be noted between On the Border With Crook and A Princess of Mars. That is the striking resemblance between the real-life First Lieutenant Howard Bass Cushing and ERB's second most famous fictional hero, Captain John Carter. Bourke served as Lt. Cushing's junior officer in Troop F, Third Cavalry in 1870-'71. Apaches in 1870 and he became Bourke's mentor and friend.
. . . Many of the details sound suspiciously similar to ERB's portrayal of John Carter in Arizona. Like John Carter, Howard Bass Cushing was an army officer who had fought in the Civil War (albeit on the side of the North). John Carter went west after the War of Rebellion, landing in Arizona Territory. Cushing was ordered to the Southwest by the army, arriving first in New Mexico and later in Arizona Territory. Cushing and Carter were both professional soldiers. Carter had a desperate encounter with hostile Apaches. Cushing and his troop had many bloody encounters with Apaches.
. . . In the foreword to A Princess of Mars ERB reveals that John Carter "had been prospecting and mining in Arizona part of the time since the war . . ." Captain Carter related in his manuscript that he and his partner Powell had located a "remarkable gold bearing quartz vein" from which they extracted "over a million dollars worth of ore." Bourke describes in On the Border With Crook (pg. 98) how he, Cushing, and Troop F (with stories of lost Spanish mines "ringing in our ears") searched out an opened a long abandoned silver mine at the urging of one of their Mexican guides.
More in 3483

---
Captain John Bourke's
ON THE BORDER WITH CROOK
and
THE MEDICINE MEN OF THE APACHE
http://www.erbzine.com/mag34/3483.html

---
ERB References for the
THE APACHE NOVELS II: The War Chief ~ The Apache Devil
http://www.erbzine.com/mag11/1154.html

---

Bourke was represented in ERB's personal library:
www.ERBzine.com/dan
on shelf B4
http://www.erbzine.com/dan/b4.html
---
General Charles King Tribute
Bio / ERB Connection / Bibliography
http://www.erbzine.com/king/
---
STAR WARS CONNECTION
---
Some have even criticized the JOHN CARTER (OF MARS) 2012 film as being a rip-off of Star Wars.
George Lucas has admitted to being heavily influenced by the John Carter stories of a hundred years ago.
---
"Originally, I wanted to make a Flash Gordon movie, with all the trimmings, but I couldn't obtain all the rights.
"So I began researching and found where (Flash Gordon creator) Alex Raymond got his idea:
The works of Edgar Rice Burroughs, especially his John Carter series of books.
"I found that what sparked Burroughs was Edwin Arnold's 'Gulliver on Mars' published in 1905, the first story of this genre I've been able to trace.... "Young people today don't have a fantasy life anymore.... The films they see are movies of disasters, insecurity and realistic violence. They seem to be having a very boring childhood."
~ George Lucas in Science Fiction Review 24, 12/77
http://www.erbzine.com/mag8/0871.html
---

THE INFLUENCE OF EDGAR RICE BURROUGHS
IN POPULAR FICTION OF THE 20th & 21st CENTURY
Master of Adventure ~ Creator of John Carter and Tarzan ~ Grandfather of American Science Fiction
http://www.erbzine.com/mag28/2875.html
Many Star Wars-related quotes here.

---
OTHER AREAS OF INTEREST



BURROUGHS FAMILY STORIES AND TRIBUTES
http://www.erbzine.com/mag27/2754.html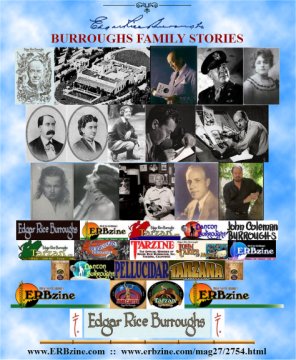 ONLINE ILLUSTRATED BIBLIOGRAPHY OF ALL ERB TITLES
www.ERBzine.com/chaser
ERB COMICS ARCHIVE
www.ERBzine.com/comics
GUIDE TO ERB'S MARS
www.erbzine.com/mag13/1351.html
www.erbzine.com/mars
www.johncarterofmars.ca
THE JOHN CARTER (OF MARS) FILM 2012
www.cartermovie.com
ERB Bios
www.ERBzine.com/bio
ERB FILMS
www.erbzine.com/mag5/0502.html
ERB ARTISTS ENCYCOPEDIA
www.ERBzine.com/art
Russ Manning: Well-known ERB comics artist
who also did the STAR WARS comics
www.erbzine.com/manning
JOHN CARTER / FLASH GORDON CONNECTION
www.erbzine.com/mag33/3393.html
EDGAR RICE BURROUGHS, INC. CORPORATE SITE
www.edgarriceburroughs.com



The Fantastic Worlds of Edgar Rice Burroughs
| | | | |
| --- | --- | --- | --- |
| Tarzan.com | ERBzine.com | DantonBurroughs.com | Tarzan.org |
| BurroughsBibliophiles.com | JohnColemanBurroughs.com | Tarzan.com/tarzine | JohnCarterOfMars.ca |
| ERBzine.com/edgarriceburroughs | Weekly Webzine | Weekly Webzine | Pellucidar.org |
| John Carter Film News | ERB, Inc. Corporate Site | ERB Centennial | tarzana.ca |


Our FanFare section is always open as a showcase for ERB fan comments and creative work...
Send your submissions to Bill Hillman
Tarzan@wcgwave.ca



!!! READERS PLEASE NOTE !!!
Tarzan® is the property of Edgar Rice Burroughs, Inc., Tarzana CA

These e-Fanzines have been posted as a non-profit bibliographic and biographic reference for ERB scholars, fans and collectors. Material not created by myself has been collated largely from other sites on the web -- and I believe it to be in Public Domain or to fall under the category of "product promotion" or "fair use". Everything has been collated into this on-line repository to promote interest in the works of Mr. Burroughs. If there is any objection to the way in which any of this material has been displayed, or if I have infringed unlawfully on any copyright, I will implement its immediate removal. Bill Hillman

---

WEBJED: BILL HILLMAN


Visit our thousands of other sites at:
BILL AND SUE-ON HILLMAN ECLECTIC STUDIO
ERB Text, Images and Tarzan® are Copyright ERB, Inc.- All Rights Reserved.
All Original Work ©1996-2015 by Bill Hillman and/or Contributing Authors/Owners
No part of this web site may be reproduced without permission from the respective owners.
Opinions expressed in articles on this site do not necessarily represent the opinions
of Edgar Rice Burroughs, Inc. or the editors of ERBzine.
ERBzine Weekly Webzine was endorsed by Danton Burroughs of Tarzana, California
as the Official ERB, Inc. and Tarzan®Webzine Site

About the ERBzine Author/Webmaster/Editor
Bill Hillman
A retired university professor, musician, traveller and longtime ERB fan and researcher.



BILL and SUE-ON HILLMAN: A 50-YEAR MUSICAL ODYSSEY
Music Bio Book :: Career Gig Notes
Personal Website:
www.hillmanweb.com
41 Kensington Crescent
Brandon, Manitoba
R7A 6M4
Canada
1.204.728.4673
hillmans@westman.wave.ca