The First and Only Weekly Online Fanzine Devoted to the Life and Works of Edgar Rice Burroughs
Since 1996 ~ Over 10,000 Webpages in Archive
Volume 0953

ECOF 2002:
TARZANA, CALIFORNIA
The Los Angeles SubERBs headed by Rob Greer
(in cooperation with the Panthans)
hosted another successful ERB convention and birthday bash on
August 30 through September 1, 2002 in
Tarzana and the Holiday Inn ~ 21101 Ventura Blvd. Woodland Hills, CA

Illustrated Directory of Events at
Tarzana ECOF 2002
Overview: First of a Series
Many more photos, journals, anecdotes, etc. will appear in future ERBzin-e editions
ECOF survivors are invited to send their anecdotes, memories and photos to
ERBzine editor Bill Hillman: erbzine@westman.wave.ca
NOTE: Place mouse cursor on photos to see pop-up captions
---
Friday, August 30
3:00PM - 4:00 PM ERB Inc. Tour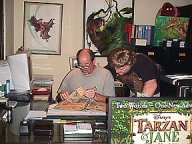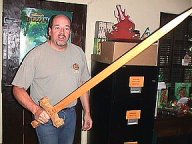 ---
4:00-8:00 PM - "Back at the Ranch" Event
Screening of never-before-seen home movies of ERB with commentary by Danton Burroughs.
Tour of ERB Ranch and original ERB Ballroom/Projection/Room/Classroom/Garage.
Light snacks, finger food and refreshments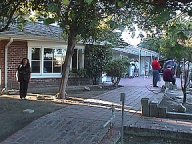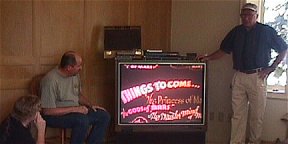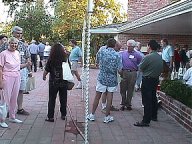 ---
Saturday, August 31
9:00 AM - 6:00 PM Huckster Room opens for all.
Con organizer and master huckster, Rob Greer, makes a major sale to Ghak (Steve Wadding)
9:00AM Special Guests Begin to Arrive for Signing & Panels:
Lydie Denier, Bruce Boxleitner, Thomas Yeates, Charles Pogue
Christopher Schenck, David Burton, William Stout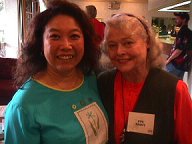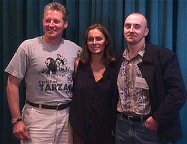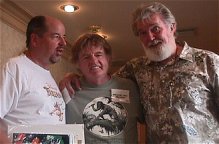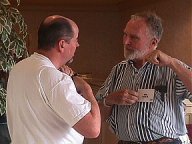 Danton Burroughs (ERB's grandson) and Lee Chase (ERB's stepson)
---
10:00 AM - 11:30 AM Presentation of Papers
1:30 - 2:30 PM Special Panel: ERB and the Pulp Fiction Era
2:00 PM - 3:00PM Comic Artists Panel Discussion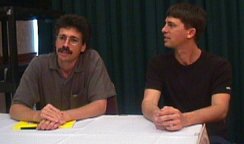 ---
3:00 PM - 4:00 PM ERB Auction - Burroughs-related books and memorabilia.
The banquet was held at TGI Fridays Restaurant
Danton's sharing of unreleased Tarzan radio shows and the Tarzan sequel to Rocky Horror Picture Show
Examining of rare vintage photos and documents from the Burroughs family private collection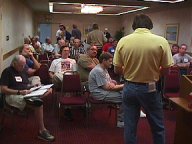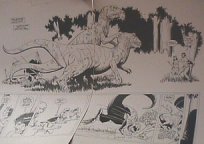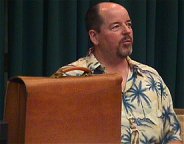 ---
Sunday, September 1
8:00 AM - 6:00 PM Huckster Room Opens
8:00 AM - 10:00 AM Red Hawk Hike -
Led by Tracy Griffin and Bruce Boxleitner this hike followed in the footsteps of ERB through woodland, canyons, and up to Mulholland Drive where the hikers saw the actual trails and coastal areas he discussed in his Moon Maid series, The Girl From Hollywood, etc.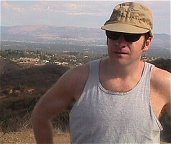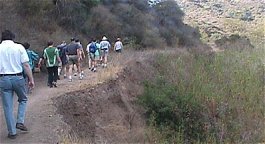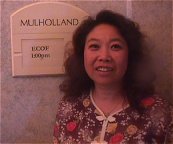 ---
Afternoon: Taping of Extended Interviews for the 3-hour PBS Documentary on ERB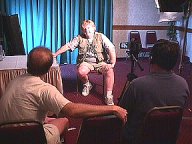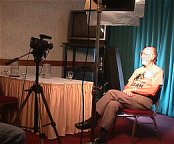 ---
1:30 PM - 3:00 PM Burroughs Bibliophiles Board Meeting
3:00 PM - 4:00 PM Burroughs Bibliophiles Fund-Raising Auction
The Barsoom Script Writers Panel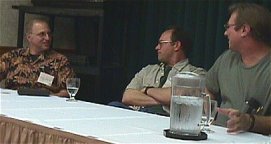 ---
Monday, September 2
7:00AM - 8:30AM Farewell Breakfast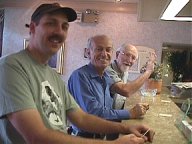 9:00AM - 5:00PM Disneyland - A Day at the Magic Kingdom!
Flights Home
---
Registrants received a cloth logo goodie bag containing a commemorative convention t-shirt, exclusive signed and
numbered convention art book by Thomas Yeates, a souvenir button, and a host of other goodies.


For Follow-Up Information Contact:
Rob Greer
or
Bob Zeuschner ~ e-Mail: rbzeuschner@adelphia.net
or
Jim Van Hise (Huckster Room Info) Jimvanhise@aol.com
Maps to ERB Inc and the Ranch
MEMORIES OF TARZANA ECOF 2002



Volume 0953



WEBJED: BILL HILLMAN
Visit our thousands of other sites at:
BILL AND SUE-ON HILLMAN ECLECTIC STUDIO
All ERB Images© and Tarzan® are Copyright ERB, Inc.- All Rights Reserved.
All Original Work © 1996-2002/2010 by Bill Hillman and/or Contributing Authors/Owners
All scanned material courtesy ERB Inc. Offices