The First and Only Weekly Online Fanzine Devoted to the Life and Works of Edgar Rice Burroughs
Since 1996 ~ Over 10,000 Webpages in Archive
Volume 0874
Presents
TARZAN IN THE HOLY LAND IV
By Eli Eshed
A Gallery of Israeli Tarzan Book Covers
IN MEMORY OF THE DEAD ISRAELI ASTRONAUT
ILAN RAMON
AND THE CREW MATES OF THE COLUMBIA
WHOSE INTEREST IN SPACE WAS INSPIRED
BY WRITERS SUCH AS EDGAR RICE BURROUGHS.
TARZAN ABILTI MENUZACH
(TARZAN THE UNDEFEATED)
By "ROY SCOTT"
(pen name of Miron Uriel)
Uriel wrote some 200 stories about Tarzan and Boy for HAPIL.
This was his only hardback book about Tarzan.
The art is by Asher Dickstein who also drew many Tarzan covers for Ramdor.
He also wrote and illustrated a Tarzan comics story.
The book was published in 1962 by APHIL (under the name EILAT).
In this book Tarzan defends the treazures of a lost city against greedy explorers
and saves Boy from being sacrificed by the lost city fanatical priests.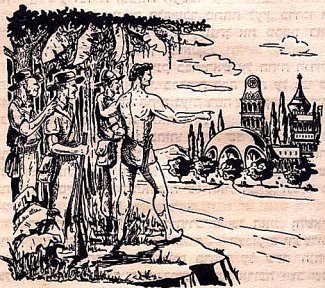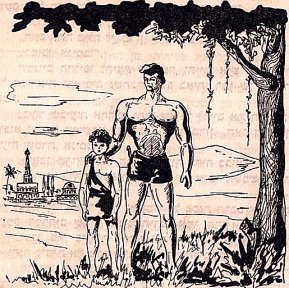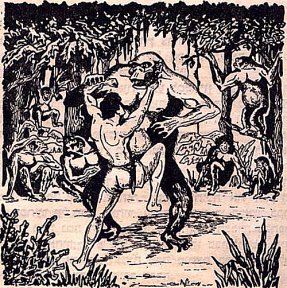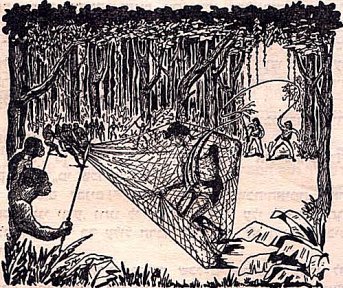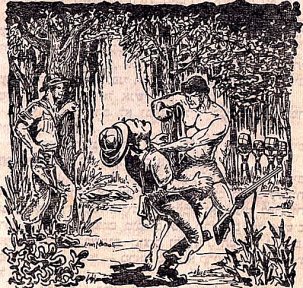 ---
CHENMET
GROUP OF BOYS (WHO ARE) TARZAN FANS
Published by AKARNAF in 1961
The author was YOVAV
(which was the pen name of the writers of the regular
Tarzan stories from Akarnaf publishers.)

This was a series of two stories published in 13 issues about a group of kids who are fans of Tarzan AKARNAF stories. In imitation of Tarzan they always begin in their own tree house from which they go out to have many adventures against spies and criminals.
---
This is a Tarzan book
that collected all 11 issues of
TARZAN ANOAZ
(TARZAN THE BRAVE )
It was published in 1961
by AKARNAF
under another name.
---
THE YOUNG DETECTIVES AND
TARZAN COME TO SOLOMON BAY
by Avner Carmeli
(pen name of Shraga Gafni)
This book was published in 1958 as part of the "Young Detectives" series, in which the young heroes have African adventures with Tarzan. Here they go up against Arab slavers who plan evil things under the cover of making an Egyptian Tarzan movie.

The writer Gafni is one of Israel's best known adventure writers. He wrote some 150 books and translated 150 more. The art is by M. ARYE, pen name of ARYE MOSCOVITZ, and one of Israel's best-known and most prolific illustrators.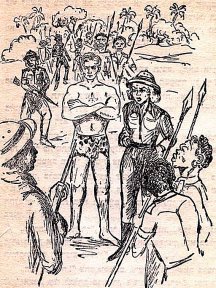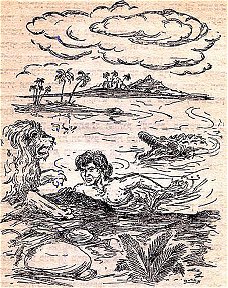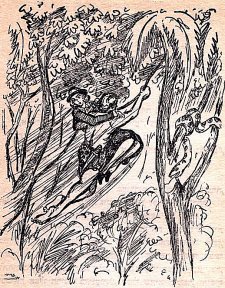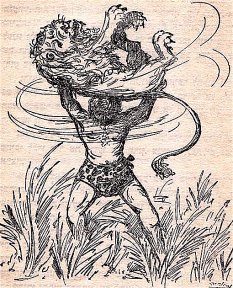 ---
A February 2003 picture of Tarzan against Jewish hero the Golem.
It was drawn by the foremost comics artist of Israel
- Uri Fink -
for a future project of both of us about the Golem.
The actual picture and figure of Tarzan
(maybe under another name)
may or
may not appear there,
but it is still an interesting item.
---


Volume 0874



WEBJED: BILL HILLMAN
Visit our thousands of other sites at:
BILL and SUE-ON HILLMAN ECLECTIC STUDIO
All ERB Images© and Tarzan® are Copyright ERB, Inc.- All Rights Reserved.
All Original Work © 1996-2003/2011 by Bill Hillman and/or Contributing Authors/Owners