Official Edgar Rice Burroughs Tribute and Weekly Webzine Site
Since 1996 ~ Over 15,000 Webzines and Webpages In Archive

Master of Imaginative Fantasy Adventure
Creator of Tarzan® and "Grandfather of American Science Fiction"
Volume 7135

THE LIGHTER SIDE OF
JOHNNY WEISSMULLER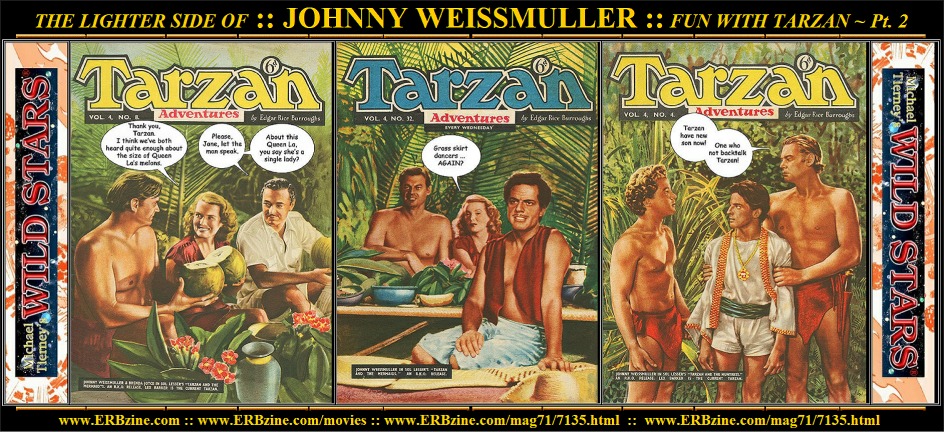 Click for full-size collage HERE
| | |
| --- | --- |
| Johnny Weissmuller Family (JW centre) | The Many Faces of Johnny |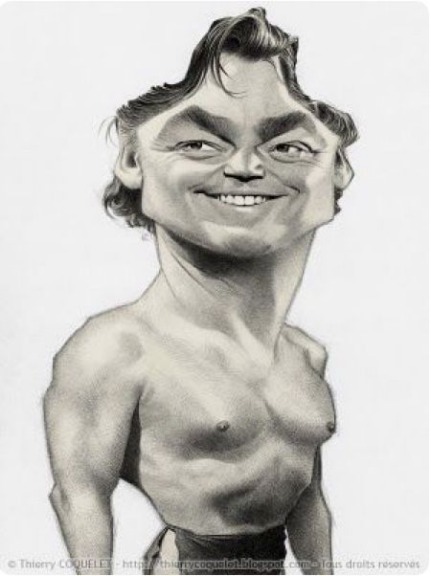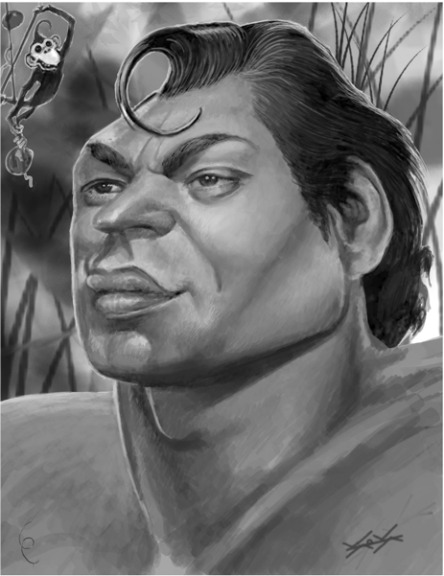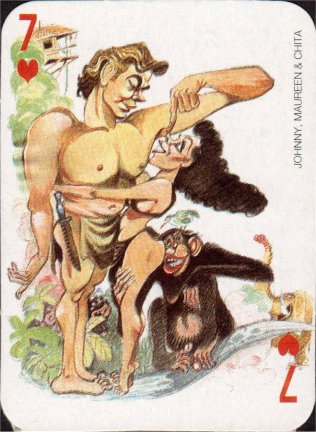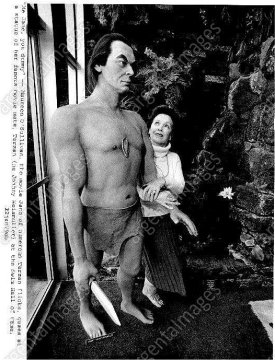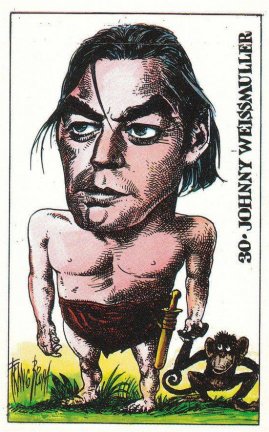 Johnny in Wax and in the Cards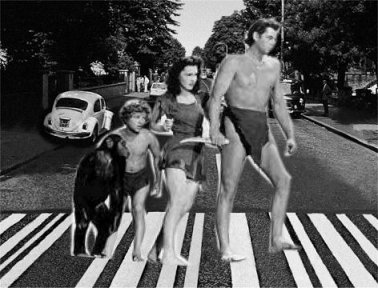 From Eytan Wronker
On the Trail of The Beatles


ANECDOTES
Once, early in his acting career, Tarzan star Johnny Weissmuller played a Hindu villain in a minor play whose stage directions called for him to shoot another actor. When the prop gun failed to fire one day, Weissmuller tried to strangle his colleague with the curtains. When the curtains fell down, the quick-thinking Weissmuller put his fist against his victim's face: "I kill you," he declared, "with my poison ring!"

"Short entries in a date-book can sometimes pose a mystery," Anita Loos once recalled. "In Santa Monica, July 4, 1935, I scribbled, 'Leave for New York. Lend beach house to Joe.' And then six weeks later a mystery comes to light. 'Home from vacation. Find house in order except for FOOTPRINTS ON THE CEILING.'

"Only Hollywood could supply an answer to that mystery. Joe Schenck was an eminent film producer and in spite of his girth, advancing years and retreating hairline, he dearly loved to play. And I learned on investigation that those footprints had come about during a beach party Joe gave. It seemed that Johnny Weissmuller [who played Tarzan] had grabbed a starlet whose feet were smeared with suntan oil, and hoisted her, upside down, until she was walking on the ceiling."

One day Johnny Weissmuller was invited to do a screen test for the title role in the Tarzan films. Replied Weissmuller: "Me? Tarzan!?" This soon became, with slightly altered inflection, Tarzan's catchphrase. The phrase was never used in the Tarzan films. . . and certainly not in ERB's books.

In 1959, while Fidel Castro's communist rebels were fighting Fulgencio Batista's soldiers for control of Cuba, Johnny Weissmuller, best known for playing Tarzan in Tarzan the Ape Man and its sequels, visited Cuba to take part in a celebrity golf tournament.
On his way to the course with several friends and bodyguards, their vehicle was surrounded by a gang of guerrillas who disarmed the guards and pointed rifles at Weissmuller and the rest of his party.
What would Tarzan do? Weissmuller gallantly rose up, beat his chest, and let out Tarzan's famous jungle yodel. The guerrillas, recovering from their initial shock, recognized the film star.
"Tarzan! Tarzan!" they cried. "Bienvenido! Welcome to Cuba!"
Incredibly, the potential kidnapping turned into an autograph party, after which Weissmuller was triumphantly escorted to the golf course.

In real life, the vines that Tarzan uses to swing (lianas) are attached at the bottoms of trees, not the tops as in the movies. So swinging from vine to vine sadly isn't possible in the real world. Nonetheless, Tarzan did do his fair share of swinging





JOHNNY WEISSMULLER QUOTES

---

I started out as a scrawny kid in Chicago, and even that was lucky. It got me to swimming. Then all the good breaks in the world happened-and kept on happening.
The director and producer sent for me for Tarzan and asked me to take off my clothes. I didn't realize what was going on, They asked me if I could climb a tree and walk out on a limb and I said yes, and they asked me could I pick up a girl and walk away with her and I said yes ... and that's all there was to the test. The next day I was told I was an actor. I had the part.
The William Morris Agency handled me. In that business, you're only as good as your last picture.
[on playing Tarzan in 12 films between 1932-1948] How can a guy climb trees, say "Me, Tarzan, you, Jane", and make a million? The public forgives my acting because they know I was an athlete. They know I wasn't make-believe.
Swimming gave me my start, but my pal Tarzan did the real work. He set me up nicely.
I never lost a freestyle race. Never. Not even in the YMCA
I learned to yodel pretty well. It took me a few months, but I eventually perfected it.
I could make good time because I was so long and skinny, shooting through the water like a stick.
Treat your body well, and it'll see you through for many years
Can you imagine - a blond Tarzan?
If only we'd had the benefit of Ralph Helfer's affection-trained animals in the old days our films would have been a lot better, safer, and a hell of a lot more fun!
[on always being passed over for an Academy Award] Me sit in tree seventeen years. Me watch 'em come and go.
Tarzan films are decent films, designed for family viewing. It's an idealistic, down-to-earth story about a man's love for animals and the care of his family.
I have always been vitally interested in physical conditioning. I have long believed that athletic competition among people and nations should replace violence and wars.
I've had about as perfect a 55 years as any human could have.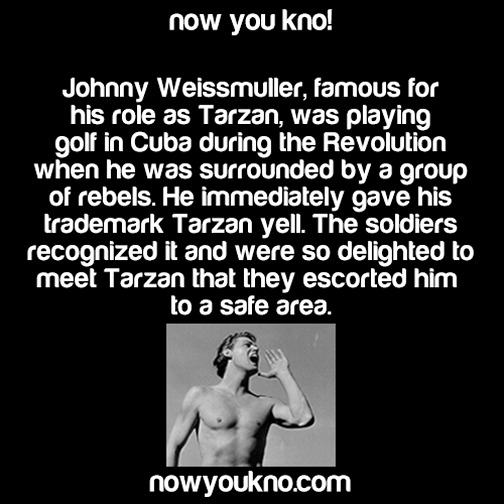 .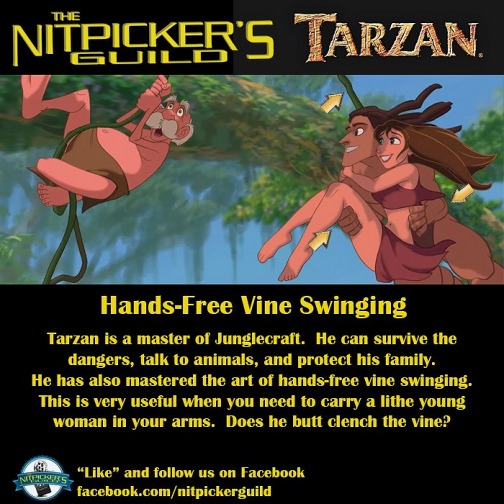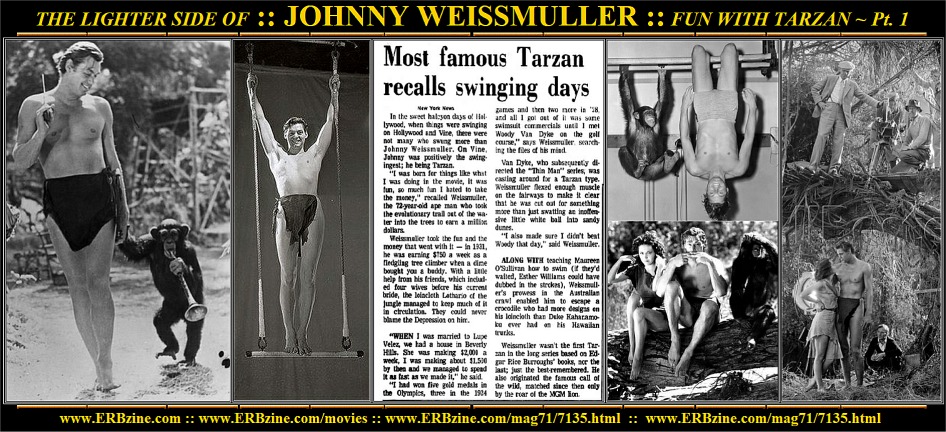 Click for full-size collage HERE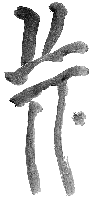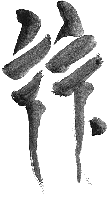 BILL HILLMAN
Visit our thousands of other sites at:
BILL and SUE-ON HILLMAN ECLECTIC STUDIO
ERB Text, ERB Images and Tarzan® are ©Edgar Rice Burroughs, Inc.- All Rights Reserved.
All Original Work ©1996-2023 by Bill Hillman and/or Contributing Authors/Owners
No part of this web site may be reproduced without permission from the respective owners.