Official Edgar Rice Burroughs Tribute and Weekly Webzine Site
Since 1996 ~ Over 15,000 Web Pages in Archive
Presents
Volume 7039


ERBzine ARCHIVE UPDATES
Plus
ERB NEWS CLIPPINGS SERIES
Culled from newspapers in the US, Canada, UK and Australia
From over the past 100 years
Take the Challenge:
How many factual errors can you find in the reporting :)

Most clippings may be clicked to larger size
http://www.ERBzine.com/mag70/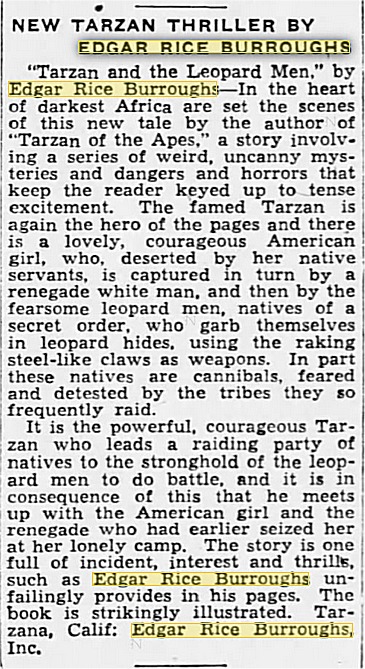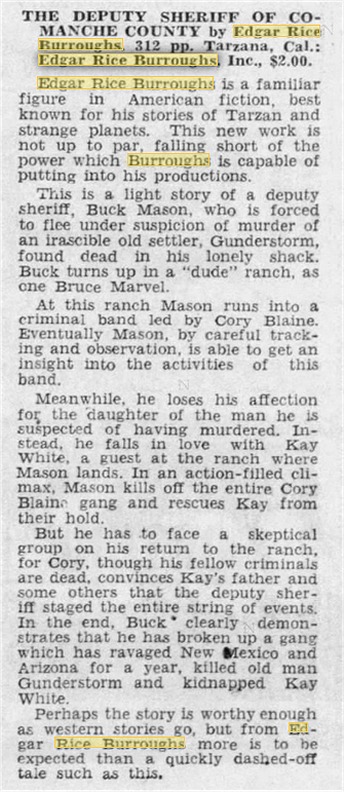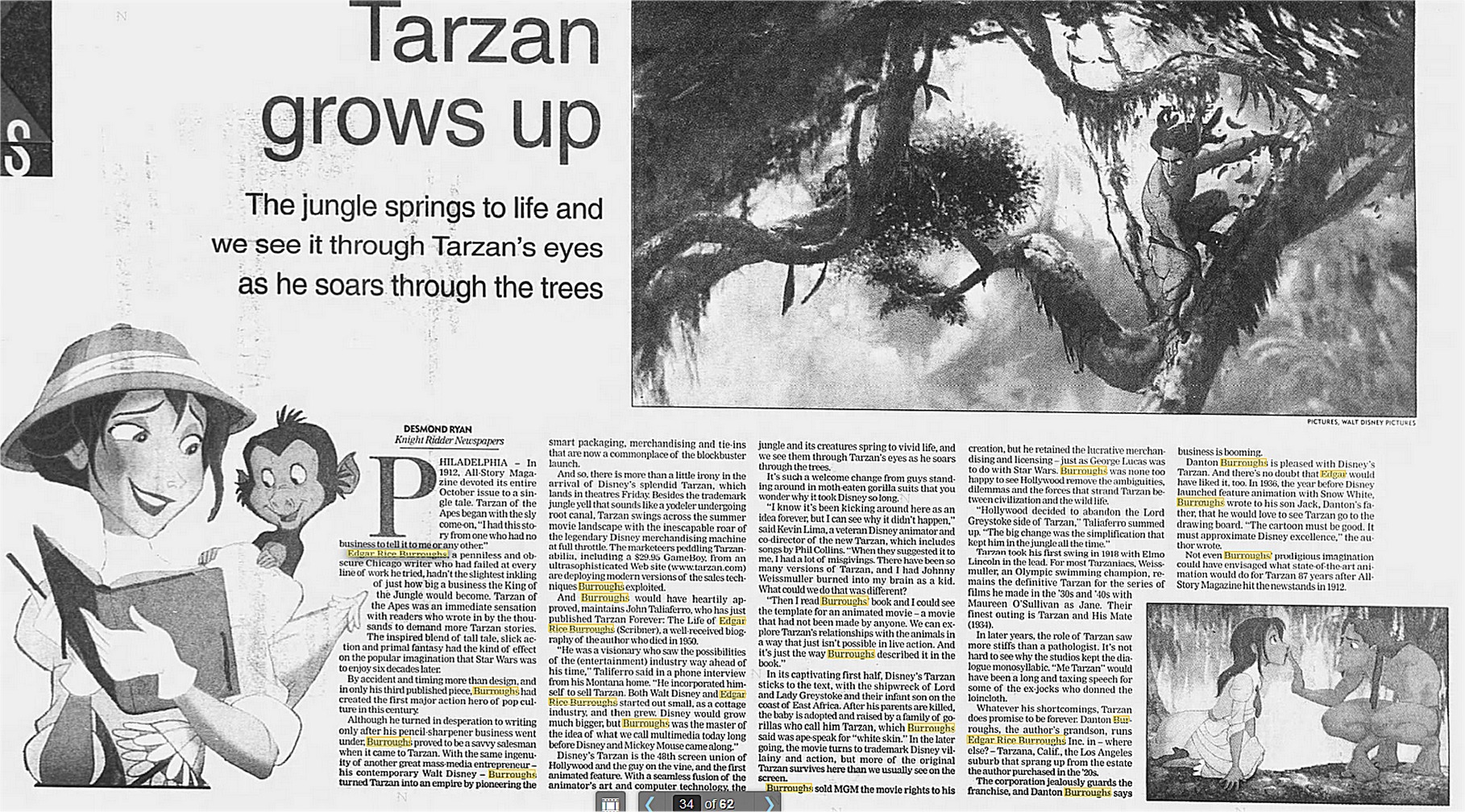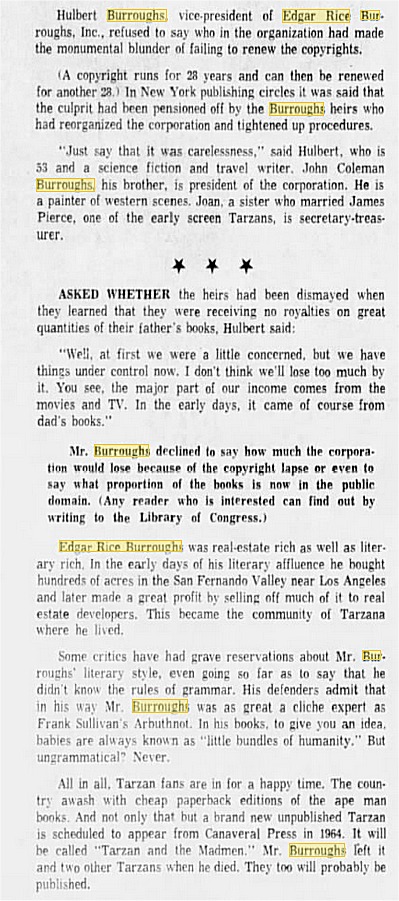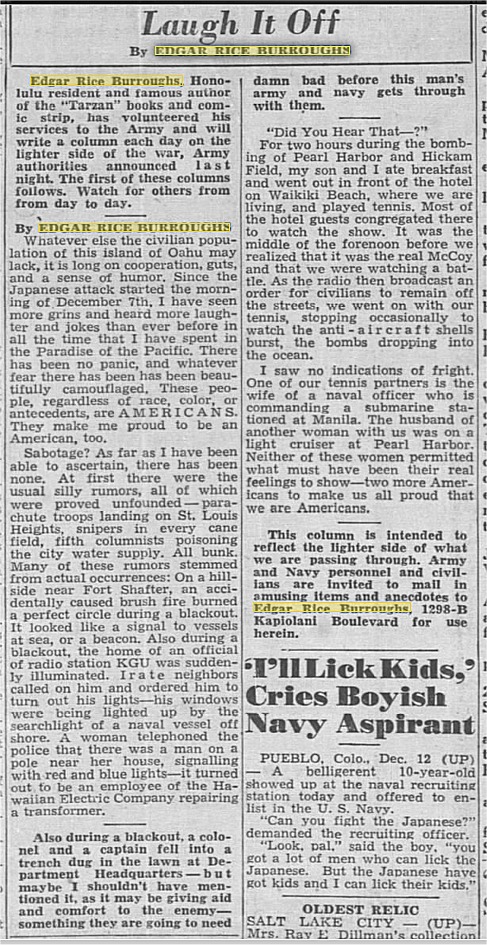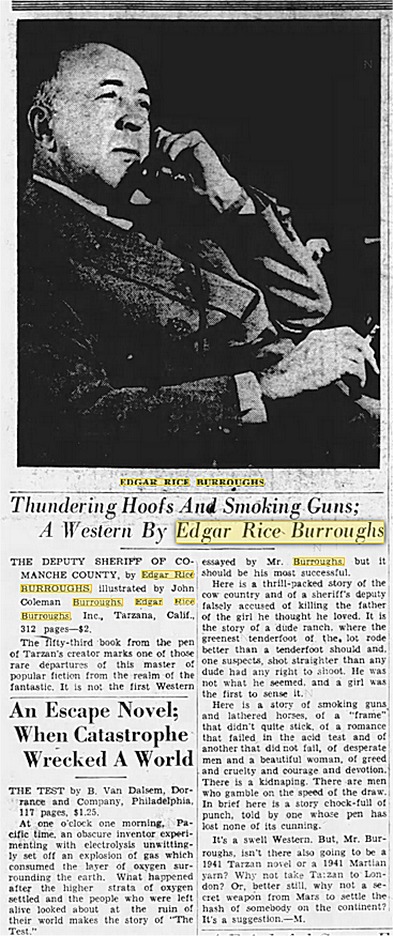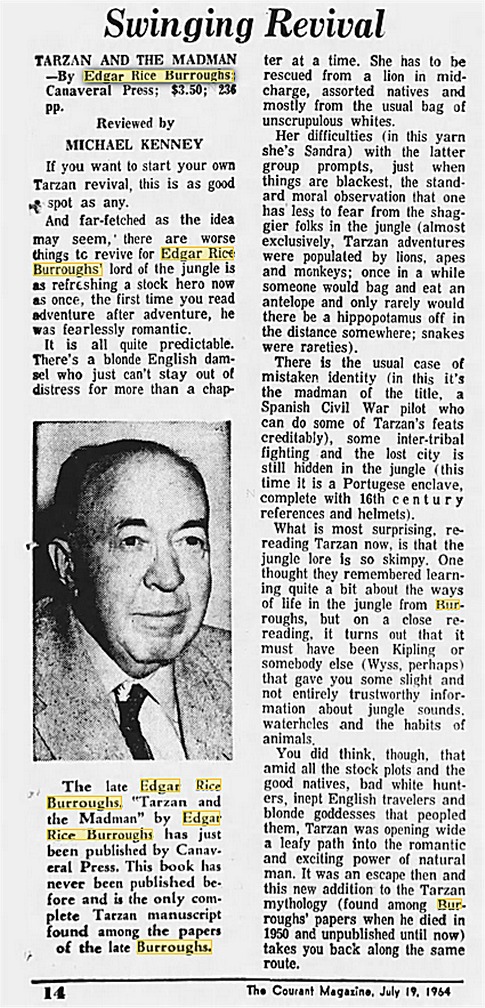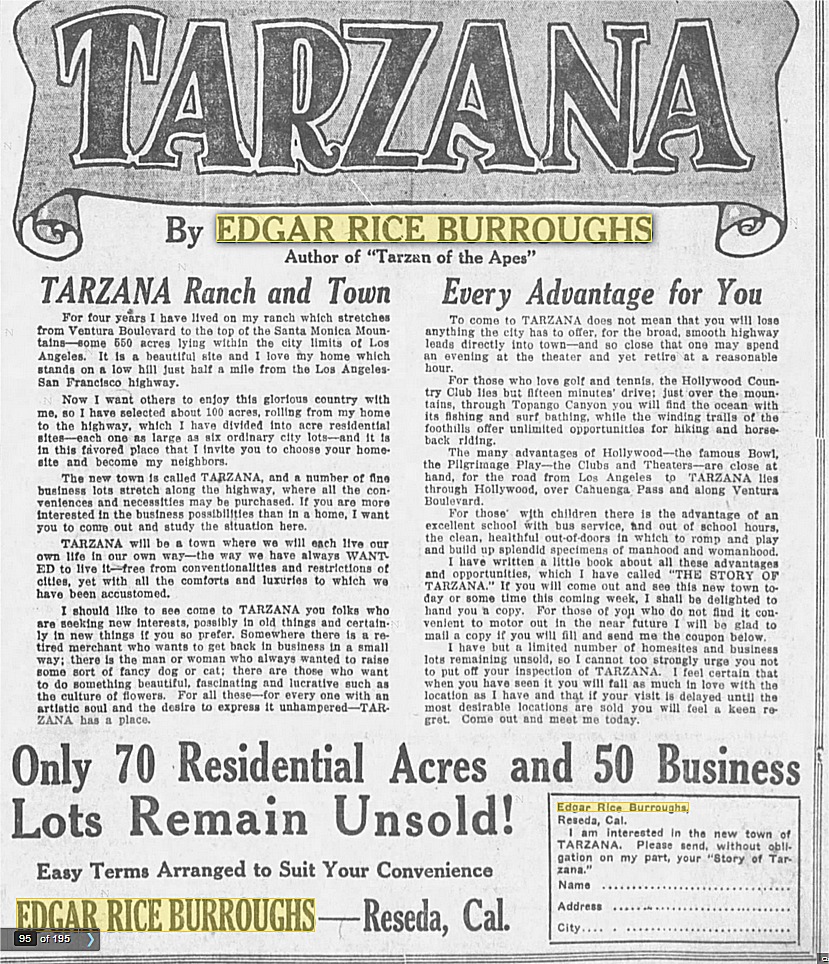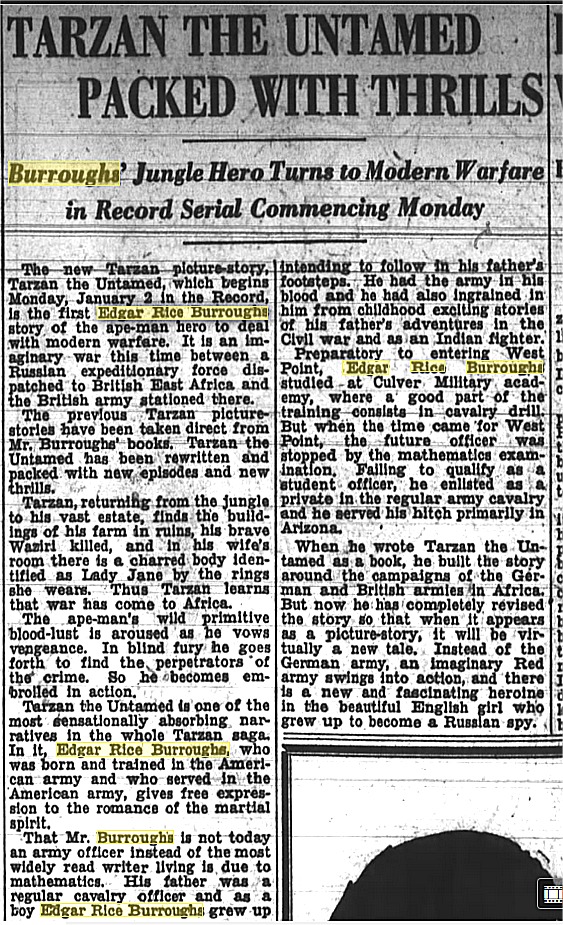 ERBzine Archive Updates
We are constantly going through our archives
to tweak and add/revise text and links. . .


POSTER COLLAGES (click)

ERBzine Archive Features

Feature 9: ERBzine 0730
TARZAN AND THE CASTAWAYS
Written in three installments::
Tarzan and the Champion (July 1939)
Tarzan and the Jungle Murders (January 1939)
Quest of Tarzan (begun in November 1940)
http://www.erbzine.com/mag7/0730.html

Feature 10: ERBzine cards
ERBzine Poster Displays
BIBLIOGRAPHY
http://www.ERBzine.com/cards/biblio/





Feature 11: ERBzine 5849
JOE JUSKO'S
WARLORD OF MARS ART II:
Dynamite Covers
http://www.erbzine.com/mag58/5849.html

Feature 12: ERBzine 1952
JOYCE MacKENZIE
http://www.erbzine.com/mag19/1952.html
Tarzan and the She-Devil
Lex Barker's 5th Jane
Plus Lobby Gallery
http://www.erbzine.com/mag19/1952a.html

Feature 13: ERBzine 1391
BARSOOMIAN THARK
and
TARS TARKAS
GALLERY II
http://www.erbzine.com/mag13/1391.html

Feature 14: ERBzine 0950
ERB's Favourite Poet:
Henry Herbert Knibbs
List of his work ~ Links to other ERBzine appearances
http://www.erbzine.com/mag9/0950.html
http://www.erbzine.com/mag9/0951.html

.

Feature 15: ERBzine 4101
Jane Goodall in Oct 2017 National Geographic
We have fond memories of the Tarzana 2012 Dum-Dum
See all our Tarzana 2012 Dum-Dum photos at:
http://www.ERBzine.com/mag41/4101.html

Feature 16: ERBzine mcwhorter
The Spiritual Side of
George T. McWhorter
http://www.ERBzine.com/mcwhorter

Feature 17: ERBzine 5091
ERB ARTISTS I
A Mosaic of Rare Autographed Photos
From the Fred Lukas Collection
http://www.erbzine.com/mag50/5091.html
17.10.20
17.10.27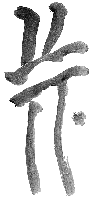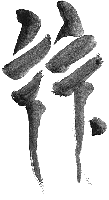 BILL HILLMAN
Visit our thousands of other sites at:
BILL AND SUE-ON HILLMAN ECLECTIC STUDIO
ERB Text, ERB Images and Tarzan® are ©Edgar Rice Burroughs, Inc.- All Rights Reserved.
All Original Work ©1996-2019 by Bill Hillman and/or Contributing Authors/Owners
No part of this web site may be reproduced without permission from the respective owners.