---
PUBLISHING HISTORY (USA)
---
PULP
Argosy Weekly ~ February 20, 1937 ~ Revision of an earlier story with working title "Elmer"
Emmett Watson: Cover art ~ One interior b/w illustration by Samuel Cahan
FIRST EDITION
Canaveral Press NY: April 27, 1964 in Tales of Three Planets (with "Beyond the Farthest Star" and "The Wizard of Venus") 282pp
Roy G. Krenkel dust jacket and 10 interior b/w illustrations ~ Arlene Williamson: illustrated endpaper maps of Poloda
Forgotten Tales of Love and Murder ~ Guidry & Adams Editors and Publishers ~ 2001 ~ Compilation containing "Elmer"
REPRINT EDITIONS
Masterpieces of Science Fiction ~ Sam Moskowitz ed. ~ World Publishing Co.: 1966 & Hyperion Press: 1974 ~ 552 pp (pp 377-399)
The Pulps by Goodstone ~ Chelsea House: 1970 ~ Reprint by Bonanza Books ~ 239 pages
Cover art: Pulp magazine montage ~ Samuel Cahan: b/w illo from Argosy
The Fantastic Pulps ~ Peter Haining ed. ~ St. Martin's Press: 1976 & Vintage: 1976 ~ H/C anthology ~ 418 pp (pp 42-61)
Frank R. Paul: Dust Jacket ~ Portfolio of pulp illustrations
Roland Trenary Graphic Version ~ Trenary illustrated version in 24 pages in the style of Mahlon Blaine
For detailed information, see Robert B. Zeuschner's
Edgar Rice Burroughs: The Bibliography (ERB, Inc., 2016).
Click on www.erbbooks.com or call 214-405-6741 to order a copy.
---
The original manuscript title for The Resurrection of Jimber Jaw was Elmer.
Elmer was the Burroughs family nickname for a human skull which Hulbert and Jack kept in the den.
LORD PASSMORE'S SAFARI OVER ED'S RED HAWK TRAIL
http://www.erbzine.com/mag9/0966.html
Burroughs was an avid horseman who loved to explore the diverse landscapes on and around his ranch property and descriptions of much of this scenic and rugged area found their way into novels as diverse as the The Girl From Hollywood, The Moon Maid (Red Hawk), "Jimber Jaw," as well as into his numerous Western and Apache novels and even parts of the Mars series.
"Of what good is a mate in your country? They are no different from men. The men smoke; the women smoke. The men drink; the woman drink. The men swear; the women swear. They gamble -- they tell dirty stories -- they are out all night and cannot be fit to look after the caves and the children next day. They are only good for one thing, otherwise they might as well be men. One does not need to take a mate for what they can give -- not there."
---
COVER GALLERY
---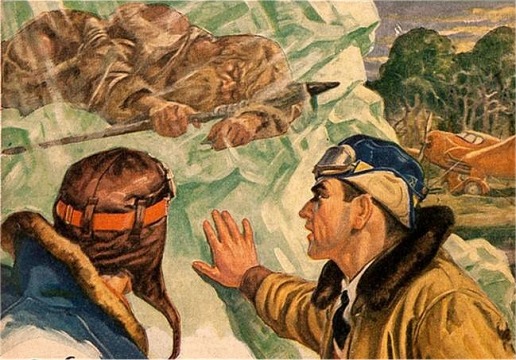 | | | |
| --- | --- | --- |
| | | |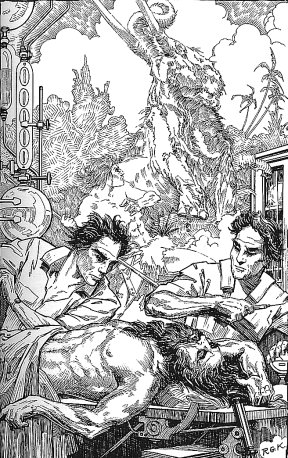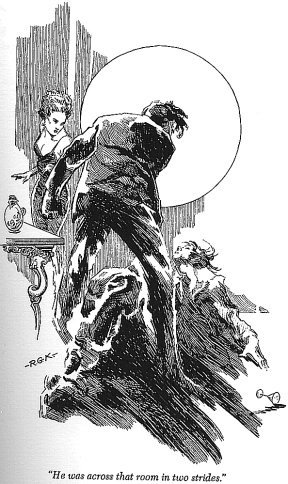 A popular item in the Burroughs Family Tarzana Memorabilia is
a shrunken head that Ed Burroughs named Elmer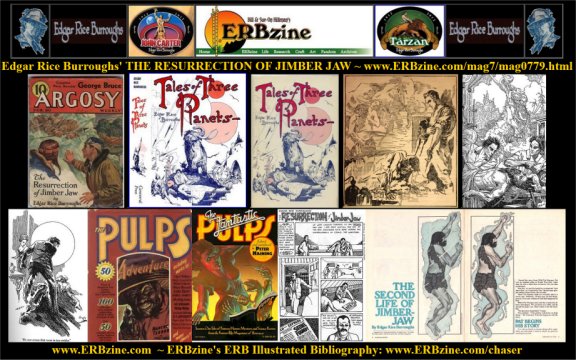 Click for full-size poster collage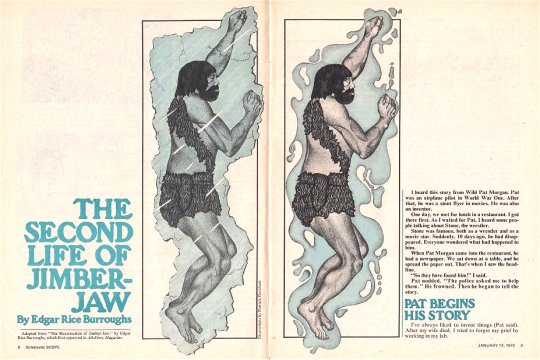 Click for full size in our M.A.P.L.E. Series
More about The Second Life of Jimber Jaw at
www.erbzine.com/mag7/0779a.html
Read the Elmer e-Text HERE
Chapters 4 and 5 Concluded
www.erbzine.com/mag55/5568a.html

---



Presents
Armada of ERB Web Sites
Over 15,000 Webpages
The Fantastic Worlds of Edgar Rice Burroughs
ERB Companion Sites Created by Bill Hillman
| | | | |
| --- | --- | --- | --- |
| Tarzan.com | ERBzine.com | DantonBurroughs.com | Tarzan.org |
| BurroughsBibliophiles.com | JohnColemanBurroughs.com | Tarzan.com/tarzine | JohnCarterOfMars.ca |
| www.erbzine.com/edgarriceburroughs | Weekly Webzine | Weekly Webzine | Pellucidar.org |
| John Carter Film | ERB, Inc. Corporate Site | ERB Centennial | tarzana.ca |