The First and Only Weekly Online Fanzine Devoted to the Life and Works of Edgar Rice Burroughs
Volume 0778
and
ERB C.H.A.S.E.R ENCYCLOPEDIA
A Collector's Hypertexted and Annotated Storehouse of Encyclopedic Resources
Present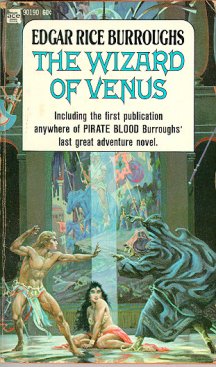 Click for full-size cover image
PIRATE BLOOD
A 34,000-word novelette written in early 1932 under the penname:
John Tyler McCulloch
---
PUBLISHING HISTORY (USA)
---
PULP
Rejected by numerous publications. First published posthumously.
FIRST EDITION
Ace paperback ~ August 1970 ~ published with The Wizard of Venus ~ 158 pages
Roy G. Krenkel Venus cover art ~ Pirate Blood cover art never used.
Statement under title: "Including the first publication anywhere of Pirate Blood Burroughs' last great adventure novel."
REPRINT EDITIONS
Ace paperback ~ January 1973 ~ with The Wizard of Venus ~ 158 pages ~ same Krenkel art
Ace paperback ~ June 1979 ~ with The Wizard of Venus ~ 248 pages
Esteban Maroto cover art
Ballantine-Del Rey ~ July 1991 ~ New title: The Wizard of Venus and Pirate Blood ~ 186 pages
Richard Hescox cover art
For detailed information, see Robert B. Zeuschner's
Edgar Rice Burroughs: The Bibliography (ERB, Inc., 2016).
Click on www.erbbooks.com or call 214-405-6741 to order a copy.
Pirate Blood

The story of a lone American who ventured among the unexplored islands of the far seas, where piracy still held sway and a man was judged only by his skill with a knife and pistol... This devil-may-care hero experimenter, designs his own aircraft and ventures among the little explored islands of the far seas to find that piracy still lives and that chivalry still requires the maximum of endurance and the utmost in courage.
---
COVER GALLERY
---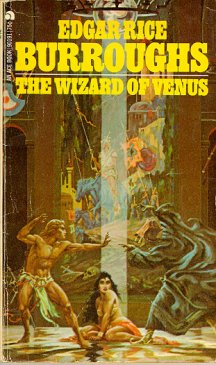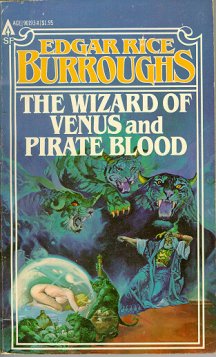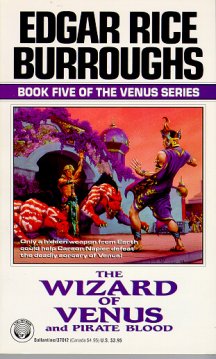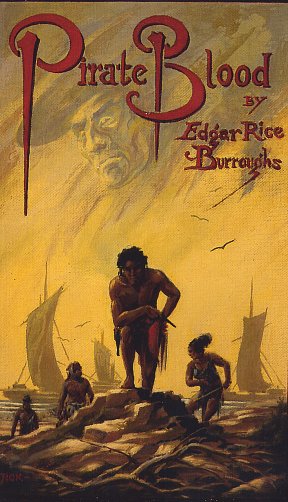 ---


Armada of ERB Web Sites
Over 15,000 Webpages
The Fantastic Worlds of Edgar Rice Burroughs
| | | | |
| --- | --- | --- | --- |
| Tarzan.com | ERBzine.com | DantonBurroughs.com | Tarzan.org |
| BurroughsBibliophiles.com | JohnColemanBurroughs.com | Tarzan.com/tarzine | JohnCarterOfMars.ca |
| www.erbzine.com/edgarriceburroughs | Weekly Webzine | Weekly Webzine | Pellucidar.org |
| John Carter Film News | ERB, Inc. Corporate Site | ERB Centennial | tarzana.ca |