---
PUBLISHING HISTORY (USA)
---
PULP
Argosy All-Story Weekly ~ May 19, 26 - June 2, 9, 16, 23, 1928
Paul Stahr cover for first issue ~ Roger B. Morrison ("Mori"): one b/w interior for each installment
FIRST EDITION
ERB, Inc. ~ February 15, 1933 - 310 pages ~ Print Run: 5,238 ~ Heins word count: 73,000
Studley Oldham Burroughs: Dust Jacket and 5 b/w interiors
REPRINT EDITIONS
Grosset & Dunlap ~ 1934 ~ 310 pages
Studley Oldham Burroughs: Dust Jacket and four b/w interiors
Grosset & Dunlap ~ 1940? (not confirmed) ~ no illustrations
Ballantine Paperback ~ June 1964 ~ 192 pages
Ronnie M. Lessor cover art
Gregg ~ 1975 ~ 316 pages
Studley O. Burroughs reprint cover and 3 interiors
Ballantine Paperback ~ October 1975 ~ 216 pages
Greg and Tim Hildebrandt cover art
For detailed information, see Robert B. Zeuschner's
Edgar Rice Burroughs: The Bibliography (ERB, Inc., 2016).
Click on www.erbbooks.com or call 214-405-6741 to order a copy.
---
SOURCES OF BACKGROUND INFORMATION IN ERB'S APACHE NOVELS
Burroughs drew upon his personal experiences with the U.S. 7th Cavalry
He also cited the following books and periodicals
as being among the reference materials he used:
The Marvellous Country: Three Years in Arizona and New Mexico, the Apache's Home by Samuel Woodworth Cozzens 1873
Thrilling Days in Army Life by General. George. A. Forthsyth 1900
Lives of Famous Indian Chiefs by Norman B. Wood
The Frontier Trail by Colonel Homer W. Wheeler
The Land of Poco Tiampo by Charles. F. Lummis
Geronimo's Story of His Life by S.M. Barrett, 1907
Trailing Geronimo: The Outbreak of the White Mountain Apaches, 1881 - 1886 by Anton Mazzanovich
Life Among the Apaches by John Carey Cremony
Apache Medicine-Men by John G. Bourke
"Annual Report of the Smithsonian Institution"
"Annual Report of the Bureau of Ethnology"

---

Influences on ERB's Apache Novels
http://www.erbzine.com/mag11/1153.html
Indian Wars and Apache Scrapbook
http://www.erbzine.com/mag34/3484.html
ERB's Personal Library Collection (1,100 volumes)
www.erbzine.com/dan

---

Visit ERB's Other Apache Novel
THE WAR CHIEF
http://www.erbzine.com/mag7/0773.html
---
PULP GALLERY
---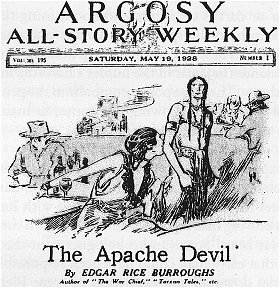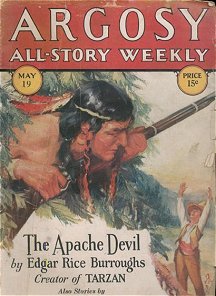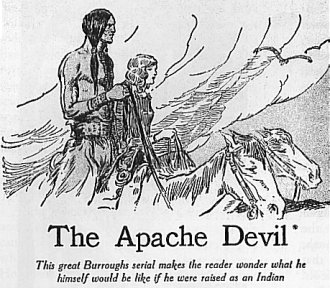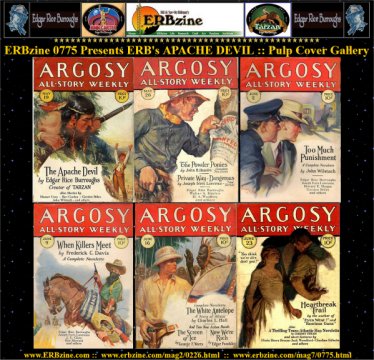 Click for full page image
Covers from the ERBzine Pulp Gallery: 1929 Section
http://www.erbzine.com/mag2/0226.html
---
STUDLEY OLDHAM BURROUGHS
GALLERY
Interior Art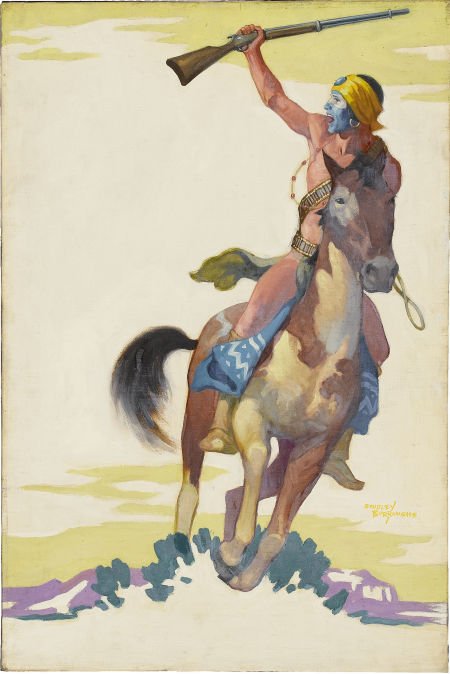 Click for large image
Scan of original cover art by Studley Oldham Burroughs
Oil on canvas ~ 29.5 x 20 in.

---
COVER GALLERY
---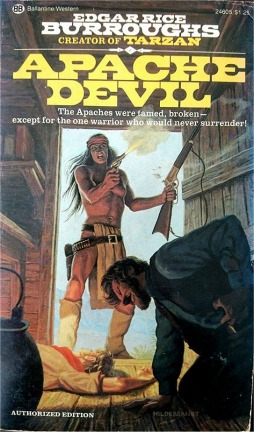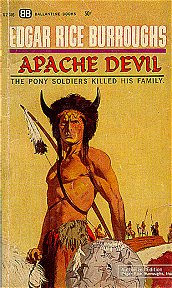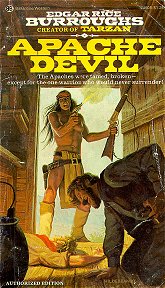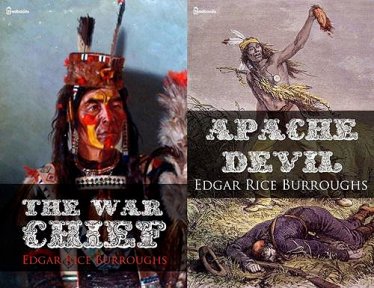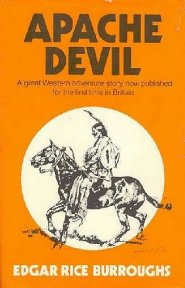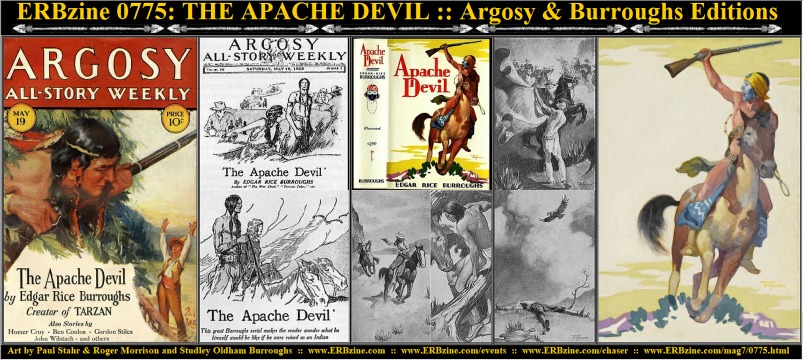 Click for larger-image promo splash bar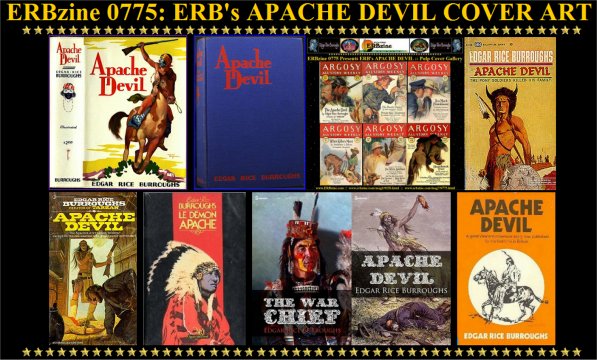 Promo Panel for Apache Devil Cover Art
---



Presents
Armada of ERB Web Sites
Over 15,000 Webpages
The Fantastic Worlds of Edgar Rice Burroughs
ERB Companion Sites Created by Bill Hillman
| | | | |
| --- | --- | --- | --- |
| Tarzan.com | ERBzine.com | DantonBurroughs.com | Tarzan.org |
| BurroughsBibliophiles.com | JohnColemanBurroughs.com | Tarzan.com/tarzine | JohnCarterOfMars.ca |
| www.erbzine.com/edgarriceburroughs | Weekly Webzine | Weekly Webzine | Pellucidar.org |
| John Carter Film | ERB, Inc. Corporate Site | ERB Centennial | tarzana.ca |