The First and Only Weekly Online Fanzine Devoted to the Life and Works of Edgar Rice Burroughs
Since 1996 ~ Over 15,000 Webpages in Archive
Volume 0752
and
ERB C.H.A.S.E.R ENCYCLOPEDIA
A Collector's Hypertexted and Annotated Storehouse of Encyclopedic Resources
present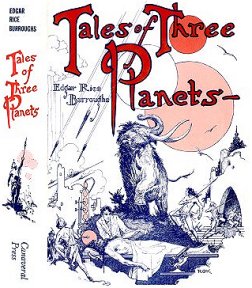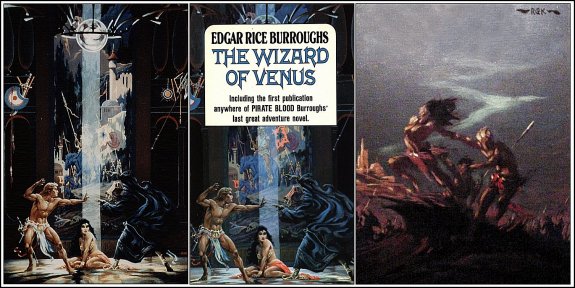 Click above for larger images
(See Tales of Three Planets DJ HERE)
WIZARD OF VENUS
For more references see ERBzine's
Venus/Amtor Guide I ~ Venus/Amtor Guide II
---
PUBLISHING HISTORY (USA)
---
PULP
None
FIRST EDITION
Canaveral Press with Beyond the Farthest Star, Resurrection of Jimber Jaw, Tangor Returns: Tales of Three Planets: April 27, 1964
Roy G. Krenkel: DJ, illustrated endpages, 10 b/w interiors ~ Arlene Williamson: alphabet ~ several maps
REPRINT EDITIONS
Habblitz & Broadhurst: Summer 1964 ~ illustrated souvenir of World Science Fiction Convention, LA ~ 36 pages
Harry Hablitz covers ~ Mike Royer interiors ~ Dale Broadhurst adapted story from ERB
Ace paperback with Pirate Blood: August 1970 & January 1973 ~ 158 pages
Roy G. Krenkel cover
Canaveral Press: 1974 ~ 282 pages
Ace paperback with Pirate Blood: June 1979
Esteban Maroto cover
Ballantine - Del Rey paperback: July 1991 ~ 186 pages
Richard Hescox cover
For detailed information, see Robert B. Zeuschner's
Edgar Rice Burroughs: The Bibliography (ERB, Inc., 2016).
Click on www.erbbooks.com or call 214-405-6741 to order a copy.
Wizard of Venus

When Carson Napier and his Venusian princess Duare found their way to the peaceful kingdom of Korva, it seemed that they could live out their days in quiet tranquility. But tranquility was not for Carson, and when the impetuous Earthman made a routine test flight of an airplane he had designed himself, he rushed headlong into a new adventure - in which the price of failure was death...

This is the final adventure of Carson Napier among the exotic peoples and beasts of Amtor. It is an adventure not to be missed as Napier encounters a new kind of science and a new master of alien deviltry
---
ROY G. KRENKEL INTERIOR ART GALLERY
---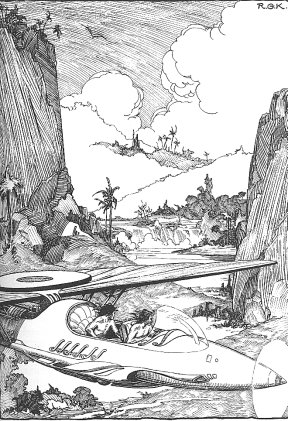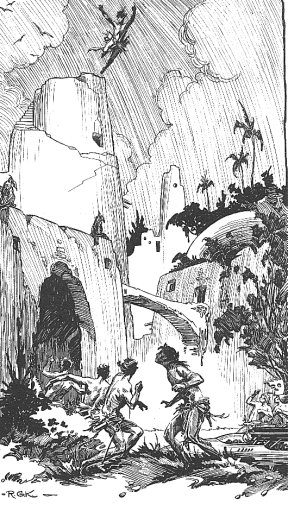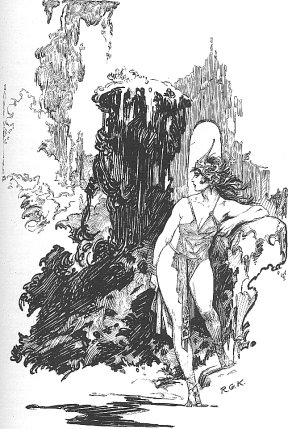 Click for large images
---
PAPERBACK COVER GALLERY
---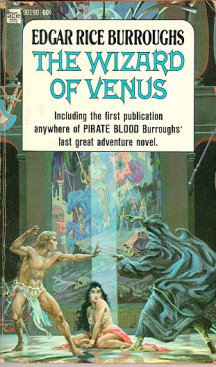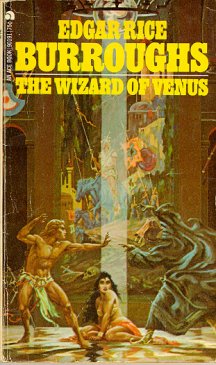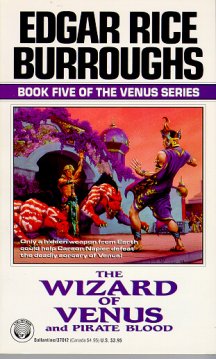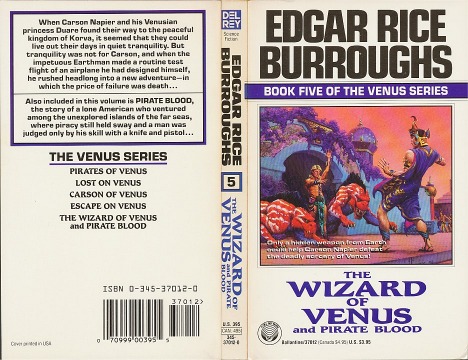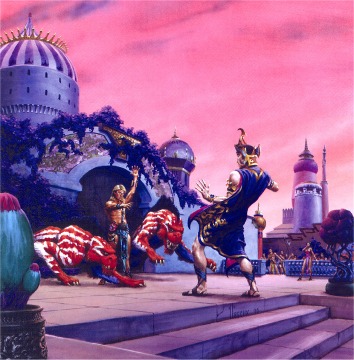 Richard Hescox art for the Del Rey paperback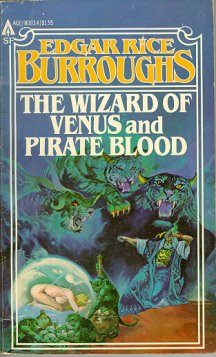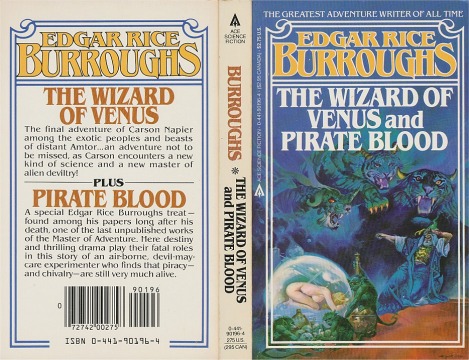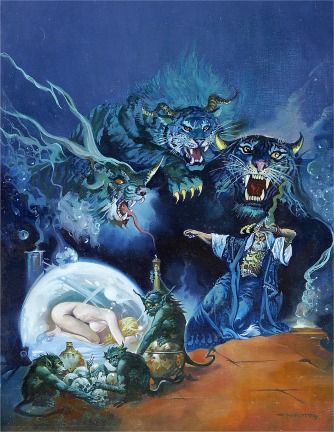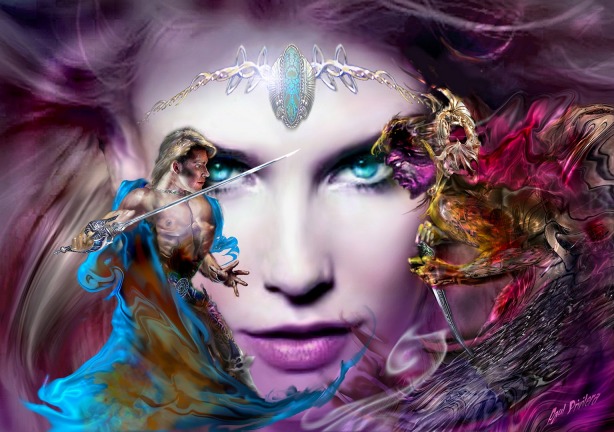 Esteban Maroto Art ~ Paul Privitera Art
---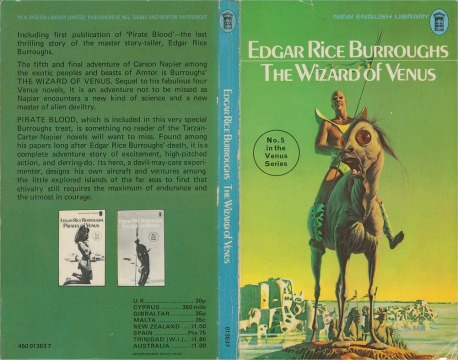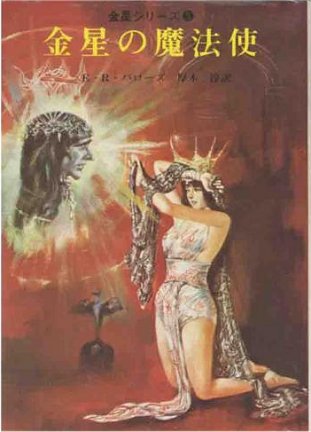 Wizard of Venus - New English UK Edition 1973 :: Japanese Edition ~ Wizard of Venus ~ Tales of Three Planets
---
ROY G. KRENKEL ACE GALLERY
---
| | | |
| --- | --- | --- |
| ACE 1970 | Frontispiece | Original |
---
| | | |
| --- | --- | --- |
| | Preparation | |
---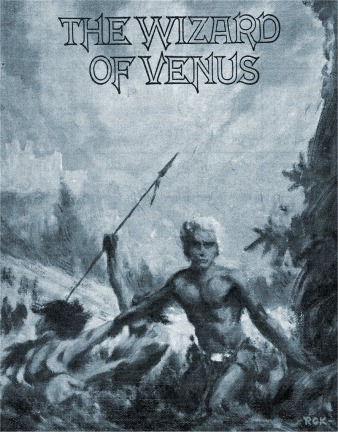 The Unfinished Venus Story
Porges: Pages 1031-1032

"Burroughs had begun a new Carson of Venus story on December 2, 1941, but the bombing of Pearl Harbor five days later, and the United States' entry into the war, caused him to abandon fiction writing for two years. The Venus story, with an opening of a little more than two pages completed, describes Carson and Ero Shan, in their anotar, flying "into the unknown," their destination the city of Sanara, where Carson has left his beloved Duare. The brief section is mainly expository, referring to their adventures with the "mad Wizard of Venus," his death and the dissolving of his "malign hypnotic powers," with the final freeing of all his subjects.

The two men pass over the vast, uncharted regions of Venus. Among the series of adventures and mishaps, there is a hint of danger in the sight of "Gargantuan beasts." The story breaks off with the men excitedly discovering a ship moving on an unknown ocean beneath them: ". . . the first work of man that we had seen since taking off from Gavo."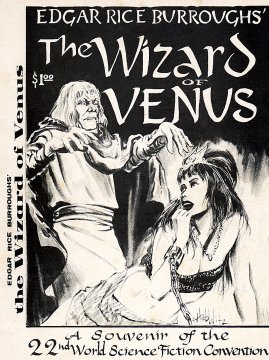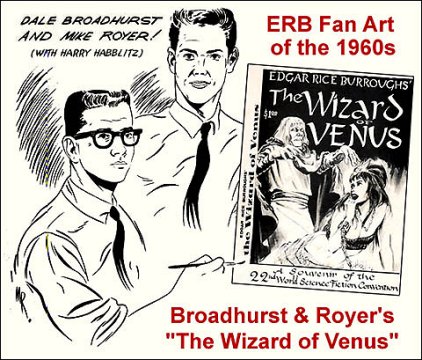 READ IT IN FULL IN ERBzine:
www.erbzine.com/mag45/4565.html
www.erbzine.com/mag45/4566.html
www.erbzine.com/mag45/4567.html
HERE ARE PREVIEW COLLAGES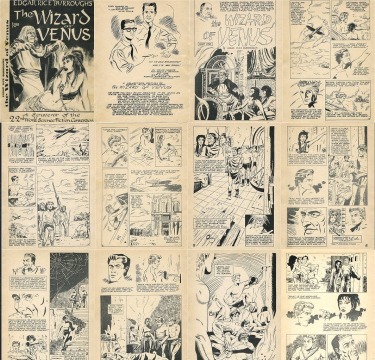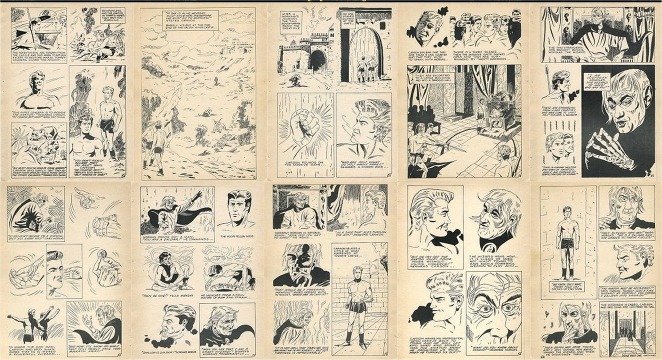 Click for full-size collages
Go to the related Web links to view full pages
---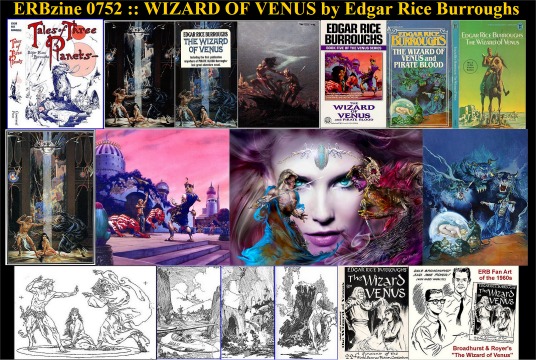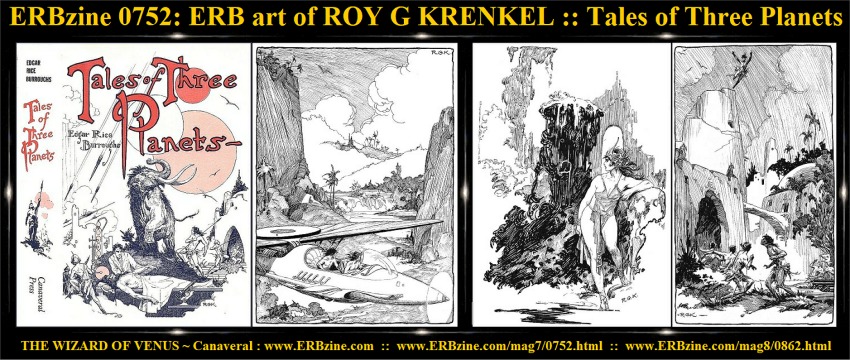 Click for full-size promo collages
---
READ IT IN ERBzine:
www.erbzine.com/mag45/4565.html
www.erbzine.com/mag45/4566.html
www.erbzine.com/mag45/4567.html

---
Web Refs
Dale Broadhurst Biblio-Pro-Phile
Lord Greystokes British Gallery
Lord Greystoke's Gallery of Japanese Cover Art
Matania art in the McWhorter Louisville Collection
Carson Napier Before Venus by F. Ekman
JCB Venus Gallery: EV
JCB Venus Gallery: CV
Fortunino Matania: Images of Amtor Art: Pirates of Venus
Fortunino Matania: Images of Amtor Art: Lost On Venus

Armada of ERB Web Sites
Over 15,000 Webpages
The Fantastic Worlds of Edgar Rice Burroughs
ERB Companion Sites Created by Bill Hillman
| | | | |
| --- | --- | --- | --- |
| Tarzan.com | ERBzine.com | DantonBurroughs.com | Tarzan.org |
| BurroughsBibliophiles.com | JohnColemanBurroughs.com | Tarzan.com/tarzine | JohnCarterOfMars.ca |
| www.erbzine.com/edgarriceburroughs | Weekly Webzine | Weekly Webzine | Pellucidar.org |
| John Carter Film | ERB, Inc. Corporate Site | ERB Centennial | tarzana.ca |