---
PUBLISHING HISTORY (USA)
---
PULP
Argosy Weekly: 1933 March 4, 11, 18, 25 ~ April 1, 8, 15
Paul Stahr cover of the first issue ~ Samuel Cahan: one b/w illustration per installment
FIRST EDITION
ERB Inc. Tarzana: February 15, 1935 ~ 318 pages ~ Print Run: 5,000 ~ Approximate word count: 63,000
J. Allen St. John: DJ and five b/w interiors ~ ERB map of Amtor on endpapers
REPRINT EDITIONS
Grosset & Dunlap: 1936 ~ only four interiors ~ 318 pages
ERB Inc. Tarzana: 1940 ~ DJ and frontispiece only ~ no endpaper maps
Grosset & Dunlap: 1940 ~ ERB endpapers map but no interiors ~ 318 pages
ERB Inc. Tarzana: March 26, 1948 ~ St. John DJ and frontispiece
Ace paperback: August 1963 with at least two future reprints ~ 192 pages
Frank Frazetta cover and title page
Dover with Pirates of Venus: Two Venus Novels by ERB ~ 340 pages
Fortunino Matania cover and 25 interiors (from 1934 British weekly THE PASSING SHOW)
Canaveral Press: November 15, 1963 ~ 318 pages
J. Allen St. John: DJ and five b/w interiors ~ ERB Amtor map on endpapers
Ace paperback: March 1973 ~ larger size but missing title page ~ 224 pages
Ace paperback: June 1979
Esteban Maroto cover
Ballantine - Del Rey paperback ~ June 1991 ~ 200 pages
Richard Hescox cover
University of Nebraska Bison Press Edition
For detailed information, see Robert B. Zeuschner's
Edgar Rice Burroughs: The Bibliography (ERB, Inc., 2016).
Click on www.erbbooks.com or call 214-405-6741 to order a copy.
---
ART GALLERY
---
Lost On Venus

Life on Venus had not been easy for Earthman Carson Napier. All of his courage and cunning were needed just to stay alive on the world of deadly monsters and even deadlier men. But Carson was determined to do more than survive. He had sworn to deliver the princess Duare to her treetop kingdom of Vepaja - even though a thousand miles of unmapped territory lay between him and his lofty goal. From the treacherous Room of the Seven Doors to the horror of Kormor, City of the Dead, attacked by the beast-men and imprisoned by the ruthless scientists, the reluctant hero battled his way across a world of unimaginable perils - for the beautiful princess Carson had pledged to serve was also the women he loved...

The Princess of Venus was the most beautiful woman on Venus: Duare the last hope of Vepaja , daughter of its king. Now she was gone, a captive of the terrible Thorists, the sworn enemies of her people. No man born of Venus had the strength and cunning to rescue her:only Carson Napier, a man of Earth whose crashed ship had marooned on the mist-shrouded planet. For the sake of her life, and the hope of her love,he was willing to undergo the horror of the room of the Seven Doors, to walk in the City of the Dead: to face the thousand. deadly perils that spelled glorious adventure - Lost on Venus or death - for him and his beloved princess.

Argosy March 4, 1933 cover
Art by Paul Stahr


click
Paul Stahr cover art restoration by Charles Madison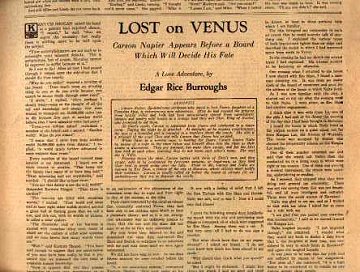 Click for full-screen map image

Amtor art by Matania
www.erbzine.com/mag2/0254.html
www.erbzine.com/mag2/0253.html

Lost on Venus preliminary cover art by J. Allen St. John
1935. Gouache and watercolor on board.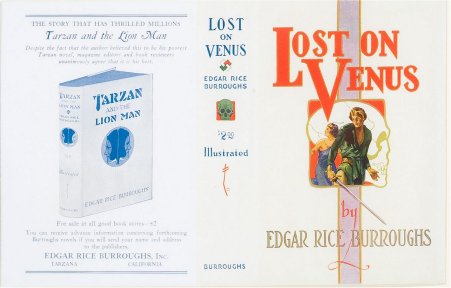 ---
J. ALLEN ST. JOHN G&D INTERIORS
Click for full size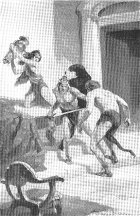 .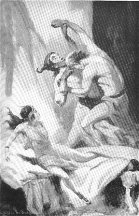 ,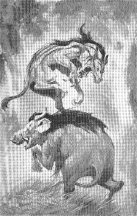 .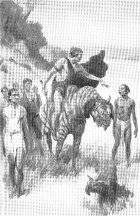 ,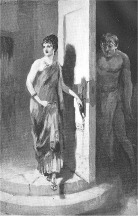 1. Duare raised a heavy vase. ~ 2. He was a large, gross man. ~ 3. The basto charged. ~ 4. And then came Skor. ~ 5. The door swung open.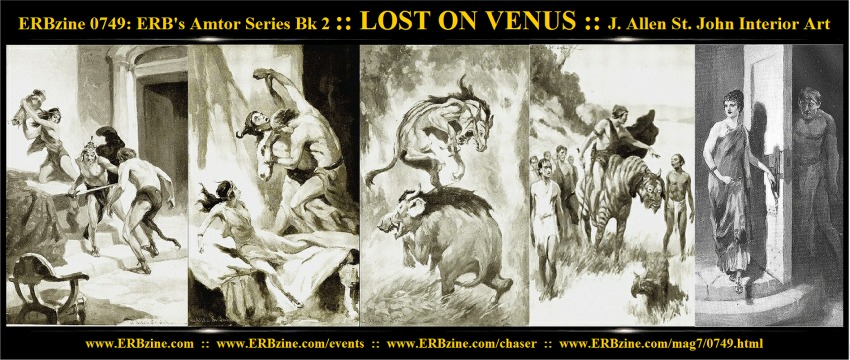 ---

J. Allen St. John Original Art -
a detailed preliminary drawing for the page 48 illustration.
"He was a large, gross man."


Preliminary St. John Art
---
COVER ART GALLERY
---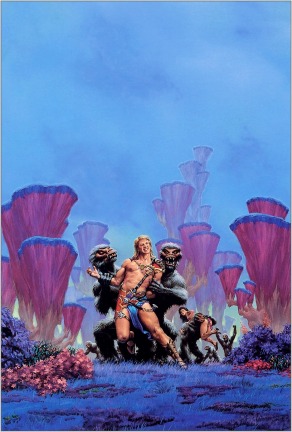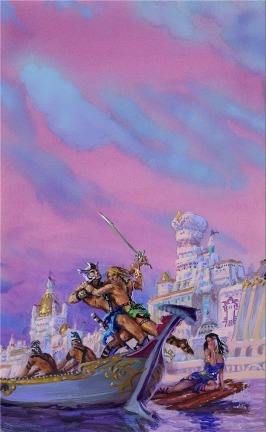 Cover Art - used and unused by Richard Hescox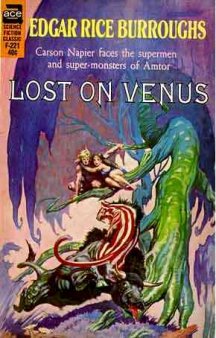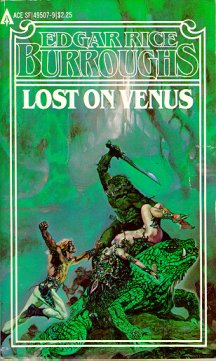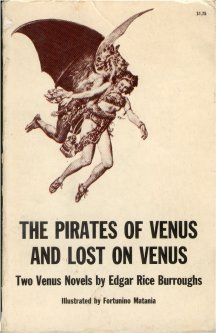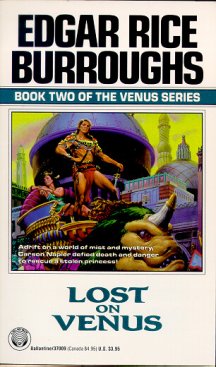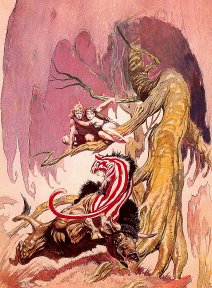 Frazetta cover painting (click)

---
NON-USA COVER GALLERY
---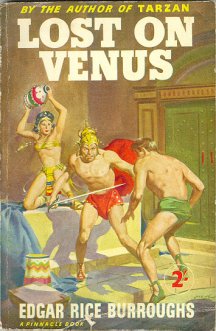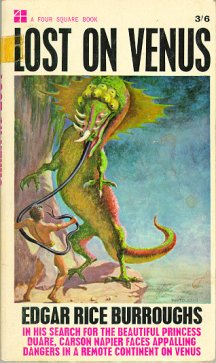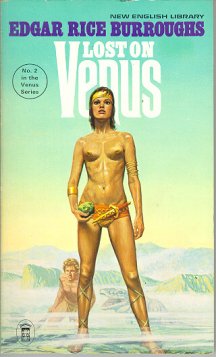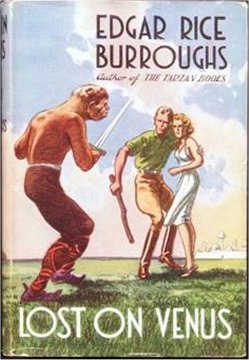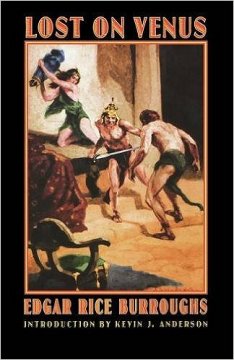 Methuen and Bison Press Editions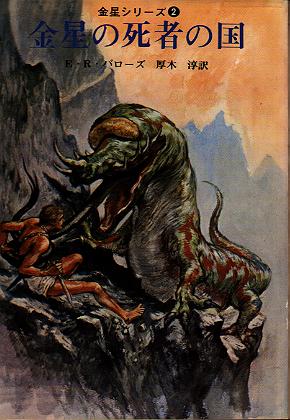 ---
CANAVERAL
---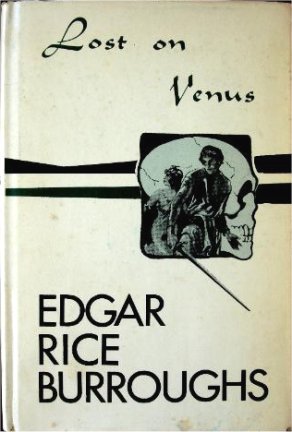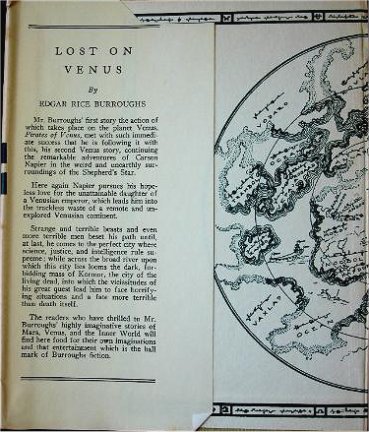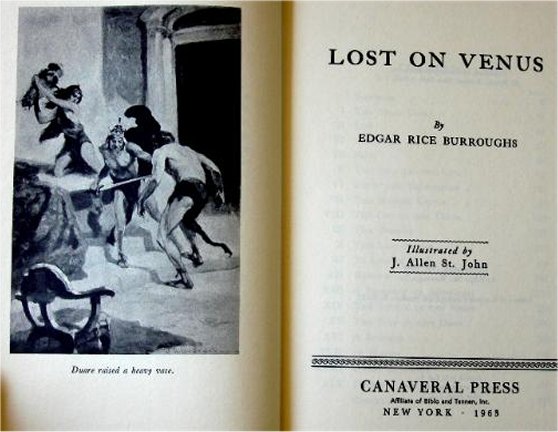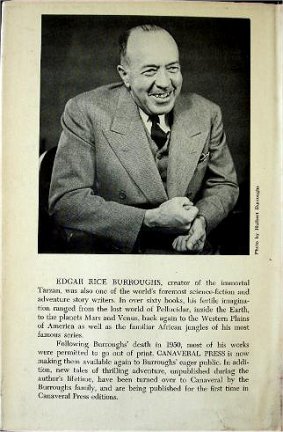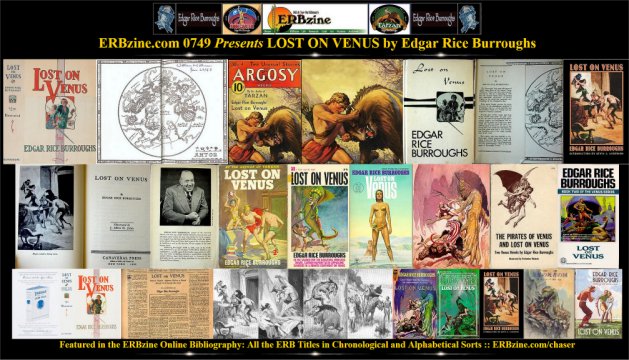 From our Collage Posters series
www.ERBzine.com/cards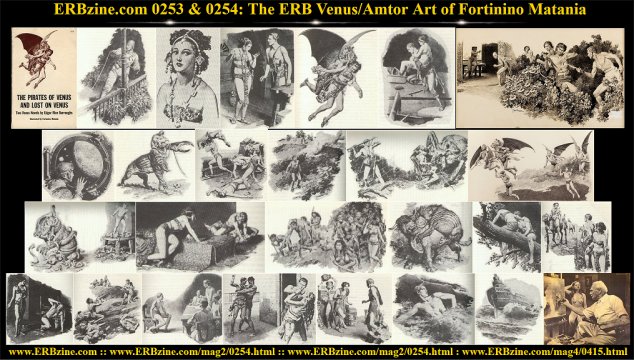 Click for full-size poster collage
VENUS (AMTOR) SERIES in the ERBzine C.H.A.S.E.R BIBLIOGRAPHY
Lord Greystokes British Gallery
Lord Greystoke's Gallery of Japanese Cover Art
Matania art in the McWhorter Louisville Collection
Carson Napier Before Venus by F. Ekman
JCB Venus Gallery: EV
JCB Venus Gallery: CV
Fortunino Matania: Images of Amtor Art: Pirates of Venus
Fortunino Matania: Images of Amtor Art: Lost On Venus

Armada of ERB Web Sites
Over 15,000 Webpages
The Fantastic Worlds of Edgar Rice Burroughs
ERB Related Sites Created by Bill Hillman
| | | | |
| --- | --- | --- | --- |
| Tarzan.com | ERBzine.com | DantonBurroughs.com | Tarzan.org |
| BurroughsBibliophiles.com | JohnColemanBurroughs.com | Tarzan.com/tarzine | JohnCarterOfMars.ca |
| www.erbzine.com/edgarriceburroughs | Weekly Webzine | Weekly Webzine | Pellucidar.org |
| John Carter Film | ERB, Inc. Corporate Site | ERB Centennial | tarzana.ca |