---
US PUBLISHING HISTORY
---
PULP
All-Story Cavalier Weekly: 1915 May, 8 ~ All-Story Weekly: 1915 May 15, 22, 29
Modest Stein cover on first issue (rehash of At the Earth's Core cover) ~ ERB: Empire of Pellucidar map
FIRST EDITION
A.C. McClurg: September 5, 1923 ~ 322 pages ~ 1st Ed. Print Run: 10,000 ~ Total: 93,500 ~ Heins word count: 61,000
J. Allen St. John: DJ and four interior sepia plates ~ ERB: Empire of Pellucidar map
REPRINT EDITIONS
Grosset & Dunlap: 1924, 1928 etc. numerous reprintings ~ four b/w interior plates
Grosset & Dunlap: 1940 ~ four interiors missing
Ace paperback: October 1962 ~ 160 pages
Roy G. Krenkel cover and title page ~ ERB map
Canaveral Press: October 25, 1962 ~ 180 pages
Mahlon Blaine: DJ, endpapers, Pellucidar map, four interiors
Dover with At the Earth's Core and Tanar of Pellucidar as Three Science Fiction Novels by ERB: Dec. 1963 ~ 433 pages
J. Allen St. John cover and 12 interiors ~ Paul F. Berdanier one illustration
Peter Smith hardback library version of the Dover edition: 1963 ~ 433 pages
Castle: Science Fiction Classics (anthology of five ERB novels): 1982 ~ 451 pages
J. Allen St. John: DJ and 25 b/w interiors ~ Paul F. Berdanier illustration ~ Pellucidar map
Ace paperback ~ numerous reprintings ~ 160 pages
Roy G. Krenkel cover and title page ~ ERB: Pellucidar map
Ace paperback: September 1972 ~ 191 pages
Frank Frazetta cover
Ballantine - Del Rey paperback: May 1990
David B. Mattingly cover ~ ERB map of Pellucidar
Bison Books ~ 2002 ~ Introduction by Jack McDevitt and an afterword by Phillip R. Burger
Dover Books ~ 2003 ~ Cover art by Jeff A. Menzes
For detailed information, see Robert B. Zeuschner's
Edgar Rice Burroughs: The Bibliography (ERB, Inc., 2016).
Click on www.erbbooks.com or call 214-405-6741 to order a copy.
---
Pellucidar

In the incredible world inside the Earth, David Innes discovers a new frontier for mankind. He strove to carve a civilization out of its Stone Age perils. But the kidnapping of the beautiful cave-women-empress, Dian, made him drop his fight for advancement enter into a still greater battle against all the primitive monsters of Pellucidar!
Introduction to Pellucidar in the Bison Edition Jack McDevitt
ERBzine Reprint
---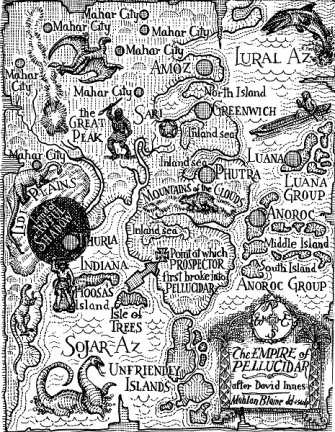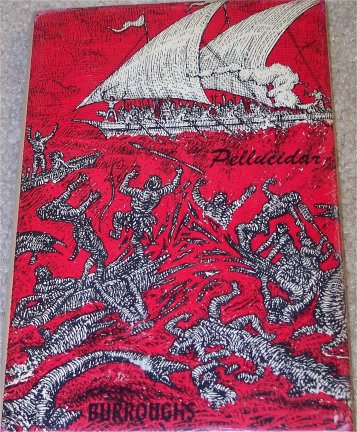 Empire of Pellucidar Map
Art by Mahlon Blaine from the Canaveral Edition
ERB CANAVERAL ART by MAHLON BLAINE
BLAINE BIOGRAPHY AND BIBLIOGRAPHY
---
PULP COVER GALLERY
www.erbzine.com/mag2/0222.html
From ERBzine Illustrated Pulp Biblio: ERBzine 0220
---

All-Story Cavalier Weekly: May 1, 8, 15, 22, 29 - 1915
Newspaper serializations:
Philadelphia Public Ledger, Philadelphia, March 24, 1917
Seattle Times, Seattle, Washington, October 1923
Tacoma News-Tribune, Tacoma, Washington, 1923

---
J. ALLEN ST. JOHN and FRANK FRAZETTA ART GALLERY
---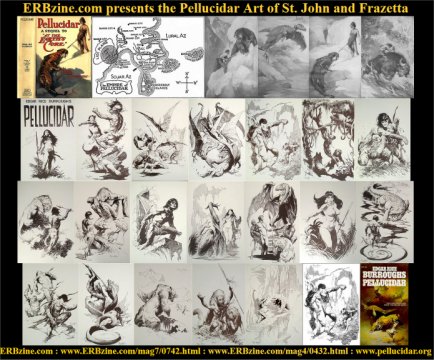 See
ERBzine 0432
Pellucidar Gallery V
---
FROM OUR ERB ART BY FRANK FRAZETTA GALLERIES
www.ERBzine.com/ff
---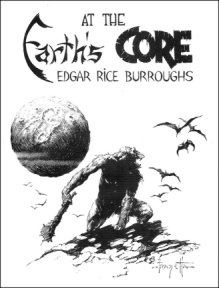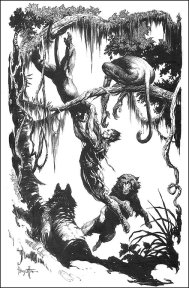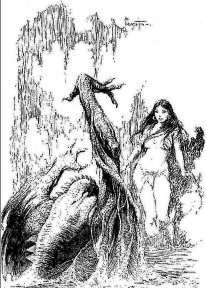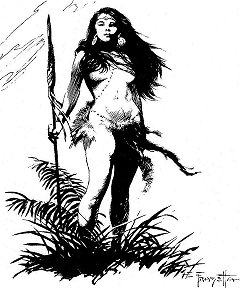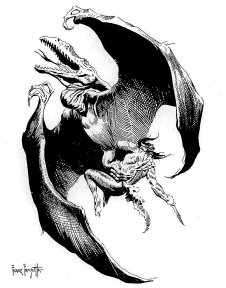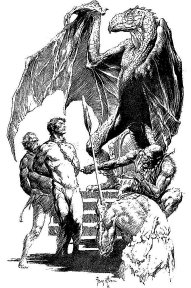 ---
LORD GREYSTOKE'S PAPERBACK GALLERY
---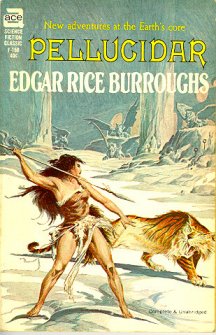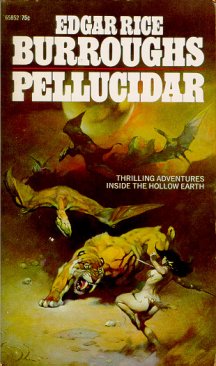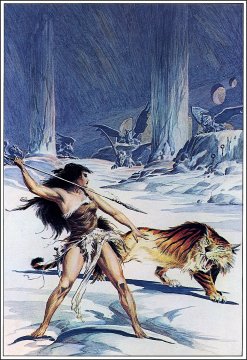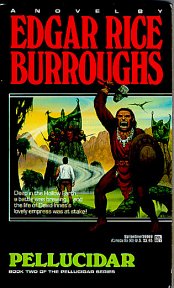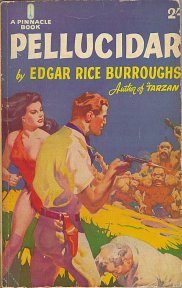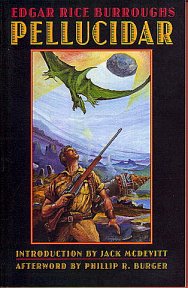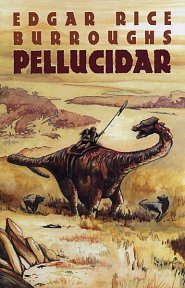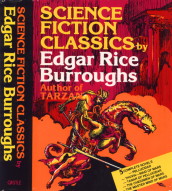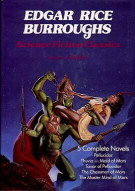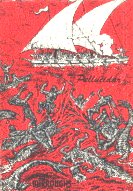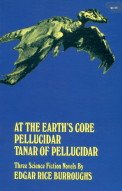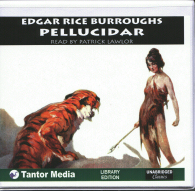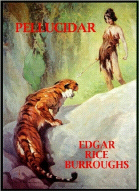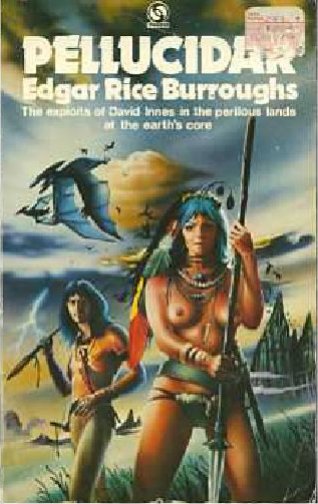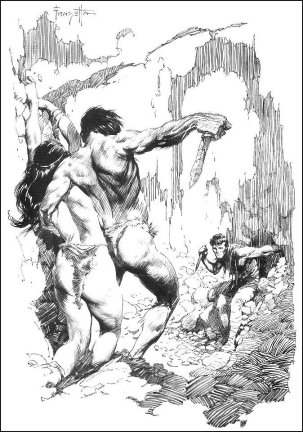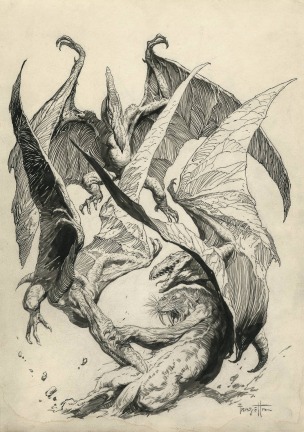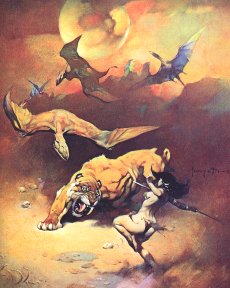 Frank Frazetta cover painting (click)
WANTED
CANAVERAL 4 BLAINE INTERIORS
CASTLE 25 ST. JOHNS

---

Japanese Edition
Art by Motoichiro Takebe


Dutch Edition ~ 1931
---

Rogue Pondering Pellucidar
By Enric Torres-Prat


Dian of Pellucidar
Roy Krenkel's first for ACE
---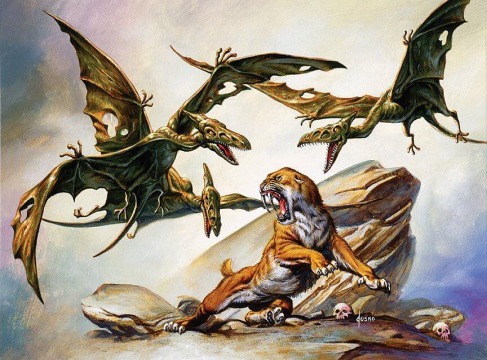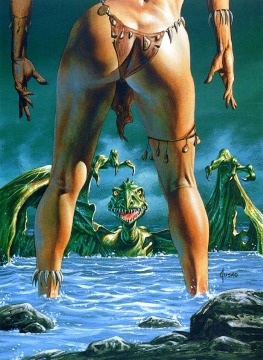 Joe Jusko Pellucidar Art
---
ROY G. KRENKEL ACE GALLERY
---
| | | |
| --- | --- | --- |
| Ace F-158 | 1962 | Frontispiece | Original |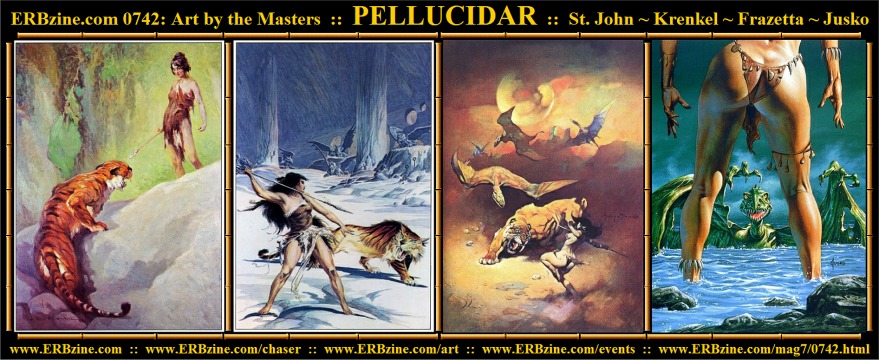 The Pellucidar Series
Official Pellucidar Website
At the Earth's Core
Pellucidar
Tanar of Pellucidar
Tarzan at the Earth's Core
Back to the Stone Age
Land of Terror
Savage Pellucidar

---
J. Allen St. John Images of Barsoom III
Lord Greystokes British Gallery
PELLUCIDAR ST. JOHN INTERIORS
Lord Greystoke's Gallery of Japanese Cover Art
At The Earth's Core art by J. Allen St. John

Armada of ERB Web Sites
Over 15,000 Webpages

The Fantastic Worlds of Edgar Rice Burroughs
ERB Companion Sites Created by Bill Hillman
| | | | |
| --- | --- | --- | --- |
| Tarzan.com | ERBzine.com | DantonBurroughs.com | Tarzan.org |
| BurroughsBibliophiles.com | JohnColemanBurroughs.com | Tarzan.com/tarzine | JohnCarterOfMars.ca |
| ERBzine.com/edgarriceburroughs | Weekly Webzine | Weekly Webzine | Pellucidar.org |
| John Carter Film | ERB, Inc. Corporate Site | ERB Centennial | tarzana.ca |