Official Edgar Rice Burroughs Tribute Site
Since 1996 ~ Over 15,000 Webpages in Archive
Volume 6218

A PRINCESS OF MARS
by EDGAR RICE BURROUGHS
www.erbzine.com/mag4/0421.html
ILLUSTRATED EDITION

Click for full-size art
.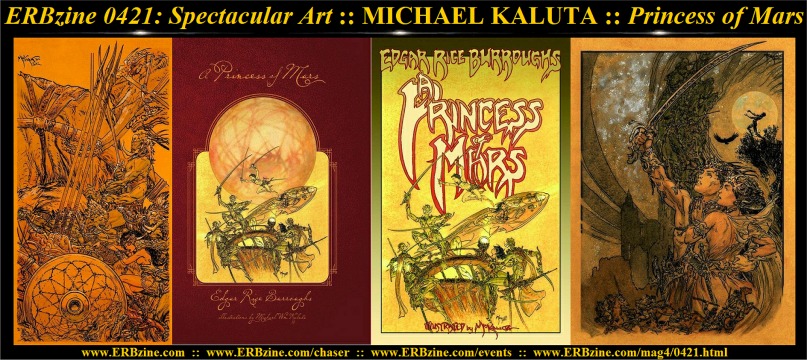 ERBzine M.A.P.L.E. Series: ART 3



THE ILLUSTRATIONS


COVERS: 1st Edition (top) and Reprints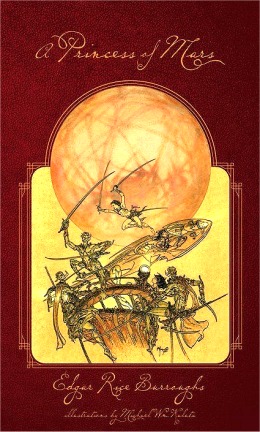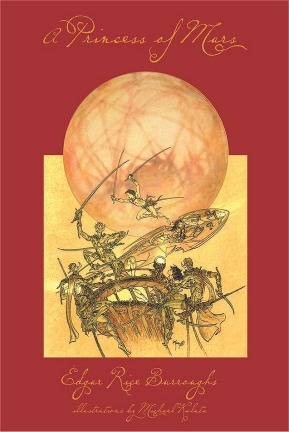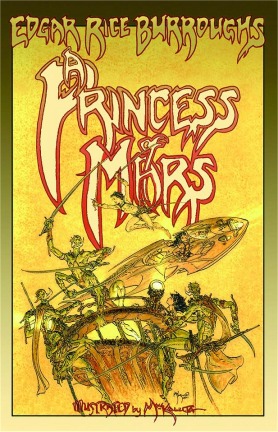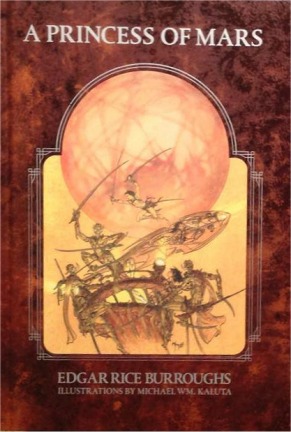 Concept designs for the early chapters of A Princess of Mars.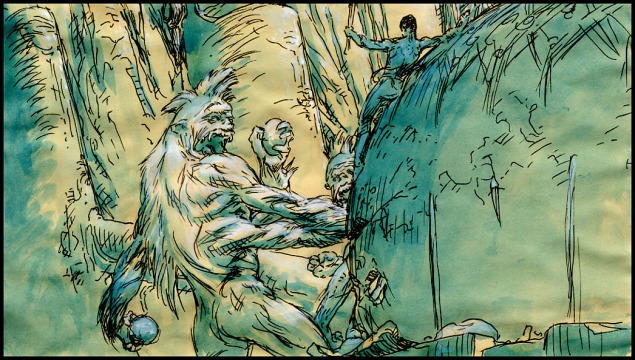 The Egg-Robbing Apes at the Incubator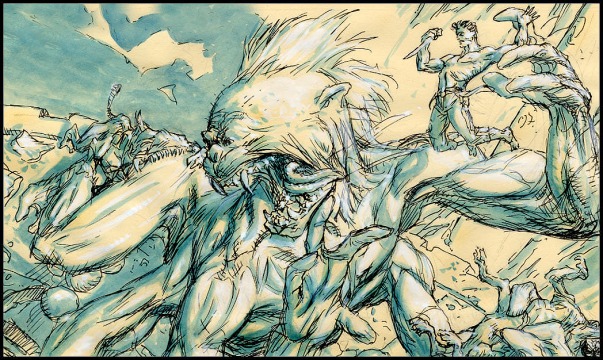 Calot guards attack the Egg-Robbing Apes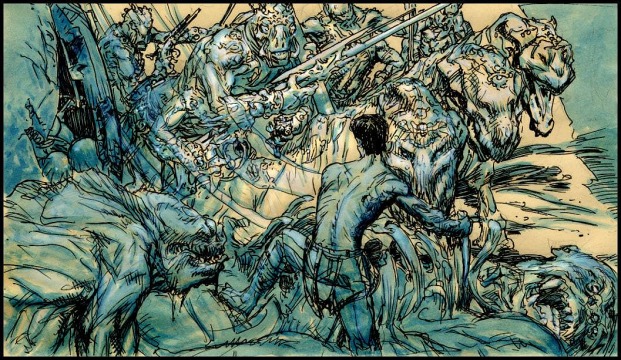 John Carter and the Green Men of Barsoom
MICHAEL KALUTA
From ERBzine ERB EVENTS FOR
https://www.erbzine.com/mag63/6342.html#AUGUST25

Fantasy artist Michael Kaluta was born in Guatemala to U.S. citizens on August 25, 1947. He studied at the Richmond Professional Institute. Kaluta's early work included a three-page adventure story, "The Battle of Shiraz", in Charlton Comics Flash Gordon #18 (Jan. 1970) and an adaptation of Edgar Rice Burroughs's Venus novels from 1972 to 1974 for DC Comics. Kaluta's influences and style are drawn from pulp illustrations of the 1930s and the turn of the century poster work of Alphonse Mucha – his signature motif is elaborate decorative panel designs – rather than the comic books of the Silver Age.

His much-admired work includes illustration of comics and books as well as a talent in writing. He is well-known for his work on the DC version of "Carson of Venus" from 1972 to 1974. Among other projects, he has also lavishly illustrated this large-size edition of "A Princess of Mars," published in 2014 by IDW (available at all popular booksellers and online) and many more featured in ERBzine.

Michael Kaluta was one of the four comic book artists/fine illustrator/painters (the others being Jeffrey Jones, Barry Windsor-Smith, and Bernie Wrightson) who formed the artists' commune The Studio in a loft in Manhattan's Chelsea district from 1975 to 1979. In addition to many comic book stories and covers, Kaluta has done a wide variety of book illustrations.

Michael Kaluta's Carson of Venus:
www.erbzine.com/mag41/4151.html
Kaluta's Pellucidar in Weird Worlds
www.erbzine.com/mag41/4164.html
Kaluta art in the Outlaw of Torn Adaptation
www.erbzine.com/mag36/3601.html
.