UNIVAC Analyst's
Family Finds
"Tarzan" Movie,
Book Hobby Fun
by Clara Herron
Pittsburgh Post-Gazette
Friday, April 28, 1961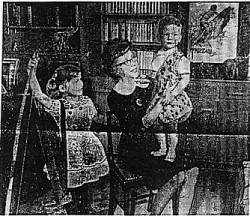 INK-BLOT COTTON leopard skin,
Bob Hyde once wore is a bit big for son John,
his wife Alice finds.
Daughter Wendy, in leopard-cat dress,
holds bow from Dad's collection.
Mr. Hyde, UNIVAC data analyst and world
head of the "Burroughs Bibliophiles"
will show first "Tarzan" silents
Sunday night at an open meeting at
First Unitarian Church.
Every wise woman knows that her husband will be a happier man and stay closer to home if he has a real hobby to ride!
But just how does a gal feel about a hubby who rides a hobby elephant or a hobby lion instead of a hobby horse?
Alice Hyde can answer that question! She's been married for 10 years to an Edgar Rice Burroughs . . . and that means Tarzan . . .. fan! She says his spare-time "work" has brought lots more fun and interest swinging through the trees into her life as well as his.
SHOWS FILMS
Her husband, Clarence (Bob) Hyde, senior data processing analyst at the South Side U.S. Steel UNIVAC (think machine) installation, will show his collection of 1920 silent Tarzan films and display part of the collection of books, comic strips and magazines he's accumulated in 25 years this weekend, and she'll be right there watching.
He'll speak at a joint meeting of the Science Fiction Club and the Jefferson Club, non-sectarian, interracial business and professional group for men and women 24 to 45, at the First Unitarian Church, corner of Ellsworth and Moreland Aves., Sunday evening at 7:30.
Mr. Hyde has been a Tarzan fan as long as he can remember. His mother made the ink-spotted "leopardskin" outfit his son John 2 1/2, wears in our picture, soon after Bob read his first Tarzan story.
International president of the Burroughs Bibliophiles, a worldwide organization of Burroughs fans, he has collected 350 books, 275 magazines, 300 comic books, 31 years of Sunday color comic strips, parts of 22 years of daily newspaper strips, and 11 early (1918 to 1920) silent movie films.
GLUED TO SET
Only event likely to shake up the household is the showing of a late-late or early-early Tarzan movie of any vintage on tv. Alice watches the night shows with him. Wendy, 6, eagerly gets up to catch movies (often shown as early as 8 a.m. on Saturdays) with her Daddy.
Bob takes his Burroughs seriously, so there was a slight argument when his wife insisted on naming their new baby girl Susan Jane. He says he's never going to be trapped into saying "Me Daddy, You Jane!" She'll be strictly Susie around home.
One of the bonuses being Burroughs fans has brought to the Hydes is their membership in the Science Fiction Club here. It came about when a SF fan saw part of Bob's Hobby collection on display in a window downtown.
CONGENIAL PEOPLE
Among Science Fiction fans, who gather once a month, they've met ornithologists, geologists, artists, journalists, public relations people . . and one authentic SF author and book reviewer . . . in Pittsburgh. The World Science Fiction Convention held here Labor Day weekend brought a dozen internationally famous Science Fiction writers to their doorstep. Dirce (Mrs. Arthur) Archer of Barnesdale Street is president of the group.
At the Jefferson Club, the Hydes expect to meet another cross-section of city citizens. Doctors, lawyers, teachers, scientists, business men and women, secretaries, librarians, social workers, newspaper people go there too.