As Pete Ogden wrote in a recent editorial in his fanzine Erbania, that after the success of the 1988 convention held in Greystoke, Cumbria, the only place to hold an ECOF gathering which could follow it could only be Tarzana, California ...and it certainly lived up to its setting.

Tarzana is situated in the San Fernando Valley just a few miles north of Los Angeles and away from the smog. Only the select few live here (and only the select few can afford to!) and every one of us felt privileged to be there - Burroughs home town, a town that grew up around him and took its name from his most famous of creations that was to make his name immortal.

The journey began for me early one Monday morning as I left Heathrow Airport. After an 11 hour flight direct to Los Angeles, I was soon able to pick up a car and head for Woodland Hills. Whatever you may have heard about the traffic congestion in L.A. but have never had the misfortune to experience it first hand, the nightmare in reality is many times worse. I had not driven a car in four years (since the Louisville gathering) although I do ride a 500cc motorbike around central London often at speeds that occasionally will defy comprehension to other road users. All of which probably explains how I later came by a speeding ticket in Utah where I was nicked for doing a mere 80mph in a 55 zone.

However I lived to tell the tale and arrived safely at the Holiday Inn just in time to see John McGuigan checking in at the front desk. After greeting one another like two long lost brothers, we dumped our cases in our respective rooms and headed for an English pub he knew situated in Tarzana. Some things just never change as John and I did exactly the same thing in Greystoke last year. A phone call from John brought Danton Burroughs down to join us and we settled down to talk of the events to come.

If you've never been to an ECOF gathering and are unaware of what to expect, they tend to be like family reunions and greet newcomers like a new addition. Over the next couple of days, more people were to arrive and introductions made to one another. To me, meeting Mike Moody for the first time was perhaps the biggest surprise. Having read his articles over recent years, one begins to form a picture of the man behind the name and for the most part we tend not to be too far from the truth. Mike was somehow different. Here was a guy in his mid-thirties sporting shoulder length hair, drooping moustache, a broad Tennessee accent with the manner of a back woods country boy and great at arm wrestling! Talking of which, if you ever get the chance, ask Martin Smiddy what occurred when he came up against Don Frailey (former editor of the Jasoomian) over a bar room table. It was not a great night for the Brits.

On Friday morning the gathering was to officially start as the doors to the Century Room were opened and we were greeted by Mike and Marilyn Shaw with their co-hosts Ralph and Katie Brown. Each of us was given a package of assorted items that included amongst other things, a tee-shirt and a pin to commemorate the event. The room was lined with dealers tables stacked high with all kinds of Burroughs books and related items. Almost immediately the buying and selling began at a furious pace, and for me personally I was able to complete my set of ERBdoms that has taken ten years or more - such is the difficulty in collecting Burroughs outside of the U.S. Until John McGuigan finally showed his face having had a late night the evening before, most had considered that the majority of dealing had been done for the day. However, John was armed to the teeth with film memorabilia that had rarely seen the light of day and once more that funny green stuff was to pass hands quicker than the eye could see.

At one point, Walter Koenig - Chekov of Star Trek fame came by, this time as a collector himself searching for badges. He talked and posed for pictures with many of us before disappearing just as quick and mysterious as his arrival (Shades of transporter rooms!).

Lunch was served as things began to settle down once more and we all moved outside to bask in the mid-day sun. Finally we returned to the Century Room for the afternoon auction which brought about one or two higher prices that could well have been taken for less earlier in the day.

That evening we had all been invited to Danton's home which he is currently renovating and is adorned with stained glass windows, antiques, a whole range of original juke boxes and pinball machines. Several of us went outside where Danton has placed his very own Tarzan rope that swings out high above the private parking area below. When you consider that it was dark and close to midnight, from a hindsight point of view it was an extremely dangerous stunt but we all enjoyed ourselves and no one got hurt as the ape call could be heard to echo out across the night sky.

---

On Saturday morning we took breakfast at the Braemar Country Club which is situated at one end of the former Tarzana ranch where Danton, with the help of special guest Gordon Scott, officiated in the opening of the Burroughs Room. Leaving the club, we moved onto the home of Ralph Herman which is located on the site of ERB's old home. Unfortunately little remains of the original buildings from Burroughs time with his old house now long gone and others altered beyond recognition. Somewhat surprised by the much larger group than he anticipated, Ralph kindly showed us around the grounds and his home, and put on a display of old photos of the original estate. Also on show were two of the knives used by Johnny Weissmuller during his MGM years and which are now part of Joe Musso's prized collection.

PHOTO GALLERY
Westwood Photos Scanned by Laurence Dunn

Click for full-size images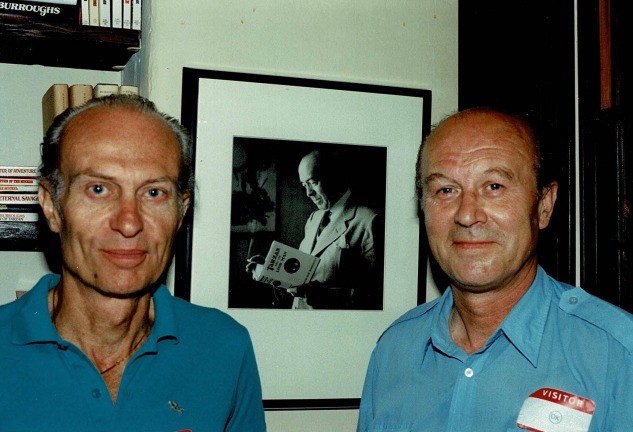 Pete Ogden (editor of Erbania), photo of ERB, Frank Westwood (editor of Fantastic Worlds of ERB).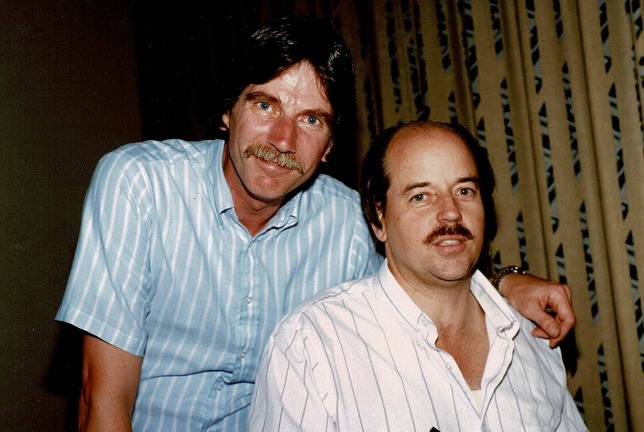 Bill Ross with Danton Burroughs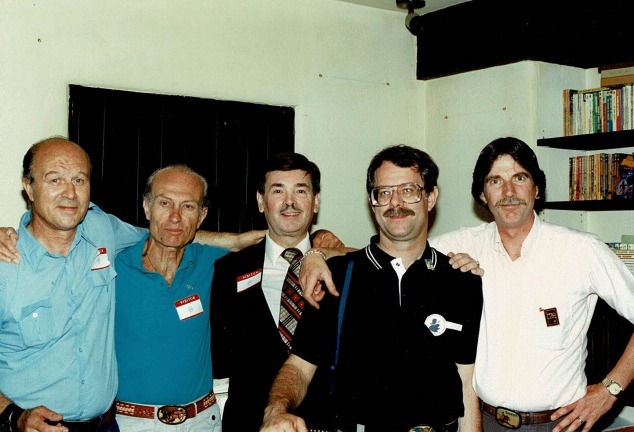 Frank Westwood, Pete Ogden, George McWhorter, Mike Conran, Bill Ross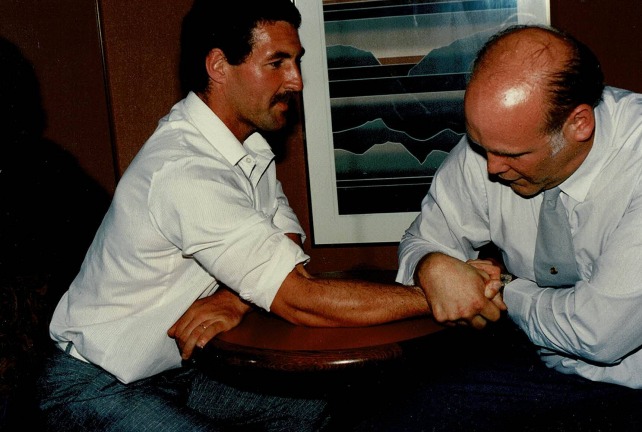 Martin Smiddy and Don Frailey (editor of the last issue of The Jasoomian)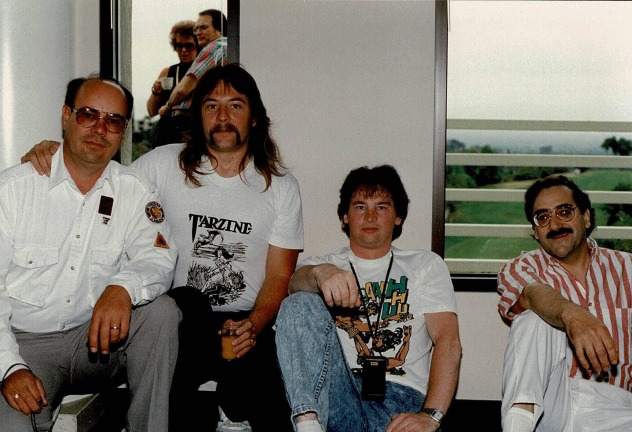 Ralph Brown, Mike Moody, Laurence Dunn, Mitch Harrison and behind outside is Gigi and Bob Barrett.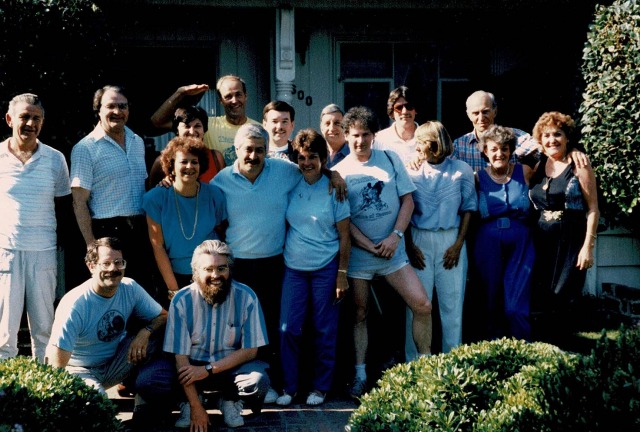 Unknown, Bob Barrett, Gigi Barrett, Doreen Westwood (behind), Mike Shaw, Rich Dumont,
George McWhorter, Joan Dumont, Tony Menegazzo, Laurence Dunn, Bill Ross, Marilyn Shaw,
Pete Ogden. Unknown, Joan Ogden, Mike Conran and Jim Thompson crouching.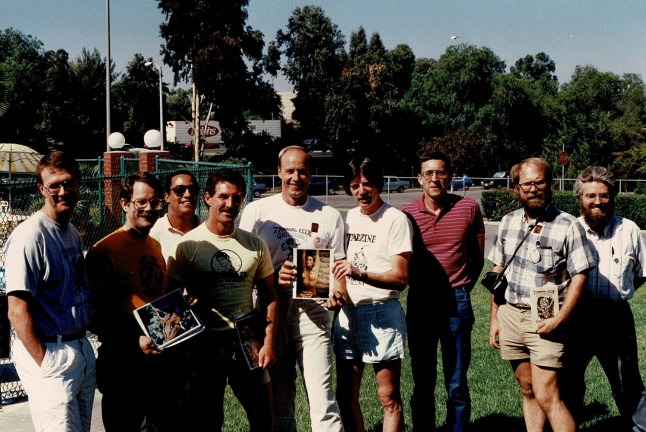 Alan Hanson, Mike Conran, Ashely King, Martin Smiddy, Mike Shaw, Bill Ross, Shawn Cassidy, Tom Lindgreen, Jim Thompson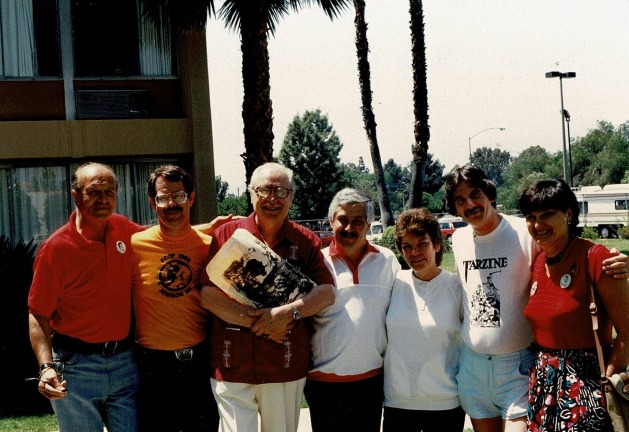 Frank Westwood, Mike Conran, Forrest J. Ackerman, Rich and Joan Dumont, Bill Ross, Doreen Westwood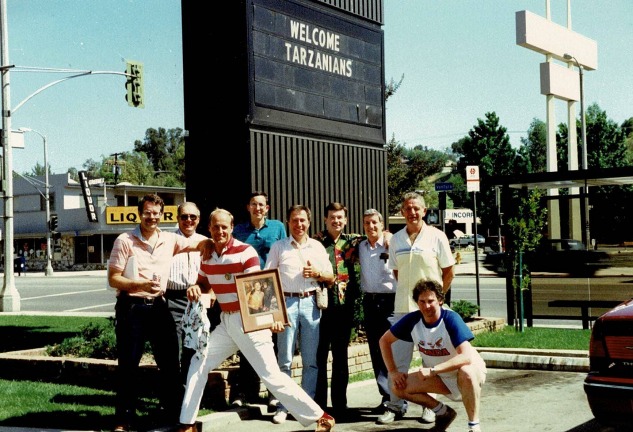 Mike Conran, Unknown, Mike Shaw, Shawn Cassidy, Fred Lucas,
George McWhorter, Tony Menegazzo, Unknown, Laurence Dunn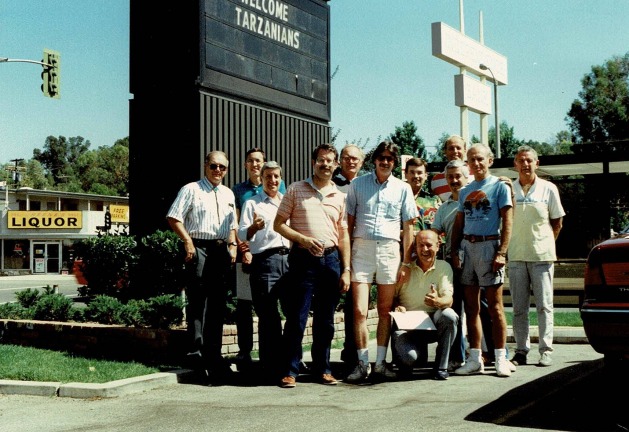 Unknown, Shawn Cassidy, Tony Menegazzo, Mike Conran, Ken Webber, Bill Ross, George McWhorter,
Mike Shaw (far back), Rich Dumont, Pete Ogden, Unknown, Frank Westwood (crouching)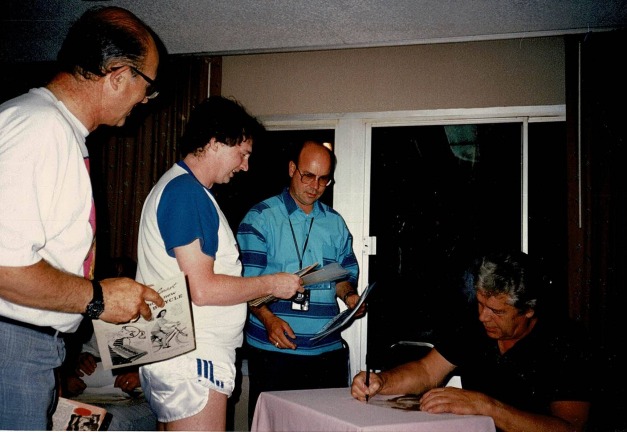 Frank Westwood, Laurence Dunn, Ralph Brown, Gordon Scott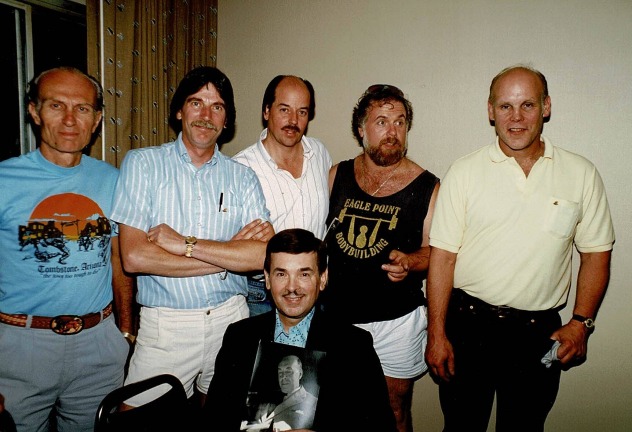 Pete Ogden, Bill Ross, Danton Burroughs, Jim Bergen, Don Frailey, George McWhorter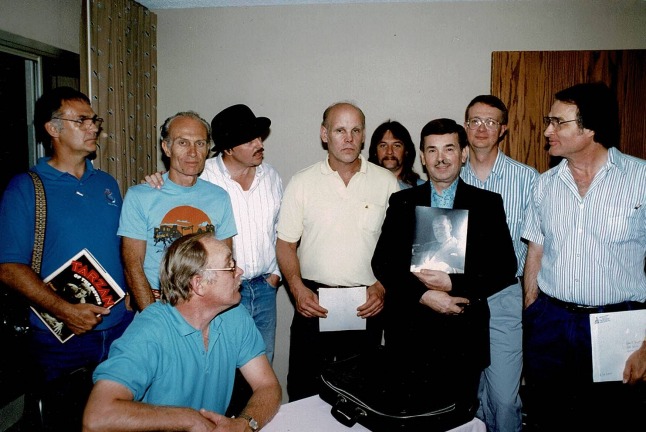 Unknown, Pete Ogden, Danton Burroughs, Don Frailey, Mike Moody,
George McWhorter, Alan Hanson, Bob Barrett, Ken Webber (seated)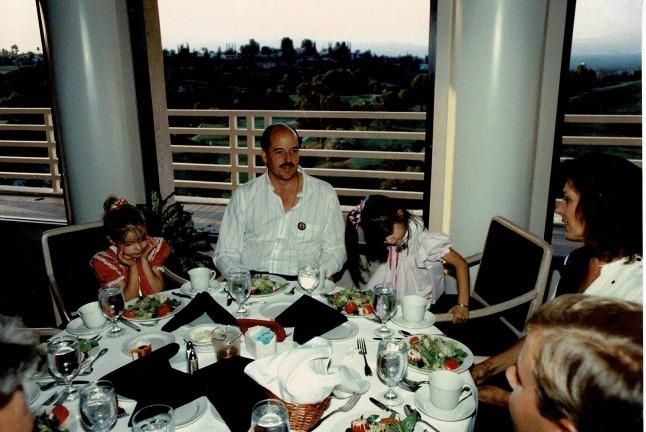 Dejah Burroughs, Danton, Llana Jane Burroughs, Alyssa Ross (Bill's daughter), John McGuigan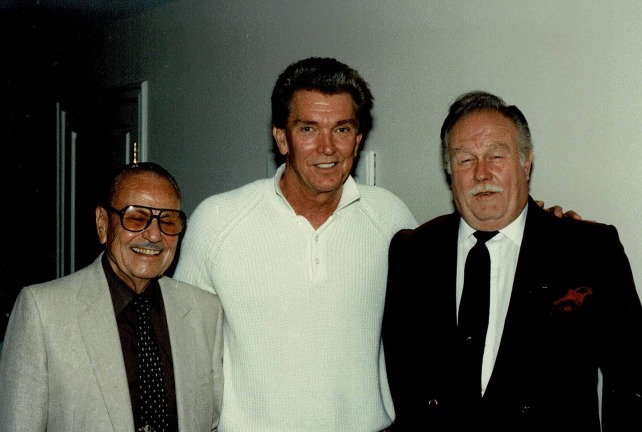 Burne Hogarth, Denny Miller, Jack Iverson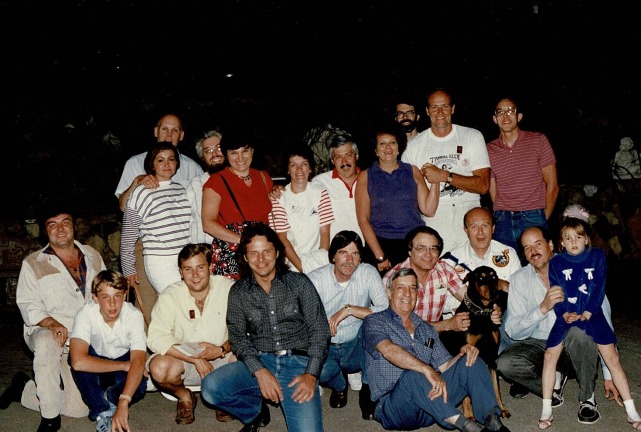 back row: Don Frailey with his wife, Jim Thompson, Doreen Westwood,
Joan and Rich Dumont, Gigi Barrett, Ward Orndoff, Michael Shaw, Shawn Cassidy.
front row: Joe Musso, Unknown, John McGuigan, Unknown, Bill Ross,
Tony Menegazzo, Bob Barrett, Frank Westwood, Danton and Dejah Burroughs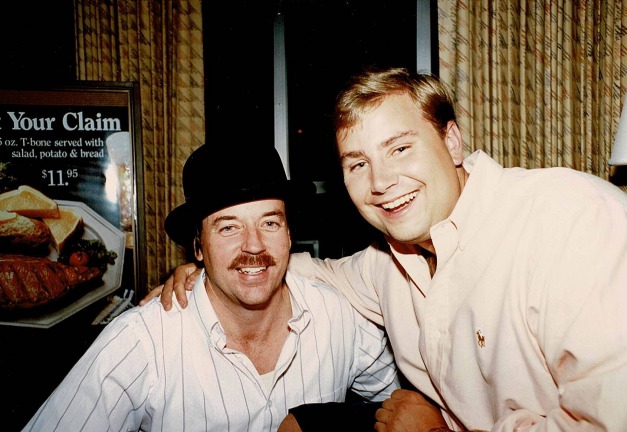 Danton Burroughs and John McGuigan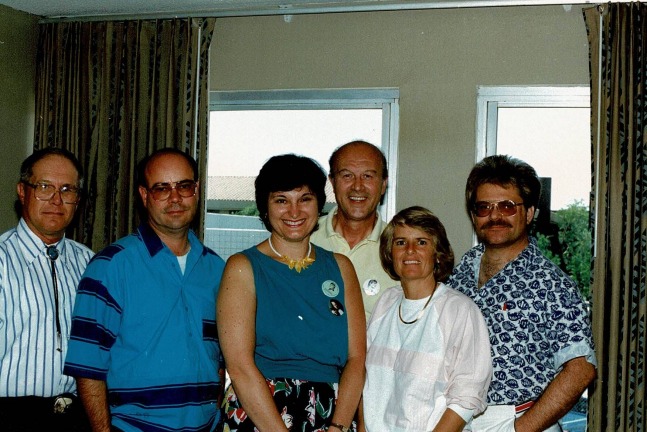 Roy White, Ralph Brown, Doreen and Frank Westwood, Marilyn Shaw, Rudy Sigmund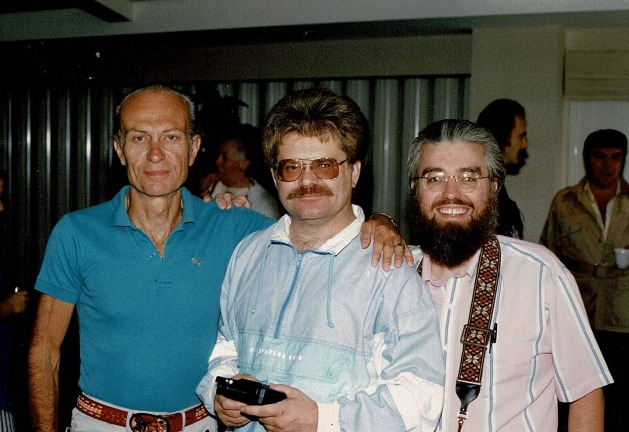 Peter Ogden, Rudy Sigmund, Jim Thompson