Official Edgar Rice Burroughs Tribute Weekly Webzine Site
Since 1996 ~ 15,000 Web Pages In Archive
Volume 4543

ERBzine REMEMBERS THE 2013 LOUISVILLE DUM-DUM
Photos by Bill and Sue-On Hillman
Captions by Sue-On - Expanded from our Facebook pages
click for larger images

3. PRESENTATIONS ~ PANELS ~ BOARD MEETING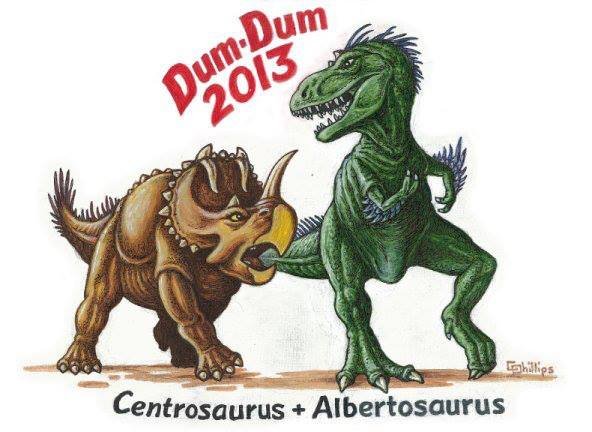 Friday was the official first day of the 2013 Dum-Dum.
The logo, indicating the topic of our guest speaker, paleontologist Dr. Phil Currie,
was designed by Chicago Mucker artist Greg Phillips.

.
John Tyner - Quaestor of the Capital Panthans
-- one of the major driving forces responsible for the success of this convention.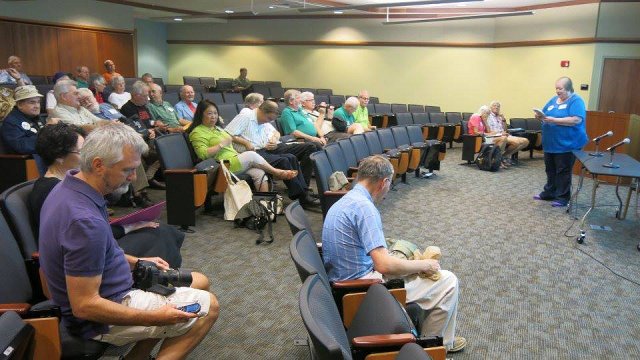 Friday, the first official day of activities, began with MC Joan Bledig
welcoming everyone to the Ekstrom Rare Books Library auditorium, University of Louisville.
She then introduced the first speaker.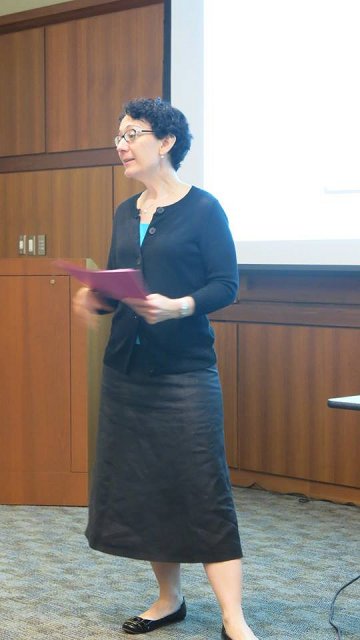 Carrie Daniels, Director, Archives and Special Collections
at the University of Louisville, Ekstrom Library,
welcomed everyone to the Dum-Dum.
She acknowledged that George McWhorter is responsible for this,
the largest institutional collection of the works of
Edgar Rice Burroughs and ERB-related material.
ERBzine Virtual Tour of the McWhorter Memorial ERB Collection - U of L

.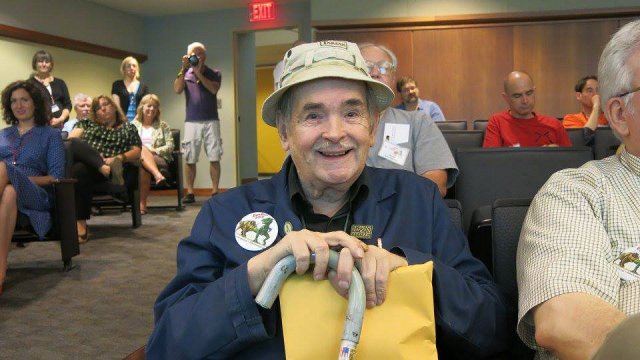 George McWhorter, the Patriarch of our ERB fanfamily,
always seems to have a twinkle in his eyes whenever ERB is mentioned.
As George has had some health issues,
the Capital City Panthans and the Chicago Muckers
decided to join forces and hold the DD in Louisville.
Visit the George T. McWhorter Tribute Site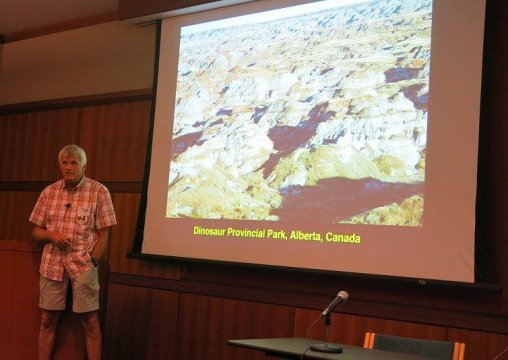 Our guest of honour was Dr. Phil Currie, a world-renowned paleontologist,
and a Canadian, gave an excellent presentation on
his work in searching out dinosaurs all over the world.
He spoke of ERB's influence on his choice of career.

.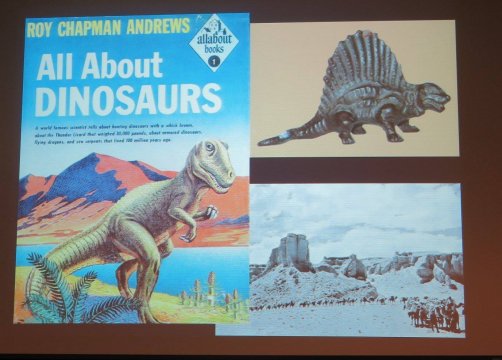 Another early influence was Roy Chapman Andrews - a favourite of ERB.
In fact, the ERB personal library contained many RCA books: www.ERBzine.com/dan
Dr. Currie has been involved in major dig sites all over the world.
His enthusiasm for his work came through in his very entertaining and informative
PowerPoint presentation and Q&A session.
Bill had featured one of Dr. Currie's books in a previous ERBzine.
He will feature more of his work in future ERBzines.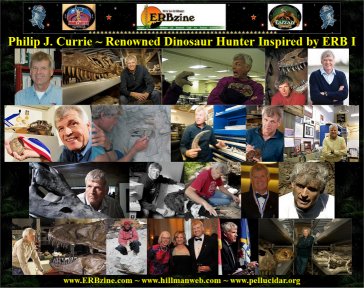 .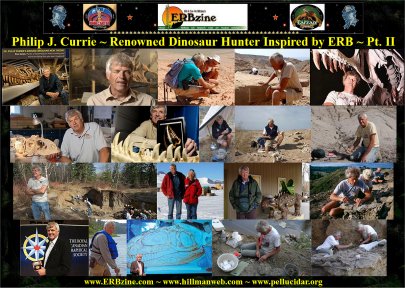 Click images above to see our Phil Currie Collages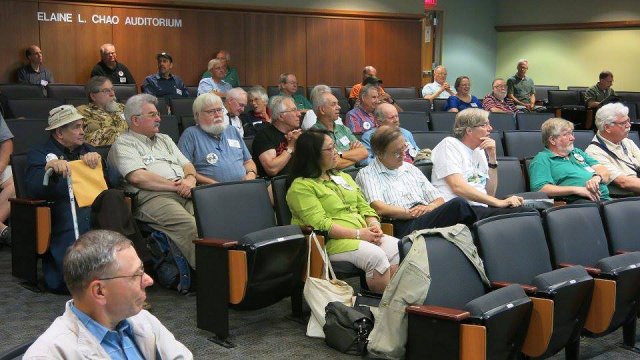 Several members of the audience were pleased
to have had the opportunity to ask questions about Dr.Currie's work.
And yes, birds ARE descendents of dinosaurs!

.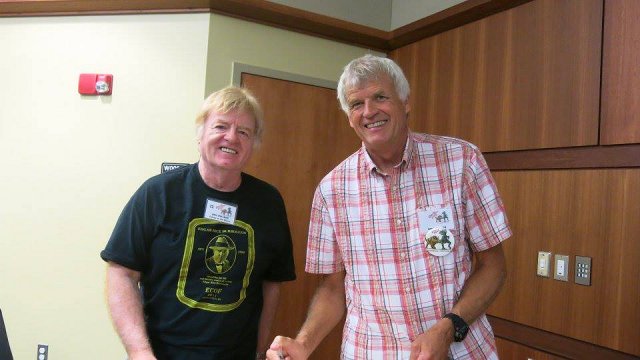 Bill has been an admirer of Dr. Phil Currie for many years,
from when Phil wrote and published a series of excellent ERB fanzines 40 years ago.
Phil is still a devoted fan of Burroughs.
A special treat for this year's DD attendees
was a handoiut booklet that featured most of Phil's early ERB Fanzines.

A few years ago ERBzine No. 2058 featured
Phil's first fanzine which he published in 1965:
FANTASTIC WORLDS
devoted to the works of
Edgar Rice Burroughs and Otis Adelbert Kline
This was the start of a series of excellent fanzines
compiled by teenaged Phil.

CONTENTS
Cover and interior art by Reed Crandall
Numerous art sketches by Phil
James Bond vs. Tarzan by Philip J. Currie
The James Bond Thrillers by Philip J. Currie
E.R.B. and Canada by John F. Roy
Otis Adelbert Kline in Memoriam by E. Hoffman Price

http://www.erbzine.com/mag20/2058.html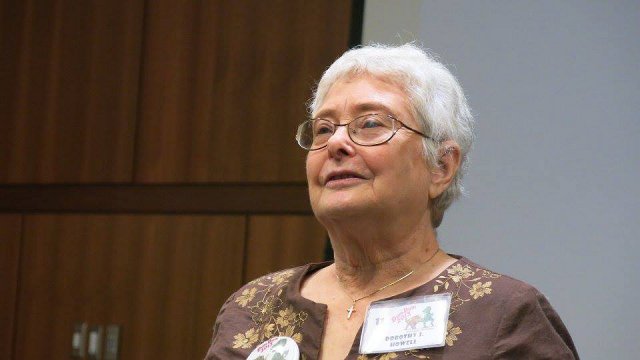 Next presenter was D.J Howell:
"Can Tarzan be called a literary classic?"
There is, of course, no doubt in the minds of those in attendance!

.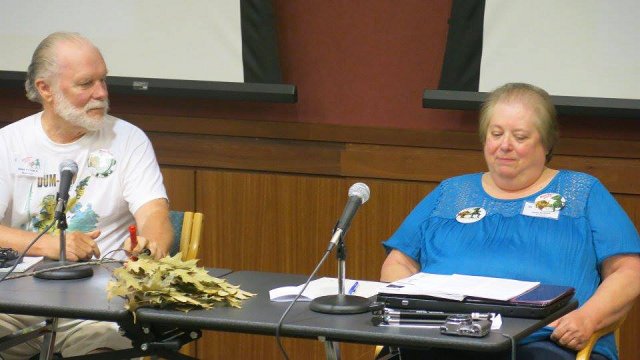 Following the presentations was The Bucket List:
"a forum for workable solutions from the BB members
on how to proceed in our fan-driven non-profit organization's future"
-- moderated by two of the convention's organizers:
Joan Bledig (J the V) and John Tyner (Quaestor).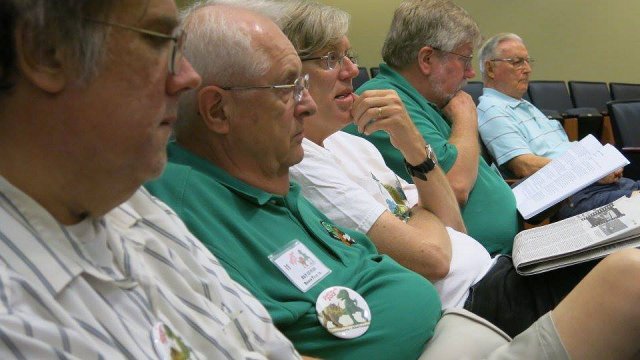 Members of the Chicago Muckers "think tank"
Kenneth Manson, Ray Le Beau, Jim Hadac, Greg Phillips,
plus long time ERB fan and collector Bob O'Malley.

.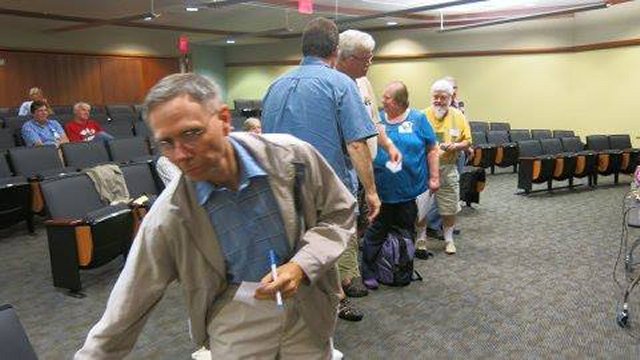 Following the Bucket List feedback session,
board members gathered for their annual meeting.
Members shown here: Henry Franke (BB treasurer and editor of the Bulletin and Gridley Wave),
Bill Wagner, Dick Spargur, Joan Bledig, Jim Thompson.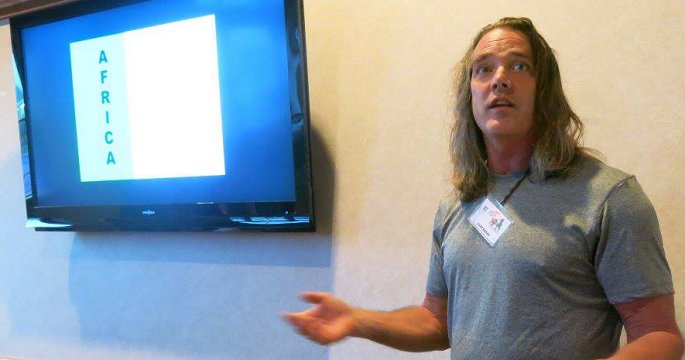 After supper, Lane Batot gave a presentation
of his experiences working with Jane Goodall and the chimps...

.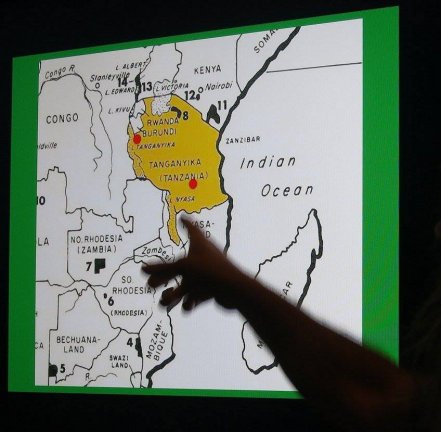 ...in Africa.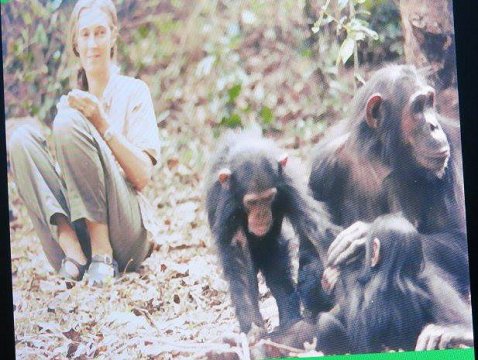 He had some great slides, of Dr. Jane Goodall,
who was our guest speaker at the Centennial DD celebrations in Tarzana, 2012.
Bill will give full coverage of Lane's presentation in a future issue of ERBzine.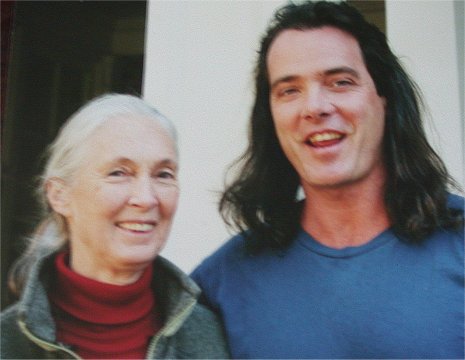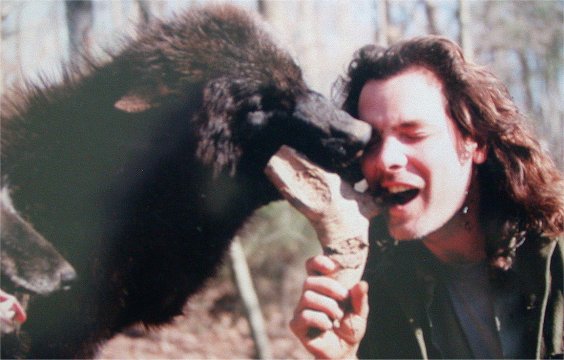 ERBzine did a feature on Lane Batot a few years back.
"A Conversation with A. Lane Batot
Regarding His Association With Jane Goodall and ERB"
By Mary "Amar" Fabian
www.erbzine.com/mag19/1983.html


..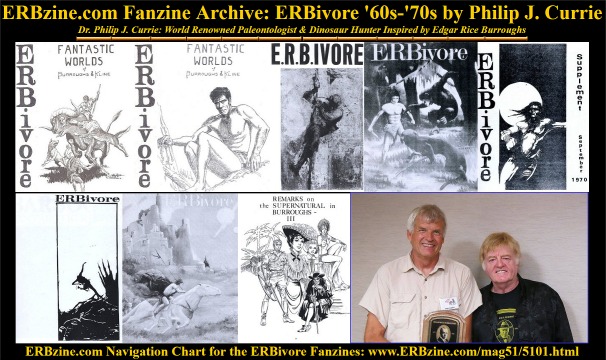 Click for full-size collage

NAVIGATION GUIDE TO PHIL CURRIE'S EARLY ERBivore FANZINES
LOUISVILLE 2013 DUM-DUM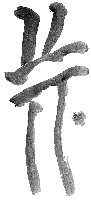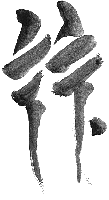 BILL HILLMAN
Visit our thousands of other sites at:
BILL AND SUE-ON HILLMAN ECLECTIC STUDIO
ERB Text, ERB Images and Tarzan® are ©Edgar Rice Burroughs, Inc.- All Rights Reserved.
All Original Work ©1996-2013/2017 by Bill Hillman and/or Contributing Authors/Owners
No part of this web site may be reproduced without permission from the respective owners.