Official Edgar Rice Burroughs Tribute Site
Since 1996 ~ Over 15,000 Webpages in Archive
Volume 0498
and
ERB C.H.A.S.E.R ONLINE ENCYCLOPEDIA
Present
TARZAN AND THE TARZAN TWINS
Combining
THE TARZAN TWINS
and
TARZAN AND THE TARZAN TWINS
WITH JAD-BAL-JA THE GOLDEN LION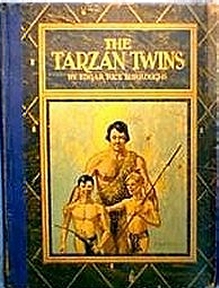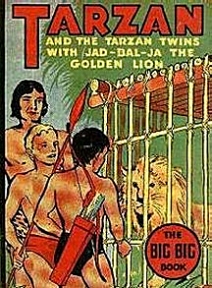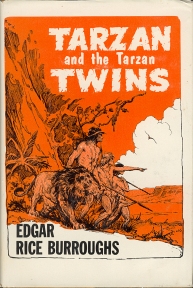 Tarzan Twins Large Image
Tarzan Twins Large Image (alternate)
Tarzan Twins & Jad Large Image
Canaveral Edition Large Image
Cover Art ~ Publishing History ~ Summary
Cast ~ Chapter Titles ~ Lord Greystoke's Art Gallery
---
PUBLISHING HISTORY (USA)
"To Joan, Hulbert and Jack, who were brought up on Tarzan stories,
this volume is affectionately dedicated by their father."
---
THE TARZAN TWINS
TEST PRESS
Printer's Dummy copy by Volland: Before October 1927 ~ 126 pages
Douglas Grant DJ art in grey tones
FIRST EDITION
Volland: October 10, 1927 ~ 126 pages ~ Heins word count: 23,000
Douglas Grant DJ art, 6 colour and 36 b/w illustrations
REPRINT EDITIONS
Volland: 1927 in Deluxe pictorial box rather than DJ
Volland: 1927-1932 many reprints
Big Little Book: Whitman Publishing
Hal Arbo cover art ~ Juanita Bennett: 189 interiors
Whitman Give-Away stapled soft cover with only 48 pages and 23 Bennett interiors
TARZAN AND THE TARZAN TWINS WITH JAD-BAL-JA, THE GOLDEN LION
FIRST EDITION
Whitman Publishing Colouring Book: March 9, 1936 ~ 314 pages
Juanita Bennett: cover and interiors
TARZAN UNDER FIRE (from a 1937-38 comic strip)
(Based on Tarzan and the Tarzan Twins with Jad-Bal-Ja, The Golden Lion)
FIRST EDITION
House of Greystoke: 1968
William Juhre: cover and 336 interiors from the newspaper strip
TARZAN AND THE TARZAN TWINS
(combined Tarzan Twins [Volland 1927] and Tarzan and the Tarzan Twins with Jad-Bal-Ja [Whitman 1936])
FIRST EDITION
Canaveral Press: November 30, 1963 ~ 192 pages
Roy G. Krenkel: DJ and 19 interiors
Canaveral Press: 1974 reprint
For detailed information, see Robert B. Zeuschner's
Edgar Rice Burroughs: The Bibliography (ERB, Inc., 2016).
Click on www.erbbooks.com or call 214-405-6741 to order a copy.
---
CAST
(in order of appearance)

THE TARZAN TWINS
Dick ~ black-haired twin, born in England, Tarzan-go
Doc ~ blond-haired twin, born in America, Tarzan-tar
Zopinga ~ Mugalla of the Bagalla tribe of Ugalla forest
Bulala ~ West Coast black, Bagalla prisoner, former safari cook
Ukundo ~ pygmy prisoner of the Bagalla
Galla Galla ~ Chief of the Bagalla cannibals
Paabu ~ Bagalla boy into whose head the knives "went"
Intamo ~ evil-faced Bagalla witch-doctor
TARZAN of the Apes ~ John Clayton, Lord Greystoke
Muviro ~ Chief of Tarzan's Waziri warriors

TARZAN AND THE TARZAN TWINS WITH JAD-BAL-JA THE GOLDEN LION
Jad-bal-ja ~ Tarzan's Golden Lion
La ~ High Priestess of Opar
Cadj ~ dead High Priest of Opar
Gulm ~ leader of twenty exiled Oparians
Blk ~ another Oparian, discoverer of new temple locale
Ulp ~ Oparian who suggests sacrificing the girl, Kla
Kla, aka Gretchen ~ literally the New La, captured by the Oparians
Natando ~ black leader of von Harben's safari
Dr. Karl von Harben ~ missionary from Urambi country, Gretchen's father
Cast List Ref: Clark A. Brady's Burroughs Cyclopedia and Ed Stephan's Tarzan of the Internet
Chapter Titles

Part 1
1. Off to Africa
2. Two Young Tarzans
3. A New Day
4. Prisoners of the Bagalla
5. Cannibals
6. The Vanishing Knives
7. The Knives Reappear
8. Plotting and Escape
9. The Waziri
10. Escape
11. Dick's Trophy


Part 2
12. Back to the Jungle
13. The Storm
14. The Sun Worshippers
15. Danger Ahead
16. To the Rescue
17. The Twins' Plan
18. In the Nick of Time
19. The Tarzan Trio
20. The Ambush
21. Filled with Despair
22. Striking from the Rear
23. The Sacrifice
24. The End
Canaveral Press
Jacket Summary

Edgar Rice Burroughs, one of the most popular authors of all time, is best known as the creator of the world-famous Tarzan of the Apes. In the years since Tarzan's birth, his adventures have been chronicled in books, motion pictures, radio dramatizations, comic strips, and many other forms.

Tarzan stories have been translated into dozens of languages and are known the world around. TARZAN AND THE TARZAN TWINS is the only Tarzan book which Burroughs wrote expressly for younger readers, although all of his stories have found an audience of all ages.

Originally broken into two segments and published separately, TARZAN AND THE TARZAN TWINS has for many years consituted two of the most sought-after Burroughs volumes.

This new Canaveral Press edition, profusely illustrated by award-winning artist Roy G. Krenkel, is the first complete book edition of the Tarzan Twins saga.
LORD GREYSTOKE'S LIBRARY
COVER GALLERY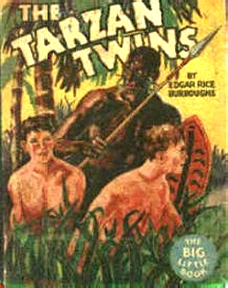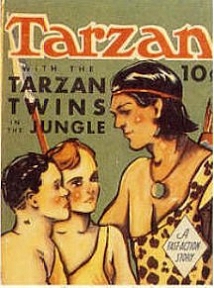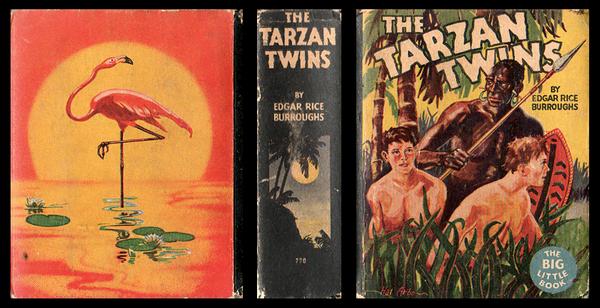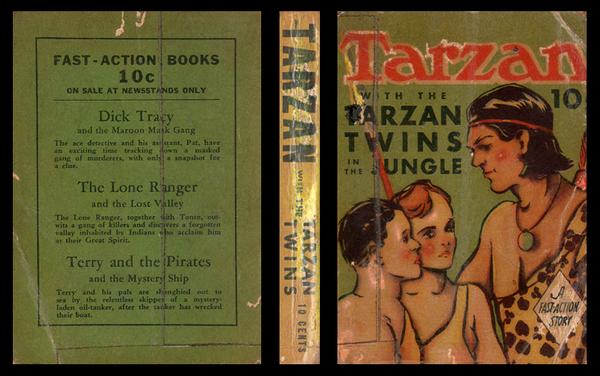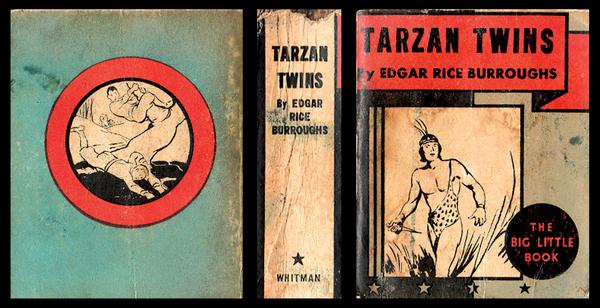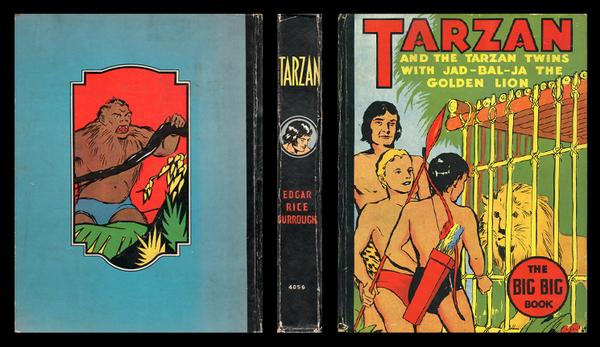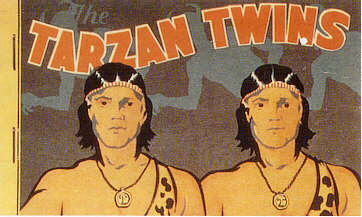 Read all 48 pages of this Give-Away Edition
More Big Little Books in the ERBzine BLB Gallery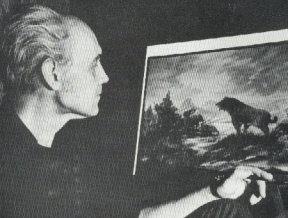 ROY G. KRENKEL CANAVERAL GALLERY
Click for full-screen images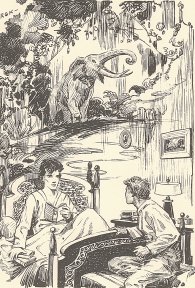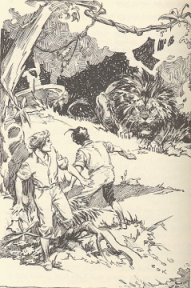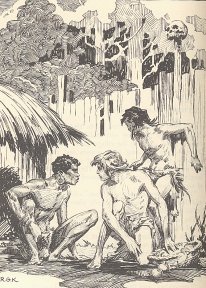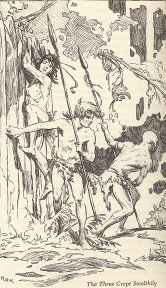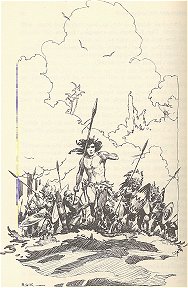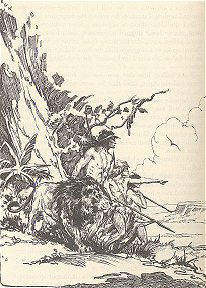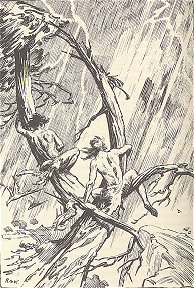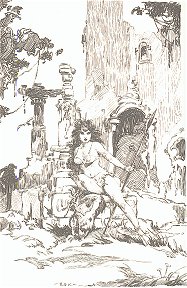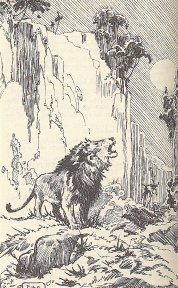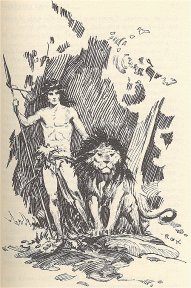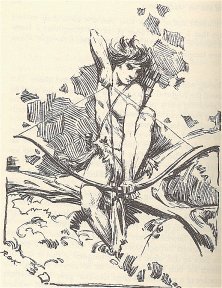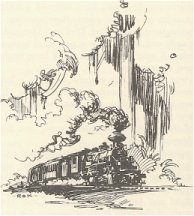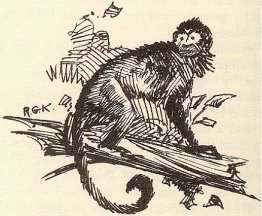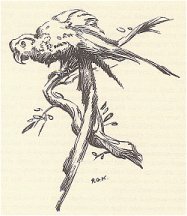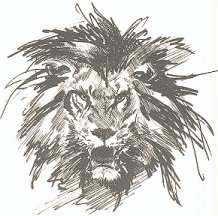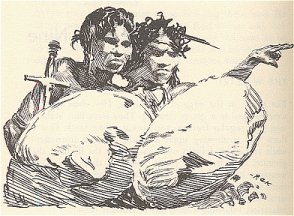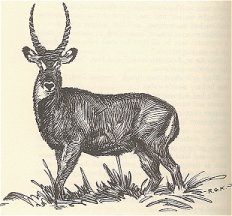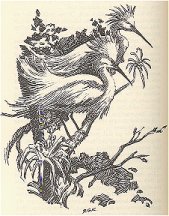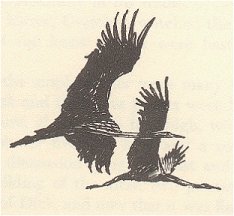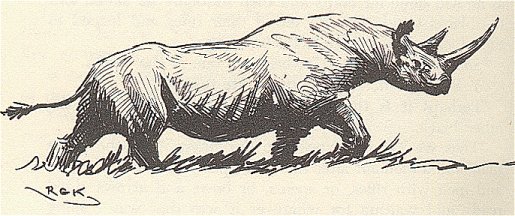 Click the above for full-size images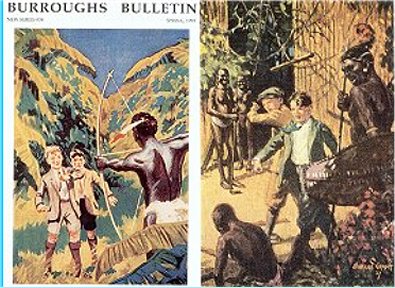 Burroughs Bulletin #38 Spring 1999: The Tarzan Twins Issue
Br. 1st Ed. 1928 - Collins' Clear-Type Press Art by Swalee
Volland 1st Ed. 1927 - Art by Douglas Grant
Burroughs Bibliophiles Website
Burroughs Bibliophiles Pages in ERBzine


Tarzan and the Tarzan Twins
With Jad-Bal-Ja, the Golden Lion
Daily strip adaptation by William Juhre
As a follow-up to Tarzan the Magnificent, UFS went to the manuscript for
Tarzan and the Tarzan Twins With Jad-Bal-Ja, the Golden Lion.
They wanted to change the title and sent Ed 13 to choose from.
Ed chose Tarzan Under Fire or Tarzan and the Kidnappers.

Since the Lindbergh kidnapping was still fresh in peoples' minds, UFS thought
Tarzan Under Fire would be more acceptable to the nation's newspapers.
Don Garden was directed to make Tarzan more prominent in the story
and to add material about Opar.

From our William Juhre ERBzine Feature at:
www.erbzine.com/mag40/4096.html

TARZAN UNDER FIRE

V1-V84 (11 Oct. 1937-15 Jan. 1938) ~ 84 days ~ William Juhre/Don Garden

TARZAN UNDER FIRE CONTENTS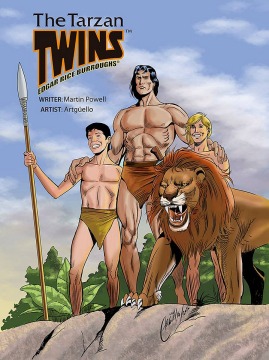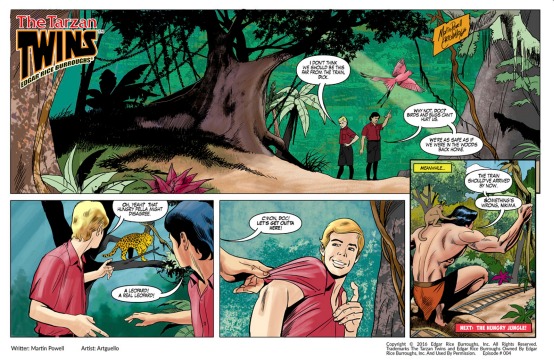 Tarzan Twins adapted by Martin Powell and Artguello ~ Illustrated version serialized online.
Available by subscription at www.edgarriceburroughs.com/comics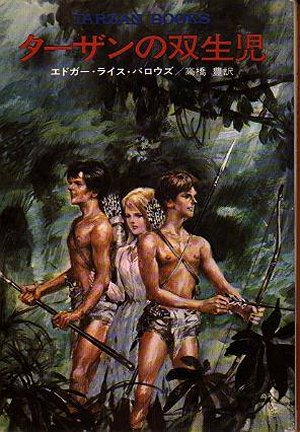 Japanese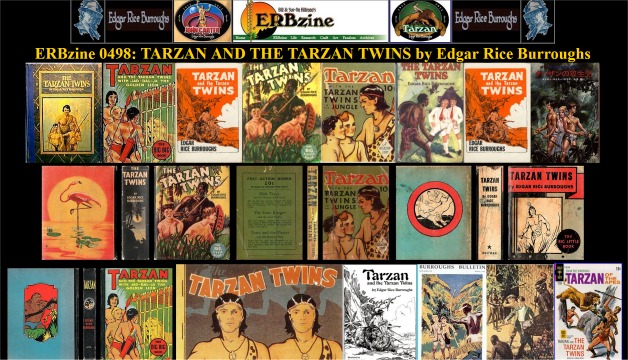 Click for full-size promo collage

RECOMMENDED ARTICLE
The Tarzan Twins:
The Morphology of a Folktale by Edgar Rice Burroughs
by David Adams
http://www.erbzine.com/mag13/1367.html

The Fantastic Worlds of Edgar Rice Burroughs
ERB Companion Sites Created by Bill Hillman
| | | | |
| --- | --- | --- | --- |
| Tarzan.com | ERBzine.com | DantonBurroughs.com | Tarzan.org |
| BurroughsBibliophiles.com | JohnColemanBurroughs.com | Tarzan.com/tarzine | JohnCarterOfMars.ca |
| EdgarRiceBurroughs | Weekly Webzine | Weekly Webzine | Pellucidar.org |
| John Carter Film | ERB, Inc. Corporate Site | ERB Centennial | tarzana.ca |
.

BACK TO ERB C.H.A.S.E.R. NAVIGATION CHART



Volume 0498


BILL HILLMAN
Visit our thousands of other sites at:
BILL AND SUE-ON HILLMAN ECLECTIC STUDIO
All ERB Images© and Tarzan® are Copyright ERB, Inc.- All Rights Reserved.
All Original Work © 1996-2002/2018 by Bill Hillman and/or Contributing Authors/Owners
No part of this web site may be reproduced without permission from the respective owners.