Official Edgar Rice Burroughs Tribute and Weekly Webzine Site
Since 1996 ~ Over 10,000 Web Pages in Archive
Volume 3607

DEVELOPMENT OF PAGE 16
Rob Hughes: Script ~ Michael Kaluta: Layout ~ Thomas Yeates: Pencils and Inks
Colors by Thomas Yeates and Lori Almeida ~ Letters by Steve Dutro
.
Kaluta Layout and Notes


Yeates Pencil Sketch


Michael Kaluta's Notes for Page 16

Pnl 1: Nice Shot of Maud with the sun right behind her head...
De Vac's tower window can be seen, too.
At her feet Simon and Richard break from their carousing
Pnl 2: Medium 3-shot... both Simon and Richard bow to Maud.
Simon has his hand on the pommel of his sheathed sword,
left hand out in a cavalier gesture.
Pnl 3: Face of Maud
Pnl 4: Richard looking up-from-under, half supplicating,
half chastising Maud
Pnl 5: Maud Surprised/Shocked
Pnl 6: Maud gives Simon a critical eye
Pnl 7: Maud looks a bit chastened
.
ROB HUGHES ADAPTATION AND SCRIPT
PAGE 16

---

Panel 1 Full shot of Lady Maud

---

Simon and Richard cease their horse-playing and look up.
Standing in front of them with hands on her hips, looking none-to-pleased, is LADY MAUD (17)
--a lovely young woman of extraordinary beauty with large, bright green eyes and long, radiant raven-black hair.
An important woman of the royal court for sure, entrusted with the sacred duty of watching over her royal charge; the young Prince Richard. Which is, of course, no easy task.
YOUNG PRINCE RICHARD: Lady Maud!

---

Panel 2

---

Both Simon and Richard get to their feet and bow to her.
YOUNG PRINCE RICHARD: How may the Prince of England be of service to thee? Thou art surely a Glorious Sight to behold.

---

Panel 3 Close-up

---

A thin smile comes to Lady Maudís lips. She and the young prince are very close and he knows how to read her perfectly.
LADY MAUD: My Fine Young Royal Charge!
(2nd balloon): Flattery will not rescue you this time. Ye be about as easy to keep track of as a Will-O-Wisp.
(3rd balloon): Iíve never had a more difficult...

---

Panel 4

---

YOUNG PRINCE RICHARD: Flattery?
(2nd balloon): The prince would never lie to his lovely lady.
(3rd balloon): Me thought you wished a private moment with your beau...

---

Panel 5 Close-up

---

Lady Maudís face turns pale white at being found out.
YOUNG PRINCE RICHARD (OFF PANEL): ...that young officer you meet at the far end of the garden.

---

Panel 6

---

Maudís face agitated because of Richardís cleverness.
YOUNG PRINCE RICHARD (OFF PANEL): The one my mother, the Queen, has forbidden the privilege of the court.

---

Panel 7

---

Maud has been outwitted.
LADY MAUD: Sigh.
(2nd balloon): Come, Richard.
.
| | |
| --- | --- |
| Yeates B/W | Yeates Colour |
.
Finished Page 16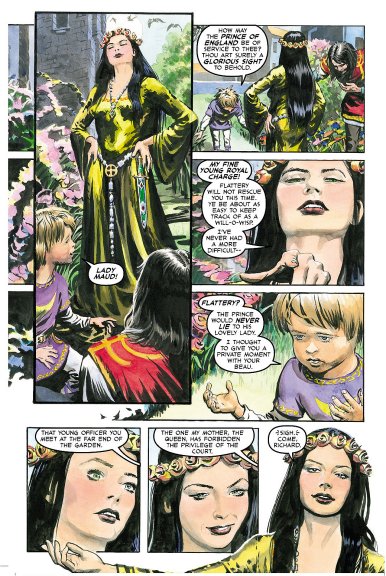 .Click for full page
.
BACK TO
THE PRINCE INTRODUCTION





BILL HILLMAN: Editor and Webmaster
BILL AND SUE-ON HILLMAN ECLECTIC STUDIO
ERB Text, ERB Images and Tarzan® are ©Edgar Rice Burroughs, Inc.- All Rights Reserved.
All Original Work ©1996-2011 by Bill Hillman and/or Contributing Authors/Owners
No part of this web site may be reproduced without permission from the respective owners.