Official Edgar Rice Burroughs Tribute and Weekly Webzine Site
Since 1996 ~ Over 10,000 Web Pages in Archive
Volume 3606
DEVELOPMENT OF PAGE 15
Rob Hughes: Script ~ Michael Kaluta: Layout ~ Thomas Yeates: Pencils and Inks
Colors by Thomas Yeates and Lori Almeida ~ Letters by Steve Dutro
.
Kaluta Layout and Notes


Yeates Pencil Sketch


Michael Kaluta's Notes for Page 15

Pnl 1: inset: the tower Window
Pnl 2: De Vac's Face
Pnl 3: Simon and Richard wrestle...
the shadow of the tower falls across them
Pnl 4: looking up past them at that dang tower in the background:
could even have the 2001 eclipse-look to the sun
Pnl 5: side shot, balloon from off
.
ROB HUGHES ADAPTATION AND SCRIPT
PAGE 15

INT. WESTMINSTER TOWER WINDOW/ PALACE GARDENS — DAY

---

Panels 1-5

---

High above in one of the windows of the armory tower overlooking the gardens, a hooded and dark robed De Vac watches from the shadows as young Richard and Simon play.

---

Panel 1

---

SFX: (across panels) He he he he

---

Panel 2

---

FATHER SUPERIOR (V.O.)
The gleeful laughter ascends innocently.
SFX: He he he he he he he

---

Panel 4

---

SFX: He he he he he he
FATHER SUPERIOR (V.O.): Bouncing delicately upon a gentle zephyr.

---

Panel 6

---

Close-up De Vac. His old brow drawn together in a malignant scowl, a terrible plan forming in his shrewd mind.
FATHER SUPERIOR (V.O.): To astir a malignant mind.
(2nd balloon): And a vivid masterpiece of pure hellishness is conceived.

---

Panel 7 Large

---

Simon holding up a giggling Richard.
YOUNG PRINCE RICHARD (SFX): AAAWWWEEEE

---

Panel 8

---

Simon and young Richard who are looking up off panel toward a stern voice.
WOMAN'S VOICE (O.S.): There you are!
SIMON: Uh, oh. We be in deep trouble now with...
.
| | |
| --- | --- |
| Yeates B/W | Yeates Colour |
.
Finished Page 15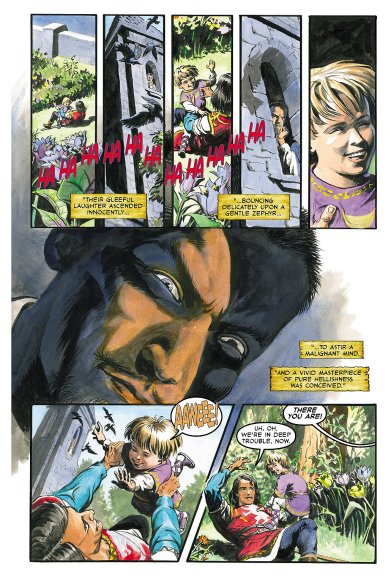 .Click for full page
.
BACK TO
THE PRINCE INTRODUCTION





BILL HILLMAN: Editor and Webmaster
BILL AND SUE-ON HILLMAN ECLECTIC STUDIO
ERB Text, ERB Images and Tarzan® are ©Edgar Rice Burroughs, Inc.- All Rights Reserved.
All Original Work ©1996-2011 by Bill Hillman and/or Contributing Authors/Owners
No part of this web site may be reproduced without permission from the respective owners.