Official Edgar Rice Burroughs Tribute and Weekly Webzine Site
Since 1996 ~ Over 10,000 Web Pages in Archive
Volume 3605

DEVELOPMENT OF PAGE 14
Rob Hughes: Script ~ Michael Kaluta: Layout ~ Thomas Yeates: Pencils and Inks
Colors by Thomas Yeates and Lori Almeida ~ Letters by Steve Dutro
.
Kaluta Layout and Notes


Yeates Pencil Sketch


Michael Kaluta's Notes for Page 14

Pnl 1: (I think there should be some sort of transitional word balloon
that leads to this panel's action...)
Pnl 2: I suggest using only the first word balloon in this panel,
the second, though the tail; goes to Richard, the balloon overlaps the next panel
Pnl 3: Might move the figures a bit Left so the balloon will fit on the right bottom
Pnl 4: I could see this as a series of silhouettes with the word balloon
coming from the third Simon...
Pnl 5...
Pnl 6...
.
ROB HUGHES ADAPTATION AND SCRIPT
PAGE 14


---

Panel 1

---

Simon takes a combat stance.
SIMON: By God, enough somberness. Time for swordplay.
(2nd balloon): En Garde!

---

Panel 2

---

Young Richard, pulling out his small wooden sword, runs toward his uncle who is pretending to be unable to withdraw his own sword from its scabbard.
SIMON: A moment, brave prince. My sword will not unsheathe.
YOUNG PRINCE RICHARD: Thatís your problem.

---

Panel 3

---

Young Richard swings at Simon.
SIMON: Oh!
(2nd balloon): The spirit of chivalry at its apex, I see!

---

Panels 4-5

---

With his soldierís reflexes, Simon easily dodges the boyís simple thrusts and swings.

---

Panel 6

---

One more thrust and Simon catches the wooden sword in his armpit.
SIMON: Alas! Ye have finally bested me.
(2nd balloon): A very fine swordsman you have become.

---

Panel 7

---

The great Earl drops to his knees as if mortally wounded.
Simon hunches over and drops his head. Young Richard steps closer, concerned for his fallen opponent.

---

Panel 8

---

Simon suddenly flings his eyes wide open, rears up on his knees, and grabbing the startled boy, begins to tickle him.
Richard struggles and giggles with glee. Itís a game they have played before.
SIMON: Ah Ha!
(2nd balloon): I have you now my young prince, and Iím not letting go!
.
| | |
| --- | --- |
| Yeates B/W | Yeates Colour |
.
Finished Page 14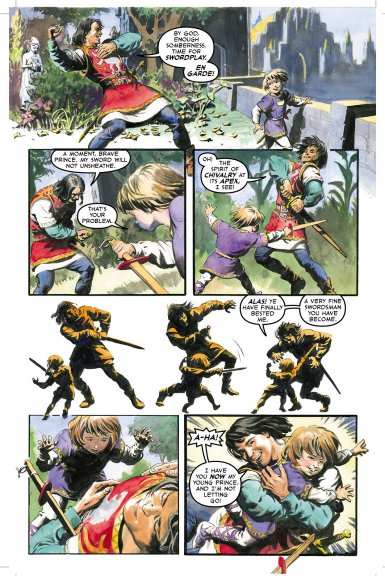 .Click for full page
.
BACK TO
THE PRINCE INTRODUCTION





BILL HILLMAN: Editor and Webmaster
BILL AND SUE-ON HILLMAN ECLECTIC STUDIO
ERB Text, ERB Images and Tarzan® are ©Edgar Rice Burroughs, Inc.- All Rights Reserved.
All Original Work ©1996-2011 by Bill Hillman and/or Contributing Authors/Owners
No part of this web site may be reproduced without permission from the respective owners.