First and Only Weekly Online Fanzine Devoted to the Life and Works of Edgar Rice Burroughs
Since 1996 ~ Over 10,000 Webpages and Webzines in Archive
Volume 3594
.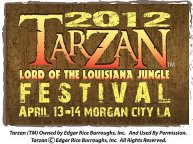 2012 TARZAN FESTIVAL

SUE-ON'S CAJUN FOOD EXPERIENCE
Morgan City ~ Louisiana

SUSIE'S SEAFOOD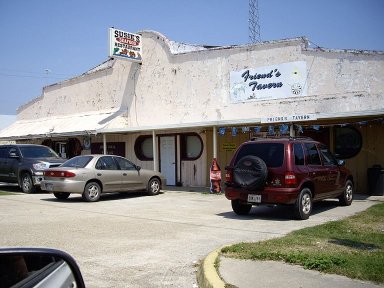 Our first introduction to Louisiana cuisine and seafood:
The restaurant was just "down-a-ways"
from the Hampton Inn and Suites
( a very nice choice of hotel, Al!).
It was either the Waffle House or Susie's.
What do you think?!
.
The parking lot side of the restaurant.
Didn't look like much but oh. . .
. . . the aroma of cooking was SO inviting. . .

Our friends, Al and Doris Bohl,
the spearheads of the first ever Tarzan Festival
invited us for supper at Susie's
on our first night in the city.
.
Ok...this had me worried...The kitchen?
The "boiler room" where there are 4 or 5 vats
of boiling stock for crawfish and what-have-you.
Does the ventilation system comform with regulation standards?
It's not what I had in my restaurant,
but I'll bet it's a lot more effective
in the heat and humidity of the south!

The boiler room boys!
..
4-lb measures of lively crawfish
waiting for their "orders"

Bathed and being powdered along with
corn-on -the -cob and chunks of potato.
.
The colourful front counter.

I wanted a picture of someone eating crawfish,
but I didn't feel comfortable asking this gentleman
(that was before I found out that
EVERYONE is friendly and helpful!).
Then I saw this "where are you from"
map and found Brandon.
One of the servers gave me a push pin, and
Doris Gibson Bohl so discreetly took "my picture".
.
My first soft-shell crab Louisiana style!
Crunchy bites of deliciousness...

Bill's stuffed crab - again very good!
We shared my crab and his crab ;-)
.
We enjoyed the food at Susie's so much that
we enticed the rest of the Tarmangani
to join us on Friday before the showing
of Al's documentary, Tarzan of the Louisiana Jungle

Mike and Linda Conran did not arrive in time
to go on the swamp tour, but they got in for Susie's!
.
John Tyner knew the son of Susie.
After making himself known,
he also chatted with locals about the Tarzan Festival
- ever the ERB promoter :-)

Will the REAL SUSIE please stand up?!
And I believe this is herself!
.
I had asked Susie if I could just order a small amount of crawfish
as I didn't want to tackle 4 lbs. "
Sorry...We only do the big batches"
Then I heard, " Want crawfish? Come on over and join us!"
Locals Andrew and Gail pulled out a chair,
plunked down some crawfish, and said, "Here's how.
Have at em! Here...try some 'gator bites too." Lovely folks!

Dr. Bradley Vinson, bug specialist extraordinaire,
grinning ear-to-ear as he tackles his 4lbs of "mud-bugs"
when he saw how delicious they were at Andrew's table.
And...he ate them all up too!
.
'Gator, eh? But it looks like chicken,
AND it tastes like chicken ;-)
Very good 'gator bites, Susie :-)

And, this night, I also ordered
Spicy boiled shrimp for Bill and me.
He was at the auditorium helping the
ERB. Inc staff set up souvenir tables.
He joined us just in time to have
some shrimp and 'gator bites
before we all headed over to the auditorium
for Al's documentary.
..


RITA MAE'S KITCHEN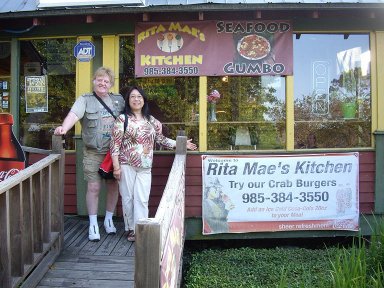 Saturday night, just before the showing
of the re-issue of Tarzan of the Apes with Elmo Lincoln,
The LeBeaus recommended Rita Mae's for supper.
They had eaten there the night before and enjoyed the food.
So, the tarmangani converged on the unsuspecting Rita's staff
without realizing that they close at 5 pm on Sat.
They stayed open for extra 2 hours for the gang.
.
"The Parlor Room Tarmanganis"
Henry Franke, Mike and Linda Conran,
Pat and Brad Vinson, Frank Grainger, John Tyner, Sky Bower.
Most unusual setting - in a house...in someone's parlour...

Part of the "Sitting Room Tarmanganis":
D.J. Howell, Phyllis, Ray and Shirley Le Beau.
.
Seafood platter and Louisiana hot sauce -
I put that **** on everything! You got that right;-)

Grilled chop, sausage and beans.
Nothing fancy, just good food :-)
.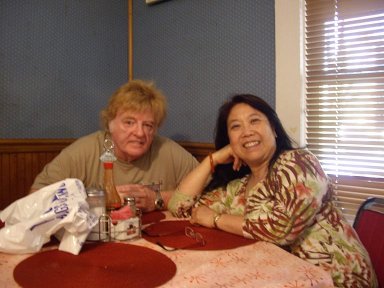 The Happy Hillmans, satiated and ready for the show!


Photos and Captions adapted from Sue-On's FaceBook site
Additional photos and viewer feedback comments are presented there.
Photos by Bill and Sue-On


FESTIVAL 1 : 2 : 3 : 4 : 5 : 6 : 7 : 8 : 9 : 10 : 11 : Songbook : Doc Stories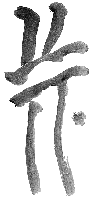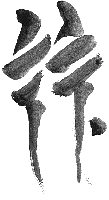 BILL HILLMAN
Visit our thousands of other sites at:
BILL AND SUE-ON HILLMAN ECLECTIC STUDIO
ERB Text, ERB Images and Tarzan® are ©Edgar Rice Burroughs, Inc.- All Rights Reserved.
All Original Work ©1996-2012 by Bill Hillman and/or Contributing Authors/Owners
No part of this web site may be reproduced without permission from the respective owners.