First and Only Weekly Online Fanzine Devoted to the Life & Works of Edgar Rice Burroughs
Since 1996 ~ Over 10,000 Web Pages in Archive
presents
Volume 3341

ARRIVAL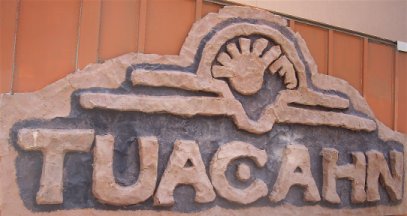 We are privileged to have been invited to the first three Tarzan Musical premieres: Broadway, NY ~ Scheveningen, Holland ~ Hamburg, Germany. Now that Tarzan has returned to America we couldn't miss the chance of seeing the show in what is the most unusual setting of all the venues, so far - Tuacahn Amphitheatre in Utah. The show proved to be the highlight of what turned out to be a 5,000 mile round trip which took us to a Burroughs convention in Chicago and looped around through the American South West. Along the route we visited many of the John Carter filming locations in Moab and Zion and north to locations that had once played an important part in the early career of Edgar Rice Burroughs -- Salt Lake City, Utah where he had worked as a railroad policeman and parts of Idaho where he had joined his brothers in ranching and gold dredging ventures -- and even operating a stationery/photography business.

After seeing the very professionally staged productions in well-established entertainment theatres in New York and Europe we really didn't know quite what to expect in this "wild west" outdoor theatre nestled in a box canyon, although we had very high hopes having already done an ERBzine feature on the event. As we drove along the modern highway leading from St. George to Irvin which is home to the theatre, we were very impressed by the many new residential developments along the way. Our excitement grew as we approached the towering red sandstone cliffs. I started to realize that this spectacular locale was promising to bring about a long overdue event which would involve two of my favourite old time authors: Edgar Rice Burroughs meets Zane Grey.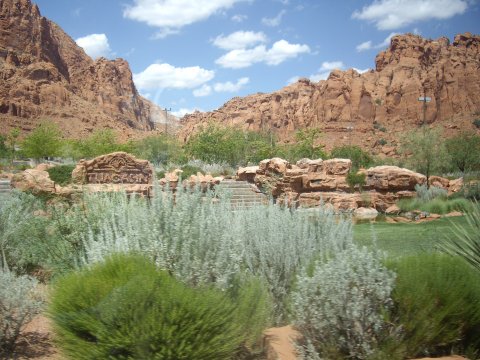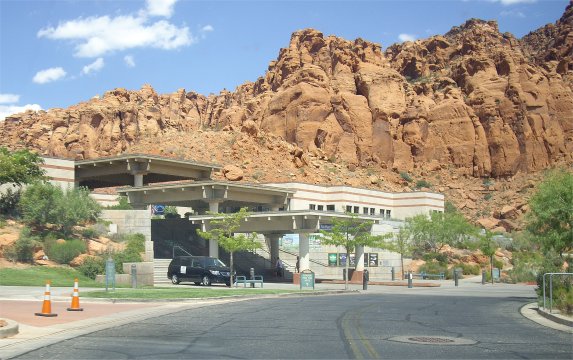 The words Orval Hafen, an early settler who built a cabin here over 100 years ago, seemed appropriate:
"I was awestruck. There before me lay a scene of indescribable beauty: wild, primitive, unspoiled, largely unknown, waiting to be enjoyed, waiting to inspire folks." Within these "towering red sandstone cliffs," he desired that "others [might one day] share this beauty and drink of the inspiration that is here."

Much later in 1993, Doug Stewart, noted playwright and St. George resident, stumbled upon the spot as he was searching for a location for an outdoor amphitheatre in the St. George area. "The stunning beauty and perfect surroundings stopped me in my tracks," Stewart recalled. "I was brought to tears when I first stood there, and after taking it in for some time – envisioning an amphitheatre and a stage with an awesome backdrop of 1,500 foot red rock cliffs, and hearing the sounds of music echoing from the canyon walls – I literally flew back to town and straight to the county recorder's office to see who the land belonged to."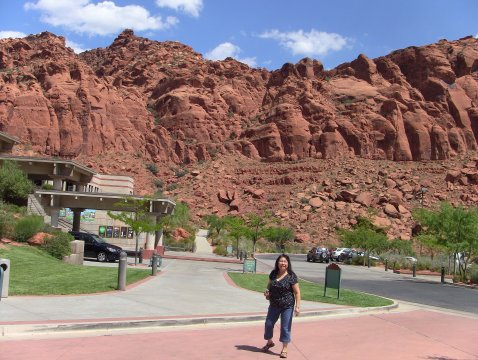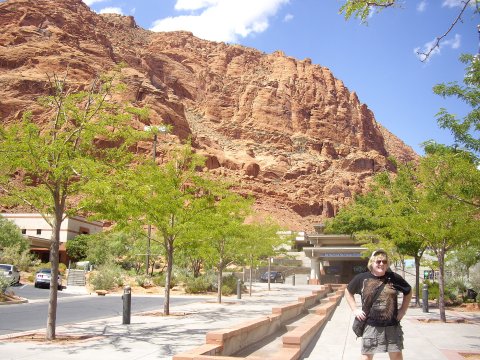 .
ENTERING THE MAIN COMPLEX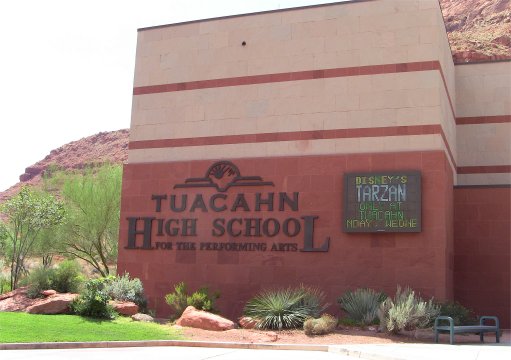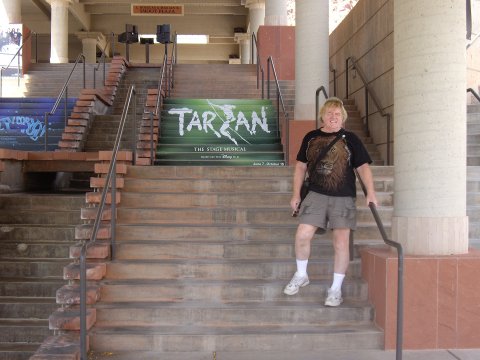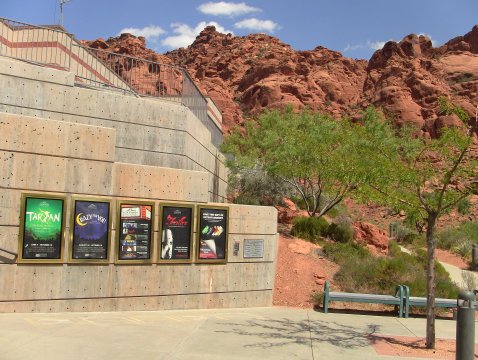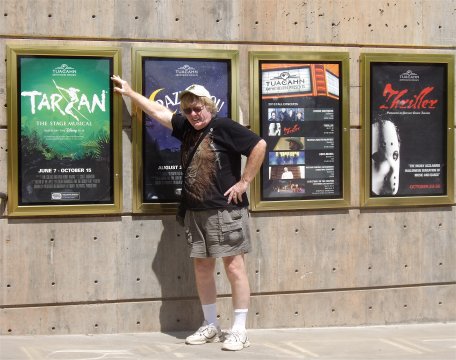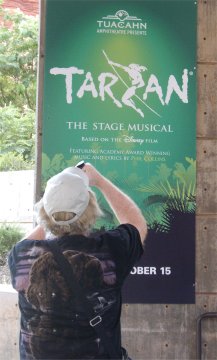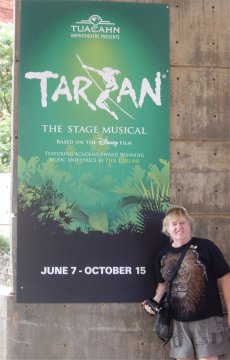 The Tuacahn Hall of Fame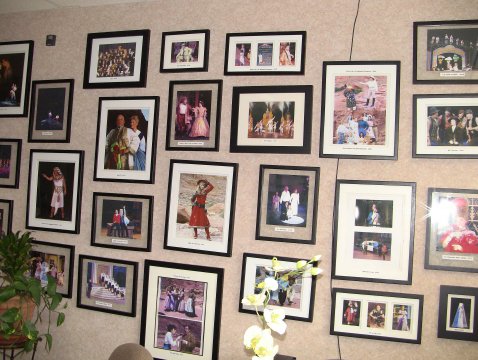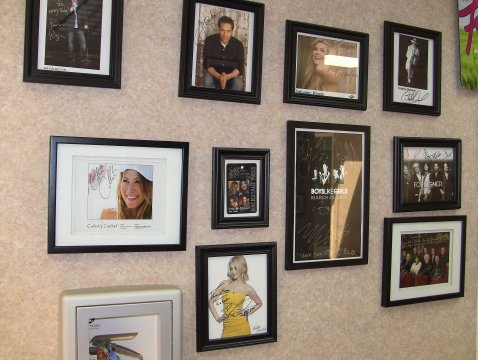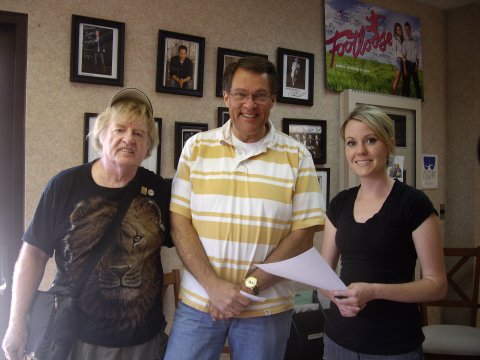 Bill Hillman ~ Scott Raine ~ Jennifer
We were met in the Tuacahn offices by Scott Raine (Executive Director) who previously had forwarded invitations to us for the event. Scott gave provided us with complimentary tickets to the VIP section and also invited to stay over for the next night's premiere of Crazy for You -- an invitation which we gladly accepted. He then assigned his assistant, Jennifer, to lead us on a tour of the complex, including their modern and efficient backstage facilities.

Tarzan Musical 2010: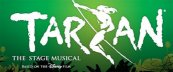 Tuacahn Amphitheatre - Ivins - Utah
Tarzan Goes International
Tarzan: The Broadway Musical
Tarzan: The Musical in Holland
Tarzan: The Musical in Hamburg
Tarzan: The Musical in Utah


BILL HILLMAN
Visit our thousands of other sites at:
BILL AND SUE-ON HILLMAN ECLECTIC STUDIO
ERB Text, ERB Images and Tarzan® are ©Edgar Rice Burroughs, Inc.- All Rights Reserved.
All Original Work ©1996-2010 by Bill Hillman and/or Contributing Authors/Owners
No part of this web site may be reproduced without permission from the respective owners.