First and Only Weekly Online Fanzine Devoted to the Life and Works of Edgar Rice Burroughs
Since 1996 ~ Over 15,000 Webpages and Webzines in Archive
Volume 0322



The Many Worlds of

"The master of imaginative fantasy adventure...
...the creator of Tarzan and...
...the 'grandfather of science-fiction'"


SHEENA, QUEEN OF THE JUNGLE



Sheena, Queen of the Jungle, the first successful female action hero in comics, debuted in Jumbo Comics #1 in September 1938. This blond, beautiful, spear-carrying, jungle girl in a scanty leopard skin was one of 19-year-old Will Eisner's first creations. He said he created Sheena to be a female counterpart of Tarzan and that he borrowed the name from the H. Ryder Haggard novel, She. This jungle goddess went on to star in over 150 comic books from 1938 to 1953, Sheena's father was explorer Cardwell Rivington, whose witch doctor friend raised Sheena to become a heroic champion of good over evil in savage Africa. Sheena was played in a 26-episode, 1956 TV series by pin-up Irish McCalla.

Click for full size

---


A SHORT BIO FROM OUR ERB EVENTS SITE
www.erbzine.com/mag63/6358.html#DECEMBER25

1928: Actress Irish McCalla (1928.12.25 Pawnee City, Nebraska - 2002.02.01 Tucson, Arizona) starred in She Demons (1958), Sheena: Queen of the Jungle (1955) and The Beat Generation (1959). She overcame a brain tumor in 1969 and again when it returned in 1981. President of McCalla Enterprises, Inc. Member of Woman Artists of the American West. Her art work is displayed in the Western White House, Los Angeles Museum of Arts and Sciences, and the Cowgirl Hall of Fame. She was once a "Varga Girl" model. Has painted more than 1,000 paintings, eight collector plates and numerous limited edition lithographs.
The statuesque pin-up star whose measurements were 39-24-38, began appearing in girlie magazines; a photographer recommended her for the role of leopardskin-suited Sheena in the jungle series. Irish was cast in the role of Sheena: Queen of the Jungle (1955) only after Anita Ekberg had declined the part.
Following her retirement from acting, she became an accomplished painter of seascapes and Western or Native American motifs. She was married to Patrick Horgan and Patrick H. McIntyre.

Sheena, Queen of the Jungle
https://www.erbzine.com/mag3/0322.html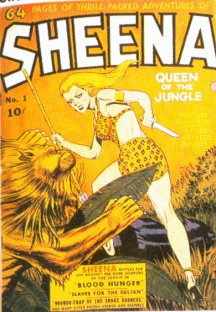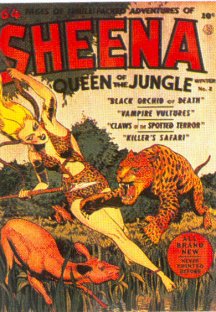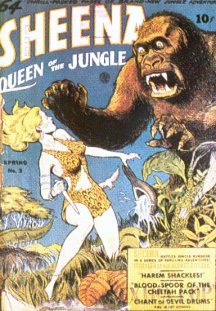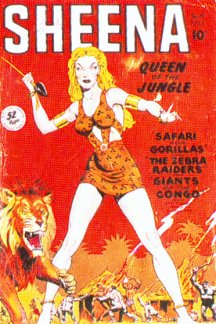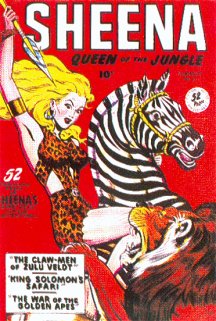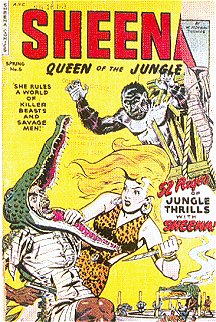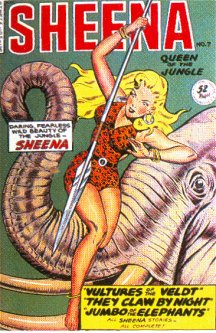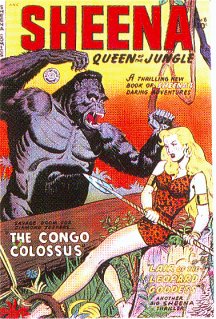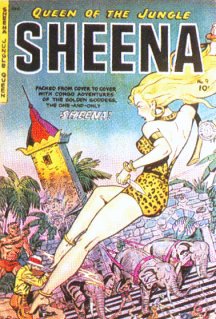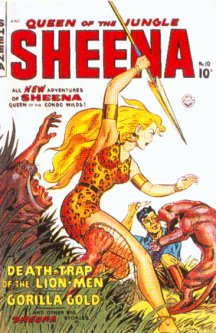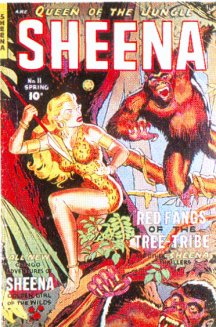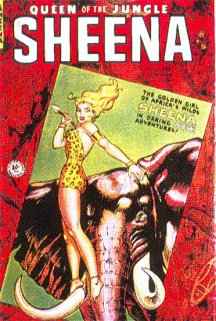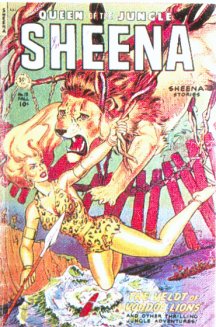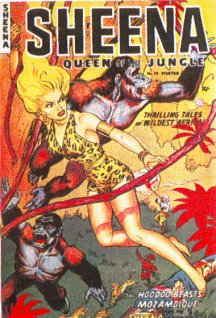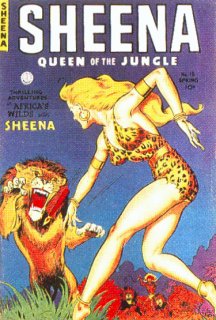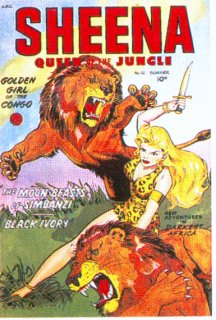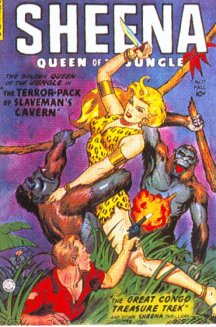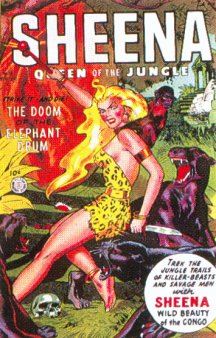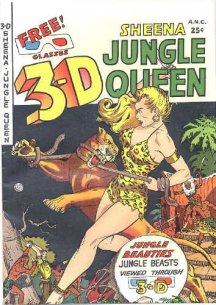 Covers from issues 1-167 of Jumbo Comics
are currently being scanned for future inclusion at this site.

---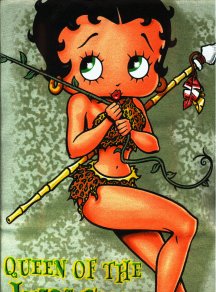 Betty Boop
Queen of the Jungle
---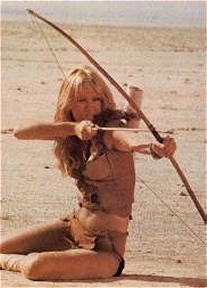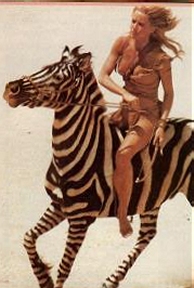 Tanya Roberts: The Movie Sheena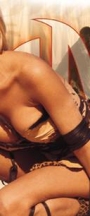 Gina Lee Nolin
Sheena 2000

---
Sheena Links
I Remember Sheena: A Visit with Irish McCalla
Sheena, Queen of the Jungle: White Goddess of the Dumont Era
Sheena Episodes Available
Sheena Fan Site
Jungle Girls E-group
Sheena On TV
Sheena Movie
Welcome to the Jungle
Will Eisner Discussion Group
Ken Pierce Books
Jungle Girls of the Past
Jungle Girl Tree House
The History of Sheena ~Jerry Iger
The Comic Code
Sheena 2000 TV Series
IMDB Info on Gina Lee Nolin
Sheena of the Comics
---
The Worlds of Edgar Rice Burroughs
BILL HILLMAN
Visit our thousands of other sites at:
BILL & SUE-ON HILLMAN ECLECTIC STUDIO
ERB Text, ERB Images and Tarzan® are ©Edgar Rice Burroughs, Inc.- All Rights Reserved.
All Original Work ©1996-2006/2021 by Bill Hillman and/or Contributing Authors/Owners
No part of this web site may be reproduced without permission from the respective owners.