First and Only Weekly Online Fanzine Devoted to the Life & Works of Edgar Rice Burroughs
Since 1996 ~ Over 10,000 Web Pages in Archive
Volume 2001

ERB ECLECTICA
ERB-Date: 2009.10

---

HOT OFF THE PRESS - An ERB-Related Book

---


Gilbert and Edgar on Mars
A novella by Eric Brown

£12.00 [$19.20] Hardcover
Cover Artist: J.K. Potter
ISBN: 978-1906301675
PS Publishing
Cover synopsis for Gilbert and Edgar on Mars:
G.K. Chesterton, fantastical novelist, literary journalist, paradoxical poet and prolific short story writer penned more than a hundred books in his lifetime as well as countless articles and essays on every subject under the sun - but only now can his travels across the face of the red planet be revealed. In this exuberant novella Eric Brown recounts Chesterton's astounding adventures on Mars, his meeting with Edgar Rice Burroughs and his treatment at the hands of the Six Philosophers. Why was Chesterton whisked away from planet Earth - and will he ever return?


Biographical details:
Eric Brown began writing when he was fifteen and sold his first short story to Interzone in 1986. He has won the British Science Fiction Award twice for his short stories and has published over thirty books. His latest include the novel Xenopath and the children's book Guilty. He writes a monthly science fiction review column for the Guardian. He is married to the mediaevalist Finn Sinclair, and has a daughter, Freya. His website can be found at: www.ericbrown.co.uk

READ PDF EXCERPT HERE

---

NEW ERB MERCH

---

New From Triad Toys at triadtoys.com
DEJAH THORIS: PRINCESS OF MARS

Edgar Rice Burroughs' Mars Trilogy has been hailed as one of the most influential science fiction series of this century. Edgar Rice Burroughs started writing his Martian adventures in 1911, and even though science claims there is no life on Mars his stories remain vibrant and timeless tales, because Burroughs knew the appeal and power of the Martian myth. Writers like Ray Bradbury and scientists like Carl Sagan have acknowledged that Burroughs' Martian tales were the wellspring from which their own careers arose.

With his opening trilogy - considered one of the landmarks of science fiction - Burroughs created a vast and sweeping epic. Captain John Carter of the Confederate Army is whisked to Mars and discovers a dying world of dry ocean beds where giant four-armed barbarians rule, of crumbling cities home to an advanced but decaying civilization, a world of strange beasts and savage combat, a world where love, honor and loyalty become the stuff of adventure. The world of Barsoom.

In eleven books, Burroughs takes the reader all around the Red Planet (and even to Jupiter), while the action and excitement never let up. With his combination of super science and swordplay, not only will Edgar Rice Burroughs' Martian tales provide thrills a-plenty, but you'll also discover that without Burroughs there probably never would have been modern science fiction as we know it!

Dejah Thoris: Princess of Mars 12 Inch figure features:
- New Triad Toys Otaku 1.2 body with over 25 points of articulation, magnetized feet and full metal joints!
- Ultra-realistic head with Saran hair and hand-painted head
- Fully pose-able and removable armors, including head guard, body armor, shoulder armors, wrist armors, leg guards and sandals
- For use with the new Triad Bullet-Time action figure stand

JOHN CARTER OF MARS™, PRINCESS OF MARS™ AND DEJAH THORIS™ Owned by EDGAR RICE BURROUGHS, INC. And Used By Permission.

©2009 EDGAR RICE BURROUGHS, INC., ALL RIGHTS RESERVED.
Product Number: TRD10036
Shipping Weight: 3.15 pounds


---

Another From a while back . . .



---

MAILSTROM. . . We Get Mail. . .

---


Dewet Du Toit is a 22-year-old body builder, actor, and Tarzan fan from South Africa
who has a dream of coming to America.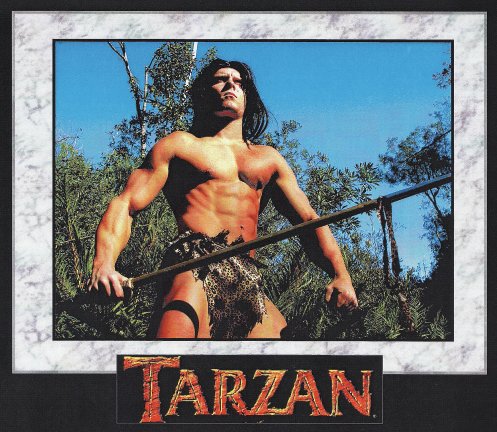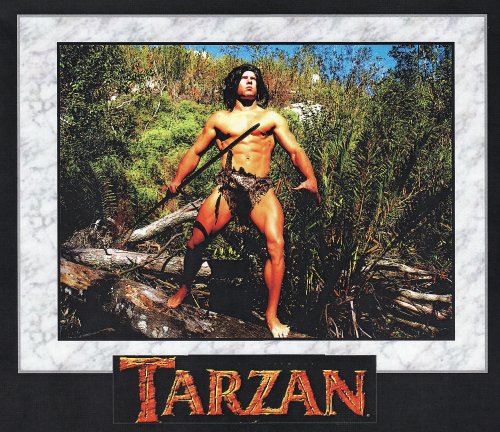 Dewet Writes:

I'm a huge TARZAN fan ( the walls of my room mostly consists of Tarzan posters and movie stars) and I live and breathe movies. . . which is why my dream is to one day move to America/USA and become an actor there . . . as California is the film/entertainment capital of the world. I've been to the UK(London) for a year to gain life experience and enjoyed it there very much, but still I find the USA my final destination. I'm currently staying in George, South Africa, in the garden route, which is between Capetown and Port Elizabeth.

Honestly I don't have that much feature film experience . However, I've been working with an Israeli film company on a cell phone commercial shoot at Mosselbay, South Africa. Since high school I've done some stage acting and drama plays and I'm also slated to do a new TV series in my home town, George. I believe, though, that THE WILL TO WIN IS MORE CRUCIAL THAN THE SKILL TO WIN . . . and anything that I don't know by now I'm willing to learn very fast. Though I'm outside the US it would be an honour to be part of the new TARZAN movie that's now in production by Stephen Sommers at Warner Bros.

I'm an outdoor type of guy, and like to do a lot of challenging things such as: horse riding / canoeing / target shooting / hunting / swimming / working out / mountain climbing / cycling and anything that is physically demanding. My personality is very open. I'm an extrovert and an outgoing kind of person. I've worked for the last few years at a local gym where I've constantly worked with people. Body building is my other passion which is a healthy sport and has taught me a lot of dedication and discipline. I have done quite a few local body building competitions and have placed always in the top 6. It would be awesome to compete in the USA shows someday.

DEWET DU TOIT
For more info: cell/ 0027 72 782 9289
email/ tarzan.ddt@gmail.com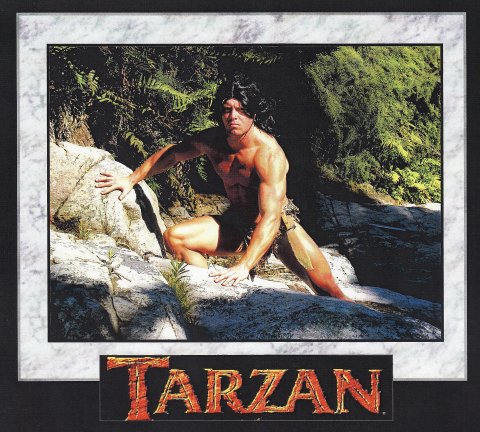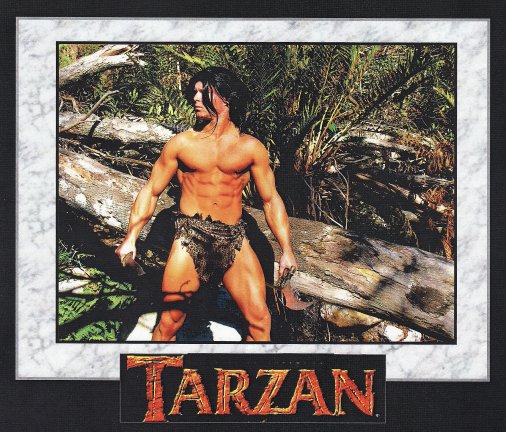 ---

FROM THE WEB

---


10 Fascinating Fictional Languages


Mangani is the language of the apes from Edgar Rice Burroughs' Tarzan novels, and also the word by which the apes refer to themselves. It is described as being composed of guttural sounds that represent nouns and basic concepts. However, the written lexicon as provided by Burroughs is much more complex and made of real words similar in pronunciation to many African languages from the area in which the books take place. The recently discovered Bili Ape has been retroactively compared to the Mangani, both in size and habitat.

Plus nine others: Languages of Arda (Tolkien) | Klingonese | Esperanto | Simlish | Nadsat | Newspeak | Aklo | Parseltongue | Alienese

---

COLLECTIBLES & MEMORABILIA

---


2004 Johnny Weissmüller Stationery Card from Romania


Russian Splav Tarzan M22 Tactical Vest


Coloring Book Original Art and Baltimora Tarzan 45 rpm Record


The old Michigan Military Academy.
The old campus was closed and purchased in 1909 by a Detroit seminary:
"Polish Seminary, Orchard Lake, Mich."


---

BOOKSTORE

---




---

DISNEY

---


Games and Stuff


2000 Commemorative Lithograph and Tarzan Globe



---

ACTORS GALLERY

---


Weissmuller ~ Crabbe ~ Bragg


Denny Miller Through the Years


Lex Barker ~ Weissmuller & O'Sullivan


Johnny "Boy" Sheffield - Now and Then


---

MODEL KIT

---


Aurora Kit 1967


---

TRADING CARDS

---


1936 Tarzan of the Apes, Cartoon Adventures, #416,
Tarzan Challenges Sheeta, Stephen Slesinger Inc.


Japanese Tarzan Menko Cards circa 1950s




---

FOREIGN COMICS

---




---

ADS: FILMS & PULPS

---


Motion Picture Exhibitor ~ July 22, 1959
Tarzan Ad on Back Cover


1920 Return of Tarzan Silent Movie Ad


All-Story December 1912
Coming Next Month: Gods of Mars
Tarzan of the Apes Letter
(click)




---

---


From


BARSOOM MOSAIC
The Disney/Pixar film cast as of October 2009
Taylor Kitsch & Lynn Collins with
Willem Dafoe, Samantha Morton, Dominic West, Polly Walker, Thomas Haden Church, James Purefoy, Mark Strong


---

NEWSPAPER COMICS

---



From


tarzana.ca
The Fantastic Worlds of Edgar Rice Burroughs
| | | | |
| --- | --- | --- | --- |
| Tarzan.com | ERBzine.com | DantonBurroughs.com | Tarzan.org |
| BurroughsBibliophiles.com | JohnColemanBurroughs.com | Tarzan.com/tarzine | JohnCarterOfMars.ca |
| erbzine.com/edgarriceburroughs | Weekly Webzine | Weekly Webzine | Pellucidar.org |


BILL HILLMAN: Editor and Webmaster
BILL AND SUE-ON HILLMAN ECLECTIC STUDIO
ERB Text, ERB Images and Tarzan® are ©Edgar Rice Burroughs, Inc.- All Rights Reserved.
All Original Work ©1996-2009 by Bill Hillman and/or Contributing Authors/Owners
No part of this web site may be reproduced without permission from the respective owners.