First and Only Weekly Online Fanzine Devoted to the Life & Works of Edgar Rice Burroughs
Since 1996 ~ Over 15,000 Web Pages in Archive
Volume 1992
The Burroughs Bibliophiles Dum-Dum 2007 Louisville Convention Series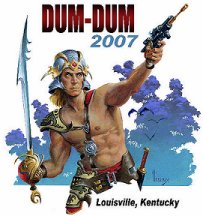 and ERBzine's Bob Hyde Tribute
present
THE BOB HYDE COLLECTION
POSTERS ~ COMICS ~ COLLECTIBLES


Clarence "Bob" Hyde
June 25, 1925 - April 7, 2006
www.ERBzine.com/hyde
It was Bob Hyde's wish that his enormous ERB collection be donated to
The Ekstrom Library Rare Books Department at the University of Louisville -
which, under the direction of George McWhorter,
has the world's largest institutional collection of
Edgar Rice Burroughs books and memorabilia.
One of the highlights of the 2007 Burroughs Convention
hosted by George McWhorter in Louisville
was the dedication of this collection.
Although the one million items in this collection
have not yet been fully catalogued,
Mr. McWhorter chose some of the rarest and most interesting items
for public viewing in the Ekstrom Rare Books display room.
We start our tour of this display with some of the inscribed photos
that Bob amassed over the years.
Note: Since the display items are under glass and are illuminated with decorative and uneven spot lighting,
the quality of the photo images presented here is somewhat uneven.