Volume 1832
Georges Dodds'
The Ape-Man: his Kith and Kin
A collection of texts which prepared the advent of Tarzan of the Apes by Edgar Rice Burroughs
Presents
http://www.erbzine.com/mag18/hermit.htm
The Hermit
Peter Longueville
---
Author(s)
Peter Longueville: Nothing is known of Longueville.
Link to Tarzan of the Apes
A Robinson Crusoe-like character has an ape-Friday named Beaufidelle, then others after the latter dies. The book's popularity was on par with that of The Adventures of Robinson Crusoe and was reprinted regularly for 150 years.
Edition(s) used
Peter Longueville. 1727. The Hermit: Or, the Unparalled Sufferings and Surprising Adventures of Mr. Philip Quarll, an Englishman. Who was lately discovered by Mr. Dorrington a Bristol Merchant, upon an Uninhabited Island in the South-Sea; where he has Lived above Fifty Years, without any Human Assistance, Still Continues to Reside, and Will not Come Away.London: Printed by J. Cluer and A. Campbell, for T. Warner in Pater-noster-row, and B. Creake at the Bible in Jermyn-street, St. James's
Prefatory material from alternate 1727 edition, where the author is identified, is included.
regarding the two 1727 editions see: Esdaile, A. 1921. Author and publisher in 1727. "The English Hermit" The Library (The Transactions of the Bibliographic Society) Ser. 4, 2(3): 185-192
Text from ECCO (Eighteenth Century Collections Online).
Modifications to the text
Spelling slightly modernized
Quotes included to outline conversations.
---
TABLE OF CONTENTS
| | |
| --- | --- |
| Preface. | |
| Alternate Preface. | |
| Dedication. | |
| On the Hermit's Solitude. | |
| Explanation of the Map. | |
| Book I. | An account how Mr. Quarll was found out, with a description of his dress, habitation, and utensils; as also, his conversation with the persons who first discovered him. |
| Book II. | An account of the birth and education of Philip Quarll; as also the most surprising transactions of his life, from his infancy to his being cast away. Taken from the memoirs he gave to Mr. Edward Dorrington, the person who found him on the island. |
| Book III. | An account how Quarll's wonderful shifts, and surprising manner of living; of the miraculous acts of Providence, and of the strange events which happened in the island since his being there. |
---
The Hermit
---
---
---
Truth and fiction have, of late, been so promiscuously blended together, in performances of this nature; that, in the present case, it seems absolutely necessary to distinguish the one from the other. If Robinson Crusoe, Moll Flanders, and Colonel Jack have had their admirers among the lower rank of readers; it is as certain, that the morality in masquerade, which may be discovered, in the travels of Lemuel Gulliver, has been an equal entertainment to the superior class of mankind.

Now it may, without the least arrogance, be affirmed, that, though this surprising narrative be not so replete with vulgar stories as the former, or so interspersed with a satirical vein, as the last of the abovementioned treatises; yet it is certainly of more use to the public, than either of them, because every incident, herein related, is real matter of fact. But because my share in this work, is no other than that of a bare editor; I think it my duty to account for the possession of this manuscript.

It was put into my hands, about a year ago, by Mr. Dorrington, an eminent merchant, with full liberty to publish it when, and in what manner, I thought most proper. I hope therefore it will not be deemed impertinent to give some account of my friend, as a reputation to the work itself.

"Mr. Edward Dorrington is descended from a very ancient and honourable family in Staffordshire. His grandfather, Mr. Joseph Dorrington, removed out of that county, to Frome in Somersetshire; his employ was that of a very considerable grasier: the issue he left at his decease was one son, Richard (the father of my friend) and two daughters. Mr. Richard Dorrington for some time, was a student of Gray's-Inn; but, liking a country-life best, he having thoroughly qualified himself, retired to Frome, the abovementioned residence of his father, where he married Mrs. Margaret Groves, of Taunton, a gentlewoman of about a thousand pounds' fortune. Soon after his marriage, he went and settled at Bath, where the integrity of his fair practice, soon rendered him eminent in his profession. He acquired a very competent estate, and died in the year 1708, having no other issue than his only son, the present Mr. Edward Dorrington, whom he had put to be bred a merchant, under the care of Mr. Stephen Graham of Bristol. His diligence, and courteous behaviour, during his servitude, so highly recommended him to his master's esteem, that when his time was expired, he admitted him into a moiety of his commerce, married him to his daughter, and gave her a handsome portion suitable to his merit.

The happiness of my acquaintance with him, began in his apprenticeship, and has, with the greatest satisfaction to me continued ever since." As to the genuineness of this treatise, I am farther to assure the reader, that as Mr. Dorrington is allowed by all who know him, to be a gentleman of unquestionable veracity, and above attempting an imposition upon the public; so the first book herein was wholly written by himself, and the second and third books were faithfully transcribed from Mr. Quarll's parchment roll, which was a continuation of what my friend had begun.

When Mr. Dorrington undertook this voyage, he set sail, as is well known, from Bristol to the South-sea, and traded all along that coast to Mexico, now called New-Spain.

And he is now making a second voyage to the same places.

To proceed to the work itself. The first book contains a relation of Mr. Dorrington's discovery of Mr. Quarll, his several conferences with him, a description of the island, and the manner of our hermit's living there; with many other curious particulars.

The second and third books are the contents of the hermit's parchment-roll above-mentioned, and contain the most surprising, as well as various turns of fortune ever yet recounted in any work of this kind. and, although the continued series of misfortunes which attended him, seemed to render his life a precedent of the most unhappy state of human nature; yet we do not find the greatest notoriety in his actions, that vengeance should pursue him so closely by unparalleled crosses. If polygamy could call down such divine resentments, we must be silent; nor farther urge his fate.

However, for this fact he was brought to justice by the laws of his country, and he accounts for the inducements of his committing that sin, at his trial. This reflection therefore should be wiped off, since he is now become the humblest of penitents. The observations throughout these sheets will be found to be modest, serious, and instructive, and all centre in the unerring moral, that,
Whatever we do, or wheresoever we are driven, Still, we must own such is the will of Heaven.
To conclude, in the publication of these papers, I have discharged two promises; the one made by Mr. Dorrington, to the hermit, and the other made by myself to Mr. Dorrington; and that they may meet with a reception, as candid as they are useful, is the hearty wish of the reader's humble servant.
P. L.
---
---
Having written and published the following history, I fulfil the old gentleman's injunction to my friend when he gave him the memoirs out of which I have taken it, and his promise at the receiving thereof. I must confess when I first undertook the task, I had but little encouragement to go on with the work, the booksellers shops being already crowded with Robinson Crusoe, Moll Flanders, Colln. Jacks, and numbers of that nature, but they having had their admirers, it may be hoped that though this surprising narrative be not so replete with vulgar stories, or so interspersed with a satirical strain as the above said, it may be accounted as useful as either, the incidents therein mentioned being neither supernatural, fabulous nor romantic, but diverting and moral; I therefore dare depend that the reader will not think his time ill bestowed no more than I did mine in fulfilling my friend's promise to the good old requester, that his works should be published, who has taken the pains to make a research of all the transactions of his life for 70 years past, with that most pious intent being not only to take up some of the anxious time his solitude did occasion, but chiefly to excite his devotion and rouse his gratitude to a due sense of the many favours, unaccountable mercies that have been so liberally and often extended upon him, throughout the whole course of his life, which has sundry times been rescued by kind Providence from apparently unavoidable perils and dangers, as though decreed by fate to a predestined ruin; and then, that if his memoirs should after his decease happen to fall into anybody's hands, they might be an emulation to virtue and an encouragement to the unfortunate and distressed, never to despair though in the greatest of extremity.
These devout and religious motives being what prompted that good man to so pious a work well deserve my labour in recording his memory, and as his personal merits were the principal occasion of several of the most material transactions which compose this treatise. I have as near as I could done them justice still keeping to my original as much as the making it a complete history will permit, without affectation of lofty phrases or smooth expression as usual in novels and romances, the subject having merit enough of itself to recommend it.
Therefore having in a plain manner performed my undertaking. I leave the venerable hermit, in full enjoyment of happiness and his reader the pleasure of tracing his steps, along the serpentine and winding lane that lead him thither, whilst I wait my friend's return, who promised to endeavour seeing the old man again if those dangers, who forbid the very attempt thereof are but once absent and then I will by the means of some honest bookseller impart to the public whatever I shall have heard of him.
N.B. The bookseller who purchased my copy, having in his preface, made one Mr. Dorrington, a pretended Bristol merchant on whom he fathers a journal at the end of my first book to be the author of the present history, in order to advance the sale of his books, this is to certify that I never knew no such a person, least anyone be displeased at the imposition.
P. L.
---
---
TO

The most worthy patriot, the honourable

Sir Thomas Seabright, Bar

Member of Parliament, for Hartfordshire, &c.
Most honourable Sir,
Having the good fortune to hit on a subject as uncommon as agreeable, I have employed some of the anxious hours the irksomeness the tedious confinement my indisposition has put me to these six years, in writing the following history, which though short, contains many wonderful and surprising transactions happened in the space of seventy years to one whose ruin a cross and averse fortune seemed to have unavoidably determined, but most miraculously averted by Providence, as often as it appeared at hand.
The account whereof being not only most agreeably surprising, but also morally diverting, I have taken pleasure in giving a relation thereof, and hope your honour will take the same in the perusal of it, which emboldens me to offer it unto you, hoping that as the venerable old man, the hero or the following history is the first churchman of his nation, as embraced a hermit's life. Severing himself so voluntarily from the world, freely abandoning all reliance on human assistance, wholly depending and faithfully trusting on Providence, being also endued by nature and timely education, with some of those virtues as shine so bright in your honour, and warmed with that love and zeal for the church, the king and his country, as inflames your noble and loyal breast, he seems to have a title to crave your protection, which is the favour I beg, and which I hope your honour will not refuse, being he has made atonement for all past faults, fully applying his life to the practice of piety and religion, which your worthy ancestors and yourself have ever been protectors and encouragers of.
And now he has with unparalleled patience and true Britain's courage withstood the severest shocks of averse fortune, run thorough a long series of the most malignant influences it could launch out, his blooming years and early days being chequered and darkened with many black and sullen hours, I at last saw him rush thorough a hundred glaring perils, and happily arrive to the quiet and inestimable enjoyment of content, a happiness which I heartily wish your honour and posterity, as being most sincerely
Your HONOUR's
most humble, most obedient,
and most affectionate servant,



Peter Longueville
.
---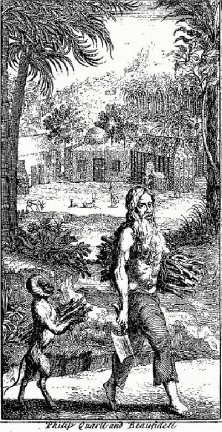 Behold a man in his first-class of years,
When youthful sports made way for growing cares,
The chequered fortunes of a manly age,
Busies reflecting sense with thoughts more sage:
Various affairs will cause a world of woes,
Then in the fall of life how sweet's repose;
The calm, he now enjoys, makes full amends
For all he felt; Heaven ne'er ill intends;
Sufferings are sent to us from God above,
To make us practice faith and sacred love;
Awed into patience, by fresh scenes of fate,
We live too soon, and learn to live too late,
In busy worlds and trading-peopled towns,
More fast we sin, than sin itself abounds.
In soft repose, empires does Quarll disdain,
Free from disquiet, solitude's his gain,
Thoughts more sublime, a haven more serene,
Nought e'er to vex him that may cause the spleen:
Methinks I with him share of Eden's grove,
And wish no better paradise to rove;
Here's not ambition with her gaudy train,
Nor envy trampling down the poor or mean,
Nor avarice nor haughty pride invade,
Nor can remorse his slumbering nights upbraid;
In peace he rests, unenvied or unknown,
And pities monarchs on their toilsome throne.
No king that reigns, but must as mortals die,
And when they rule, no subject should ask why?
Heaven grants them license, and when God gives laws,
Where's the bold man that dares dispute the cause.
Would the great men, from one so mean be told,
They serve a crown for interest and for gold.
'Tis with content Quarll lives, he's truly blest,
Has nought to dread, nor is with nought distrest;
Prays for his country, and its present prince,
That he may reign in Heaven, when called from hence.
Here, in these lonely shades he just uprose,
A type of resurrection to disclose;
A resurrection from a watery Hell,
Where shoals of terrors strove which should excel.
A resurrection, emblem of the last,
Which will recall our every guilt that's past,
Drawing a glaive of conscience to our view,
Of horror for our sins, but hold and new;
But so unspotted in his present state,
I'd wish myself as happy; not more great;
I'd know no change but when God calls obey,
Prepared in my account for judgment-day;
Then happy rise from cares and worldly toys,
To more substantial and eternal joys.
This honest HERMIT, at a transient view
Seems to be born all precedent to out-do,
Something uncommon makes him wondrous seem,
Sound are his morals, drawn from every theme.
Thus from our English HERMIT learn to know,
That early piety opposes woe;
Through every stage of life see Philip tossed,
And on a desert shore by tempest cast,
Where he's most happy, when imagined lost.
So true it is the GODS our good design,
As labouring slaves dig diamonds from a mine:
From rugged rocks the sailor gains a prize,
And shipwrecked oft, from death, to life arise;
So may we at the last dread trumpet's sound,
By true repentance here on earth, be found
Acceptable in Heaven, where joys abound.
In grateful hymns hail in, the new-spring day,
And like the angels never cease to pray:
A kingdom Quarll doth undisturbed enjoy,
He's raised a monarch, from an abject boy.
And here I can't omit the pencilled plan,
Of Beaufidelle his monkey, and his man:
The docile beast most servilely obeys,
And justly merits more than human praise,
A beauty of his kind, good natured too,
A brute so pleasing, wonderful, and new,
Subservient to his lord, loving and just,
Where's human servant we can thus entrust?
---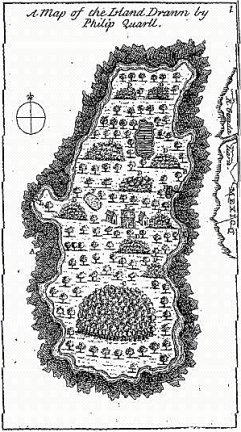 A. The place where the hermit was cast away.
B. The place where Mr. Dorrington landed.
C. The wood, about three quarters of a mile cross.
D. Clusters of trees proceeding from one stem.
E. The hermit's lodge.
F. Enclosed ground, where he sets pease and beans.
G. A fountain that issues out of the rock,
H. The basin wherein it runs.
I. The pond 200 yards long, and about 100 broad.
K. The lake between the rock and the Island,
L. The cavity in the rock, where the hermit goes to worship.
---
---
Having concluded those mercantile affairs, which I undertook, by this voyage, to negotiate; and being upon my. return for England, and wind-bound; during my stay, I daily walked about the sea-shore: very early one morning, the weather being extreme fair, and the sea wonderful calm, as I was taking my usual turn, I accidentally fell into discourse with a Spanish, Mexican Inhabitant, named Alvarado. And, as we were viewing the rocks which abound in those seas, he desired me to take notice of a vast long one about seven leagues from shore, which he said was supposed to enclose some land, by its great extent; but the access to it was very dangerous, by reason of the rocks which reach so far under water, being in some places too shallow for boats, and in others too deep to ford over, and the sea commonly very rough in that place, hitherto prevented farther research, supposing the advantage which might accrue from the land, would not countervail the cost and trouble of making it inhabitable; for that he and some friends had on a fine day, & it now was, the curiosity to go as near as any could with safety, which was above fifty yards from the main rock, but were forced to return as unsatisfied as they went; only, that he had the pleasure of catching some delicious fish which lay playing upon the surface of the water, having a rod in his hand, and lines in his pocket, being seldom without when he walks on the seashore; these fish are somewhat larger than a herring in its prime, skinned like a mackerel, made as a gudgeon, and of divers beautiful colours, especially if caught on a fair day, having since observed that they are more or less beautiful, according to the serenity of the weather.
The account he gave me of them excited my curiosity to go and catch some, and he being, as usual, provided with tackle, we picked up a parcel of yellow maggots, which breed in dead tortoises upon the rock, at which those fishes bite very eagerly.
Thus equipped with all necessaries for the sport, we agreed with a young fellow, one of the long-boat's-crew, belonging to the ship I was to come over in, whose master being just come on shore, and not expected to return speedily, he readily consented to row us thither for about the value of a shilling.
Being come to the place, we found extraordinary sport, the fishes were so eager, that our line was no sooner in but we had a bite.
Whilst we were fishing, the young man that rowed us thither, spying a cleft in the rock, through which he saw a light, had a mind to see what was at the other side; so put off his clothes in order to wade to it, thus having taken the hitcher of the boat, he gropes along for sure footing, the rock being very full of holes.
Being come to the cliff, he creeps through, and a short time returns, calling to us with precipitation, which expressed both joy and surprise: "Gentlemen! Gentlemen!" said he, "I have made a discovery of a new land, and the finest that the sun did ever shine on; leave off your fishing, you'll find here much better business." Having by that time caught a pretty handsome dish of fish, we put up our tackling, fastened our boat to the rock, and so went to see this new-found land.
Being come at the other side of the rock, we saw, as he said, a most delightful country, but despaired going to it, there being a lake about a mile long, at the bottom of the rock, which parted it from the land; for neither Alvarado nor myself could swim; but the young fellow who could, having leaped into the water, finding it all the way but breast high, we went in also, and waded to the other side, which ascended gently, about five or six foot from the lake to a most pleasant land, flat and level, covered with a curious grass, something like camomile, but of no smell, and of an agreeable taste; it bore also abundance of fine lofty trees, of different kinds and make, which in several places stood clusters, composing groves of different height and largeness: being come to a place where the trees stood in such a disposition as gave our sight a greater scope, we saw at some distance a most delightful wood of a considerable extent. The agreeableness of the perspective, made by Nature, both for the creating pleasure and condolence of grief, did prompt my curiosity to a view of the delights, which the distance we were at might in some measure rob us of: but Alvarado, who, till then, had discerned nothing whereby we could judge the island to be inhabited, was fearful, and would not venture farther that way, lest we should of a sudden be sallied upon by wild beasts out of the wood and, as I could not discommend his precaution, the thickness of it giving room to believe, there might be dangerous creatures in it, so we went southward, finding numbers of fine trees, and here and there small groves, which we judged to be composed of forty or fifty several trees; but, upon examination, we found it, to our great amazement, to proceed of only one plant, whose outmost lower branches bending to the ground, about seven or eight foot from the middle stem, struck root, and became plants, which did the same, and in that manner covered a considerable spot of ground, still growing less, as they stood farthest from the old body.
Having walked some time under that most surprising and wonderful plant, admiring the greatness of Nature's works, we went on, finding several of the same in our way, wherein harboured monkeys, but their swift flight prevented our discerning their colours; yet going on we found there were two kinds, the one green backs, yellow faces and bellies, the other grey, with white bellies and faces; but both sorts exceeding beautiful.
At some distance we perceived three things standing together, which I took to be houses; "I believe," said I, "this Island is inhabited; for, if I mistake not, yonder are dwellings:" "So they be," said Alvarado, "and therefore I don't think it wisdom to venture any further, lest they should be savages, and do us hurt;" so would have gone back; but I was resolved to see what they were, and persuaded him to go on, saying, it would be time enough for us to retreat when we perceived danger: "that may be too late," said he, "for, as evil does not always succeed danger, danger does not always precede evil; we may be surprised." "Well, well," said I, "if any should come upon us we must see them at some distance, and if we can't avoid them, here's three of us, a good long staff, with an iron point at one end, and a hook at the other, I shall exercise that, and keep them off, at least till you get away; come along, and fear not," so pulled him along.
Being come near enough to discern better, we found what we took for houses were rather arbours, being apparently made of green trees, then indeed I began to fancy some wild people did inhabit them, and doubted whether safe or no to go nearer, but concealed my doubt lest I should intimidate Alvarado, so that he should run away, to which he was very much inclined. I only slackened my pace, which Alvarado perceiving, imagined that I saw some evil a coming, which he thought unavoidable; and not daring to go from his company, I only condoled his misfortune, saying, he dearly repented taking my advice, that he feared we should pay dear for our silly curiosity; for indeed those things were more like thieves' dens, or wild people's huts, than Christians' habitations.
By this time we were come near a spot of ground, pretty clear of trees, on which some animals were feeding, which I took to be goats; but Alvarado fancied them to be deer, by their swift flight at our appearing; however I inferred by their shyness that we were out of the way in our judgment concerning the arbours; "for," said I, "if these were inhabited, those creatures would not have been so scared at the sight of men; and, if by nature wild, they would not graze so near men's habitations, had there been anybody in them. I rather believe some hermit has formerly lived there, and is either dead or gone." Alvarado, who to that time had neither heard nor seen anything that could contradict what I said, began to acquiesce to it, and goes on.
Being come within reach of plain discernment, we were surprised; "if these," said I, "be the works of savages, they far exceed our expert artists;" there regularity appeared unconfined to the rules of art, and complete architecture without the craft of the artist, Nature and time only being capable to bring them to that perfection. They were neither houses, huts, nor arbours, yet had all the usefulness and agreements of each.
Having sufficiently admired the uncommon beauty of the outsides, without interruption, but rather diverted with the most agreeable harmony of various singing-birds, as perched on a green hedge, which surrounded about one acre of land near the place, we had the curiosity to see the inside, and being nearest the middle- most, we examined that first, it was about nine foot high, and as much square, the walls very straight and smooth, covered with green leaves, something like those of a mulberry-tree, lying as close and regular as slates on a slated house, the top went up rounding like a cupola, and covered in the same manner as the sides; from each corner issued a straight stem, about twelve foot higher, bare of branches to the top, which were very full of leaves, and did spread over, making most pleasant canopy to the mansion beneath.
Being full of admiration with the wonderful structure, and nature of the place, we came to a door which was made of green twigs, neatly woven, and fastened with a small stick, through a loop made of the same.
The door being fastened without, gave us encouragement to venture in it, being evident that the host was absent; so we opened it, and the first thing we saw, being opposite to the door, was a bed lying on the ground, which was a hard dry hearth, very smooth and clean; we had the curiosity to examine what it was made of, and found it another subject of admiration; the covering was a mat about three inches thick, made of a sort of grass, which, though as dry as the oldest hay, was as green as a leek, felt as soft as cotton, and was as warm as wool; the bed was made of the same, and in the same manner, but three times as thick again, which made it as easy as a down bed; under that lay another, but something harder.
At one side of the room stood a table made of two pieces of thin oak board, about three foot long, fastened upon four sticks driven into the ground, and by it a chair made of green twigs as the door, at the other side of the room lay a chest on the ground like a sailor's small chest, over it, against the wall, hung a linen jacket and breeches, as seamen wear on board; on another pin hung a large coat or gown, made of the same sort of grass, and after the same manner as the bed's covering, but not above half an inch thick, and a cap by it of the same; these we supposed to be a winter-garb for somebody.
Having viewed the furniture of the dwelling, we examined its fabric, which we could not find out by the outside being so closely covered with leaves; but the inside being bare, we found it to be several trees, whole bodies met close, and made a solid wall, which, by the breadth of every stem, we judged to be about six inches thick, their bark being very smooth, and of a pleasant olive-colour, made a mighty agreeable wainscoting; the roof, which was hung very thick with leaves, was branches, which reached from end to end, and were crossed over by the side-ones that were woven between, which made a very even and, so thick of leaves and branches, that no rain could penetrate. My companion's uneasiness, expecting the host's return every moment, hindered my examining every thing more narrowly. and having slightly looked into the chest, which lay open, wherein we saw nothing but sheets of parchment, which his haste would not permit me to look into; we went away.
Going out, we saw at one corner of the room behind the door a couple of firelocks, the sight of which much alarmed my company; and, I must confess, startled me; for, till then, I was inclinable to believe some hermit did dwell in the place; but finding arms in the room of a crucifix and religious pictures, which are the common ornaments of those religious men, made me waver in my opinion; and having taken the pieces in my hands, which for rust appeared not to have been fit for use for many years, renewed my former opinion, supposing them to be the effects of some shipwreck which the hermit found upon the rocks; but my company persisting in their own, hastened out, and would have gone quite away, without seeing any more, had I not, by many arguments made them sensible, that if those arms had been intended for the evil use he did imagine, they would have been kept in better order; to which being obliged to acquiesce, he consented to go and examine the other, being as worthy of admiration as that we had seen, though quite of another nature, but much of the same height and make.
The next we came at was covered all over with the same sort of grass as grew on the ground, which lay as even as though it had been mowed and rolled; behind it were several lodges, made, as it were, for some dogs, but we neither saw nor heard any.
Having viewed the place all round, we placed the young fellow with us at the outside to give notice when anybody appeared, least we should be surprised, whilst we saw the inside. So having opened the door, which was made and fastened after the manner of the first; we went in, expecting to find another dwelling, but it proved rather a kitchen, there being no bed, only a parcel of shells of different sizes, which we supposed to be used for utensils; some being callowed at the outside, as having been on the fire, but extreme clean within, the rest were, both inside and outside, as fine as nakes of pearl.
At one end of the room was a hole cut in the ground like stew-stoves in great kitchens, about three or four foot from that there was another fireplace, made of three stones fit to roast at, in both which places appeared to have been fire lately by wood-coals and ashes fresh made. This confirmed my opinion, that it was an hermitage: Alvarado, who all along feared we should meet with men as would misuse us, was not a little pleased to find fireplaces in room of beds, and kitchen-utensils instead of weapons. "I hope," said he, "we are not in so great a danger as I feared, here cannot be many men, unless they crowd together in yonder place; and if so they would have been here before now, had they been in the way." His fears being in a great measure dispersed, we looked about more leisurely, and seeing several shells, that were covered, on a shelf that lay cross two sticks, that were stuck in the wall, which was made of turf, we had the curiosity to see what was in them, and found in one pickled anchovies, in others mushrooms, capers, and other sorts of pickles: "let them," said I, "be who they will that dwell here, I am sure they know good eating, and therefore probably may be no stranger to good manners." Upon another shelf, behind the door, lay diverse sorts of dried fishes, and upon the ground stood uncovered two chests with fish and flesh in salt.
These provisions being something too epicurial for an hermit, gave us room for speculation. "I have lived," said Alvarado, "at Mexico these six years, and have been at Peru above twenty times, and yet never heard talk of this island: the access to it is so difficult and dangerous, that I dare say we are the first that have been of these sides of the rocks; I am very apt to believe that a company of determinate buccaneers, which are said to frequent these seas, shelter here, and that the habitation we have seen, and this place, belong to their captain, and that the company resorts in caves up and down these rocks." Really I could not well gainsay it, being too probable, yet I would not altogether acquiesce to his opinion, lest he should thereby take a motive to go away before we had seen the other place: "I must confess," said I, "here's room for conjectures, but no proof of certainty; however let it be as you say, 'tis a plain case here be none to disturb us, therefore whilst we have liberty, let us see the other place." So we fastened the door as we found it, and went to the next, which was shut after the same manner as the two preceding, but made of quite different stuff, being a complete arbour, composed of trees, planted within a foot of one another, whole branches, were woven together in that regular manner, that they made several agreeable compartments, and so close, that nothing but air could enter; it was of the same height and bigness with the kitchen, which stood at the other end of the dwelling, which made a very uniform wing to it.
The coolness of the arbour removed our doubts of its being another dwelling, unless only used in hot weather.
Having sufficiently viewed the outside, we went in, and found several boards, like dressers or tables, in a pantry, on which lay divers broad and deep shells, as beautiful as those in the kitchen, in some of which was butter, in others cream and milk; on a shelf lay several small cheeses, and on another a parcel of roots like Jerusalem artichokes, which looked to have been roasted: all this did but confirm the opinion we were in, that it was no hermitage, there being what to gratify the appetite, as well as to support Nature; therefore, not knowing what to think of the master of the house, we made no long stay, but concluded to haste, and get our fish dressed, it being near dinner-time; and as the trees stood very thick inland, so might conceal men from our sight, till come too near to shun them; we thought it proper to walk at the outside near the rocks, that we might see some distance before us.
Walking along, a phlegm sticking in my throat, I happened to hawk pretty loud, the noise was answered from, I believe, twenty places of the rock, and in as many different sounds, which so alarmed Alvarado, who took it to be a signal from men concealed up and down the rock, not considering the difficulty of their coming at us, there being a lake at the foot of it, which they must have been obliged to wade over, and which would have given us time to get away : but fear, which often binds reason, did represent the evil infallible to his thought, which was morally impossible. I did all I could to make him sensible it was but echoes, and to convince him thereof, I gave a loud hem, which was answered in like manner, but by being a second time repeated, and by a louder voice, I was certain the last did not proceed from me, which put me in apprehension some body besides myself had hemed also. My companion, whose countenance being turned as pale as death, expressed the excess of his fears, would have run away, had not the voice come from the very way we were to go: "now," said he (hardly able to utter his words for trembling) "you are, I hope, convinced it would have been safer for us to retire, instead of gratifying your unreasonable curiosity, what do you think will become of us?" the young fellow at these words falls a weeping, saying, he wished he had missed the getting of that money, which was like to be dearly earned. I must confess, I begun to be a little apprehensive of danger, and wished myself safe away, but concealed my thoughts, heartening them as well as I could, and representing the danger equal, moving forwards or standing still; I at last persuaded them to go on.
We were scarce gone forty paces further, but that we perceived at a considerable distance something like a man, with another creature, but presently lost them amongst the trees, before we could have a full view of them, which made every one of us conceive a different idea of what we had seen. Alvarado would have it to be a giant, and a man of common size with him, and both armed cap-a-pee. The poor lad, who was already as bad as a slave, being bound to a severe ill-natured master, feared death more than bondage, so took what he had seen for some she-bear, and one of her whelps with her, to make her yet more dreadful; and by all means would have thrown himself into the lake, in order to get at the other side of the rock; thus the danger appeared to each of them to be what they dreaded most; but I was something better composed in mind than they. I gave the object I saw the likeliest resemblance the time it was in sight did permit, which I could adapt to nothing but a man of common size, and something like a dog with him; so persisting in my opinion made them waver theirs; thus we went on something better composed.
Being gone about an hundred yards further, we saw the same again, but nearer hand, and without interruption, the place being pretty clear of trees; thus having a full view, we were all, to our great satisfaction, convinced, that what had been taken for a formidable giant, and a terrible she-bear, was but an ordinary man; but that which was with him running up a tree as soon as he perceived us, prevented our discerning what animal it was; but the man, who walked on a-pace, soon came within the reach of a more certain discernment, and appeared to be a venerable old man, with a worshipful white beard, which covered his naked breast; and a long head of hair of the same colour, which, spreading over his shoulders, hung down to his loins.
His presence, which inspired respect more than fear, soon repealed the frightened folks scared senses, who, to cover this faint-heartedness, excused themselves by the misrepresentations distance causes on objects. The old man, who by that time was come near enough to discern our speaking English, lets fall a bundle of sticks, he had under one arm, and a hatchet he carried in the other hand, and runs at me, being the next to him, embracing me, saying, "dear countrymen, for I hear ye are English, by what accident are ye come here; a place the approach, whereof is defended by a thousand perils and dangers, and not to be come at but by a narrow escape of death, are ye shipwrecked?"
"No, thank god," said I, "most reverend father, it was mere curiosity that brought us here, those perils, which you say defend the approach of this Island, being absent by the extraordinary calmness of the sea; but if I may ask, pray how came you here?"
"By the help of Providence," replied the good old man, "who snatched me from out of the ravenous jaws of death, to fix me in this safe and peaceable spot of land; I was shipwrecked, thanks to my maker, and was saved by being cast away."
"I conceive, sir," said I, "you have been chased by some pirates, and escaped slavery by striking upon the rocks that surround this island; but now you have avoided that dismal fate, embrace the lucky opportunity of getting away from a place so remote from human assistance, which your age makes you stand in need of."
"That's your mistake," replied the old man, "he who trusts in God needs no other help."
"I allow that, sir," said I, "but our trust in God doth not require us to cast away, or despise the help of man. I don't in the least question your piety, but mistrust the frailty of nature, and debility of age, therefore would have you come and live within the reach of attendance; you may, without slackening your devotion, live in the world; you shall have no occasion to concern yourself with any cares that may disturb your pious thoughts."
"No," replied the old man, "was I to be made emperor of the
universe, I would not be concerned with the world again, nor would you require me, did you but know the happiness I enjoy out of it; come along with me, and if, after you have seen how I live here, you persist in your advice, I will say you have no notion of a happy life."
"I have, good sir," said I, "already seen with great admiration your matchless habitation, but there are other necessaries which your age requires, as clothes to defend the injuries of the air, and meat suitable to the weakness of your stomach."
"That's your mistake," replied the old man, "I want for no clothes, I have a change for every season of the year, I am not confined to fashions, but suit my own conveniences. Now this is my summer dress, I put on warmer as the weather grows colder; and for meat, I have fish, flesh and fowls, and as choice as man can wish for; come, you shall dine with me, and ten to one but I may give you a venison, and perhaps a dish of wild fowls too; let's go and see what Providence has sent us."
So we went to a wood, about a mile further, where he had fastened several low nets at different gaps in the thick-set, in one of which happened to be an animal, something like a fawn as big again as a hare, and the colour of a fox, faced and footed like a goat: "did I not tell you," said the good man, "I might chance to give you venison? now let's look after the fowls;" so we went a little further at a place where he had hung a long net between two high trees, at the bottom of which was fastened a bag of the same to receive the fowls, who in the night being stopped by the net, fluttered to the bottom. There also happened to be game, a couple of fowls made like wood-cock, but the bigness and colour of a pheasant, were taken at the bottom of the bag:
"Now," said the old man, "these I have without committing the sin of bidding less for them than I know they are really worth, or make the poulterers swear they cost them more than they did. Well, now I may give you a dish of fish also, 'tis but going half a mile, or thereabouts."
"There's no need, sir," said I, "for any more, there's but four of us, and here's provision for half a score; but if you are disposed for fish, we have some in a boat at the other side of the rock; 'tis but going for them."
"Very well," said the old man, "'tis but going above a mile, then strip and wade over a lake, then climb up a rugged rock twice backward and forward to fetch what we can have for only taking a pleasant walk, all the while diverted with the sweet harmony of a number of fine birds; look here, this complaisance often puts men to a world of needless trouble. Come, we'll make shift to pick a dinner out of these."
"Sir, said I, "'tis no shift where there's such plenty."
"Plenty!" said the old man, "why I tell you this is a second garden of Eden, only here's no forbidden fruit, nor women to tempt a man."
"I see, sir," said I, "Providence supplies you plentifully with necessaries, did not age deprive you of strength."
"Age!" replied the old man, "why I'm not so old as that comes to neither; I was but eight and twenty when I was cast away, and that's but fifty years ago: Indeed if I did live as you do that dwell in the wife world, who hurry on your days as if your end came on too slow, I might be accounted old."
"I don't gainsay, reverend father, but that you bear your age wonderful well; but multiplicity of days must make the strongest nature bend: yes, time will break the toughest constitution, and by what you say you have seen a considerable number of years."
"Yes," replied the old man, "a few days have ran over my head, but I never strove to out-run them, as they do that live too fast: well," says he, "you are a young man, and have seen less days than I, yet you may be almost worn out; come, match this," says he; with that he gave a hem with such a strength and clearness, that the sound made my ears tingle for some minutes after.
"Indeed, sir," said I, "you have so far out-done what I can pretend to do, that I will not presume to imitate you."
"Then I am afraid," says he, "you will prove to be the old man. Well then, you or your friend, the strongest of you, fetch hither that stone, it does not look to be very heavy" (pointing at a large stone that lay about two yards off.)
"I'll endeavour, sir," said I, "to roll it, for I dare say 'tis past my strength to lift it:" so, to please the old man, I went to take it up, but could hardly move it.
"Come, come," said the old gentleman, "I find that must be work for me;" with that he goes, takes up the stone, and tosses it to the place he bid me bring it: "I see," said he, "you have exerted your strength too often, makes you now so weak: well, you see the advantage of living remote from the world; had you had less of human assistance, I am apt to believe you would not want it so soon as you are likely to do; come, let's make much of that little strength we have left, by taking necessary support at proper times; 'tis now past noon, therefore let's lose no time, but haste home to get our dinner ready;" so we went back to the place where the bundle of sticks lay, which we made the young fellow with us to carry, and went directly to the kitchen, where, whilst he made a fire, one cast the animal, and the other two pulled the fowls.
"I am sorry,' said the old man, "you must take that trouble, but your pretence has frightened away my servant, who used to do that work for me."
"Have you a servant then, sir?" said I.
"Yes," said he, "and one a native of this island.
"Then, I find, sir," said I, "this island is inhabited."
"Yes," answered the old man, "with monkeys and myself, but nobody else, thank god; otherwise, I can tell you, I should hardly have lived so long."
"Then, sir," said I, "I suppose that was it we saw run up a tree."
"Yes," said he, "my monkey, like myself, love not much company."
"Pray, sir," said I, "how did you bring him so well under command, as to keep with you, when he has liberty to run away? I wonder the wild ones do not entice him from you."
"I had him young," replied the old man, "and made very much of him, which those creatures dearly love; besides, when he was grown up the wild ones would not suffer him amongst them; so that he was forced to remain with me. I had another before this; but him, I may say, was lent by Providence, both to be a help and diversion to me; for he was so knowing, that he took a great deal of labour off my hands, and dispersed many anxious hours, the irksomeness of my solitude did create; 'tis now about twelve years since, for I keep a memorial, which indeed I designed to have been a journal, but I unfortunately let the regular order of the days slip out of my memory, however I observe a seventh day, and reckon the years from winter to winter, so I cannot well mistake.
"One day that I had roasted a quantity of roots, which I eat instead of bread, having spread them on my table and chest to cool, in order to lay them by for use, I went out, leaving my door open to let the air in.
"Having walked an hour or two I returned home, where I found a monkey, whom the smell of the hot roots had brought, who, during my absence, had been eating: my presence very much surprised him, yet he still kept his place, only discontinued eating, staring me in the face. the unexpected guest at once startled me, and filled me with admiration; for certainly no creature of its kind could be compared to it for beauty; his back was of a lively green, his face and belly of a lively yellow, his coat all over shining like burnished gold: the extraordinary beauty of the creature raised in me an ardent desire to keep him, but despaired of ever making him tame, being come to its full growth; therefore having resolved to keep him tied, I went in and shut the door; the beast, who till then had not offered to make his escape, appeared very much disturbed, and stared about him for some place to get out at; perceiving his disorder, I did not advance, but turned my back to him, to give it time to compose itself, which he, in a short time, did, as appeared by his falling to eat again, which made me conceive hopes, that I would in time make him familiar; having about me stale roasted roots, which eat much pleasanter than the fresh, and are less stuffing, I threw some at him, at which he seemed displeased, and stood still a while, staring in my face; but my looking well pleased, which I believe the animal was sensible of, made him pick them up, and fall to eating with a fresh appetite. I was overjoyed at his easy composure, so reached him water in a shell, that the want of nothing might induce him to a retreat, I set it down as near him as I could without disturbing him, he came to it very orderly and having drank his fill, he laid it down, and looked me in the face, carelessly scratching his backside; seeing he had done, I advanced and took away the shell, at which he never stirred.
"The forward disposition of the beast, towards a perfect familiarity, made me resolve to stay within the remainder of the day, no wise questioning but my company would, in a great measure, advance it; so I made a shift to sup upon a few roots I had about me, and went pretty early to bed; where I was no sooner laid, but the creature got across the feet thereof, and continued very quiet till the next morning that I got up, at which time he was also watching my actions: I made very much of him, which he took very composedly, standing to be stroked; then indeed I thought myself, in a manner, secure of him, and gave him his belly- full, as the day before, but having a pressing occasion to go out, I went to the door, thinking to shut him in till my return; but he followed me so close, that I could not open it, without endangering his getting out, which, though he appeared pretty tame, I did not care to venture, our acquaintance being so very new; yet as I was obliged to go, I did run the hazard; so opened the door by degrees, that if in case the beast should offer to run, I might take an opportunity to slip out and keep him in; but the creature never offering to go any further than I went, I did trust him to go with me, hoping, that if he went away, the kind usage he met with, would one day or other make him come back again; but to my great prize, as well as satisfaction, he readily returned with me, having waited my time; yet as I had occasion to go out a second time, wanting sticks to make fire, for which I was obliged to go near the place where most of his kind did resort, I was afraid to trust him with me, lest he should be decoyed by the others; therefore having taken up a bundle of cords wherewith I tie up my faggots, I watched an opportunity to get out, and leave him behind; but the beast was certainly apprehensive of my design; for it always kept near the door, looking wishfully at my bundle of cords, as desirous of such another, which having not for him, I cut a piece off mine, and gave it him and seeing I could not leave him behind, I ventured to let him go with me, which he did very orderly, never offering to go one step out of the way, though others of his kind came to look at him as he went by.
"Being come to the place where I used to cut dry sticks, having cut down a sufficient quantity, I began to lay some across my cord; the creature, having taken notice of it, did the same to his, and with that dexterity and agility, that his faggot was larger and sooner made than mine, which by that time being large enough, and as much as he could well carry, I bound it up, which set him to do the same with his, which was abundantly too large a load for him.
"Our faggots being made, I took up that which I had made, to see how he would go about taking up his, which being much too heavy for him, he could not lift; so running round it I believe twenty times, he looked me in the face, as craving help: having been sufficiently diverted with the out-of-the-way shifts he made, I gave him mine, and took up his; the poor animal appeared overjoyed at the exchange, therefore cheerfully takes up the bundle, and follows me home.
"Seeing myself, according to all probability, sure of the dear creature, whose late actions gave me such grounds to hope from him both service and pleasure, I returned my hearty thanks to kind Providence for his late prodigious gift; for certainly it was never heard of before, that in a desert place, such wild animals, who fly at the single appearance of a human creature, should voluntarily give itself to a man, and from the very beginning be so docile and tractable; oh! surely it was endued with more than natural instinct; for perfect reason was seen in all its actions: Indeed I was happy whilst I had him, but my happiness, alas! was not of long standing."
As he spoke I perceived tears in his eyes; "Pray, sir," said I, "what became of that wonderful creature?"
"Alas!" said he, "he was killed by monkeys of the other kind, who fell upon him one day as he was going for water by himself; for the poor dear creature was grown so knowing, that if at any time either firing or water was wanted, I had nothing to do, but to give him the bundle of cords or the empty vessel, and he would straight go and fetch either; in short, he wanted nothing but speech to complete him for human society."
"Indeed, sir," said I, "I cannot blame you for bemoaning the loss of so incomparable a creature, the account you give of him well deserves his memory a regret; but I hope this you have now, in a great measure, makes up your loss."
"O! not by far," replied the old man, "indeed he goes about with me, and will carry a faggot, or a vessel of water, pick a fowl, turn the spit or string when meat is roasting; yet he is nothing like my late dear Beaufidelle; for so I call that most lovely creature; besides this is unlucky, in imitating of me he often does me mischief: 'twas but the other day, that I had been writing for five or six hours, I had occasion to go out, and happened to leave my pen and ink upon my table, and the parchment I had been writing on close by it; I was no sooner gone but the mischievous beast falls to work, scrabbling over every word I had been writing; and when he had done he lays it by in the chest, as he saw me do what I had written, and takes out another, which e does the same to, and so to half a score more; my return prevented his doing more mischief; however in a quarter of an hour that I was absent, he blotted out as much s I had been full six months writing; indeed I as angry, and could have beaten him, but that I considered my revenge would not have repaired the damage, but rather perhaps add to my loss, by making the beast run away."
"Pray, sir," said I, "how came you by him, did he also give himself to you?"
"No," replied the old man, "I had him young, and by mere accident, unexpected and unsought for, having lost both time and labour about getting one in the room of him I had so unfortunately lost: the old ones are so fond of their young, that they never are from them, unless in their play they chase one another in the other kinds quarters, where their dams dare not follow them ; for they are such enemies to one another, that they watch all opportunity to catch whom they can of the contrary sort, whom they immediately strangle, which keeps their increase very backward, that would otherwise grow too numerous for the food the island produces; which is, I believe, the cause of their animosity.
'About eight years ago, which is the time I have had this beast, I was walking under one of the clusters of trees where the green sort of monkeys harbour, which, being the largest and most shady in the island I took the most delight therein; as I was walking, at a small distance from me this creature dropped off a tree, and lay for dead, which being of the grey kind, made me wonder less at the accident: I went and took him up, and accidentally handling his throat, I opened his wind-pipe, which was almost squeezed close by that which took him, whom my hidden coming prevented from strangling quite. I was extremely pleased at the event, by which I got what my past cares and diligence never could procure me. having pretty well recovered its breath, and seeing no visible hurt about it, I imagined I soon might recover him quite ; so hastened home with it, gave it warm milk, and laid it on my bed; so that with careful nursing, I quite recovered him; and with good keeping made the rogue thrive to that degree, that he has out-grown the rest of his kind."
"No question, sir," said I, "having taken such pains with him, you love him as well as his predecessor."
"I cannot say so neither," replied the old man, "though I cannot say but that I love the creature, but its having the ill fortune to be of that unlucky kind as was the death of my dear Beaufidelle, in a great measure lessens my affection; besides he falls so short both of his merit and beauty, that I must give the deceased the preference; and was it not for his cunning tricks, which often divert me, I should hardly value him at all; but he is so very cunning and facetious, that he makes me love him, notwithstanding I mortally hate his kind : I must divert you whilst dinner is getting ready, with an account of some of his tricks.
"Being extreme fond of me, he never scarce would be from me, but follow me everywhere; and as he used to go with me when I went to examine my nets, seeing me now and then take out game, he would of his own accord, when he saw me busy writing, go and fetch what happened to be taken.
One day finding a fowl in the net-bag, he pulled it alive as he brought it home; so that I could not see anything whereby to discern its kind: as soon as he came in he sets it down with such motions as did express joy ; the poor naked fowl was no sooner out of his clutches, but that it took too its heels for want of wings; its hidden escape so surprised the captor, that he stood amazed for a while, which gave the poor creature time to gain a considerable scope of ground; but the astonished beast, being recovered from his surprise, soon made after it, but was a considerable time before he could catch it, having nothing to lay hold of, so that the fowl would slip out of his hands: the race held about a quarter of an hour, in which time the poor creature, having run itself out of breath, was forced to lie down before its pursuer, who immediately threw himself upon it, so took it up in his arms, and brought it home; but was not so ready to set it down as before; for he held it by one leg till I had laid hold of it.
"I had a second time as good diversion, but after another manner; one morning early, whilst I was busy in my cottage, he went out unperceived by me, and having been a considerable time absent, I feared some such another accident had befallen him as had done his predecessor; so I went to see after him, and as he would often go and visit the nets in the wood, I went thither first, where I found him very busy with such an animal as this we have here, whom he found taken in one of the gap- nets, who, being near as big as he, kept him a great while struggling for mastership; sometimes he would take it by the ears, now and then by one leg, next by the tail, but could not get him along; at last he laid hold of one of his hind legs, and with the other hand smote him on the back, in order to drive him, not being able to pull him a-long; but the beast being too strong, still made towards the thick-set, where he certainly would have hauled the driver, had not I came up to help him." Thus the old gentleman entertained us with his monkey's tricks whilst dinner was dressing.
The dinner being ready, we went to the dwelling to eat it, leaving the young fellow that was with us to attend the roast meat whilst we eat the first dish.
The old gentleman having laid the cloth, which, though something coarse, being made out of part of a ship-sail, was very clean: he laid three shells on it, about the bigness of a middle- sized plate, but as beautiful as any nakes of pearl I ever saw. "Gentlemen," says he, "if you can eat off of shells, ye are welcome, I have no better plates to give you."
"sir," said I, "these are preferable to silver ones in my opinion, and I very much question whether any prince in Europe can produce so curious a service."
"They may richer," replied the old man, "but not cleaner."
The first dish he served was soup in a large deep shell, as fine as the first, and one spoon made of shell, which he said was all his stock, being not used nor expecting company; however he fetched a couple of muscle-shells, which he washed very clean, then gave Alvarado one, and took the other himself, obliging me to make use of the spoon; so we sat down, Alvarado and I upon the chest, which we drew near the table, and the old gentle-man (though much against his will) upon the chair.
Being sat down we fell to eating the soup, whose fragrant smell did excite my appetite, and I profess the taste thereof was so excellent, that I never eat any comparable to it at Pontack's, nor anywhere before; it was made of one half of the beast we took in the morning, with several sorts of herbs which eat like artichokes, asparagus and celery; there were also bits of roasted roots in it, instead of toasted bread, which added much to the richness of it, tasting like chestnuts; but what surprised me most, there were green peas in it, whose extraordinary sweetness was discernable from every other ingredient.
"Pity, said I, "the access to this island is so difficult, what a blessed spot of land would it make was it but inhabited! here naturally grows what in Europe we plough, till, and labour hard for."
"You say," replied the old man, "this would be a blessed spot of ground if it was inhabited; now I am quite of another opinion; for I think its blessing consists in its not being inhabited, being free of those curses your populous and celebrated cities regorge of; here's nothing but praises and thanksgivings heard; and as for Nature bestowing freely and of her own accord, what in Europe you are obliged to by industry and hard labour, in a manner to force from her, wonder not at; consider how much you daily rob her of her due, and charge her with slander and calumny; don't you frequently say, if a man is addicted to any vice, that it is his nature, when it is the effect and fruit of his corruption? So Nature, who attended the great origin of all things at the creation, is now, by vile wretches, deemed in fault for all their wickedness; had man remained in his first and natural state of innocence, Nature would also have continued her original indulgence over him; we may now think ourselves very happy, if that blessing attend our labour, which, before the fall of man, did flow on him, accompanied with ease and pleasure.
"Now these peas, which have so much raised your surprise, are indeed the growth of this island, though not its natural product, but the gifts of Providence, and the fruit of labour and industry. I have tilled the ground, Providence procured the seed, Nature gave it growth, and time increase; with seven peas and three beans I have, in four years' time, raised seed enough to stock a piece of ground, out of which I gather a sufficient quantity for my life, besides preserving fresh seed."
"No doubt, sir," said I, "but, when right means are taken, prosperity will attend."
By that time having eaten sufficiently of the soup, he would himself carry the remains to the young man in the kitchen, and fetch in the boiled meat and oyster-sauce, which he brought in another shell much of the same nature as that which the soup was served in, but something shallower, which did eat as choice as house-lamb.
Having done with that, he fetches in the other half of the beast roasted, and several sorts of delicate pickles I never eat of before, and mushrooms, but of curious colour, flavour and taste; those, said he, are the natural product of a particular spot of ground, where, at a certain time of the year, he did gather for the space of six days only, three sizes of mushrooms; for though they were all buttons and fit to pickle, by that time he had gathered all, he had also to stew, and some about four inches over, which he broiled, and eat as choice as any veal- cutlet.
"These pickles, sir," said I, "though far exceeding any I ever did eat in Europe, are really at this time needless, the meat wanting nothing to raise its relish, no flesh being more delicious."
Having done with that, I offered to take it away, but he no wise would permit me, so went away with it himself, and brought the fowls, at which I was something vexed; for I feared I should find no room in my stomach for any, having eat so heartily of the meat; but having, at his pressing request tasted of them, my appetite renewed at their inexpressible deliciousness, so I fell to eating afresh.
Having done with that dish, the young man, who having nothing to do in the kitchen, came, and was bid to take away and fall to; the mean time the good old man fetched us out of his dairy a small cheese of his own making, which being let down, he related to us the unaccountable manner he came by the antelopes that supplied him with the milk it was made withal, which introduced several weighty remarks on the wonderful acts of Providence, and the strictness of the obligations we lie under to our great benefactor; likewise the vast encouragement we have to love and serve God, the benefits and comforts of a clear conscience, as also the inestimable treasure of content; from that he epitomized upon the different tempers and dispositions of men, much commending timely education, as being a means to reverse and change evil inclinations, highly praising the charity of those pious people, who choose to bestow good schooling upon poor folk's children before clothing, and even food; the first being rather the most necessary, and the last the easiest to come at.
That discourse being ended, he inquired very carefully after the state of his dear native country, which, he said, he left fifty years ago, in a very indulgent disposition. I gave him the best account I could at that time of all the transactions that had happened in England since his absence.
"The relation of past evils," said he, "are but like pictures of earthquakes and shipwrecks, which affect the mind but slightly, and though I think myself out of any prince's power, yet I shall always partake with my countrymen's grief: Pray be implicit, what king have we now?"
"A complete patriot, and father to his subjects," said I, "both tender-hearted and merciful, encouraging virtue and suppressing vice, a promoter of religion, and an example of charity."
"Then," said he, in a manner as expressed zeal and joy, "long may that pious monarch live, and his blessed posterity for ever grace the British throne, and may Old England, by its faithful obedience and loyalty, henceforth atone for its past rebellions, that it may remove that execrable reproach it now lies under;" to which we all said "Amen."
Then he filled up the shell we drank out of, and drank good King George's health, which was succeeded with that of the royal family, and prosperity to the church: thus ended a most delicious and splendid dinner, and a conversation both delightful and instructive; but having not as then mentioned anything about his own history, which I most sadly longed to inquire into, I begged him to inform us by what accident he came there, and how he had so long maintained so good a state of health; to which he answered, time would not permit him to relate his own history, being very long, and the remainder of the day too short, but that he would, before we did part, give it me in writing; having, for want of other occupation, made a memorial: but as to the maintaining of his health, he would tell me by word of mouth.
"The receipt," said he, "is both short and easy, yet I fear you will not be able to follow it; look you, you must use none but wholesome exercises, observe a sober diet, and live a pious life; now if you can confine yourself to this way of living, I'll be bound that you will both preserve your health, and waste less money; but what's more valuable than all that, you will not endanger your precious soul."
I returned him thanks for his good advice, and promised him I would observe them as strictly as I could.
"I am afraid," replied he, "that will not be at all; you have too many powerful obstacles, the world and the flesh, from whom your affections must be entirely withdrawn, and all commerce prohibited, which is morally impossible, whilst living; therefore since you are obliged to converse with the world, I will give you a few cautions, which, if rightly taken, may be of use to you."
Make not the world your enemy, nor rely too much on its fidelity.
Be not too free with your friend; repetitions of favours often wear out friendship.
Waste not your vigour or substance on women, lest weakness and want be your reward:
Secrets are not safe in a woman's breast; 'tis a confinement the sex can't bear.

Pass no contract over liquor; wine overcomes reason and dulls the understanding.
He who games puts his money in 'jeopardy, and is not sure of his own.
There's but little honour to wager on sure grounds, and less wisdom to lay upon a chance.
And in all your dealings take this for a constant rule.
He who unlawful means advance to gain,
Instead of comfort, finds a constant pain;
What even by lawful arts we do possess,
Old age and sickness make it comfortless.
Be ruled by me, not to increase your store
By unjust means; for it will but make you poor:
Take but your due, and never covet more.
I returned him thanks for his good morals, the copy whereof I begged he would give me in writing, for my better putting them in practice, to which he readily consented, wishing I might observe them, being very sure I should reap a considerable benefit thereby, both here and hereafter.

The day being pretty far spent, I was obliged to think of going, which much grieved me; for I was so taken with his company, that if I had not had a father and mother, whose years required my presence, I would have spent the rest of my days with him, I was so delighted with his company, and pleased with his way of living, that I almost overlooked my duty; but after a struggle with my inclination, I was obliged to yield to Nature. Thus having expressed my vexation to leave so good a man, I took my leave: the good old man perceiving my regret to leave him, could not conceal his to part with me.

"Indeed," said he with tears in his eyes, "I should have been very glad to have had a fellow-creature in this solitary island, especially one whom I think possessed with a good inclination, which I perceive you have, by your reluctance in leaving this innocent garden of life. I imagine you have relations in the world, that may stand in want of you; heavens protect you, and send you safe to them, I don't suppose you will ever see this island again, nor would advise you to venture, the approach of it is so dangerous; therefore, before you go, let me show you some of the rarities with which it abounds." I told him I was afraid time would not permit, but as he said about an hour or two would do, and that we had enough daylight, I went along with him.

Going out, and seeing the guns stand behind the door, I asked what he did with them: "I keep them," said he, "for a trophy of Providence's victory over my enemies, and a monument of my fourth miraculous deliverance." As we went along, he related to us the manner how he had been sacrilegiously robbed once by Indians, villainously invested twice by pirates, the ruffians having combined to carry him away like a slave to their own country, and there make a show of him as though he had been a monster.

Talking, we walked under several of the afore-mentioned clusters of trees, which proceed from one single plant; being come to one larger than the rest, and which he said he frequented most, being the largest in the island.

"This," said he, "covers with its own branches a whole acre of land;" so made several remarks on the wonderful works of Nature, which, said he, were all intended for the use and pleasure of man, everything in the universe containing such different virtues and properties, as were requisite to render life happy; from that he made several moral reflections on the fatal effects of disobedience, which is accounted a slight breach in duty, but is the mother of all sins.

That discourse held on a considerable time, till a parcel of each different kind of monkeys having met, fell to fighting, observing an admirable order during the fray, which withdrew our admiration from the preceding subject, and stopped us awhile to observe them.

The scuffle was very diverting whilst it lasted, which was but a short time; for they happened to perceive us, at which they parted, each sort running to their own quarters, which were not very distant from one another, so that from it they could see each others' motions.

"I am sorry," said I, "the battle was so soon over; they did cuff one another so prettily, that I could have stood an hour to see them."

"If you like the sport," said the old man, "I can soon set them at it again:" with that he takes out of his breeches' pocket some roasted roots, which he commonly carried about him to throw at them when he went that way, which made them less shy of him.

Having broke the roots in bits, he lays them down in their sight; for they on both fides were peeping from under the leaves of the trees where they harboured: then he cuts a score of sticks, about the bigness of one's finger, and near a foot and an half long, and lays them over the bits of roots; then we retired to some small distance, and hid ourselves behind the trees.

We were no sooner out of sight but that they hastened to the meat; the green monkeys, having less ground to go, were at them first, yet never stopped, but went on to hinder the others' approach, who vigorously strove to gain ground. The struggle was hard, and the victory often wavering; each party alternatively gave way, at last the grey sort kept the advantage, and drove their adversaries back, who being come where the sticks lay, immediately took them up, and charged their enemies with a fresh courage, like a yielding army that has received new forces: thus, with their clusters in the front, fell on their adversaries with such a vigour, knocking them down like our English mob at an election, so drove them back again almost to their own quarters.

In the mean time stragglers of both the kinds, who had not joined with the main bodies of the armies, seeing the coasts clear, and the provisions unguarded, unanimously fell to plunder, and quietly did eat what their comrades fought for; which the combatants perceiving, left off fighting, and of one accord turned upon the plunderers, who by that time having devoured the booty, left them the field without contending any farther.

The battle being over, the old gentleman would have us to go on, lest, said he, they should fall to it again out of revenge; for those creatures are very spiteful.

Having dispersed them by our advancing, as intended, we walked from under the trees, at the outside, to have a better view of the rock, which in some places, he said, did change its form as one approaches it; and, as he laid, being got clear of the trees, we saw at a distance, as it were, a considerable number of buildings, and here and there something like steeples, which represented a handsome city; and seemingly the houses appeared so plain, that had I not been prepossessed of the illusion, I should have taken it for such; but Alvarado and the young fellow could not be persuaded but what we saw were really buildings, and even in the island, though the old gentleman made us stop a while, the better to observe everything, then bid us keep our eyes fixed at what we looked at, and go on; we perceived every particular of what we observed to change its form; that which at first seemed to be fronting, showed itself either sideways or backwards; and so of every object, till being come at a certain distance, all the agreeableness of the perspective, of a sudden turned into its real shape, like a phantom, who, whilst the visible screens that which it sends before, by its vanishing leaves it discovered.

Being come as near the rock as the lake that parts it would permit, we could discern nothing in it that could in the least soften its ruggedness, or give it a more agreeable aspect than those that are represented in the pictures of shipwrecks.

The old gentleman thereupon made several learned observations on the alterations that distance works upon object and how easily our optics may be deceived, drawing from thence this inference, that we ought not to be too positive of the reality of what we see afar off, nor to affirm for truth that which we only heard of.

Having ended that discourse, he brought us to the other side of a jetting part of the rock, which advancing like a bastion of a fortified wall, screened from our eyes a second piece of wonder; a fine rainbow, issuing as it were out of the mouth of a giant, lying on the rock, reaching quite over the lake: at the bottom of it I could not but stop to admire the various colours it was of, which far exceeded in beauty and liveliness any I ever saw in the sky. I presently imagined it proceeded from the rays of the sun upon some pond or standing water, whose reflections did rise and meet the top, so caused that beautiful circle. But Alvarado, who, by what he had seen before, concluded the island was enchanted, said it was another illusion, of which the place was full, and would have gone away, but that the old man fell a laughing, and said, "'tis a sign you seldom enquire into natural causes; well, do but come a little nearer to it, and you will find that which you term an illusion is the natural effect of all fountains when the sun shines.

Being come to the place it proceeded from, it proved, as he said, only a fountain, but of the clearest and sweetest water that ever was tasted; but the place it did issue out of, was changed from the likeness of a giant, to that of some strange sort of creature, which, though having no particular resemblance, yet would bear being compared to several different things. The old man's opinion was that it resembled a whale, spurting water out at one nostril: Alvarado supposed it was more like a horse or a cow, and rather the last, there being horns plain to be seen; for my part I could find no proper similitude for it, but that of an old ruined monument, which formerly they did build over the heads of springs. Timothy Anchors, (for that was the name of the young fellow that was with us) being asked what he could make of it; "why really," said he, "nothing, unless it be an old patched up pump that stands at the end of my mother's court in Rosemary Lane," (which every spring runs out of itself) which comparison made us all to laugh.

Thus we differed in our opinions as to the likeness, yet agreed that was the finest fountain and the best water we ever saw or drank. What surprised me most, was the force wherewith it sprang from the rock that flood full five yards from the place it fell on, which was another subject of admiration, for certainly the arts of men could not have invented nor completed a more compact or pleasanter basin, though it had been for a fountain to adorn a monarch's garden: Indeed there was no masons nor any expert artists' exquisite works to be seen, but a great deal of nature's matchless understanding: there regularity, dimension, and proportion did conceit to make it useful, convenient and agreeable.

The basin was very near round, about eight foot diameter, a bank around it near a foot high, and as broad at top, slanting gently to the bottom, both inside and outside, which made a most pleasant and uniform bank, adorned with various small flowers and herbs of divers beautiful colours and most fragrant smells.

Having viewed with pleasure and amazement such regularity in a wild and uninhabited place, I walked about it as long as the time I could stay would permit; I proposed going, but the old gentleman, taking me by the hand, stopped me; "you have," said he, "bestowed a considerable time, observing the fertility of this island to now pray allow one minute for consideration; the object you have been admiring all this time is as wonderful and surprising as beautiful and pleasant; you see this fountain, which runs stiff and as large as your thumb, and therefore by computation may be allowed to give near hundred gallons of water in an hour; now it runs night and day, it neither decreases nor runs over its bank, but keeps to the same height."

"This, as you say, sir," said I, is really worth inquiring into;" so I went several times round it, searching for the place, whereby the overplus of the complement did expel, but could not discover it.

"Come," said he, "seek no more for that which Nature has so well concealed; I have spent many hours in that inquiry, and still remain ignorant, but have found the place out of which it runs into a fine fish-pond, about a mile inland; we will make it in our way to the lake; we may look at it as we go by, but can make no long stay, so we went on.

Going along we came by a hollow part of the rock, which went in like an alcove, with a great many concavities in it in rows one above another, as round niches where figures did stand: "now," said the old man, "we are here, I will entertain you with an invisible chorus of harmonious voices, little inferior to hautboys, trumpets, or other melodious music; here I twice come and pay my devotions each day."

Alvarado, who, by what he had already seen, was prepossessed that the island was full of enchantments, now was certain of it, and looked upon that place in the rock to be the receptacle of fiends and evil spirits; so would by no means stay; but takes his leave, saying he was not very curious of supernatural things.

"Supernatural," said the old man, "you can't well call it, though to you it may be very amazing; it is therefore well deserving your sight, I mean your hearing, the eyes having no share in the entertainment; we shall only sing a few psalms; I'm sure there can be no harm in that, but rather good, being a holy exercise in divine worship, in which all good souls ought to join."

"What may be," said Alvarado, "but I love to see those with whom I worship."

"I don't think myself as yet company for spirits."

"As for your part," said Alvarado, (speaking to me) "you may do what you please, but take care your curiosity don't cost you too clear: Tim and I will wait for you in the boat; but pray be not too long before you come," so having returned the old gentleman thanks for his kind entertainment, they went away, at which the good man was much affronted.

"What, said he, "do your friends imagine I deal with spirits! Besides where did he ever hear that devils loved to sing psalms? for here shall nothing else be sung: I would not for the world that those admirable echoes, that hitherto have repeated nothing but the Almighty's praises, would be polluted with the sound of any profane words." I endeavoured to excuse their timorousness, saying it was not a failing peculiar to themselves only, but to many besides; the old man allowed it, attributing the cause thereof to a very pernicious custom nurses have to frighten children, when they cry, with bugaboos and such things to make them quiet, which frightful ideas often make such deep impressions on their puerile minds, that when they come to mature age it is then hardly worn out, which intimidates man."

That discourse being ended, we advanced as near that part of the rock as the lake would permit; which in that place was not above seven or eight foot broad, so that we were within the concavity of the rock: "now," said the old man, let us lit down on this bank, and sing the hundred and seventeenth psalm."

"Indeed sir," said I, "I don't know it by heart, and I have no psalm-book about me."

"Well then," said he, "I'll sing by myself," so begins, but with such a clear and loud voice, managed with so much skill and judgement, that it exceeded all the singing I ever heard before, and was repeated by such a number of melodious echoes, that one would have believed there was a hundred voices in chorus.

The melody did so transport me, that I willingly would have spent not only the remainder of the day, but the succeeding also, the ecstasy having quite put out of my mind the necessity of my going, and the danger of delaying: but the good man, having sung an evening hymn after the psalm, which he said he sung every night, he takes me by the hand.

"Now," said he, "is not this emulation, who but would sing with such a chorus of choristers as you might imagine was there."

"Indeed sir," said I, "this has so great resemblance to the relation we have given us in holy history, of the celestial joys the blessed do possess in heaven, that I thought myself already there; for which reason I would willingly end my days here."

"That's impossible," says the old gentleman, "nor can you spend many more moments here: I have the fish- pond to show you, yet come, let's go."

So we went on about fifty paces from thence more inland, we saw at a small distance, between the trees, a parcel of fowls like ducks, but considerably larger, flew away at our approach, from the pond, as we advanced; he told me how he came by the old one that bred them, of whom he was robed.

At length being come to the pond, I was surprised at the clearness of the water, at the bottom of which were like large rubies, emeralds, jacinths and other coloured stones; till being come to the brink of it, that which I took for precious stones proved to be fishes by their swimming about, which, to my thinking, looked like stars launching from place to place in the sky. Having spent several minutes in admiring the surprising nature and beauty of the fishes, I took notice of the pond, which was about forty yards in length, and near thirty in breadth; its form was a broken oval, sinking in and out here and there, which made it the more agreeable; all round it grew diverse sorts of herbs intermixed with flowers of different colours, and here and there a basket on sticks, which the old man told me he made and set there for his ducks to breed in: the day being far spent, the old man, after having showed me the places at one side of the pond wherein the basin did empty itself, as also the other side whereby the pond run into the lake, takes me by the hand: "come," said he, "I will keep you no longer, night comes on apace, and the retreat from this island dangerous; therefore I would have you improve the short remains of the day to avoid the dangers the darkness of the night may lead you into, so let us go home, that I may give you the memorial I have promised you, and then my blessing and hearty prayers for your safe departure and happy arrival." So we went to his habitation, where he gave me a roll of parchment.

"Here it is," said he, in a rough and impolite language; "for I did not write it out of ostentation or to exert my parts, but to keep me in mind of the many mercies I have received from Heaven ever since my youth, and to record the wonderful effects of Providence.

"That if ever these writings should have the luck to fall into the hands of men after my decease, they might be an encouragement to the destitute, and a comfort to the afflicted, that he who rightly applies himself and firmly trusts in the Almighty, shall, at his extremity, find relief; and now my intent is in some measure answered, expecting you will revise and publish it when you come to Old England; I must rejoin you not to give it out as my own dictation, but a history taken from heads out of my memorial; for I have been obliged to insert particulars, and use such expressions, without which the account I give of myself would have been imperfect, and which being related as by me, may chance to be accounted self-flattery, which is a censure I would willingly avoid. I told him he might depend upon it, I should always, and on all accounts, be very tender of any thing that could in the least lessen the merit of the subject, or tarnish the lustre of the history.

With that the good man takes me in his naked arms, and embraces me over and over with all the tenderness words and actions could express, saying, with tears in his eyes, that my exit was a renewing of his past grief, and would for a considerable time damp the pleasures he before my coming did enjoy in his solitude. Since now he again has had the comfort to converse with one of his dear countrymen, after full fifty years being severed from human society; the height of his grief having for some moments stopped the utterance of his words, he sighing laid his head upon my neck, squeezing me close into his arms.

This most tender and moving action moved me to a reciprocal grief; never did any man reflect with more reluctance than when I parted with that good old man, who having recovered in some measure his former firmness of mind, his soul being again resigned, we repeated our embraces with a mutual affection; then I took my leave; but he would not part with me there, he would by all means wait on me to the lake I was to wade over to come at the rock, on the other side of which the boat waited for me; and when I came there he would also have waded over with me, that he might have the satisfaction of seeing me safe from the dangerous rock, but I would in no wise permit him. Thus having prevailed upon him to stay behind, I prepared to wade over; so after a few more embraces, I crossed the lake, and came to my impatient companions, who received me with heavy reprimands, for trusting myself so long alone with that necromancer; "for nothing," said they, "shall ever persuade me a man can have such plenty of dainties with only the help of Nature; no, no, he may talk of Providence as much as he pleases, he applies to the black art; and those voices, he calls echoes, are his invisible imps, which (if truth be known) are often employed in raising the wind and causing storms, which render these seas often so dangerous, and it has been observed that few or no ships come near those rocks, and escape being staved; for my part I assure you I don't think myself safe whilst within the reach of his enchantments," with that he takes one of the oars out of young Tim's hand, and falls to rowing: "Indeed," said Tim, "as you say, he looked very much like a conjurer with his long hair and beard; and I believe he is a conjuring now, see here's bad weather a coming; let's make haste from those rocks.

Even as he said, in short, so it happened; for in a little time after the wind did rise, and the sea began to be a little rougher, so that I was forced to take the hitcher, and with it keep the boat from the rocks where the waves did very often drive us; but standing out to sea, the wind grew more calm, and fair for the continent: I took one of the oars, and by help of our sail in a short time we got safe to shore, where being arrived very much fatigued, we put up at the first cottage which was inhabited with an old man and woman, Indians, where we dressed our fish, and went to supper, which was scarce over but I was hurried on board, the wind being tacked about, and fair for our departure.

We weighed anchor on the seventeenth day of May, 1724. and stood out to sea, and sailed south and by east till we arrived on the 26th at Panama on Terra Firma, after meeting with some stormy weather. Here we began to traffic in our way home, for some corn, necessary for our following voyage, as also cotton, some metals, rosin, gums and pepper: our stay was not long here, for we sailed from thence on the fifth of June, the wind being then very favourable; but we had not sailed above twenty leagues till we met with a violent storm which lasted for some hours, and the wind blowing hard at north north east, wherein we had the misfortune to lose our surgeon, one John Davis, who being imprudently upon deck, was washed overboard by a prodigious wave coming in at our forecastle, our ship received no damage in that storm, but our loss in Mr. Davis was very great, and worse than if any other man had been missing on board; for we might also call him our chaplain as well as surgeon; for by his exemplary pious life, during the time he belonged to our ship, he might really be called a divine. He was a man, who, as he told me, had been educated at Hart-Hall, Oxon, in his early days, and designed for the sacred robes, but his genius very much inclining to the those most pleasant studies, viz. physic and surgery; he afterwards made them his practice; but meeting with some misfortunes about the thirty fifth year of his life, he left England in the year 1711, and embarked on board the John and Mary for New England, where he lived till the year 1723, when our ship arrived at that country, at that time wanting a surgeon; for our own died just at our approach near the continent, our captain, on enquiry, having an excellent character of Mr. Davis agreed with him for our voyage till we returned back thither again. I think it but just to eternize his memory in these memoirs, and give him the character which he merited.

He was a pious good man, sober, just and virtuous, ready to serve, but never to offend any man; his morals were instructive to all that knew him; and his constant exhortation (while on board our ship) to frequent daily prayers was the reason we esteemed him the doctor of our souls, as well as a surgeon to our bodies: Nay, what was more, during the time he was with us, though he never entered into sacred orders, yet he told us he thought it his duty to give us the best instructions he was capable of, for the preservation of our souls and bodies, both which were always in danger; and accordingly after divine service (as I may call it) was performed by him in a very solemn manner, he would frequently discourse on the nature and heinousness of the sin of man, which occasioned the sufferings of Christ, on the terrors of Hell and the joys of Heaven, as also on the glorious creation of the world, letting forth the works of omnipotence in very lively colours, telling the advantage, pleasure and beauty that attended a godly life. Sometimes his discourses would be on natural philosophy, which were extremely well delivered; at other times on some of the sciences, most of which he well understood, and to which we gave very great attention, as being desirous of such useful knowledge; in short, his death was greatly lamented by the captain as well as my self; and indeed by all the ships' crew; for he was a man of a quick thought and lively apprehension, had an universal knowledge in things, entirely free from reservedness, but of perfect humility and condescension, most agreeably entertaining in his conversation, and dear to all that ever knew him.

Thus having given an imperfect character of that great man, to whole memory I owe so much, I shall proceed to a further description of our voyage. As to the coasts on those seas I think it necessary to make any mention thereof, they having been so well described already by our modern geographers, nor is it any ways useful to my purpose; so that I shall entirely omit it, and only give an account of the places where we traded or touched at for fresh provisions or necessaries and remark what happened most worthy our notice in our voyage home to England.

The weather proving now more favourable, I began to peruse the memorials of my good old hermit; but oh! with what moving sympathy did share with him in the multitude of his misfortunes during his minor years? nor could I less sympathise with him in the estates of his hermetical life; I read with pleasure and amazement what he had laboriously transcribed, being at that time doubtful whether it would ever be perused by any mortal, where he let forth a continued series of misfortunes, as if linked together by divine Providence (whilst he lived in the wise world as he called it) and in this account, during his abode on that desolate island, denotes that the omnipotent being had always an immediate direction in every circumstance or point of time; astonished and amazed I was more and more by this good man's precepts, who has abandoned the world, content to live in a desolate and lonesome island, uninhabited by any mortal but himself, where he has had the space of fifty years to reflect and contemplate on the follies and misfortunes of man, during which time his maxims were always his rule of life in every case. Oh! may I once more see that dear old man whose habitation is free from all anxious cares, from oppression and usury, and all the evils that attend this popular world, there would I abide and never depart from that happy solitude which he so peaceably enjoys —but whether am I running — these contemplations has made me forget the remarks of my voyage.

We sailed from Panama on the sixth day of June and had frequent thunder and lightning, attended with some rain, but nothing else extraordinary happened. On the fifteenth we made Gorgona-Bay in Peru, where our boat went on shore to a village on the Main, with twenty hands well armed, resolving to get some fresh provisions at any rate; for we began to be in want, having taken in but very little at Panama. It is a low land, full of mangrove trees, and within land pretty high; the village was but poor; however they brought away six hogs, and four goats, some limes and plantains. Not far from thence are some gold mines, but of no very great note, as we were informed by some Indians. They arc a very warlike people that live on that coast, who often engage one another with clubs and darts made of hard wood. The island is about six leagues in length: there are monkeys, lizards, hares and Guinea pigs; also several sorts of snakes, some of which are as big as one's leg; so that it is dangerous to walk in some parts of the island. One of our men happened to be bit by one, and did not live above six hours after; though his death had been prevented, I believe, had we not met with that misfortune of losing Mr. Davis our surgeon. Here also we caught some mullets, and several sorts of fish extremely good, though unknown to us as to their names. At this island there is a creature the Indians call a Mundago, but the Spaniards a sloth, which I think is its properest name; for it is a creature that seems to sleep as it walks by its slow motion; and it is reported that it eats the leaves of trees which is its food, but is so prodigious lazy, that when it has cleared one tree of its leaves, it will be almost starved to death before it attempts to climb another; in-short it is a very ugly creature, seeming to be of the monkey kind by its make, but its hair is thicker and longer, and he is not so sightly to look at, and is different in nature. Here we also got fresh water and wood; for there is very good brooks on that island; and wood enough. While we lay near that island I went on shore, and in my conversation with a Spaniard he related to me the following account of one Thomas Jenkins a Lancashire man, who was boat-swain on board a merchant's ship, whose name I have since forgot, that was left on that island, and lived alone there two years and three months, but was first seen on that island by some Indians, that came from the Main for oysters and other shell-fish, which they frequently gather for the Spaniards: he made his escape from them, and hid himself in the woods, fearing that they might carry him to the Spaniards; and by that means he might be made a slave, choosing rather his solitude than enter into bondage for his life; however an English ship trading on that coast had notice of it from the Indians, and imagining he might be an English man, cast away or let on shore there (as was really so) by some pirates, who had been in those seas: they sent their boat with six hands to the island, in search of him; they took their speaking trumpet with them, and by that means, in about six hours' stay on the island, they found him out: he told them, that at his first being set on shore upon the island, it seemed very melancholy and frightful, when he began to reflect on the barbarity of the pirates, to leave him there without provisions, or any manner of necessaries, whereby he might support himself (they leaving him only his wearing clothes, and his pocket-knife; had they left any fire-arms and ammunition, his case had not been near so desperate, because he then might have not only defended himself from any enemy, but likewise have killed some goats or fowls for his sustenance). He also said, what made him very melancholy, was to think his habitation, and place of abode, must be where he could have no humane society, and in an island, that he at first knew not whether there was anything on it for his subsistence, as never being on that coast before. But the second day of his being there, he took a survey of the island, and found there was monkeys, goats, &c. and also good fish: he dreaded greatly the snakes, which were larger than he ever had seen before; however, as they endeavoured to get from him, he rested pretty well satisfied, hoping their was no beast of prey to hurt him there, for fear of which, at first, he climbed into a Piamento tree to sleep. He was well pleased to find such good shell-fish, which was the only food he lived on the first five days, when, by accident, he caught a young kid, which very much rejoiced him; but he was at a great loss for fire to dress it, till having nothing to employ himself with, but thought he remembered that he had heard rubbing two sticks of wood hard together produced fire; he tried the experiment, and by rubbing two pieces of Piamento wood together, did produce him fire (after the manner the Indians make use of) he then made a fire, as having wood enough, and broiled part of his goat, which was a delicious meal to him. He afterwards began to build him a hut to dwell in, where he lived and dressed his fish and goats' flesh, but could at first only broil it, till he drove two stakes in the ground, where he roasted it with a wooden spit. As to fresh water, as I observed before, there was very good brooks in the valleys; at length he invented a way by thickets to ensnare a goat sometimes, which provided him with flesh. Here were cabbage trees, which provided him with sauce to his meat, being very agreeable, when seasoned with the fruit of the Piamento tree, which is much like Jamaica pepper, but afterwards he could run a goat down. Sometimes he had the good luck to find some eggs, for there was fowl very good: he caught some young teal also, and by cutting their wings, and keeping them always so, he preserved them, in a brook just by his hut that he had enclosed, there they bred, and were tame; but being one day gone a pretty distance from his hut, a large parcel of monkeys finding them out, and that they could not fly away, destroyed them all. His clothes were almost worn out, nay his shoes were quite gone, and had been for some time; but; to preserve his feet, he cut the goat skins in the shape of stockings, and sewed them or laced them up behind with thongs of the same, and also laced the foot part, making holes with his knife for the thongs, three or four times double together, to serve for soles. The Spaniard told me, he was so well inured to that way of life, when he was taken from the island, that it was some considerable time before that he could relish either drink or any other victuals, which were dressed on board the ship. I gave the Spaniard an account of the hermit, to which he gave very great attention, as also both sea and land tortoise.

So having refreshed ourselves, we sailed from hence, after a stay of three days only in the bay, having got a pretty many goats from the island, and some maize or Indian corn. From thence we steered for the Gallapagoe Islands; but in our passage, met with several storms and tornadoes, attended with very great rains; some of our men began to prove very sickly, which we fancy proceeded from their eating the liver of some young seals they had caught, it being unhealthy. After about three days sail, we met with frequent calms: during this voyage one of our Negro women, of which we had three on board, being with child, and near her time, was delivered of a fine boy, which was of a swarthy colour, she had been on board us ever since we came from the Brazil's, and proved very necessary in washing our linen, &c. but Juno, for so was her name, proved with child by one of our men whose name was Thomas Higgins. I with the help of the two other Negro women that was on board, performed the office of a midwife, and delivered her. I had purchased a little wine at Panama, which proved useful to mull for Juno, to comfort her in that condition; also one bottle the other Negro women. Tom Higgins and I drank after her delivery, and we were really merry on that occasion. The captain was somewhat displeased at this accident, but being unwilling (in so long a voyage, attended with so many difficulties, as we had met with before) to inflict too weighty punishments on his men, he only obliged Tom to agree, that he should allow Diana two pistoles, when she went ashore at Brazil, to take care of the child. Tom readily agreed thereto, but had some remorse of conscience, and began to reflect, and was really very much concerned, to think that the child got by him (though on a Negroe, yet she was a woman, and the child in likeness of himself, and firmly believing that it was really begot of him, and no other person) should be bred in paganism, accordingly he grew very dull and melancholy at the thoughts thereof, which he communicated to me, asking my advice about it; so I persuaded him to be merry, and not cast himself down, for many such accidents had happened in the West-Indies, before then among English men, who never thought much of it afterward: however, this had no operation at all on him, he told me, whatever other persons had been guilty of, he could not reconcile himself thereunto: finding him so very uneasy, I acquainted the captain of it.

"Ay," says the captain, is Tom under so great a concern about the child's being not to be educated in the Christian religion?"

"Yes sir," said I, "and I am apprehensive that it may grow upon him very much to his prejudice, he is so extremely concerned about it; for," says I, "less things than that I have known people to grow melancholy (as he seems to be) and have entered into a state of lunacy, and never could be brought to their former senses, but have laid violent hands on themselves. As he is a very honest good natured fellow (letting aside this slip)," said I, "I wish some expedient could be found to make him easy."

"Well then, Mr. Dorrington, says the captain, "we have the common-prayer book on board, and 'tis pity we lost poor John Atkins, our surgeon and chaplain, he could have christened the child, and that would have satisfied Tom."

"O sir," says I, "with your leave, as we have no chaplain belonging to the ship, now Mr. Atkins is dead, yet as we are tolerated to bury our dead, pray why not to christen our living also? it can be no crime to do a good action."

The captain approved of what I said, so I told him, with his leave, I would be chaplain, in that case, as well as I had been man-midwife before.

"But sir," said I, "there is an obstacle that will hinder us still."

He asked me what that was?

"Why sir," says I, "we have not godfathers nor godmothers, and you know, it is not accounted lawful to perform that ceremony, which I take it, as it's one of the sacraments, ought not to be performed, unless in a decent and orderly manner, as the church directs in that case."

To which the captain answered, "why, is there not Mr. Clark our lieutenant? I and he will stand godfathers, and he shall, as he is Clark by name, perform the office of clerk in the ceremony.

"But sir," says I, "what must we do for a godmother, you know their ought to be one, and we have no woman on board that is a Christian?"

"Well then," says the captain, "these women we have one board, by a little persuasion, may be willing to be christened themselves, and if they consent, they are of age, and therefore capable of answering for themselves, by which means, they may become godmothers, on occasion, to the child."

So accordingly, the captain called for a bottle of wine, and sent for Diana, one of the Negroe women, aged about twenty three years; when she came into the cabin, the captain filled a glass of wine, and gave it her, which, when she had drunk, the captain said, "so Diana, 'tis to be hoped you won't be troubled with the wantons, and play the trick your sister Juno did; pray, how does the child do?"

To which she answered, "it be ver well, but it cry cry ver mush gret deal.

"Well," says the captain, "but Diana, I sent for you on another affair, do not you remember Mr. Davis our surgeon and chaplain?"

"Yes," says she, "me ver well know him, he give me ver gret goot stuff (meaning a dram)."

"But," says the captain, "you know Diana, he was a very good man, and used to tell you your duty, and teach you how to say your prayers."

"Yes," says she, "me ver well remember dat he be ver goot man."

"Why then," says the captain, "Diana, what do you think of being made a Christian, and be christened as we Christians are?"

"Me mak Cristan," says she, "hou."

"Why?" says the captain, "you know, Mr. Davis learned you to read, and you learned to say your prayers, they are very good prayers, are they not to pray to God?"

"Yes," says she, "dey be ver goot preyer, me lov dem ver gret mush."

"Well then," says the captain, "are you willing to be good, and do as those prayers learn you to do?"

"Yes," said she, "me be alway be ver goot, me be ver glat, me lern me preyer, me lern more, me tank you."

So by the captain's advice, I read the public baptism of those of riper years, and baptized her; she answering to the questions, by the instruction of the captain; and we christened her by the name of Elizabeth, which was the name of our ship. So soon as the ceremony was over, the captain ordered Elizabeth to dress the child in as decent a manner as she could, and bring it to his cabin: In the mean time we drank our bottle of wine. As soon as the child was dressed, Elizabeth brought it to the captain, who sent for Thomas Higgins, and told him Diana was christened, and that he himself and the lieutenant, was to stand godfathers to his son, and Elizabeth godmother, and that it was to be christened, and desired to know what name should be given to the child; to which he answered his own, viz. Thomas: But I never saw such an alteration on any man in my life, as I immediately observed in him; so suddenly it appeared, that it surprised us all; for he who was before dejected, even to the greatest degree imaginable, now appeared fully satisfied in his mind, and no longer conscience seemed to fly in his face, but he became full of mirth and jollity. So, by the captain's order, I christened the child in a very decent manner; the captain and lieutenant stood godfathers, and Elizabeth godmother.

When the ceremony was over, the captain said, "Tom, as this child was begot and born, and I its godfather, on board of my ship, and as it is now a Christian, I think it properly belongs to me (though I am not the father of it) to see it brought up in a Christian manner, which, if it please God to bless me with life, I will see performed; and not only that, but will take care of it, if it lives, during my life, and see it well educated."

So the captain ordered half a goat to be roasted, and he, the lieutenant, and I, with Tom and Elizabeth, whom he permitted on that occasion, supped at his table, and was very merry, which so rejoiced Elizabeth, that she, immediately after supper related what had happened to her fellow Negroe woman, who was called Antiope, and they both went to Juno, and told that her son was baptized a Christian, by the name of Thomas.

The weather here was extremely hot in the day time, but cold dews at night, which was very dangerous for our men; for three died in our voyage to the Gallapagoes.

As we sailed, on the twenty fifth at night, the sea very much surprised us, seeming as red as blood, which occasioned Stephen Jones, who was upon the watch with some others, to call us up, for they had never seen the like before: when we came upon deck, we supposed it to be a great quantity of spawn of fish, swimming on the water, it being very fair. Having passed the line, we made the Gallapagoes on the fifth of July, where we anchored about a mile off the shore, in a good smooth sandy ground: we sent our boat on shore for water, but could find none: some of our men began to be sick, but none of them died, before we arrived at Puna Isle in Peru, from whence, we sailed a little way up the river Guiaquill, where we saw many alligators, and sold some of our goods; but the Spaniards being jealous that we came as spies, and belonged to some other ships on than coast, that were buccaneers. We thought best to leave that place, having taken in some fresh water, and a few provisions, to serve us to the Isle of Lobos. We stood out to sea, and made the Island St. Clara, where we anchored on the tenth; for that night (our ship proving crank, and sailing very heavy) the next morning, when we was preparing to sail, we found our ship had sprung a leak; so that we were obliged to have one hand at the pump continually. Before we had sailed six leagues, the wind freshened upon us, and the sky looked extraordinary black, at north-east, and moved towards us, that made us take in our topsails, and afterwards to reef our mainsail, and mizzen; at which time it began to rain, and poured down, as if through a sieve; the sea seemed as if it had been all on fire, by the prodigious thunder and lightning. (It then being night,) the elements over head looked most dismally black, but all round the horizon, as red as blood, the waves, that seemed to dash against the clouds, by the wind, sparkled like lightning, which, together with the thunder, made a most terrible noise. At last, breaking in upon our deck, carried away one of our anchors; and we durst not bring our ship to the wind, for fear of her foundering, it being dangerous in a storm to turn a ship backward and forward; so were obliged to lie in the trough of the sea: but the wind and rain abating, we observed, to our great joy, a Corpus Sanct at the top of our spindle: these Corpus Sanct's are good signs, when seen aloft, but a bad omen, and denotes a great storm, when seen on our decks. It is a small glimmering light like a star, when aloft, but, when on the deck, appears like a glow-worm. It is the opinion of mariners, that it is a sort of a jelly, incorporated by the wind, rain, and sea vapours, and air, because it is never observed, unless in stormy weather.

We sailed right before the wind, which was south-west, but were continually obliged to keep pumping, till the eighteenth day, when we made the Isle of Lobos, about 12 at noon. That night we got well into the harbour, and anchored at twenty fathom water, in clean ground, between the two islands, here we resolved to careen our ship; accordingly, observing the time of high water, we put her into a cove, in the southernmost island, where we hauled her up as far as we could on the land, and our carpenter and all hands set to work the next day. The island is barren, and without fresh water. Here we killed several seals, sea lions, boobies and penguins, a sea-fowl about as big as a duck, whose flesh is very ordinary food, but their eggs extremely good. Here also we found a small black fowl, that makes holes in the ground to roost in at nights, whose flesh is very good, and a great many vultures and crows. We had careened our ships, and in a readiness to sail on the twenty sixth, and sailed for the Isle Fernandos, and made the middle bay on the seventh of August; Winter being just over there, which contains only two months, viz. June and July we have verbal accounts here of several men, who have been left or cast away, and that have lived sometime, and very well on this island: here, we mended our sails; there is plenty of fish of diverse sorts very good, it is very pleasant on shore, and very healthy; so that the men who had been ill in our voyage, perfectly recovered their healths, for the green Piamento trees cast a very agreeable and refreshing healthy smell over the island: here we spent some time in taking wood on board, and likewise in laying water up, which is very good also, boiled up a considerable quantity of sea- lions, of which there is plenty here; we had also plenty of young seals, which eat very well, only their liver is unwholesome; and at the south end of the island, we found some goats, of which we killed about thirty, which were excellently good, here was also plenty of turnips and water-cresses, which did us great service on account of the scurvy, and of which we gathered a pretty large quantity.

So having refreshed ourselves very well on this island, we resolved to steer for Cape Verde in Chile on the twelfth, made the island of St. Jago, where we anchored, and sent our boat on shore, there we bought some hogs and black cattle (for our voyage round Cape Horn to the Brazils) as also some corn and maize: here the people by the ill usage they have formerly met with from the French, are extremely sharp, and really dishonest, for if they trade with you, and cannot get the advantage of you that they think you would have of them, will snatch your goods, and run away from you.

We weighed anchor on the twentieth, and sailed from hence round Cape Horn in 51 degrees 15 minutes as our pilot informed me, I being only a merchant on board, and therefore do not pretend to take a methodical journal; only as I promised to give an account of the most material passages in our voyage home round the Cape the weather favoured us extremely, and nothing happened material, only that we were chased by a pirate- ship for about twelve hours on the twenty ninth, but night coming on, favoured us, so that we lost her, on the fourth of September we made Faulkland's Island; here we saw a great number of porpoises that often leaped out of the water of an uncommon sort; on the fifth, we had the misfortune to have one of our men fall into the sea, as he was throwing the lead, and was drowned before we could give him any help: we had very brisk gales at southwest, we sailed and made Cape St. Antonio near the mouth of the river De la Plata in Paraguay, on the twenty fifth, wind south and by west, when we stood out to sea, and made the Isle of Grande on the coast of Brazil on the twenty ninth, we got a pilot who conduced us into the watering cove at the inner westernmost point of the island, in sounding, as we went in, we hardly met in any place, with less than ten fathom water; the island is about nine leagues long, high land, near the water- side, it abounds with wood, the island has monkeys and other wild beast, plenty of good timber, and good water, oranges, and lemons, we had fine pleasant weather, but extremely hot: here we got beef, mutton, hogs, fowls, sugar, rum, oranges and lemons; (so that now we did not want good punch) during our voyage from the Gallapagos, I applied myself to the perusal of my good old man's memoirs, which I took very great delight in; and finding the whole series of his minor-years, attended with such a number of unaccountable accidents hardly to be paralleled, I thought proper, as I designed them to be published at my arrival in England, to digest them in a more proper manner than I found them wrote in his manuscript, but neither added or diminished, nor did I in the least vary from what he himself had wrote as to the accidents of life, only I made some amendments which I thought necessary: for his absence from England so long as fifty years, had occasioned him in some manner, not to be well acquainted with the language as it is now spoken, and (by his living without any conversation so great a time) had made him in some measure forget his own mother-tongue; though I really think, taking that into consideration, his account was very polite; yet had his life been published as in his memoirs, it would have appeared very obsolete and difficult to be read, though never so entertaining; I accordingly collected all the passages of his first twenty eight years together, and thought proper to make a book or part by themselves, that part of his life being different from his hermitical confinement on the island, which at first sight, appeared so full of horror, and nothing but a prospect of the most miserable condition that could befall him: he no sooner looked round him, and depending upon Providence as supporter of the distressed, but he found almost everything necessary for human life on that small island; and he who then thought of nothing but immediately perishing in the most miserablest condition, has lived, by the help of divine Providence, in a safe and plentiful manner, and is now so inured thereunto, that he despises the popular world and its vanities, also confiders its pompous glory to be of no more substance than a shadow, and that there is no felicity on Earth, unless in solitude.

I likewise methodized his account during his residence on the island, in the former manner, and made another book or part, which with this account of my finding him on the island, and my conference with him, completes my design, so that it cannot be called an imperfect description, but complete in three books; so I return to my voyage.

In our passage from Juan Fernandes, we saw a bird very large, which is called an alcatres, they spread their wings from eight to ten foot wide, in the Braziles is a serpent called liboya, or the roe-buck serpent, the report of which is incredible (in my opinion) but affirmed by some of the Portuguese, viz. that there are some of them thirty foot long, its body being as big as a hogshead, and destroys a roe- buck at one meal; here we trafficked for several sorts of drugs, we treated the Portuguese very civilly, who supplied us with all things necessary for our use: during our stay here, there arrived a brigantine laden with Negroes for the gold-mines; here four of our men died, and three run away from us, the last of which we had occasion to be thankful rather than sorry; for Timothy Anchors overheard them discoursing with design to mutiny at our next sailing, but was doubtful whether or no they might get enough on their side to over-power the captain and his party; and agreeing among themselves, that it was a matter very difficult to become masters of the ship, and besides considering the hazard they run, in being punished after such a severe manner as they should be, if found out by any means before they could accomplish their design or if they would fail in their attempt, made them rather choose to desert from the ship, than continue any longer; though our captain was an extraordinary good man, yet rogues will be always employing their wicked contrivances, and neither clemency nor good usage can make them perform their duty in their station.

October the tenth, after having let Antiope, one of our Negroe women, on shore, who refused to be christened as Diana was, we came to sail, but kept Elizabeth and Juno on board the captain resolving she should live with him as his servant, and by that means would bring up Tom's child; we did not meet with anything very remarkable, but after about twenty four hours, easy sail; we passed the Tropic, and the next day saw land, we stood from it south southwest, and had close cloudy weather all night, with squalls of rain, when day broke we saw the Ascension Island at about one league's distance; about nine a clock we came to an anchor; the sea is here very deep; the next day we weighed anchor, and sailed north northeast till the 17th, with a fresh gale at west southwest, we passed the line; the next day happened an ugly accident, for we brought a young bear from Mexico and our men often being used to play with her, and tease her, which proved very fatal to one Thad O'Bryan an Irish boy of about sixteen years of age, who had been fretting the creature with a small rope which he made a noose to, and slipped her hind leg in it, and so wearying her, her blood growing warm and enraged, by his hunting her to and fro on the deck, where he happened to slip down, and the bear immediately seized poor Thady by the neck, with such violence, that before anybody could deliver him from her paws, the poor boy's throat was tore all to pieces; so that he instantly died.

We sailed but very slowly now, as meeting with continual calms, and directed our course for Cape Verde islands; but on the 26th, a heavy tornado, attended with lightning, which fell as if the element had been on fire; but continued only for a small time. Afterwards the weather proved extremely fair, the wind being at full south, a sailor going up to furl the main top gallant, on the third of November, in the morning, he saw land, and supposed it to be one of the Cape Verde islands, bearing north-east, distant about eleven leagues, smooth water and fresh gales. About four o'clock, we bore north-northwest, and went with an easy sail till daylight, and made the Island St. Vincent, when about nine o'clock, we anchored in the bay, in about five fathom water, where we rid till next day; and then we went to St. Nicholas, another, and one of the largest of the islands of Cape Verde. These islands are called so from Cape Verde in Africa, and are mostly inhabited by Portuguese. One of them are called Sall, it derives its name from the prodigious quantity of salt, that is naturally congealed in salt-ponds. There are some poor goats on this island, and some wild fowl; here are flamingos, a large fowl much like a heron, but bigger and of a reddish colour: they feed together in muddy ponds, or where there is little water: they are hard to shoot, as being very shy.

In St. Nicholas we traded with some of the Spaniards for ambergris; but they were very fraudulent, having very much counterfeited it. Here are some vineyards and plantations belonging to the Portuguese: here is wine much like Madeira, also of a pale colour and thick: the people are swarthy, and the inhabitants live scattering in the valleys.

While we was at this island we scrubbed our ship's bottom, and dug some wells on shore, where we got some water. Here an ugly accident had like to have happened, for one of our men going down into the hold with a candle, set fire to a bale of cotton, which, by his carelessness, had like to have been the loss of our ship; but (thanks to God) it was discovered by its smother, just before it began to blaze out; so that by immediate help we got it extinguished: very soon we hoisted it upon deck, for fear that any of the fire should remain and revive again, and because we would have it in mind for our safety.

On the eighth we went to the Isle of Mayo, another of Cape Verde islands, but made no stay. We saw at south- west the island del Togo, which is remarkable for being a volcano or burning mountain, which issues out flames of fire; yet they are only discerned in the night, and then are seen a great way at sea: yet there are inhabitants on this island (as I have been informed by the Portuguese of the island St. Nicholas) that live at the foot of the mountain, near the sea: there is also cocoa nuts, plantains, goats and fowls.

In the Island St. Aritanio, another of the Cape Verde islands; there is a spider (as I was informed by the same Portuguese) very large, that weaves its web between the trees, which is so strong, that it is difficult for a man to get through them: here are also wild asses; likewise here are salt-pits, where great quantities of salt is naturally made by the sun's heat; with which they load yearly several ships, and are able to sell much greater quantities than they do, if they had but vent for it.

Having dispatched our affairs at the Cape Verde islands, we weighed with the flood, having a small gale at south southwest and by south. On the 17th it began to blow, and veered to the south-west and by south: that evening we saw three sail, at west-northwest, bearing, as we supposed, for the Canary Islands, as well as ourselves. The night coming on, which was extremely clear and fine, we passed the Tropic about the break of day: soon after which we observed a north bank lying in the horizon; we provided for a storm, which those clouds denote; the wind was at north-north-west: we brought our ship under our main- sail and mizzen only, and ballast our unison, but yet the wind and seas being too high for us, and every wave seemingly threatened to overwhelm us, so that we beat up and down with only our bare poles, which we feared would break in upon our deck, which must have foundered us, in case it had so happened, we also lowered our main-yard and fore-yard down a port-last, as I observed the sailors called it, that is pretty near the deck; and the wind blew extremely fierce, so that we did not dare to loose any head-sail at all; for if we had, they certainly would have blown away. During the storm it rained excessive fast, which continued for about four hours, when it changed, and was pretty calm, and we began to get every thing in good order. The wind that evening changing to south-west, about six the next evening, we saw the peak of Tenerife at about 9 leagues distance: we saw some flying fish, and a great deal of sea thistle swimming: we sailed all night with a small easy gale, and at break of day made the Canaries, bearing at north-weft and by west, about three leagues; we crowded all our sail, and came to an anchor in the harbour of Sancta Cruz, in the Island Tenerife, on the 21st, in about thirty fathom water, black slimy ground, about half a mile from the shore: It being generally pretty high land, it is very bad going ashore here in boats, and ships riding here are often forced to put to sea, or slip their anchors, by reason the road lies so open to the east. Ships are here supplied with good water between the coves, where the ships generally water

Sancta Cruz, a small town fronting the sea, has two forts to secure the road: here some English merchants reside. Their houses are low and uniform, covered with pantile: they have oranges, lemons, and other fruits, flowers, and salading; also abundance of pleasant gardens: at Oratavia the country is so full of risings and fallings, that it is troublesome to walk up and down in it; mules and asses are most used by them: here grows the right and true Malmesy wine; here is also Canary and Verdona or green wine: here are many convents. Ships are forced to slip their cables perhaps three or four times, by reason of the winds, and put to sea before they can take in all their loading. Here is wheat, barley, and maize, also beans, and peas; apples, pears, plums, cherries, pomegranates, citrons, oranges, lemons, and several other fruits excellently good; also horses, asses, mules, cows, goats, hogs, deer and fowl, both tame and wild, very plenty. Provisions are dear on the trading islands, but cheap on the other.

Fero Isle is remarkable that it has no fresh water, only in the middle of the island, where there grows a tree (which being continually covered with clouds) from its leaves always drops great quantities or excellent water. These Canary islands are commonly the rendezvous of the Spanish West India fleet, where they generally receive their orders for unloading their wealth.

From the harbour of Sancta Cruz, we sailed on the 25th of November to the Canary Island: here the soil is so fertile, that they have two harvests in one year: its commodities are honey, wax, sugar, and the best of wines; of which we took in a quantity of each: here are also dragon-trees, which produce a red liquor called dragons-blood. These islands are extraordinary wholesome, though they are inclinable to heat.

Having taken in our cargo that we designed from these islands, we sailed from thence on the 3d of December for the Madera Island, with a fair wind at south southwest, and saw several ships sailing towards the Lizard: the next day at eight in the morning we made land, which was the Madera, at about four leagues distance, and came to an anchor: here are many fountains and rivers which refresh the country: it is a very beautiful island, and also very fertile; produces excellent wine, which is very strong. We anchored in the port which resembles a half moon, not far from the town. Near this island is another (not so large as this which is about sixty leagues in compass) called Porto Sancto, which affords much the same commodities, as Madera; here we took in about 30 pipes of Madera wine, and having accomplished our business, we left that island on the 10th, and sailed for the Lizard with a westerly wind: we had not sailed above six leagues, but it changed to north-east, and the sky began to be covered with small hard clouds, very thick, one by another, which we imagined an approaching storm, so accordingly we provided for it, by reefing our top-sails, and took in our sails as fast as possible: the wind began to blow a very brisk gale, and soon after the storm began, the wind still increased by squalls of rain and hail, which came very thick and fast, and the sea run very high, so that we were obliged to run before the wind: we shipped little or no water, though some washed into our upper deck, and with some of the waves a dolphin was cast thereon: the wind blew very hard, but about 8 hours after it abated its fierceness; and then the wind veered to the west, and the foul weather broke up, and we had smaller gales, with some calms and fair weather. On the 18th the wind veered to south southeast, which continued a brisk gale till the 29th, and we kept right before wind and sea, the wind still increasing, and we made the Lizard on the 27th, at about three leagues, and stood in for the land, and came to an anchor in King's-road, January the 3d, 1724-5.

Thus I have given an account of our voyage from Mexico, as I promised, which I hope may not be offensive to anybody, it being my intention to divert the readers rather than displease them.

N.B. The ship belonging to Bristol, I communicated the following memoirs to a friend in London, in order to be published, which if approved of by the public, I shall at my return be very well satisfied; in the mean time I have business calls me to Peru and Mexico again, in which voyage I hope to see poor Phil, my good old hermit. And so I take my leave, and end the first part.

Bristol, November the 6th, 1725.
Edward Dorrington.
---
---
Philip Quarll was born in the Parish of St. Giles's in the year 1647. His father, Thomas Quarll, formerly a master-builder, having unfortunately ruined himself in building, was at last reduced to work at the laborious and mean trade of brick-making, his poor wife also was obliged to lay her hand to the labouring oar; so went charring: which slavish and confining occupation robbed her of the necessary time to attend the fruit of her conjugal love, her beloved Phil. so was obliged (whilst she and her poor yoke-fellow were drudging to get him bread) to commit him to the care of one kind neighbour or other, for a small consideration, till he could prattle and go alone; at which time he put him to school to a good old alms woman, so continued going till he was six years old.
One day a neighbour, who formerly had the care of the child in his mother's absence, having contracted a particular love for him, being an extraordinary pretty child, finding him, after school, sitting at his father's door, takes him by the hand, and leads him to his mother, then at work, at an old lady's house, in Great Russell Street.
The house-keeper, who was naturally fond of children, seeing that pretty child, takes him up in her arms, and runs up to her good old lady, who had just ended her customary private devotion.
The child, whom the poor woman did keep extraordinary neat and clean, beyond what could be expected out of her small gettings, was naturally very handsome, being tall for his age, and well shaped, his features regular and proportioned, his complexion fair, his hair long and curling, his countenance mild and sprightly, his behaviour gentle and easy; all which qualifications, did render him completely amiable, and made the old lady conceive for him an inclination uncommon for a stranger's child, and especially of so mean a birth.
Thus, having often kissed him, wishing he had been her own; "but why," said she, "can't I do for this lovely creature, though no kin to me by birth? Nature, who has endued him with qualifications so proximal and suitable to my inclinations, has, by sympathy, made him related to me; his mother gave him birth, which, without prejudice to her life, she could not refuse; now I'll give him education, the principal and most necessary care, whereby real love can be expressed to a child."
So, having given orders that a good school might be enquired after, she puts him to board to a master, whole most commendable character of instructing his scholars, in their duty to God and man, as well as in literature, had procured him a considerable number of children of uncommon births; there she made account to keep him, till he was by years and learning qualified for some genteel trade, intending to leave him in her will forty pounds, to let him up, when out of his time.
But now ill fate begins to show her averseness to poor Phill's happiness; the worthy lady dies suddenly, and interred a few months after, to his unspeakable prejudice and threatening ruin; but watchful Providence, who had decreed him good, averted the apparent evil, and only permitted some interceptions to her purposes should befall, the better to raise his esteem of her succeeding favours, when sensible of them.
The master, having conceived a particular love for the boy (whose uncommon docility, and extraordinary aptness in learning, had overtaken the rest of his school-fellows, though of a much longer standing) was very much vexed at the thoughts of his going away to his parents, not being in a capacity to continue his schooling: loath was he to part with the boy, and no less disturbed to give away twelve pounds a year for a boarder. His love, for the child, whom he had in a manner adopted for his own, would now and then rouse slumbering charity, whom self-interest too often casts asleep; "pity," said he, "such blooming wisdom, and forward learning, should wither away for want of cultivation. Thus, having pondered a while, love and charity, after a long struggle with interest, obtained the liberty to exert themselves, so that he be at no expense, the old man concludes to give him his learning, if his relations only would find him in board and other necessaries.
This being concluded upon by both the parties, Phill. continued coming to school, for the space of four years longer, during which time, he made himself a complete master of the grammar, writing, and arithmetic; he also made a vast improvement in singing, having all that time been taught by a master, who attended some boarders three times a week, who finding an extraordinary voice, and natural disposition in the boy, took a fancy to teach him; so that Phill. being in some respects qualified to attend the school, in the nature of usher, had his age permitted it; but as he was as yet too young to keep the scholars in that awe, as is necessary in a school. The master only gave him his board, till the elder scholars left off, and he grown bigger, intending then to allow him sufficiency to maintain himself, as others in that station; but ill fate still attends the poor boy. The good old man died in less than twelve months, and was succeeded by a superannuated nonconformist minister, who having not so prosperous a school as his predecessor, had no business for an assistant; so poor Phil. was a second time obliged to return to his. poor mother, (his father being dead,) who not being in capacity to do for him, as his education and natural parts did really deserve, proposed to him to learn some trade, in order to get his bread honestly and creditably, when she should be no more able to help him, having by her hard working and frugal living, made shift to lay-up five pounds, which she dedicated to that purpose.
Poor Phill. who had conceived a notion, that there is a servitude and hardship entailed upon that station, was very loath to resolve upon entering into it; but, as he was a very discreet boy, nowise inclined to play, as commonly children of his low birth are, seeing there was a necessity for him. to resolve upon something. To make his choice the more easy, he consults the master's nature and temper, rather than the goodness and profitableness of the trade; and as there lived in the neighbourhood a locksmith, ever since he was born, who being great with his father, would often play with him, when a child, and now and then give him farthings to buy fruit; he chose to be bound to him, which was done in about a month's time.
They both agreed wonderful well, the master being very kind and good natured, and the man as diligent and careful; so that those fears of meeting with hardship being dispersed, he cheerfully worked on, without thinking the time tedious: but, this
happiness, although slight, is but of a short lasting; for the poor man having been bound for a relation, since failed, had all his effects seized upon, and himself thrown in jail, and poor Phill, in a year's time, obliged to come to his mother again.
This accident was a vast disappointment to the boy's learning of his trade, being obliged to be idle, his unfortunate master begging he would seek after no other, hoping every day to make up his business, and set up again; so that the lad, for want of occupation, would play about the street with neighbour's children.
One day, that he was playing at leap-frog, with other boys, there happened to go by one James Turner, a house- breaker, who taking notice of his activity, which much exceeded the rest, judged he might be of great use to him in the practice of his art; the meanness of his dress, which spoke him of no considerable family, gave him room to hope he might easily get him: so having stopped awhile, he took the opportunity, that the boy being hot with running, and jumping, went to drink at a pump hard by, he stops him by the arm, saying, "do you mean to kill yourself child, to go and drink cold water, now when you are hot ? come along with me, and I will give thee a draught of good ale, you shall only go a short errand for me." "Will you master?" the innocent boy answered, "I'll go your errand, if its not too far;" so followed him to a petty ale- house, in a blind alley, not far from thence, where he commonly used; being come, he calls for a quart, and bids the child take a hearty pull; which he did, being very dry, and the liquor as pleasant. This being done a second time, it began to creep into his head, not being used to strong drink; and in a little time fell asleep, atop of the bench on which he sat.
The seducer thinking himself secure of him, leaves him to take his nap, so shuts the door upon him, charging the folk of the house not to awake him, nor to let him go away, when awake, till he returned; so went to get ready the implements necessary to let his evil project in execution, having determined to rob that night a rich merchant, in which wicked action he intended to make the harmless boy his chief instrument, by putting him in at a hole he was to break, and then to open the door for him, under the pretence that it was his uncle, who was so ill natured, as to lock him out, if no at home at the shop shutting up.
Having got the tools, he returned to the boy, whom he found just awake, and very uneasy to go home, having slept till it was dark, being afraid to anger his relations by staying out late, contrary to his custom, being used to orderly hours, so would have gone away, had not Turner, whose projects would have been quite unhinged, used all the devices and superovery he was matter of to persuade him. First he bespeaks a supper of that the boy most liked, who, since his being come from the boarding-school, had been used to none but coarse meat, his poor parent's ability affording no better, then to divert away the time, he intended to prolong till his opportunity suited, he told him several stories, and most particularly, that of his pretended uncle's unkindness, to lock him out of doors, and of his cunning invention, to get in at his own time, and unknown to him; but that he was afraid, he must be forced to lie out that night, which would be his death, being not used to such hardship. The poor tender hearted boy, who scarce could forbear crying, whilst he related this dismal story of his uncle's unkind usage, asked him, what was the matter, he could not get in that night, as well as at other times?
"Because," replied the sly knave, the poor boy that used to let me in is sick of the small pox, as I have heard since you fell asleep."
"What can't you get somebody else?" said simple Phil. "I would do that for you, if I could tell how to get in my own home, for my mother goes to bed by times, being obliged to get up early."
"As for that matter," answered the subtle serpent, "do not trouble yourself, I'll provide a bed for you."
Thus, having removed both that, and all other obstacles, the boy did raise, he persuades him to stay.
But ever-watchful Providence rescues his ensnared innocence: some hours before he was to go about the execution of that evil project, Turner was apprehended for a great robbery he committed the night before, in Lime Street, and the boy, being in his company, was also carried before the magistrate, but the justice understanding by the innocent boy's defence, he hardly was yet guilty of any robbery, having regard to his youth and modest countenance, reprimanded him for his easiness of being drawn into bad company, and warned him to be more cautious for the future; so discharged him and committed Turner, who was hanged in 1662.
That accident, though very lucky, by preserving innocent Phil. from being made accessory to a robbery, which would have put his life in jeopardy, at the end did prove fatal; having thereby gained the character of belonging to some ill gang; for which reason, nobody cared to be concerned with him, which grieved his poor mother.
The poor-widow, (being-left with her unfortunate son, whom she feared would take to some evil way for want, which often tempts the most innocent inclined,) not being able, out of her small gettings, to maintain him, as when assisted by her late husband, and seeing no prospect of his master's coming out of prison, and being set up again, endeavoured to get him into some place to wait upon some of her mistresses: but the unlucky accident of being had before a justice of the peace, with a notorious house-breaker, frustrated her endeavours; so that poor. Phil. was obliged to continue with his mother,: in a very mean condition, which his honest mother very much feared, would induce him to evil company, of which the parish she lived in did swarm; but the good instructions that were given him in his infancy, before bad examples could have made any impression on his mind, kept out of his thoughts all wicked devices. Thus, seeing no probability of amendment in the station he was in, he resolved upon going to sea, wanting for that employment, neither character nor recommendations, which he was sensible would be a hard matter to get, by reason of his most fatal accident.
Thus, having imparted his design to his loving mother, who, with much reluctance, acquiesced to his going from her, and leaving of his native country, where she once had hopes to see him well settled; so, with weeping eyes, implores the heavens to direct and receive him in their protection, and as she was acquainted with no one that could direct and advise him in that matter, she bids him go to St. Catherines. "There," said she, "you may chance to hear of some captain, or mailer of a ship, bound for some short voyage, who perhaps may want a cabin boy, which is, my dear child, all that your age and strength qualifies you for. In few years, with, the help of god, you may find some advantageous opportunity to advance yourself by your learning." So, having given him sixpence to bear his charges, with a tender kiss, she goes to her wonted occupation, and he straight to St. Catherine's, where Providence had prepared a master for him; being no sooner come there, than a captain of a ship bound for the East-Indies, taking a particular fancy to him, asked him whether he would go to sea, and that, if he was so disposed, he would take him to look after his cabin, and provide very well for him.
The gentle manner he spoke to the boy, and his own mild countenance made a vast progress in his affection; so, having joyfully accepted his offer, he desires he may run home and acquaint his mother of it. The captain having taken his name and place of abode, gave him half a crown to spend with his mother, and then to come to him, at the sign of the black boy, near the iron-gate, that he need bring no clothes with him; for he would provide every thing necessary for the voyage.
The overjoyed boy, having told his mother of his extraordinary success, gives her the money, being in a great haste to return to his new master; so, having embraced his tender mother, and she her dear son, weeping over one another for some time he leaves her at her work.
The good woman, though she had all the reason in the world to be easy in her mind, that the child was out of those temptations, great want and bad company might lead him in, could not be reconciled at his going from her; but seeing no remedy, she sends crowds of prayers after him, accompanied with showers of tears, recommending him to the cares of the heavens, to whom she daily did address for his prosperity.
Phil, who from his infancy had been used to be from his mother, was less disturbed at his leaving her, nothing but his new intended voyage did run in his mind; so hastened to the rendezvous his new master had appointed him, who, not expecting he would return, was so glad to see him, that he went, that moment, and bought him both clothes and linen fit for the sea; so equipped him in new cap-a-pee, then took him home, and in few days after set sail for a three years' voyage.
During their sailing, Phil, whose agreeable aspect and temper had gained him all the ship's crew's love, being often with the man at the helm, soon learned the compass; and by the instructions every body on board strove to give him, in a little time was qualified for a sailor, which his master being made sensible of, whom he had often diverted with his singing during that voyage, allowed him sailor's pay the following voyage, which was soon after; for in less than three weeks' time, the ship was new laden, and set out again for the same place, and was gone as long as before, at the end of which time, it returned home richly laden, and in a shorter time than was common; which being put in the news, as usual, did prompt a certain number of Drury Lane nymphs, belonging to the charitable order of carnal abstrapulousness, to go down to the place, where they heard the ship was arrived, supposing that the lusty sailors, having a long time been confined to salt meat, would, at their arrival, being flush of money, purchase a bit of fresh, at any rate.
Being come to Gravesend, where the ship lay, they found, according to custom, the jolly crew in an ale-house, spending like asses what they had earned like horses, even before they had received it.
At the ladies' coming, the elevated sailors, who had been sailing on salt water for the space of three years, and since set their brains floating in strong drink, for six-hours, had lost the rudder of their reason, so did run head-long upon those quick sands, where most lost all they had before they could get off.
The ingenious ladies, who had more wit than honesty, improved the absence of their understanding, to exert theirs; and being very expert in the art of fathoming, they fell to examining the depth of those shallow brained fellows' pockets, which finding very low, were much disheartened from going on, for fear of running aground: but understanding their ship had not yet been cleared, they cast their anchor there, waiting for a fresh gale.
The mean time, the merry sailors fearing no storm, gave themselves up to sport, and for better diversion, every man takes a play-fellow and goes aside, leaving bashful Phil. Behind; who being a stranger to the game they were going to play at, did not dare to put in for a partner: but cross fate still attends him, a snare is laid in which he must fall; there is a living bait whose cunning play will tempt him to bite; he must be caught by hook or by crook.
Every man, but modest Quarll, being gone away with a wench; one, who being supernumerary, stayed behind; the crafty creature, who, from her first coming in had fixed on the innocent young man for her quarry, kept at some distance from comrades, waiting their absence, to work her design.
Unthinking Phil. having no suspicion of her cunning devices, lay entirely unguarded against her sly attacks; so stood no long siege, but did capitulate at the first summons. 'Tis true, she was provided with such artillery, as no fortifications against love could withstand, but would force the most stubborn to surrender, or at least to parley, which is a forerunner thereof.
Thus, having fixed her basilisk's eyes upon him, as being the first battering piece the sex plants, when they purpose a breach on a man's heart, she charges him with a volley of engaging words, whilst her looks and carriage offer him such prevailing terms, which no man of any feeling can refuse: so, being an exquisite mistress of her art, she soon obtains her ends.
Poor Quarll, whole heart till then had never been besieged, finding the invader more agreeable than dreadful, being of a very agreeable shape, charming complexion, and most engaging features, surrenders up to discretion, and submits even to bear the yoke of matrimony, which, in less than an hour, is laid upon him; the chaplain of a man of war, that lodged in the house, happening to come in at that critical minute.
By that time, the absent revelling crew were cloyed with their mistresses, and had dismissed them with rough usage and ill language, of which they generally are flush, when money is scant.
The disappointed wretches, seeing no redress for their treatment lately received, which they well knew proceeded for want of money, concluded upon staying in that place till their ship was cleared; by which time, their appetite being sharpened again and flush of money, they hoped would also be better chaps; so took a garret in a little strong water shop, where they made shift to kennel together, and live upon short commons.
Our new marred couple, whose money was but scant, were also obliged to put up with indifferent quarters: but the hopes of receiving the poor husband's pay soon, and withal, the thoughts of being protected from jail, of which she was in danger, before married, being the principal advantage she proposed herself, by having a husband, make her now easy: but she and all the rest of her companions were disappointed. The ship being unladen, the cargo proved damaged, by the leaking of the vessel, which is commonly made good by the sailors; so that instead of three years wages, being due, the poor men stood indebted to the merchants.
That disappointment did put the unfortunate seamen, and especially the ladies, in a sad consternation; the former being obliged to go another voyage with empty pockets, and the latter to seek from cullies to support their extravagancy, and to pay for new lodgings.
Phil. who, during the voyage, had saved a little money, which his master gave him at sundry times, being disgusted of the sea, by the late accident, resolves to seek his better fortune in another manner.
His crafty wife, who being by her marriage screened from her creditors, depending upon her former occupation, indulged him in that resolution; so they set out with that little he had, and arrived pretty bare. Finding no friends in London, his master being dead whilst he was at sea, he resolves to lift in the Foot Guards for bread, having no other dependence; so consults with his spouse about lodging, till he had quarters appointed him: she indeed was best acquainted with the town, and knew of several that would suit both their stock and station, but durst go to none, having bilked most, and left a score with the rest; yet lodging must be had before night, and the day was far spent, which did set her a thinking, necessity being the mother of invention, and she as is peculiar to women of her employment, being well acquainted with it, was no stranger to shifts, so presently finds one.
Having pondered a short time, she concludes upon going to her last lodging, where, though she was considerably in debt, she questioned not but she would still find a kind reception; her landlady, where she had been about a fortnight, having given over her debt, would at her coming slacken the ill opinion she had conceived of her, and afford her kind usage: so having fixed a rendezvous to her husband, she hastens there, where she found, as
expected, the old woman as overjoyed as surprised to see her, and much more when she understood she was married to a sailor, lately arrived from a three years' voyage, who, in a short time would be cleared, and that then she would rub off her score. The old woman thinking her self secure of her debt, and sure of a good customer, bids her kindly welcome, and that she hoped she would take no other lodging but in her house, that she would make every thing as easy and convenient as she should desire, being as welcome to score, as with ready money.
The subtle woman, having gained her ends, goes and fetches her husband, whom the overreached old woman receives most kindly, expressing her love by a quartern of All-fours, the chief commodity of her house; that being drunk, was succeeded with a second, at the new tenants costs, which, being brought with a cheerful welcome to as many as they pleased, encouraged the coming in of half a dozen more. These warmed the company, and particularly the landlady, who having greeted Quarll, for his most happy marriage over and over, fell upon praising his wife, whom she had known for a long time, giving her all the encomiums virtue itself could deserve.
In this manner they lived about a fortnight, still upon score, which increasing very fast, and no prospect of money, obliged the landlady to put them in mind, often asking when they expected the ship to be cleared: Quarll, who discerned, by the cloud which appeared over her brow, a threatening storm, begins to think of an harbour, and forthwith goes and lists himself in the Foot-Guards.
In that mean station, which often is the last spite of a surly fate; there a continuation of misfortunes attend him: the company where he did lift in, is full of mercers and shop-keepers, who, for a protection took on in the service, and quitted their pay to their covetous Colonel, to be exempted from duty, which made it fall heavy on the effective men: but kind Providence who ever limited the evil that attended him by fortune, ordered this its vexatious influence to turn to his advantage.
One day that he mounted guard out of his turn, being upon duty at the Park's gate, next to Chelsea, about ten at night, the place being clear of folk, he fell a singing to divert melancholy thoughts, which solitude is apt to indulge. At that time happened to come by a Colonel of the same regiment, who, being merrily disposed, stopped several minutes to hear him sing. Quarll, having made an end of his song, fell a whistling the tune; at which the Colonel came to him, saying, "how can you profane such a fine tune with whistling, when you can sing it so well? Pray let me hear you do it once more, justice, and grace it with that good voice nature has given you." Quarllhaving made some few modest excuses, yields to his persisting solicitation, and sings the same song over again, and with more care than before; which did so please the gentleman, that he stood half an hour with him, asking him questions: and being by him informed whose company he did belong to, having his consent to be exchanged, he gives him five shillings to drink his health, and charges him to come to him, at the Miter Tavern at Charing-Cross, the next day at eight of the clock in the evening, and ask for colonel Beonguard, so went away.
Quarllbeing off duty, the next day went to the place at the time appointed, where he finds the Colonel, in company with half a score more gentlemen, who received him with more civility and compliance than is commonly paid to men of his coat; so, having desired him to fit down amongst them, and the glass gone round once or twice, the Colonel having praised his singing to the company, he was desired to complement them with a song, if he pleased, with that he sung to the Colonel the night before. Quarll, having modestly told the gentlemen, he wished that his skill and voice did deserve the honour of their hearing, and that he would do the best he could, having at their request drunk another glass, sung the song they desired, to their great satisfaction and applause.
After a short space of time was spent in the praise of singing, and a talking of what engaging an accomplishment it is, in either man or woman; some of the company holding that the charms of music, are nowise inferior to the powers of love; occasioned a very agreeable debate, there being in the company a gentleman, unfortunately under that delamor, who would give love the supremacy over all that can affect our mind, seeing it strips a man of the benefits of his own senses, of the strength of his reason, and soundness of judgment; no object is fair, but that whose idea has impressed the mind, no harmony heard but in the beloved voice, or that which sounds its praise; dainties have no savour in the absence of that which everything relishes; the fairest days but dull, if not enlivened by the light of the charmers' presence.
Thus he run on, till the company perceiving he was beginning to be uneasy, desired Quarllto sing the gentleman a love-song, who spoke so much in its praise; which he did, and pleased the lover so exceedingly, that he made him a present of half a guinea. The gentleman, who was altogether for music, having asked Quarllwhether he had anything in the praise of it; having also his request answered, made the rest of the company crave a song in the commendation of what suited their inclinations; some being for a bottle, others for roving, and others for a country life.
Quarll, being provided with such songs, entertained them to their desires, till supper was brought up; which being over, the company, who had been so well diverted with Quarll's singing, consulted together to do him service; and as he was well qualified to teach, they proposed to recommend him scholars. A gentleman in company, having a sister, who did intend to learn, he writes a letter to her, desiring she should make use of no other master, which letter he was to carry the next morning; and as his regimental clothes might lessen her opinion of his merit, he bids him before he goes to call at his lodging, and he would present him with a suit of clothes, which he wore but part of last summer, and therefore little the worse of wearing: and as he wanted but a hat to be completely dressed (having an extraordinary handsome head of hair of his own) an other gentleman bids him call on him for one; so that he had all he wanted promised him to set him out.
The gentlemen, having given him directions where to go for the things, and the Colonel his promise to get him discharged out of the company he did belong to; at least, to have him exchanged into his own, they every one gave him their crowns apiece; so they departed, bidding him not fail coming there again that day sev'night.
This unexpected but lucky adventure, like a sudden surprise, unframed his reason, so makes poor Quarlloverlook the only obstacle that could obstruct his blooming happiness. Thus transported with seeing himself master of more money than ever he was worth before, and in a fair prospect of advancing himself, he hastens home, and in his guard-clothes, in which he ought not to be seen there, being a dress obnoxious to most, and more especially to creditors.
His landlady, who till then had been made to expect her money, thinking he only waited the ship's being discharged, to go another voyage, seeing him in that hope-killing dress, gave a screech as if she had seen the devil, slanders and abuses striving for utterance, crowd in her foaming mouth, and like a rapid torrent, which runs from a large extent into a narrow channel, swells and overflows her banks; so her passion finding her mouth too small a passage, breaks out through her eyes: thus, having screeched and roared a while, which occasioned all her lodgers to come down; she charges poor astonished Quarll with shoals of abuses, in the vilest and most insulting terms, the most inveterate malice can express.
Thus having exhausted her stock of slanders, her tongue having uttered all the evil she could, she set her mischievous hands to work upon his wife, who being come to see the occasion of her screeching, stood like one bereft of her senses; so having torn her head-clothes off of her head, with words suitable to the barbarous deeds, she thrusts them both out of doors; which, though the rudest action that could denote the unmercifulness of her intended revenge, was to them, at that time, the kindest act she could perform.
That unexpected treatment was no small check to Quarll's cheerful disposition; but having considered, that one time or other he must have stood the shock, he rejoices, 'tis over; so, being free from the care of getting her paid, he has at that time nothing to think of but to find another lodging; which being then too late to go about, he concludes to wait for morning at a certain cellar at Charing Cross, which is open all night. Going along she mildly blamed him for his unadvised coming in that dress, which he might imagine could produce no better effect. to which he answered, he never could have wished for better; for by her turning him out of doors, she had paid herself, which he would have done had he stayed; but now he was come away, being better provided, and in a better way, he would have better lodging: so told her of the adventure, which much rejoiced her; and from that time made her resolve to forsake her former way of living, which misfortunes only drove her to, being not led by evil inclination as many are. The morning being come, whilst she went to seek for lodging, he went for the clothes he was promised the evening before, which happened to fit him, as if made on purpose; which made him appear as one of the genteel employment he was recommended for. Being new shaved and powdered, he went with the letter, according to orders, and was received suitably to the recommendation: the lady, being but just up, made him drink chocolate with her; then, having required a song, she agrees with him for a guinea a month, the usual rate; and gives him a guinea at entrance, as 'tis common: so did begin that very morning, promising to recommend him to a lady who had two daughters, which she accordingly did, and sent him there the next time he came.
This fair prospect of a handsome and genteel living, of which he always was desirous, made him forget his past misfortunes: thus joyfully he returns to the cellar, where he had spent the night: before, and where he had appointed to meet his wife, after that she had fixed upon a lodging; who accordingly came in less than a quarter of an hour, hoping she had pleased her husband, which she resolved for the future to endeavour. She fat down expecting his coming, not knowing he had already waited hers in his change of dress concealing him from her, not expecting to see him in so different a garb, from that which she left him in; which he perceiving, comes up to her, and takes her by the hand, going to ask her the success of her walk; but she putting it out of his power, in an angry manner, bidding him to go about his business, having none with her, prevented his speaking: his silence which she took to proceed from bashfulness, occasioned her looking him in the face, in which discovering her dear husband's features, to whose natural handsome features his genteel clothes were no small addition: she was seized with such a surprise, that it struck her speechless for some minutes.
Quarll discerning her disorder by the fading of her fresh complexion, was as much surprised as she. Thus trembling, he takes her in his arms. "My dear," said he, "what's the matter, are you not well?" Having recovered her speech she embraces him, saying, "how can I be ill, and my dear heart and soul appear so well."
These kind words, and the return of that flush, as first kindled love's fire in her heart, inflames it afresh: hardly can he govern his new-raised passion, it begins to grow abstrepolous. Thus, giving her a kiss; "My love," says he, "have you got me a lodging?"
"Yes, my dear," replies the loving wife, "you shall ever dwell in my heart; but I want to lie in your arms."
Answers he, "that can't be done here."
"Well then," said she, "I have provided a fit place." So, having each of them taken a dram, they went away.
Sally, who till then was a stranger to real love, now feels its true smart; and though she has for some time enjoyed the fruitions, the only bliss, painstaking lovers aspire at, for the reward of all their toils and labours, and the happy shore love's compass points at. Yet she seems uneasy, as expecting something more: she cavils with time for flying too fast. Whole days and nights are too short for her to behold her dear. She continually bears his image in her heart, and wishes she could forever have him in her arms, which from that time, she consecrates to chaste embraces, devoting herself wholly to the diligent and assiduous practice of the necessary qualifications in a wife, to render a husband truly happy: the execution of which, her wise and virtuous resolutions, did gain her the tenderest and most sincere love and affection, a really fond husband can show or express to a darling wife.
They lived in that truly happy state about half a year, at the end of which, cruel fate, envious at his uncommon happiness, most barbarously robs him of it, almost as soon as he had favoured its incomparable and matchless sweets.
One summer morning, loving and truly observing Sally, knowing her husband delighted in flowers and greens, went to Covent Garden, in order to buy some to garnish her windows and chimney, being the only things wanting to complete the neatness of her lodging, which she did keep in the greatest order. As she was going, she most unfortunately meet with the perjured knight, who deceived her out of her virtue, and with whom she had lived a considerable time, in expectation of his fulfilling the promise he made her, when she put him in possession of her maiden- treasure; who, being glutted with his sacrilegious theft, most basely and ungratefully left her destitute. Fain would she have shunned the fatal principle and origin of her past misfortunes, and hellish motive of her late evil life, which she mortally did abhor, and zealously renounced: but inexecrable fate has decreed her ruin, she can no wise avoid him; he was too near before she perceived him, and had hold of her hand, e're she could shift it out of his way.
Being thus suddenly stopped by him she would have embraced the severest death to avoid the vile suborner, by whom her innocence was first betrayed, the irreconcilable antipathy she had conceived for the mortal enemy of her newly retrieved virtue, being started at his terrifying appearance did let her whole faculty in an uproar, and scares away her senses, not so much as a word left her to express her trouble.
The amorous knight whose late love for the fair Sally whose regular living had repaired those charms her former lewd life had very much damaged, being revived and grown more passionate than ever, flattering his hopes with the thoughts that her present disorder did proceed from joy and surprise, took the opportunity of an empty hackney coach that was going by, to bring her to his lodgings. So having stopped it, he puts the poor dispirited woman, altogether insensible of what was done or designed: but having with the shaking of the coach recovered a little spirit; finding herself so much in his power, as aimed at her total ruin gave a loud screech, which occasioned the coach to be stopped by some people that were going by; but his protesting he had no other design but to take her to a friend's house till she was entirely recovered, representing also the danger of exposing herself by opposing his kind intention. being then near a street where he and she had lived together, a considerable time, in some measure pacified her; so having put his head out of the coach, he tells the people that stood by, his wife, who had been lately overset, was afraid of the like accident, made her scream; so bid the coachman drive on, during which time he entertains her with all the marks of a passionate love, swearing over and over he was her slave for ever, and that now kind fortune once more brought them together none but death shall sever him from the person he loved so dear, and that he would expire in those soft arms that often gave him life.
These fond expressions she formerly had given credit to, are now upbraidings and reproaches for her too easy a credulity, and only increased her hatred for the deluder which at that time she thought proper to conceal; thus restraining her passion, she assumes a feigned calmness, and mildly returns him thanks for his love, which she cannot indulge being married.
"Married!" said he, "And I living! Was you not mine?"
"I was indeed," replied she, blushing with anger and shame, "but what was I! I tremble to think on it."
"Why," said he, "my love and heart's delight and shall be whilst breath does keep it in motion."
"Oh! false man," said she, weeping most bitterly, "repeat not those deluding words as betrayed my virtue."
"Come," said he, cease that flood which overflows my soul with the bitterest of sorrows, and reprieve the most penitent of men from the cruellest of deaths; my submissive observance to your inclinations shall henceforth atone for all past given displeasures."
"Mean you, said she, "as you speak?"
"By all that's sacred I do," replied he.
"Then," said Sally, "joyful set me down here, and I'll forgive what's past."
"No," my dear, "this being a request, I cannot in honour grant, I may without breach of promise refuse, I must see you quite re-established first."
By this time, the coach was arrived to the directed place, which proved to be a house where she had last lived with the knight; which being open, and the landlady at the door, obliged her to go in without resistance; fearing it would be of no use, but rather prejudicial to her design: so she quietly went in, hoping she should have a better opportunity to get away, after she had made the landlady understand she was married; but the sordid wretch, hoping the knight would lodge there again, who proved an extraordinary beneficial lodger before, went out of the room, and left her to his pleasure.
Poor Sally seeing herself at the point of being a second time undone, there being no one to assist her within, nor hopes of any help from abroad, the room she was in being backwards, next to large gardens, and distant from the house, and therefore out of hearing; gives herself up to despair, so seeks the opportunity of laying hold of his sword, on which she did resolve to fall rather than to yield to his adulterous desires; thus whilst the knight was labouring to express the height of his love, by the most endearing terms and prevailing words the most passionate lover could invent, she of a sudden snatched the sword from off his side, and turns the point thereof to her breast, in order to execute her barbarous, though virtuous resolution.
"What do you mean?" said he, laying hold of her arm.
"To get myself at liberty," said she, "which you basely refuse;" so falls in a violent fit, which lasted some minutes, and; was no sooner over but was succeeded by an other, and so for the space of three hours, at the end of which time, she was so faint and weak, that her life was despaired of, and so continued all day, which made the knight repent he did force her to stay so much against her will heartily wishing he knew where she did live, that he might send her home, which she not being sensible to tell, the landlady, by the knight's orders, got the best room of the house fitted up for her, so the bed being warmed she was carefully laid in it and a doctor sent for. Who, having felt her most disturbed pulse, said her indisposition did proceed from passion and grief, so ordered she might be let blood, which would give her oppressed spirits a present relief, the physician was no sooner gone but that the surgeon was fetched, to perform the doctor's orders, which gave her immediate ease, and in a little time caused her to sleep, which lasted all the night. This great and hidden amendment much rejoiced the most afflicted knight, who made a vow not to leave her till restored to her wonted health, so sat up by her all night.
The next morning, Sally, whose good night's rest had in a great measure recovered both strength and reason, finding herself in a strange bed and from her husband, was again seized with surprise, which did much threaten a relapse.
"Heavens," said she, "by what enchantment am I here! What fiends could ravish me out of my dear spouse's arms?" then seeing the knight hand by the bedside, she gives a loud screech; "Oh! vile ravisher," laid she, "is it then by another of your hellish stratagems, that I am again betrayed in your power?" With that she fell in a violent fit of crying.
"No, most virtuous woman," replies the knight, falling on his knees, "it is by accident, of which I own myself to be the most miserable occasion, for which I heartily ask both Heaven and you pardon," so relates the whole matter, which the late illness her excessive grief and passion brought upon her, had made her forget.
That woeful relation did but add to her trouble, by heightening her grief; "Oh!" said she, with a fresh shower of tears, "how can I now look my dear husband in the face when my very justification turns to my shame."
The knight, who was in as great a consternation as she could be in takes her hand, which lay motionless out of the bed, and bathing on it with tears, begs her to forbear terrifying his most penitent soul; promising to rectify all past wrongs: "You remember, my life," said he, "the vows I made when first you gave yourself to me? I renew them now, and would fulfil them, but that it would expose you to the rigour of the law, therefore I'll only for the present settle five hundred pounds a year upon you for your life, till by your husband's death, I am empowered to make you lawful mistress of all my estate; pray compose yourself, and sedately confider on it, and when come to a conclusion I'll attend for your answer;" so withdrew for awhile.
This generous offer expressing the sincerity of his love, for whom she formerly had more than a common esteem, in a great measure appeased her passion, the offered atonement disarms her
revenge, she now pleads for him she before did condemn, and blames herself for the crime she charged him with; "How could I," said she, "think my virtue safe in his hands, on whom love has such an ascendant, (who itself is guilty of as many faults as it covers). If he went away with my heart it was but a breach of trust: besides, his absence was no flight, being occasioned by business.
Having made these reconcilable reflections, and at the point of accepting his offer, conscience starts, and opposed her resolution, her husband stands in the way rigged in all those engaging qualifications which did win her affection; this coming into her mind, in a manner scares away her reason, she can't help loving both; her love for the knight pleads seniority, and that for her husband justice. The first is attended with interest, the last is prompted by virtue; the debate is great, and both their arguments strong: reason is called to decide the matter, which having (as 'tis her custom) sedately weighed the cause, examined both accidents and incidents, at last seems inclinable to favour the love for the knight; but justice, who is always in the right, will not resign it: peace and content, the only motives worth contending for, must be consulted, they being also cautious of giving a rash verdict, examined on which side they were in most safety; and finding themselves most screened from upbraidings and reproaches, (their mortal enemies) for the knight, gave it of his side; so justice, who seldom gets its due, is forced to drop the cause, and tacitly withdraw.
The knight's offer being the softest choice for an easy and quiet life, which she could not reasonably expect with her husband, who doubtless would from the late accident, conceive an ill opinion of her virtue; which, although at that time blameless, she could not with modesty vindicate: So having sent for the knight, she speaks to him after this manner:
"I have had so much reason to repent my being too credulous, by the many vexations it has occasioned me, now, that I should upon the bare repeating of broken promises, expose myself to the same, you yourself could not but blame me."
"Indeed dear Sally," said the knight, interrupting her, "I own you have sufficient cause to question my sincerity, but I will this moment remove it." So that moment sends for a lawyer, and makes the proposed settlement; then gives orders a mercer should be fetched for her, to take her choice of the most modish silks, and then for a silk night-gown, for her to wear till her clothes were made; as also, for all manner of linen, shoes and stockings: then, having new rigged her from top to toe, "Now," said he, "my dear you are entirely mine, give me direction that I may send your husband what he can challenge as his own; so writes the following letter.
Sir,

Lest the absence of her, who unthinkingly gave herself to you for a wife (though not at her own disposal, being mine before) should cause you any further trouble, these are to satisfy you that I have retaken possession of my own, so send you back her clothes, as being all you can claim right to.

I am yours.
F.S.
Having sealed up the letter, and bundled up the clothes, a porter was called, to whom orders was given to carry the bundle arid letter, to the most perplexed and concerned Quarll, who spent the night in an unspeakable torment. a thousand dismal accidents glared at his alarmed fancy, which created new racks for his tortured soul. He tumbles on his bed, like an unmasted ship, tossed about by a violent storm; cursing the tedious hours, for creeping thus in the dark night: taxing the sun with sloth, and Nature with unkindness. Thus, like one bereft of his senses, and quite void of reason, snarls at the whole creation.

At length the long wished for day, having sent forth its dawn, to proclaim its approach, he starts from off his bed whereon he lay, as if upon thorns, and mad-like, runs about to inform himself of what he dreads more than death to know: but having spent several hours in diligent enquiry after lately befallen accidents, without hearing of any, jealousy creeps in, which, in some measure, removes his former fears, but no wife lessens his pains: thus he returns home as much racked as before.

Being arrived, he finds on his table a bundle, and a letter, which his landlady told him were brought by a porter. His impatience to know the contents of both was equal; but the bundle being most surprising to him, he precipitately opens it first, which finding to be every individual part of the clothes, his wife had on the day before, when she went out. With the surprise, lets it drop out of his hands, and like one thunder-struck, remains speechless for several minutes; then fetching a deep and heavy sigh attended with a shower of tears, he bitterly exclaims against himself for questioning the faithfulness of that love, of which he now has such fatal proofs.

Thus, concluding she had drowned herself, and that the letter would inform him of the cause thereof, he takes it up, saying, "O that you had been a timely forerunner of the fatal tidings thou art bearer of: yet, for her dear sake that wrote it, I'll peruse thee, though thy contents be but racks for me, and the most cruel tortures that ever were or can be invented.

But great was his surprise when he found it to come from a man, and inexpressible his confusion at the contents; his senses are all in an uproar; he blames his eyes for not seeing right; his apprehension for mistaking the meaning; his blind love taxes his reason with rashness: the mistaken expressions being but illusions proceeding from an oppression upon the intellects. So lays down the letter, till his disturbed mind was better settled; yet he cannot be easy, he must, with some other writing, try whether his eyes are still defective; on which finding no fault, he hastily takes up the letter again, but alas! it was the same as before. "My judgment," said he, "has been as much wronged as my love." So, after few considerations, calling to mind, that as an accident had procured her to him, he ought without reluctance, to surrender her up to it again; so, having made a resolution never to venture any more on that uncertain state, which commonly promises happiness, but often brings sorrow; he shifts his lodging, and goes to live where he was unknown, the better to pass for a bachelor; in which free station he did enjoy peace undisturbed, and pleasures uncontrolled, for the space of twelve months: but cross fate still pursues him, he must again be fettered, and bear yet heavier chains than before. A second mate is allotted him, who, though very chaste, dooms him wretched, being short of other qualifications, necessary in a wife to make a husband happy.

This woman had been bred up from her infancy under the care of a lady, whole two daughters Quarll did teach to sing, and had lived with her in station of a chamber-maid, ever since she was big enough to officiate in that place; during which time, having behaved herself to her mistress's content, she gained her affection, so that this good lady, being desirous to advance her maid, whose age fitted her for marriage, the chief settlement for a woman, she cast her eye upon her daughters' singing-master, whom she thought would make her a good husband, having observed him ever since he came to her house, to carry and behave himself very decently and becomingly. Thus, having declared her mind to her, who had already a great inclination that way, readily submitted to her lady's will, who promised to bring it about.

The good lady, having conceived the principal means to bring her design about; took the opportunity of Quarll's next coming, to propose it to him, promising to make her worth three hundred pounds, which was the only motive as could engage him to break the resolution he had made; the young woman being also very agreeable in her person, and extraordinary obliging to him, he readily accepted the offer.

The old lady, having so far prevailed upon him, is resolved to push on till quite concluded; so has them married in less than a week, and gave them lodging in her house, where they continued but one month. The new married wife thinking herself in some measure under confinement, whilst in the good lady's house, to whom duty and gratitude obliged her to be more than indifferently observing, being likewise somewhat ambitious of living great, she persuades her husband to take a house and furnish it; which being done according to her desire, they went away from the kind old lady to live by themselves, without considering the expense of house-keeping, which they both till then had been strangers to, but in little time became too well acquainted with.

The three hundred pounds being gone in furnishing the house, and paying two years rent, and as many years wages to a couple of maids, one whereof was kept in the station she herself had but lately overcome, Quarll was obliged to reduce his charge, and level his expenses to his income; so discharges the superfluous servant, whose business was only to indulge her indigence, and increase her pride.

That sudden lessening of her attendance checked her ambitious disposition, in such a manner that it threw her in the spleen; which was like to have cost him more money in doctors, than the servant's-wages which he endeavoured to save.

Being taken very ill, and knowing not what to complain of, a doctor was granted; at her importunity, rather than her need; who being come, and finding her indisposition lie in her temper more than a defect of nature, ordered her medicines to make them both in the same condition.

Her strength decaying and the apothecary's bill increasing, which are the usual effects of imaginary illness, made her husband apprehensive, that considerable charges might accrue from her fanciful and imaginary distemper, which he would not indulge, and feared to check too suddenly, least it might produce some other ill effects; so in compliance to her natural pride, he proposes her going in the country as being a proper expedient to save his money, and to be rid of a grunting companion, at least during the summer.

This proposal suiting her ambition, to imitate quality, (who for the generality did go out of town about that time of the year) was soon accepted of; and that opportunity of being freed from one of the greatest plagues as can befall a man, by him as soon improved.

Quarll having got her in the mind, was nowise dilatory to get it performed; but made diligent enquiry about the most convenient place in the country, for remoteness and cheapness; which being informed of, he forthwith, takes horses, and having found a good old country-man, with his wife and daughter, in Yorkshire whose diligent cares and frugal living, whilst young and strong, had been rewarded with a moderate competence, to keep him from toiling when debilitated and waxed old; who having a pleasant and commodious habitation distant from meddling and inspecting neighbours, and room to spare; were very glad to take in a gentlewoman to board, being some company for them in their remote living, and therefore stood upon no rate: which suiting Quarll's circumstance and wishes, made him consult on means to keep his wife there for a constancy; and as he well knew she never would consent, nor he able to force her to it by violence, he applies to stratagems: thus having given her the best character he could to the old people for good humour, he tells them that indeed

she had one failing, but that it was nowise troublesome, provided one give her her way: she is very vapourish and looks for great attendance.

"O dear, that's quality distemper; well, if that be all," replied the old folk, "she shall not want for any one thing."

"More, said he, "I must caution you of; she will soon be tired of her lodging, and will be for returning to London, so will seek all opportunity to steal away, if she finds herself opposed in her desires; therefore 'tis best not to contradict her directly, but be sure watch her narrowly, least she gives you the slip."

"Never fear," replied the good people, "we'll take care of that, she never shall go one step alone; she is not apt to lay violent hands upon herself, and do herself a mischief?"

"No, no," replied he, "there's no danger of that, you may trust her alone within doors at any time, but never abroad: one thing more I must give you notice of; that is, when she finds she cannot get away, she'll be for sending letters, I charge you let her have no paper, only at first, to write to me once or twice, or, so; and that you'll guess when proper, by her railing, which will be a token of her being discomposed. And as for her diet, she is something dainty, but I see you have poultry plenty, which she loves very well."

"O dear sir," answered the old woman, "she shall have both fish, flesh, and fowls, when she pleases; we have a fine pond in the ground well stocked with fish, and cocks and hens enough you see about the yard; and for butchers meat, 'tis but two or three hours ride to the next town.

So Quarll having agreed, and paid one quarter before hand, which he promised to do whilst she boarded there, he returns to London in order to fetch his wife, who having projected a greatness of living in the country, which she was disappointed of in town: immediately inquired into the appearance of the house, the handsomeness of the lodgings, and gentility of the neighbours: to which questions Quarll took care to answer suitable to her inclination: so having concluded to go the next day, they went out to make provision of such things as cannot well be had in the country, as Nants brandy, ratify, usquebaugh, coffee and chocolate, and such things as were necessary to entertain genteel company.

Being provided with every thing, they set out the next day: but as neither lodgings, house or neighbourhood, answered her ambition, nor his commendations, he contrived to arrive in the night, that she might not find the deceit, and as the good people of the house, according to direction, did show her abundance of respect, giving her the title of Lady; and a good supper being prepared, she enquired no further into the matter. The next morning Quarll having represented to his spouse, it would be of prejudice to him if he stayed any longer from his scholars, having already lost fix days, took his leave of her, and left her in bed, it not being her usual time to rise; so having promised to be with her in a short time to see how she liked her lodgings, he returned to London, having first renewed his charge to the good people of the house, of giving her her humour, and, above all, not to let her go out alone, nor consent to her coming up to London, which in a little time he questioned. not but she would be very desirous of.

Quarll being gone the old people, according to their charge, were extraordinary diligent and careful in pleasing their new lodger, who finding her ambition gratified by their observance, kept in that day, but the next morning having a fancy to walk out, the young woman of the house took her to see the ground and cattle as did belong to them, as being the principal things she could show her, there being neither house nor habitation, but their own little cottage, within sight; she, who thought her lodging to be in a handsome and creditable house, near a genteel neighbourhood, with whom she might converse, finding the reverse of her expectation, could not conceal her passion at the disappointment; so falls a railing against her husband in such a rage, as frightened the poor young woman, who doubting she was going in one of her fits, run home to fetch her father and mother; who being come, were as much frightened as their daughter at her furious countenance, the blood being ready to start out of her face, and her eyes out of her head; thus fearing she would grow obstrepulous, they each of them took hold of one of her arms, and so in a manner dragged her home, where being come they would have laid her upon the bed, but she who took this act of their caution, for an effect of their careful attendance, told them, that indeed she could not find fault with them, and that their habitation might suit their birth; but really it did not hers, which her husband very well knew, and therefore never would forgive him for bringing her there, and that he should soon know; so desired them to give her paper and ink, if the house could afford such a thing.

The good people, who had been cautioned to give her her humour in that at the beginning, having none at home, sent the boy that attended their sheep on horse-back to the next town for some ; then leaving her to compose herself, they retired to bewail among themselves her misfortune, which they perceived to be the effects of pride, reflecting upon the happiness of their own condition, and the pleasure of a contented life: "now, (1)" said they, "she has been brought up in a city where excess of pleasure and luxury are made the only means to arrive at content; but alas! how widely do they miss their aim! Their life is a continued series of care; their emulation and vanity in fashions, entertainments, and such like, together with that inseparable companion envy, only contribute to. make an unhappy life still more miserable. Here this gentlewoman wants for no manner of necessaries to make a life comfortable, but has rather a superabundance, could she reject that horrid, pain-causing quality of pride, and learn a little humility, 'tis that brings content, and sweetens all the misfortunes of this life: How preferable is our station to hers, how solid is the pleasure we enjoy in this solitary habitation, compared to the trifling joys the great ones possess in the most populous cities! O happy fields and

silent groves, where nothing but eternal rounds of pleasure centre; here no debauches, riotings, fashions and luxurious entertainments, no envy of others' good fortune, no drunkenness, swearing, and blaspheming the mercies of the almighty god, ever take place as in flourishing cities; but Providence gives us all things with a bountiful hand; in short, we have, all we desire, and more than we justly deserve; here the beauteous birds, joyfully hopping from bough to bough, stretch their tuneful throats, and warble out melodious anthems to their great creator's praise, while flowery hills in harmonious echoes, repeat the same to the fruitful neighbouring vales; here's nothing to be seen or heard but universal acclamations of praise to the great God of all things: this is the real solid pleasure, this it is that makes us perfectly happy; for how much more eligible is the company of irrational animals, or even inanimate things, than the society of men, who have divested themselves of all things but shape, whereby to distinguish them from the most deformed brutes, or indeed from more horrible devils. This gentlewoman has put us in mind of our own happiness, of which, before her coming, we were almost ignorant; but now we may see, that happiness consists not in riches, nor content in gaudy apparel. — "

But why do we tarry here; it is not proper to leave the gentlewoman so long alone, left, in one of her fits, she should do herself a mischief; therefore let one of us go to her: so the good woman of the house went to her, and finding her in tears, used all possible endeavours to divert her melancholy; but all to no purpose; for still she was interrupted by exclamations against That villain! That rogue! her husband: the good woman finding that words could not prevail, thought a glass of ratafy might do better, so desired her to comfort herself, and take a glass of her cordial, to which she soon contented, and after that four or five more, which had. the desired effect; for her melancholy was by this time turned into most violent fits of the spleen, and presently into drowsiness; the landlady perceiving her condition, desired her to lie down, and refresh herself by taking a little sleep, so laying her down upon her bed, and watching her to sleep, retired.

After she had slept an hour or two, she awakes in a very splenetic humour, and calls to know the reason why pen, ink and paper were refused her.

"Indeed," said the old woman, "we did not know that your. ladyship was awake, and we did not care to disturb you, but I'll bring it you presently," so went and brought it, which she no sooner received but began to write the following letter:
Most barbarous of men,

Was you afraid that my indisposition (for which you most deceitfully did persuade me to leave London) would not kill me quick enough itself, that you have decoyed me to an oven, the dullness whereof is sufficient to make any well-bred dog pine itself to death; here not being a rational creature to talk to, but the insipid folk of the hut, who being stripped of their clumsy human shape, will be as complete brutes as their oxen and cows. Pray see that you forthwith fetch me hence, or expect to incur all the resentment an injured wife can show, as soon as arrived to London, where I shall surely come in a few days, though I was to travel all the way barefoot.

Yours, &c.


Mary Quarll.
This letter being written, the good people of the house were in a great consternation, whether they ought to send it or no, but after some consideration about the matter, they concluded it should go, lest her husband might take it amiss.

Quarll, who expected some such letter from his haughty dame, as soon as she had discovered the cheat, had, with a great deal of judgment, prepared the following answer.
My dear,

If your pride and vanity do outrun your reason, it is no argument my compliance to them should hasten my ruin, and if you consult your circumstances as I do my ability, you'll not discommend

your careful husband,


Philip Quarll.
And with that one, to her landlord and landlady, whom he thanked for their care of sending the letter, but desired they would not trouble themselves with sending any more, nor give her opportunity of writing, seeing it did but aggravate her distemper, and above all things to have a particular care she should not give them the slip, and he would take care to gratify them for their trouble.

This obliging letter, together with a present of a pair of handsome green stockings, and lemon colour gloves to the daughter, did so win the old folk's affection, that they were extreme punctual in observing his orders; but that to his wife had a quite different success; for instead of putting her into consideration, it set her in such a violent rage, as would scarce permit her to read it throughout; so tearing it to pieces, she storms out.

"Consider my circumstances! vile wretch! let him behold my portion, whether it deserves me no better a being than a hovel! Landlady send immediately to the town, and get me a place in the stage against to-morrow; for I'll go and tear that villain to pieces."

The good woman was not a little displeased to hear her thus despise her house, which was the best within a mile round; but as she imagined it was the effect of her vapours, instead of vindicating her house, which though old and low-built, was tolerable large and very convenient, she seemed to acquiesce with her, wishing it had been better for her sake; but as for sending to take a place, it was then too late, for by that time a messenger could be got to town, the office would be shut up; but that the next time she went out she would take care a place would be taken , so excused it for that week; in the meantime me gave her her humour, being very respectful and observing, which suiting her pride, made her something more easy, and in some measure diverted her raving fits, for she fully depended upon going the week following, but was again disappointed by one mishap or other, and so from time to time; till at last she begun to doubt of their giving orders, meaning to keep her there, thus resolved to go herself, but not knowing the way she desired somebody might be sent along with her, which they were very ready to grant, but never could be had, being always out of the way about some business or other.

This continuing for the space of a month or more, and no news coming from London, she began to think it was a contrivance of her husband's to be rid of her, with only paying for her board and lodging, which she understood he had done beforehand, and agreed so to do during her stay, which very probably might be for her life; but resolved to disappoint him, by privily stealing away, and at a venture seek out the road to the next town, not questioning but she should find somebody as she went that would direct her: but the old folk having been warned of such an enterprise by her husband, were too vigilant to give her an opportunity of attempting it, never leaving her by herself from the time of her getting up to her going to bed again, which over attendance convinced her of her imprisonment.

Thus finding herself curbed in her ambition, disappointed in her pride, and tricked out of her liberty, without hopes of being relieved, the letters she sent to her friends being intercepted, she falls into a passion suitable to her case and disposition, which having vented upon the people of the house for abetting and adhering to her perfidious husband in so traitorous a deed, her spirits being exhausted so prodigiously with raving, that nothing but a cordial dram could ever have brought them to their usual tone, and which she by long experience knew calls for her grand specific, and after she had drank three or four refreshing glasses, she became more easy, and, retired to rest; when having slept a few hours, she awakes something better composed; thus considering, that all the resentment she was capable to show could not mend her condition; therefore concluded to make her landlord and landlady her friends, that if she did not enjoy her liberty as she did propose, she might at least enjoy a little more content in her confinement.

Thus she resolved and indeed kept her resolution a long time, laying aside her haughty proud temper, and curbing those violent passions she had so long accustomed herself to; she now began to be much more familiar, and condescending than what she had hitherto shown, to the great joy and surprise of the good people, who by this strange alteration were in great hopes her madness was wearing off; and upon that account were extremely industrious to humour her in every point, using her with all the good manners they were capable of, which she easily perceiving, thought to make use of their credulity to her advantage; for she was a woman of quick penetration, and finding how egregiously those ignorant people had been imposed upon, in relation to her frenzy, saw the only means to regain her liberty was to pretend a recovery, and accordingly, by a counterfeit change of temper, endeavoured to persuade the people into a good opinion of her, telling them she could never requite their extreme good services to her during her indisposition, and lamenting her own unhappiness in being so troublesome and fatiguing to persons of so kind and obliging behaviour. They in like manner answered, that if their poor services had contributed anything to her ease or recovery, they were sufficiently made amends for all their trouble.

Now the scene was entirely changed; the raving proud, ill- natured gentlewoman became the most pleasant, sociable and best- natured person they had ever met with; and they who just before conceived so great a dislike to her, were now so delighted with her company and conversation that she was less alone than formerly, they always contriving some diversion or other to drive away her melancholy, and to prevent a relapse, hoping to send the welcome news of her perfect recovery to her husband, frequently pleasing her with odd country tales, showing her all the pleasures their fields, gardens, and orchards could afford, with many other little contrivances to pass the time away, while she endeavoured to divert them with the comical adventures of the Londoners. This she endured almost a whole month, with all the seeming good-nature, imaginable; but finding herself in no way to procure her enlargement, and rather more strictly guarded than formerly, resolved to obtain her liberty by stratagem, which she designed in the following manner.

There was a servant in the house whose name was Thomas, a lively, brisk, fresh-coloured young man, and indeed a fellow of admirable sense and good manners. This spark was of a very amorous disposition, well versed in intrigues, and extremely obliging in his temper and behaviour, who, as soon as he saw Quarll's wife, began to think of his former way of living. Now this young fellow was born in London of very mean parents, whose friends not being able to give him a trade, was obliged to enter himself a member of the ancient and honourable society of lacqueys: his first service was to a widow gentlewoman, where he learnt all the necessary qualifications of his employ, but his mistress being a very religious woman, going to church two or three times every day, where he was obliged constantly to attend her, and so much gravity not suiting his mercurial temper, soon obliged him to quit his post. But he being an arch wag and sly knave, soon advanced himself to be footman to a young nobleman. Here he began to show his genius; for his master being a young gentleman very much delighted with love-adventures, frequently made use of him in those cases; and finding him to be of a sharp, ready wit, very careful, and well skilled in taciturnity, soon made him secret messenger in ordinary to all his intrigues; in which station he behaved himself admirably well, having all the accomplishments necessary for so weighty a trust, viz. vigilance, dispatch and secrecy, and these so well managed that he seldom failed in his designs: this post of honour he enjoyed a long time, with great credit and reputation, and gained so great a share in his master's affections, that he likewise made him first minister to all his affairs.

Now Tom is arrived to the very summit of his fortune, regaling himself in all kind of pleasure, beloved and trusted by his master, honoured and respected by his fellow servants, and, in short, might be laid to be perfectly happy. But here that jilt, which so long flattered him with her kind embraces, at one fatal blow, removes all the means whereby he attended, and pushes him from the lofty precipice, to the deepest sink of poverty imaginable.

Tom's master, being lover, of variety, his curiosity prompted him to see the diversion of a country wake, in order to start some fresh game, and to that purpose disguises himself like a plain country gentleman, and equipped his man Tom in the same garb, on purpose to make him his companion in this adventure. The place where the wake was kept, was about ten miles from the nobleman's seat; so each mounted his horse, and away they ride, when being arrived at the town, nigh which they were to hunt their game, they both alight, and put up their horses at an inn, and having pulled off their boots, out they walk towards the place of rendezvous; as soon as they came within sight of the place, they beheld the fields prettily bespotted with different companies at as many different diversions; in one place a parcel of wrestlers, eagerly contending, with broken shins, for a pair of gloves; an another a company of cudgel-players, with battered ribs, fighting for a laced hat; some at one game, some at another; but Tom and his master, who cared for neither broken shins or bloody brows, resolved to seek out foster combatants.

After they had walked up and down the field, seeing the several diversions, "Well Tom," says the young nobleman, "where's our diversion, where are all the girls got to?"

"O," says Tom, "we shall be in with 'em presently; hark! I hear the noise of cat-cut, and I warrant we find 'em there." So following their ears instead of noses, they came to a most spacious dome, vulgarly called a barn in which they no sooner entered, but Tom says to his master, "Here, sir, here's variety for you, here's nymphs of all forts and sizes, and, faith, of all complexions; they're all clean and neat, all, all fit for the game; come, sir, pick and chose, which pretty smiling rogue must be your nymph? Come let's see what you'll do, for I long to be at it."

"Do you want to see what I'll do," says the nobleman, "why, I intend to work miracles; I shall make my nymph a goddess before I leave her."

"Well, then," replied Tom, "I suppose I may take the privilege to make my girl a nymph at least."

While they were thus talking, they stood like two hawks hovering over their prey, not knowing on which to fix their fatal talons, and the rustics staring at them with open mouth, and distended nostrils, not knowing what to think of them. At length Mr. Scraper, by tuning his melodious battered fiddle, summons all the girls to readiness each preparing her feet for the sport, while every hob began to seize partner, and Tom and his master, (in the meantime you may be sure) were not idle; for offering their service to a couple of pretty cherry-cheeked rogues, as Tom called them, the innocent girls very gladly accepted their offers, little dreaming their wicked intentions; but the mischief was, the nobleman had got the girl which Tom had the most inclination to, which caused such a secret envy in his breast, that it became the fatal cause of his unfortunate disgrace.

Now the dance was begun with great fury on both sides; the girls romping and tearing, and the fellows pulling and hauling, and shoving, and kissing, and tumbling, like so many mad devils, while Tom and his master, being strangers to such kind of diversion, stood like two images, and the country fellows mocking them; which Tom observing, and seeing his partner very dull, thought they would never out-do him in caterwauling, therefore shrugging up his shoulders, and rubbing his ears a little bit, he began to be as brisk as the best. The nobleman observing his man Tom's alteration, thought proper to follow his example; so, pushing down two or three girls, fell upon them, and kissed them till they were almost stifled; then hoisting them up extends his mouth full yawn, and laughs as loud, and with as great a grace as any of them; while Tom to show his activity, jumps about a yard high, always taking care to light upon somebody's toes, which generally put the whole company into a loud fit of laughter, except the person hurted, who, in complaisance to the rest was obliged to put her mouth in a grinning posture.

Thus they became the most facetious companions imaginable, (every one praising the two gentlemen's good humour and activity) and in short became the wonder of the whole company. But Tom and his matter having tired themselves and their partners sufficiently, began to think of retiring in order to refresh their wearied limbs, and motioning the same to their nymphs, the good girls very willingly accompanied them. Now they thought themselves secure of their intended sport, and conducted them, for that purpose, to the inn where they had put up their horses.

As soon as they were sit down, they ordered wine to be brought, and a supper got ready, in order to detain and intoxicate the girls, if possible, and therefore plied them very close with liquor: now Tom's partner, being a very brisk lively girl, never refused her glass, but the nobleman's was of a very mild, easy deportment, and would drink but little; he seeing her temper began to be very amorous, on purpose to try what that would do; but she in so sweet and easy a manner checked his rudeness that it raised in Tom a most violent passion for his master's partner: at length, supper was brought to table, which was no sooner over, but night began to appear; the two girls perceiving the time desired leave to go home: the nobleman absolutely refused, but Tom, thinking to make sure of his game upon the road, contented to go with his partner, which the other hearing, begged not to be left alone, but that she might go likewise: the nobleman, (thinking he had not brought her to the desired bitch) as heartily desired her to stay, vowing nobody should wrong or hurt her; but when the other gentleman returned, (meaning Tom) they would both conduct her home; so by mere dint of argument prevailed upon her to tarry till Tom's return.

Now Tom, as soon as he had got from the town, began to attach his fort, which, after a little parley, surrendered at discretion, so Tom razed the walls to the ground, entered the castle, and took possession of the city, all which being transacted,

he leaves her, promising to revisit her the next day, and bends his hasty steps towards the inn, with a deal of impatience, muttering these words as he went:

"What a blockhead was I to let my master be too nimble for me? Ah! fool that I was, to loose so delicious a morsel, and take possession of so easy a fool, who as soon as asked, consented; when the other, with all the petty engaging airs, so modestly checks anything that looks like rudeness: Well, faith, since it is so, I'll make the best on it, and try whether I can't choose him out of his partner." So said, so resolved, and indeed so done.

For as soon as Tom came in the girl claimed their promise, saying the gentleman, was so rude that she would stay no longer, desiring them either to go home with her, or let her go by herself. But Tom, desirous to renew the sport, begged of her, with all the prevailing arguments he was capable of, to tarry; telling her he was a little tired with the walk he had taken, and wanted to refresh himself, so desired her to stay, while he only took a glass, and he would go with her; the girl very unwillingly complied, and sat down again: the nobleman, finding Tom had no mind to part with her, imagined he was bringing about what himself had so long endeavoured in vain, and therefore, pulling out his watch, starts up in haste, and lays he must needs go, for it was past the time that he promised to be at a certain place; so tells the innocent girl he very unwillingly left her, but he hoped this would not break their new acquaintance, for he would pay her a visit in a short time; desiring to be excused for this time; and he believed he could prevail upon the other gentleman to conduct her home: Tom, who understood his meaning, follows him to the door, and there receives his charge, which was, that he should bring her to a house they both knew, about three miles off, as soon as possible; so took his leave, mounted his horse and went thither, impatiently waiting for his prey.

Now Tom was extremely pleased with his master's intentions, resolving to put the bite upon the biter; and as soon as the nobleman departed, began to attack the fortifications with all the artillery wine and lost words could supply him with: but the dependant, proof to battery, of this kind, held out nobly a long time and moved strongly for a cessation of arms, desiring leave to go home: but Tom, acquainted with the various turns of intrigues, resolved not to loose his game, being well assured he should bring her to articles in a little time, and begun a fresh attack, which lasted so long, that she was obliged to cry for quarters; but it being too late for going home, Tom persuaded her to lie there, assuring her that he would see her well provided for; and so, in short, she blushingly consented.

Thus Tom, having gained his point, orders a bed, to be got ready, and then desired his mistress, who was, by this time, much overcome with wine and sleep, to go to bed: the poor girl, (still betwixt doubt and fear) knew not what to say, but trembling denies what her looks desired; and after a great many arguments on both sides she resigns herself entirely to him. The sly knave, joyful of his prey, conducts his mistress to bed; but as they were going the old crafty innkeeper cries, in mere form:

"I hope, sir, that's your wife; for I would by no means have anything dishonest done in my house."

"Yes, yes," says our rogue, "you may assure yourself it is my wife or else I should not have offered to go to bed with her;" while the poor girl, hiding her face, ran up stairs as fast as she could.

They had not been long above, when the nobleman, uneasy at their delay, returns to the inn and inquires after the couple he left.

"Why, sir," said the host, "they're a- bed."

"A-bed!" says the nobleman, "a- bed!"

"Yes," answered he, "it being too late to go home, they took up their lodging here."

"What! are they a-bed together!" said the gentleman.

"Yes, yes," says the innkeeper, "I left them together."

The nobleman, hearing this, stood like one thunder- struck, his eyes darting lightning, and his blood all in flame; but bridling his passion, very coolly inquired where they lodged, laying he had some business of moment to impart to the gentleman, and he must that minute speak to him. The innkeeper, unacquainted with his design, very complacently conducted him to their apartment, and knocking at their door, told Tom the gentleman was returned, and wanted to speak with him. Tom not being yet undressed, knowing his master's fiery temper, and the just resentment he was sure to meet with, opens the window, and out he jumps, without laying a word, and having bruised himself with the fall, lay sometime upon the ground; till recovering himself a little, precipitately got over the garden wall, into which he had dropt from the window, and scours over the fields as fast as he could, without ever looking back.

But having ran himself out of breath, and thinking himself out of danger, down he sits, reflecting upon his melancholy circumstances. "O miserable wretch!" says he, "what have I done? How dare I ever see my master, who always reposed his trust in me, and I like a perfidious villain, to deceive him? Certain death attends me if I go home; and if I tarry here there's nothing but beggary or starving; I have at once left all credit and reputation, and see nothing but ruin, unavoidable ruin. O woman, woman! cursed bewitching woman! What an infinite number of mischiefs are ye the source of? But why do I exclaim against a woman so innocent and so charming, when I, the traitorous deceiver sought nothing but her eternal misery? O just Heaven, 'twas you that saved her impending ruin, and deservedly threw all the fatal effects upon myself: well, I'll bear them patiently; load me with all the evils ye can bring, till they mount so high you can lay no more." Raving and cursing in this manner, he tired his spirits, and fell asleep.

Having slept sometime, he awakes, wondering where he was: "Did I dream," says he, "or is it real; no it is most certainly true, I am the most wretched mortal breathing; the very same ruin I intended the poor innocent girl, has justly fallen upon myself; and what is become of her I know not, nor dare I to enquire, but I hope as Heaven has hitherto protected her, it will likewise preserve from the evil intents of my master." Reflecting upon himself in this manner, he walked about till day-light, not knowing what to do, or where to go: he was now a great way from London, destitute of friends or acquaintance, little or no money in his pocket, and durst not see his master: despairing in this condition he sees a company of hay-makers, going to work, it being summer-time, and resolves to make one of their number, if possible, hoping, by that means to keep himself from starving, and work his passage up to London.

With this resolution he attacks the hay-makers, asking them from whence they came, and whither they were going, which they answered very civilly, telling him they came from London, and were going towards the North of England; so being baulked in his expectation, of coming to London along with them, he knew not what to do; but at last resolves to go along with them, hoping to meet something in his way, that might make his journey pleasant; so tells them his resolution to make one amongst them: but they seeing a man genteelly dressed petitioning for a poor hay-makers' place, took him to be only in jest, and told him they would be glad of such companion if he spoke as he thought; he protested to them the sincerity of his meaning, telling them his misfortunes drove him to such low circumstances. They then laid they would be very glad to serve him; and that their master would be in the field by and by, and he would hire him, for he wanted hands; so he went with them, and tarried till the old farmer came, who finding a well dressed young fellow wanting an employment of that kind, asked him a great many questions, which Tom answered very pertinently; the farmer therefore taking it only as a frolic, was willing not to baulk him, and so hires him, telling he might go to work that very day if he would, but Tom wanting a fork told him, that as soon as he could get his tools in readiness he would come; so hires a man to go to the next town to buy him one, which as soon as brought he falls to work very pleasantly.

Tom went with them from place to place, conforming himself to their customs in every point, being a very merry companion, and much beloved by his fellows: his present life became much pleasanter than his former, never inquiring after his master or country girl, nor did he know what was become of them. At last it fell to his lot to be hired by the farmer he then worked for, who seeing him a tractable, brisk young fellow, asked him whether he would be his servant, for he then wanted one; Tom, after a little hesitation, told him he should be glad of such a master, and so struck a bargain, and let himself for a year.

Tom had not been there much above half a year before Quarll's wife came down thither, who being a genteel London madam, reminded him of his former intrigues, and raised in him an inclination for her; but being in so humble a station, he dared not to attack the haughty dame, till he might find a favourable opportunity; and so took all occasions to oblige her, and was better respected by her than any of the others, she often laying that that fellow had a certain je-ne-s‡ai-quoi in his face, which at once claimed love and respect. Tom understanding this, thought time would certainly bring about his purpose, which not long after happened in this manner.

Tom, during her alteration of temper, had more liberty of converse than before; and often diverting her with entertaining stories: and one day, being alone with her, opened to her the whole series of his past fortunes and misfortunes, which she heard with great attention, and pleasure; for Tom had never discovered himself before to any; but thinking to gain credit with this gentlewoman, made her only privy to it. When Tom was gone she began to reflect upon the fellow's dexterity and believing him well skilled in all kind of adventures, thought he might be a fit instrument for her escape, and resolved to advise with him about it, so accordingly the next day took an opportunity to call him to her again when she was alone, desiring him to divert her with some of his merry tales, telling him she was then very melancholy.

"Madam," says Tom, "I am sorry I should find you melancholy, but I'll do what I can to please you."

"Ay, says she, "if you knew the occasion of my melancholy, you'd pity me as well as be sorry; but you can't be ignorant what a prisoner I am made here, how constantly I am attended, and scarce any thing but brutes to speak to; I can assure you this usage is enough to make me as mad as the people take me to be; for I never was brought up in this manner, which my husband knows; it is only a contrivance of his to keep me here a close prisoner, if possible; but I'll deceive him; for if a woman's invention can find any means to escape this cursed place, he shall be sure to see me in London quickly, and that to his great mortification."

The sly rogue heard her very quietly, and thought he might now have his desired ends, so tells her she should be released that very night if she pleased, and he himself would accompany her to London, for he longed to be there again: she was glad to hear him say so, and asked by what means he intended to convey her thence.

"O lord!" says he, "easy enough, I'll tell you how, I'll take a ladder, and let it against your window, and so come into your room, and take your clothes and everything you have a mind to send to London, and carry them to a particular acquaintance of mine; then I'll come back and fetch you, and conduct you to the next town, which is not above five or fix miles off, and stay there for the stage-coach, so both go to London together. The gentlewoman willing to get her liberty at any rate, agreed to the proposal, only desiring another day to look after all her things, and pack them up conveniently, because she would not hurry herself, lest they should mistrust, and stop her journey.

Tom consented to what she said, and wished for the approaching time, which being come, and all things in readiness, he brings the ladder, and mounts up towards her room; while she as readily delivers him, from the window, all her baggage ready packed up; which Tom takes and carries away, and presently returns to fetch the gentlewoman; who, overjoyed to think herself freed from that tiresome place, gets out of window, and began to descend the ladder, but, being over eager, and not used to enterprises of that kind, her foot slips, and down she tumbles, ladder and all, which Tom seeing knew the consequence and ran away as fast as he could, leaving Mrs. Quarll to get up by herself; for the ladder in tumbling broke the windows where the old farmer lay, and made a horrid noise, so that it scared the good man out of his sleep; who got up to see what was the matter, and perceiving the gentlewoman's window open, and a fellow running cross the yard, cries out "Murder! Thieves! Thieves!" which alarmed the whole family; some getting pitchforks, some pokers, some one thing, some another, in order to scare the thieves; but the old man, with his fowling-piece in hand, like a noble commander led the van, searching all his house over for thieves, and to see what he had lost, carefully looking into every hole and corner, not daring to advance too fast for fear of a surprise; and coming to Mrs. Quarll's room, whose window he had seen open, calls to her a long time, but hearing no answer, fancied she was murdered, and therefore breaks open the door, and searches the room , but there was no Mrs. Quarll to be found; they stared at one another, not knowing what to think. However when they had examined all the house, they boldly sallied into the yard to hunt the thieves there, and looking about they perceived something under the ladder, which looked like women' clothes; so taking it up, they pulls from under it a real woman, something like Mrs. Quarll, and looking more narrowly perceived it to be the very same individual person, almost dead with the fright and the bruises she had received.

And now their greatest wonder was how she came there, and their opinions very various; the old man said he believed, that some thieves had gotten into the house, and to prevent her crying had stopped her mouth, and threw her out of window. "But," says another wiseacre, "how came she to have her clothes on; I am sure she ought to have been a-bed? Now," adds he, "I believe the devil tempted her to throw herself out of window, and that must certainly be him you see run cross the yard so swiftly." Thus they disputed, a long time, but at last agreed that she ought to be carried to bed again, and have care taken of her; and so carried her upstairs, and then went to finish their search, while the good old woman and her daughter undressed her, and got her to bed, and sat up with her all that night.

After all was finished, the old man, willing to know what quantity of men he had lost, calls a general muster, and finding Tom missing, wondered where he was got to, asking if he lay at home that night: they told him, no; but they believed he was gone a sweet-hearting: "A sweet-hearting," says the old fellow, "well, let him be there always, for he shall never come here again; how do I know but he has sent the thieves to rob me, or that he is one of them himself, if he ever comes here I'll turn him about his business as soon as I see him. But Tom understood better things than to come there again; for he knew the adventure would be blown, and then he should be certainly discarded with disgrace; so was resolved to make the best of what he had got; went away, and never was heard of again.

Mrs. Quarll, as soon as come to her speech, confesses the whole intrigue, and lays the blame upon her husband, saying he sent her there to be murdered, and now he had his desired end; only that she was the unhappy cause of her own death. The old man, as soon as he knew the matter perfectly, writes to her husband a full account of the whole story; telling him he was in a fair way to lose his wife, and that, if it should so happen, he had no occasion to send for his wife's clothes; for she had before lost them, and tells him by what means: Quarll, as soon as he had read the letter, was very much troubled at his wife's folly, but resolved, if she recovered, she should tarry some time without clothes, which he knew would be punishment enough to her prides; so writes back to them, that they should take all possible care to restore her to her health, and likewise to prevent anything of that kind for the future, telling them, that in a little time he would send her some clothes, and make them amends for their trouble.

Mrs. Quarll, in about a month, began to be upon the mending hand, which her husband being informed of, resolved to make her stay another month without clothes; which he knew would be a greater punishment than the other month of sickness; but here he was mistaken; for it was almost three months before she perfectly recovered, who finding that, before that time, her husband had sent her some fine new cloaks, was in great measure reconciled to him, and resolved during her stay there, to be much more easy in her mind, than before.

The good people, whom she had often scared with her outrageous passion, were very glad to see her so calm, and took that opportunity to represent to her the happiness of her condition; being well attended and as well provided with all necessaries, free from that subjection she might be under, if with her husband, whole cross and ill humours she would be obliged to bear with; besides twenty other vexations incumbent to a married life, from which he was screened by his being from her.

The old woman's wise remonstrances, being backed with the hidden arrival of a fresh supply of several sorts of choice drams; as also, the ensuing quarter's money for her board, and the season rendering the country extremely agreeable, made her patiently submit to continue there till the fall of the leaf; against which time, she would, contrive some way or other to go, if her husband did not come for her.

But Quarll, who ever since her being in the country, had enjoyed the uncontrolled pleasures of a single life, having no mind to interrupt them by her pretence, took care to secure her there; sending her guardians now and then fresh charge to be watchful over her, and a small present to encourage them to it.

But surly fate, who ever was averse to his happiness, suggests a new interruption thereto. Quarll, having given over house-keeping, happened to come and live at a mantua-maker's of vast business, and reputed worth money. She was a single woman, pretty handsome, but intolerable proud and conceited, which was the cause of her being still unmarried, thinking herself too good for any tradesman, or anything below a gentleman, which seeing no prospect to get, being courted by none, she became a general man- hater; but Quarll, who was a handsome young man, and of a genteel employ, though not a gentleman, coming to lodge at her house, reconciled her to the sex in a little time, and made her change her resolution never to marry, heartily wishing he would court her; therefore, by her more than common attendance for a lodger, did all she could to give him invitation, but all to little success; for Quarll, who had been already twice encumbered in the troublesome state of matrimony, and but lately rid of his last plague, had. no mind to venture anymore, so did not answer her expectation; but her love increasing daily, without being taken notice of, she was obliged to declare it to an old gentlewoman, who lodged in the next room to him, who having doubtless been in the same condition, was by experience capable to give her advice.

The old gentlewoman (as 'tis peculiar to them when past the sport themselves to love to promote it to others) took upon her the management of that affair, and from that time watched the opportunity of speaking to him, which was only in the morning before he went out, or at night when he came home, being abroad all the day beside: so having resolved upon it, the next morning she leaves her own door open, which was opposite to his, waiting his coming out to invite him in to a dish of chocolate, which she had ready for that purpose.

Having, according to her desire, got him into her chamber; as he was drinking his dish, she feigns a fit of laughing:

"You wonder," said she, "what 'tis I thus laugh at, but I dare, say you'll laugh as well as I, when you know; why our man-hater is in love at last, in love up to her ears, as sure as you are alive."

"Our man-hater, madam," said he, "who is that?"

"Don't you know?" replied she, "why, our landlady, who has refused so many fine offers; Lord, how happily might that woman have married! She might have rode in her coach years ago, but no man was good enough for madam; this had such a fault, and that another, in short, none could please her: 'tis true indeed she's very deserving, the worst part of her is in sight, and that you know is not disagreeable, but did you see what a fine body she is under clothes, you would be ready to run mad for her, surely she has the finest leg and foot that ever woman went on; and for a skin, she may challenge the whole sex; in short, she's fit for a king's embraces; she has several good properties besides, and one above all, which perhaps you'll say is the principal, she has money, and a great deal; well, that will soon be disposed of I dare say, I wish I knew on whom; sure it must be some angel, for I have known her find faults with very handsome men that have addressed to her: pray did you ever observe any man to come here? He must be the person, for all her concerns are with women."

"Indeed," replied Quarll, "I never took notice who comes; besides, I am seldom at home, so have not the opportunity to make observations."

"But I have," said she, "and made it my business to mind, yet never saw any man in this house since I came but you; suppose you should be him at last?"

"O, madam, there's no danger," answered Quarll, she who has refused so many rich matches will hardly set her mind on a poor singing-master."

"How do you know that?" replied the old lady, "love comes by fancy and marriage by fate, and it may be yours to have her; so I would have you to cultivate her love, which I could almost swear you possess; you'll find it worth your while: here's an agreeable woman in an extraordinary good business; a house well furnished, and I'll warrant money-bags well filled; now if you are disposed to make your own fortune, here's a fair opportunity."

Quarll was sadly puzzled what answer to make; his present circumstance prompts him to sooth what his condition obliges him to deny; his business slackens, and his charges no wise lessen; his income is dubious, and expenses certain, the most prevailing arguments to embrace the offer: but then a strong obstacle starts up, a wife: but she is out of the way and as good as dead whilst her living is paid for, which this proposed marriage will enable him to do, though other business failed; that objection being removed his answer was, he feared that happiness would be above his aspiring to; which being according to the mediatress's wish, she promised him her assistance; so he took his leave, and went about his daily affairs, leaving the management of that to her who immediately went to inform the amorous landlady of her success.

Quarll being returned at night the old lady, pursuant to the business she had taken in hand, follows him up to his chamber, with the joyful news; that she had, by her landlady's blushing, discovered what her modesty would have concealed; that he was the man beloved, and therefore she would not have him delay his being made happy, to which he answered, as she had been the first mobile of his happiness, he left the accomplishment thereof to her direction.

"Well then," said she, "if I have the ordering on it, it shall be done next Sunday, as being, of all the week the most blessed day; and so bid him good night.

The old gentlewoman being made sole directress of that affair, was very diligent in the accomplishment thereof, so had them married the day she had proposed. The business was done privately, but the joy it did produce could not be concealed; every body read bride in the new married wife's face; so that greetings daily filled the house, which for a month was a residence for mirth, and during the space of a year the seat of happiness; peace kept the door, and plenty attended them; but churlish. fate, who ever persecuted him, would not permit that happy state to continue, and the more to aggravate his loss, makes love, the chief author of his bliss, now the principal instrument of his sorrow; jealousy, the greatest plague that can befall a married life, infects his wife; she is upon thorns whilst he is absent, and uneasy when present, with the fears of what he had done abroad; a discontented mind often urges the utterance of vexatious words, and breeds jarrings, enemies to peace, which being often disturbed, leaves her abode, which is immediately took up by strife, and is commonly attended with ruin, the decreed influence of poor Quarll's surly fate: Business falling off from both their hands, makes them negligent the little they have; the husband diverts his cares abroad, whilst the wife drinks away her sorrow at home; thus money growing scant, credit must be pledged, which being not redeemed, exposes the owner to disgrace, which is commonly the poor man's lot.

The mercer and silk man, with whom his wife dealt before she was married, having received money but once since her marriage, and seeing her discontent, imagined her husband (who appeared something too airy for one of her sedate years) was the occasion thereof, by his extravagant spending what she with much care and frugality had saved; so arrested him without giving him notice, lest, being warned, he should get away what she might have left, and then abscond.

Quarll, who till then had kept secret his being in the guards, where he did continue, to screen him from those debts his eloped wife might contract, is now obliged to let it be known to keep himself out of jail.

His proud wife, who thought men of the best and genteelest trades inferior to her merits, seeing herself at last married to one, whole station was looked upon to be as odious as that of a common bailiff, fell in such a passion that it cast her into a violent fit, from which being recovered, she flies out of the house in a great fury; swearing by all that was good, she would no more live along with a foot soldier; so left him in a sad confusion; yet he stayed in the house, hoping she would, when cooler, consider of it, and be reconciled.

But great was his surprise, when next morning, instead of his wife's coming according to expectation, a judgment is served upon the goods of the house, at the suit of an upholsterer: so the house, being entirely unfurnished, he was obliged to seek new lodgings, where he continued a full quarter without hearing of his wife.

Quarll hoping his wife had left him in good earnest, indulges himself with the thoughts of being a third time delivered from the greatest encumbrance as can involve a man, wondering how he could so often fall into the same snare.

"Three wives," said he, "in three years! and every one equal plagues, though of a different nature! The first a whore, of whom I was most luckily rid by accident; the second a proud, lazy, indigent creature; she by stratagem is secured, and the third a conceited jealous wretch; to her ostentation I owe my deliverance; well, now I am once more free, I'll take care how I hamper myself again;" so makes a strong resolution, let what would happen to live single from that time ever after.

But his resolution, though never so strong, cannot avert fate's irrevocable decrees; a fourth wife is allotted him, which will bring upon him more vexation and trouble than he has yet gone through his peace will not only be broken and his ease disturbed, but his life must be in jeopardy.

One evening that he was diverting his Colonel and the rest of his club, with his singing at the tavern, as he usually did once a week, the landlady (who was then in company) much praised his voice and skill: the gentlemen took that opportunity to propose a match between Quarll, who went for a bachelor, and she, being a widow, all the company liked the proposal, and earnestly urged on the match.

Quarll being a brisk, handsome, genteel young man, which qualifications have a vast ascendant upon the sex, especially on widows, made a considerable impression upon the hostess, who being already above forty, was very willing to intermix her supernumerary years with those of a husband of a lesser age; so turning to jest what she heartily wished to be in earnest, answers in a joking manner, that Mr. Quarll doubtless had, before this time, made a better choice so would hardly agree to their proposal.

"A better choice," said the gentleman, "I deny that, here's a handsome jolly woman, a noble house, well accustomed, a cellar well stocked with good wine, and bags, doubtless, well filled with money; I say he cannot make a better choice, nor shall he make any other, so here's to its good success; thus drinks to her who in a joking way puts it about." The glass having been round, "Now Mr. Quarll, said the Colonel, let's have a love song to conclude the matter."

Quarll, who thought the gentleman had been but in jest, in his heart wished it could turn to earnest; the notion of a good establishment, and prospect of a considerable advantage having blundered over those great obstacles his present low circumstance and elevated condition made him overlook, did all he could to forward what had been proposed; so having, according to request given the landlady a love song, he goes and salutes her with a hearty kiss, who, smiling, asked him whether he thought she was to be purchased with a song; to which he replied the song was only to express the thought of his heart, which he offered to purchase her love.

"Indeed," said she, in a pleasant manner, "I don't know what your thoughts may be, but I never heard more agreeable expressions."

"Well then, widow," said the gentlemen, "you cannot in gratitude and good manners but answer them kindly.

"Indeed gentleman," said she, "I can say no more but that they are mighty pretty words and charmingly sung.

"Well then," replied the Colonel, "I'll say the rest for you. The lover having expressed his passion in so soft terms and engaging a way, you cannot, without doing violence to your good nature, deny him what he requests in so melting a manner, nor shall not, I say the word;" which was confirmed by all the company to which she making no answer, it was taken for granted; so the marriage being concluded on, the next day was fixed upon for the performance thereof: being resolved not to adjourn till it was over, they bespoke a splendid supper and so spent the night merrily.

The wedding was kept all the week, during which time every gentleman was profuse in his expenses, for an encouragement to the new married couple, whose trade increased daily.

Their prosperous beginning seemed to promise a happy life, living in love and peace at home, and being in good repute and credit abroad; but the same fate as all along haunted poor Quarll is still at his heels; his bliss was but a blast: his eloped wife unfortunately happened to go by as he was going out; she had him immediately in her eye, which as speedily conveyed him to her heart; the addition, which a charming new suit of clothes he then had on, made to his natural handsomeness, puts out of her mind the cause of that disdain she had conceived for him, and turns it into a more passionate love than ever; she cannot live any longer from him; she must have him with her at any rate, and will not rest till she finds out his lodgings, from whence she resolves to wash all sorrow away with her tears, and settle him again in her arms; so she straight goes to the tavern she saw him come out of, supposing it might be a house he did constantly use, on purpose to inquire where he lodged.

The new wife, who was then in the bar, to whom she did apply, perceiving in her some sort of disorder, was very inquisitive to know her business, which the poor woman refusing to satisfy her withal, she told her that he did live there, and that she was his wife, and therefore the fittest to know her concern. At these most dreadful words she falls like one thunder-struck; falling on the ground, deprived of all her senses, and for a considerable time lies as though bereft of life.

This dull scene turns the new wife's passion into commiseration, and pities that misfortune, which in her mind she before condemned as a crime.

"This," said she, "is a true sign of love, which a harlot is it not capable of; I cannot blame her for loving him, but rather condole her misfortune."

So haying ordered fair water and harts-horn drops to be brought, gave her some in a glass of water, which, in a small time fetched her a little to life, who recovering, cried out:

"Had I not been so bewitched as to go from him, he would not have left me."

These words in a moment turns the officious condoler into a revengeful rival, who immediately imagined she had lately lived with him as a mistress, and doubtless would endeavour to do the same again; so giving her hand (which she kindly held before) a scornful toss from her:

"Why you vile woman," said she, "would you have him to live for ever in whoredom?"

"You judge me wrong, madam," replied the poor afflicted woman, "I am his lawful wife," so produces her certificate (which she happened to have about her) which caused almost as much disorder in the beholder, as she herself was lately in.

Having recovered her speech, which the late surprise had obstructed, she asked her in a violent passion, why she had been so base as to give him the opportunity to come and cheat her, by her leaving him; for she was his wife also: To which she answered, that she could not justify her going from him, though indeed he had great provocation, he not proving the man she took him to be:

"What!" replied she in the bar, "was he not man enough for you? I think you are very hard to please, however since the deceit made you leave him; why do you disturb yourself about him? he has not deceived me unless it be in having a wife before; but as you left him of your own accord he had no more to do with you."

"No," replied she in a passion, "but he shall find, and so shall you, that I have to do with him," so went away.

It being then about noon, his usual time to come home, from market she went into a public house, opposite to that tavern, there to wait his return, which was little after, as soon as she saw him, she gave him a call over.

The sudden and unexpected sight of the only obstacle to the happiness he then did enjoy, was most terribly shocking to him; he wished he had met with death to have missed of her, but to no purpose; she had him in her eye, and was fully resolved to have him in her arms ere she went; and as he did not come as quick at her call as her impatience required, she attempts to go over to him; but Quarll, who knew her fiery temper, was afraid she should break out in a passion in the street, which would have exposed him, and brought it to his new wife's knowledge, being near home, so hastens over to the house she was in to prevent her coming; and judging his beginning to upbraid her with her elopement would in some measure moderate her railing at him, he tells her, as he enters the room:

"I hope, madam, you have, by this time, found a man more to your mind." This was sufficient to provoke a milder temper to reproach him with his adulterous marriage, of which she was too certain; hers is but a fault, and his a crime; but as reproaches are not proper means to advance a reconciliation, which was her intent, she bridles her passion and forces her nature to a submission, so throws herself at his feet, and falls a weeping, owning she had committed a fault for which she did heartily repent, and promised to atone by her future behaviour, calling heavens to witness her chastity during her most unhappy separation.

Quarll being of a compassionate temper was soon made flexible by her tears, so takes her up by the hand, who as soon fell into his arms, incapable of speaking for weeping; but Quarll, who was in haste to be gone, being waited for at home, it being about his time of dinner, complied with the poor afflicted woman's crying and sobbing, whose chief request was that he would only see her home that time; which he presently granted, to be quit of her, so ordered a coach to be called.

His hew wife at home, being uneasy at his staying beyond his time, came to the door to look whether she could see him come, at that most unlucky time he was handing his other wife into the coach, which she unfortunately spying, ran over, as swift as a hawk flies after his prey, and pulls him back by the lappet of his coat as he was stepping into the coach after her: the disorder this second surprise put him in, obliged him to go into the house again he just came out of, where she immediately followed him, raving and railing as much as the provocation and her passion did allow, leaving in the coach his former wife, who by that second terrible surprise, was again struck speechless, and like one bereft of senses.

The coachman having waited some time, being impatient, calls in the house, desiring the gentleman to make haste, or else, to allow him for waiting: at which the new wife comes out in a violent passion, and bids him be gone, for he was not wanted:

"What shall I do with the gentlewoman in my coach," said he, "you had best to take care of her she is not well, or tell me where, I shall carry her."

"To the devil, and you will," said she, and so went in.

"You may carry her there, replied the surly coachman, you best know the way," so goes to the coach and shakes her till she comes to herself then taking her up in his arms; "I am bid to carry you to the Devil," said he, "but I believe you are able to go there yourself, so I'll set you down here that you may take your own time." Having set her down, then drives away; there being a milliner's shop just by, she goes in, desiring leave to sit awhile till she was able to go; she had scarce been there three minutes, but she sees her husband handing his new wife over very complaisantly, which exasperated her, that she fully resolved upon revenge, choosing he should be hanged rather than her rival should enjoy him; so went directly and took out a warrant, which she immediately served, so had him before a justice of the peace, who committed him forthwith to Newgate.

The following session happening to be extraordinary great, by the vast number of criminals; his trial and several more were put off till the next, so that he was confined at the time he used to

Bring the money for his wife's board in the country; and .not daring to employ any acquaintance in that affair, lest they should inquire into the occasion of his sending that money, he desired one, who often came to visit a prisoner, to do him that favour, which he readily promised to do, but did not perform; so that the people in the country, who were used to be paid a quarter before hand, were a quarter in arrear, which with their boarder's pressing importunity to come up to London made them at last resolve upon it, where being arrived, they immediately inquired after unfortunate Quarll, whole imprisonment they soon heard of, as also of the cause thereof.

This did not a little exasperate the already sufficiently provoked inquisitress; who presently imagining, with good reason, that his confining her in the country was merely for that intent, resolved to prosecute him according to the utmost rigour of the law, wondering who that good person was as had him apprehended: so went and consulted her friends, who advised her not to let her husband know of her being in town till his trial came on, and the she should know the prosecutor, and at her own discretion back the prosecution.

The mean while his first wife who had lately been dismissed, (the knight as kept her being not long since married to a vast fortune) having heard of Quarll being in Newgate, went straight to visit him; her grief arid his surprise at her coming, stopped for sometime the utterance of both their minds; at last Quarll, who had a just reason to tax her as the author of his present misfortune, reproached her with her leaving him, which was the original cause thereof: the innocently guilty Sally, whose inclination, disposition and resolution had been violated, related the dismal account of her fatal ravishment, and pleaded her cause with such a prevailing eloquence as new kindled his former love and made him (though the sufferer) give it of her side.

Being thoroughly reconciled and having spent some hours in expressing both their griefs, they at last parted after a thousand cordial embraces; and as she was enabled; by the settlement the knight had made upon her; she supplied him with money and necessaries during his confinement in Newgate, and was with him constantly every day, almost from morning till night; and when he was called upon his trial, she attended in the court, more concerned than if she herself had been arraigned.

The sessions being commenced, he was the first as was called to the bar, his indictment being read, he desired to be heard by his council; which was granted, the deponent having proved her marriage, required the prisoner at the bar should be obliged to live with her, or allow her a efficient maintenance as being his first wife; at which she whom he kept in the country starts up:

"That belongs to me, said she, I am the first wife," so produces her certificate; a third wife appearing, startles both the judges and the prisoner, who thought her secure.

Sally, who till then had been silent, seeing the primority of marriage so much pleaded for, thought it may be worth her while to claim it, being her right, which she might chance turn to the prisoner's advantage, so addresses to the bench:

"My lords," said she, I did not think to apply for justice; but seeing these women contending for that which belongs to neither of them, I think myself obliged, to claim my right; I am the first wife, and please your lordships."

"How! a fourth wife and indicted but for two!" said the judges, in a great surprise.

"Why, my lords," replied an old surly judge then upon the bench, if truth be known, he has half a score, I see it in his looks; these smock-faced young fellows are so admired by the women, that they have not the power to refuse any thing; now I warrant, if he gets clear of this, he'll marry half a hundred more."

Sally who thought to do the prisoner service, in taking the privilege of first wife in her own hands, finding the success of her good intent quite reversed, heartily repented appearing, and would have withdrawn; but that the judges told her that she was now become the prosecutrix, and was obliged to go on in the prosecution; this caused such a disorder in her, who imagined she should be the unfortunate occasion of his being cast, that she was ready to swoon. Quarll council, perceiving her disorder, imagined it might proceed from a regret of the mischief she had done; so put her in a way to invalid her deposition.

"Now madam," said the council, :I very much question whether you can make your assertion good; pray produce your certificate, you can do us no hurt else."

Sally, overjoyed to hear that, said she had none; choosing to undergo the greatest disgrace, rather than he should come to the least hurt.

"I thought as much," said the council.

"Well, well," replied the surly judge, she may have loft it,

where was you married child?"

"At Chatham, my Lord, I think," answer a she very much discountenanced.

"At Chatham, do you say?" replied the council, "I doubt yours has been a sailor's wedding over a pot of drink; a man's wife till the next voyage, and anybody's when he is gone: your lordships sees how the case stands."

"Yes, yes," answered a judge, "if she is his first wife that way, I dare say he is not her first husband by many,"

So she was hissed out of the court. Then the judge, addressing to the next pretender; "I hope," said he, "yours will not prove a sailor's wedding as hers did."

"A sailor's? No, my Lord," replied the second wife, "I have witnesses enough to mine; my Lady Firebrass, with whom I did live, and her two daughters, saw me fairly married in St. Martin's church.

"How come it," said the judge, "you did not sue him before he married the third wife? You would have prevented his cheating any other poor woman."

"Why, my Lord, said she, "I knew nothing on it, he kept me a prisoner in the country at this good woman's house, where he decoyed me under the pretence of being careful of me; I must go into the country for a month or two to take the air; but when he had me there he could keep me ever since, charging the people of the house not to suffer me to come up to London, nor yet to go out, pretending I was mad, because I complained I was not well."

"A very pretty device," replied the old judge.

"Yes, my lord," cried out all the women in the court (who where in great number come to hear a trial about a rape committed by a Quaker upon a maid of fifty years of age), "and a very bad precedent, if not severely punished; should this be suffered, a poor wife will not dare to be out of order or complain, in hopes to be made much of, for fear her husband, under colour of giving her the pleasure of the country air, shall when he was got her there, confine her, and marry whom he please at London.

The judges, to quell their clamour, were obliged to call to them, and promise them it should be no president, and that they might be sick at will, and groan at their pleasure, and also accept of their husbands kindness when offered.

The court being silenced, the proceedings went on, and several of the judges having been spoken to by some of Quarll's particular friends, who where related to some of them, they where

more favourable in their judgment, all but the old surly judge, with whom no interest had been made.

The three wives then present, having proved their marriage, the prisoner at the bar was asked, what he had to say in his own defence?

Quarll, who thought his wife in the country was secure from coming against him, had not given his council instructions concerning her, so was obliged to plead himself,

"My lords," said he, "the first deponent against me, being run mad, and thereby unfit for human society, I was obliged to think of some retirement for her, as 'tis necessary for people in her case."

"Unfit for humane society!" replied the second wife, in a great fury, and was going one in the same temper, but was bid to be silent, and he to proceed.

"My lords," said he, "I proposed the country as the most pleasant and wholesome place, as also that which suited her in disposition best, being always ambitious to imitate the quality, who commonly go into the country in the summer, which made her accept of the offer: there, my lords, I boarded her at very honest and sufficient people, in a handsome, creditable and pleasant house.

"A pleasant house!" replied she, "a perfect hovel."

"There, my Lords, I provided her everything she could want or desire, as her landlady here present can justify."

His council who by what he had said had taken sufficient hints to proceed, took the plea out of his hand and went on.

"And please your lordship," said he, "since by her madness."

"Nay madness, said she, interrupting the council. "I desire, my lords, this good woman (with whom I have lived twelve months) may be sworn whether she in all that time did see or discern the least symptoms of madness in me."

"Indeed," replied the old woman, I have often seen you in the vapours, but I cannot say I ever saw you, what they say, raving mad but once."

"My lord," said the prisoner, "I beg this letter, which she sent me a week after she was there may be read, and then your lordships may judge whether I do her wrong."

Orders being given from the bench, the letter was read. the old woman, hearing her house so despised, where a well- bred dog would run mad, if kept in, and then her husband and she compared to oxen and cows, was not a little displeased.

"My house, madam," said the old woman, "is not so despicable neither as that comes to, I'm sure there's hardly a better, or more convenient, within ten miles round it; as for the room you lay in, no gentlewoman, in her right senses, but will be contented with, specially in the country; I must be obliged to side with your husband there; and for my husband and I to be reckoned no better than brutes, you have little reason to say so; for no woman can be used with more humanity than you have been; and as for your being confined, you never was shut up anywhere, but always had the liberty of walking about our ground, only indeed I would not consent you should trudge to London, as you often did offer to do."

The old woman having done speaking, Quarll's counsel put it to the bench whether the prosecutrix ought to be accounted in her right senses? The judges having given their opinion, that she was frantic; the old judge being displeased at their answer, asked them, whether a man or woman's being frantic (which but few in this town are more or less) do empower either to marry again, and if they will allow that, why did he marry a third? The second is not mad.

"The second," replied the council, "eloped, my lord, and was from her husband half a year, and 'tis to be questioned whether she would ever have come a near him, had she not accidentally found this opportunity to trouble him.

"'Tis a plain case, my lord," said another judge, "the prisoner is guilty of the crime he stands indicted for, yet I don't see but that there is room for favour, his constitution perhaps may require a woman for the maintenance of his health, and his inclination is averse against vile women; besides, my lord, we don't hear that he did cohabit or correspond with more than one at a time, and never sought a supply, till he was destitute, in my opinion, my lord, he may be favoured a little."

The ill-natured judge told them very justly, that the fact was plain, and that he was tried according to the laws of his country, and must expect to suffer the penalty of those laws; but he could see no room for favour, unless his majesty (Charles II.) would graciously be pleased to show it him; and it was entirely out of his own power; so sums up the evidences, and refers it to the jury.

The jury went out accordingly, and after having stayed some time, brought in their verdict Death. Sally, who was just by, no sooner heard the terrible news but fainted away, and was obliged to be carried out of court: the three wives went away upbraiding and reproaching one another with being the fatal cause of losing their husband, wishing one another never to be relieved by man, and so parted: but Sally, as soon as recovered, went back to the prisoner again, and stayed with him till the court broke up, and then was allowed a coach to carry him to Newgate, and attended him there all that night.

As soon as the keepers came in the morning, he calls for pen, ink, and paper, which was brought him, and wrote the following letter to his colonel:
May it please your honour,

I am now under the terrible sentence of condemnation, I need not tell you upon what account, my case being too well known to the world already; but as you have bestowed so many particular favours upon me hitherto, emboldens me once more, in this my extreme necessity, to rely upon your goodness; 'tis true my merit cannot lay claim to the least mark of your esteem; but 'tis your generosity prompts me to beg my life at your hands, which if you preserve, shall always be devoted to your service, by

Your unfortunate humble servant,


Philip Quarll
As soon as he had finished, he delivers it to his dear beloved Sally, and desires her to carry the same to his colonel: Sally, joyful to serve him, takes the letter, and away she flies; being come to the house, she delivers the letter to the Colonel, who having opened, and read it, told her that she might assure him, he would do all that lay in his power to serve him: so Sally, expressing her gratitude, retired to carry the news to her husband: when she came to the prison, she found him reading very seriously, leaning upon his hand, with tears in his eyes, in a dull posture: she stood some time to look at him; but finding he never stirred his head, nor moved his eyes, she went softly up to him, and spoke to him : he no sooner heard her voice but he starts; and looks just like one awake from a dream, and then burst into tears, and could not speak a word, which Sally seeing, could not forbear weeping, and fell about his neck, desiring him with all tenderness to stop the torrent, for she had some joyful news to tell him.

"What joyful news, says he, "can you bring a man under my wretched circumstances? Can anything elevate the mind whom Heaven itself has contrived to depress? Am not I die very outcast and scorn of Providence? Have not I been unfortunate from my Infancy? And why will you still add to my misery? 'Tis you that now make me wretched; had you not so compassionately assisted me in this my dismal calamity with so much tenderness, I then would willingly have left this hateful world, without thinking of you; but why must I make you the wretched partner of my misfortunes? 'Tis that adds to my uneasiness. O that I had not seen you in, these my last moments!"

Sally, "interrupting him, said, "come, talk not of last moments, you may yet enjoy many happy years; your Colonel has promised to use his utmost endeavours to preserve your life."

"I don't flatter myself with anything of that kind," says he; "but if such a thing should happen, I am fully resolved not to tarry long in England, which has brought upon me so many dire mishaps."

The Colonel was as good as his word; for he loved Quarll extremely well; and therefore, as soon as Sally was gone, he orders his coach to be got ready, and away he posts to my Lord Danby, who had a great influence at court at that time, and who was his particular friend: when he came there, his Lordship was not stirring, so he waited till he got up, who as soon as come down cries out:

"So Colonel, what brings you here so soon? did you come to breakfast with me?"

The colonel, seeing him so facetious and pleasant, told him his message. My lord, as soon as he heard it, answered, that, upon his honour, he certainly would grant his request, and made him stay to breakfast with him.

As soon as breakfast was over, he took his leave of his Lordship, and away he comes to bring the tidings to Quarll, whom he found alone, (Sally having just left him,) in much such a posture as she had before; the Colonel awakes him out of his lethargy, and told him he was sorry to see him there, with other compliments usual in such cases, and related to him the success he had with my Lord Danby, so desired him to be of good cheer. Quarll fell at his feet, and expressed his gratitude in the most thankful terms imaginable, telling him his life should always be at his service: his colonel, raising him up, told him he was very well satisfied and after a little more conversation left him.

Sally, in the mean time, was not idle; for she went and bought a rich piece of plate, and presented it to the recorder, that he might favour Quarll in his report to his Majesty, which had the desired effect; for when the dead warrant came down, he was excluded, and in a few days after my Lord Danby procured his Majesty's most gracious pardon; which his Colonel brought him with great joy.

Quarll, being discharged out of Newgate, resolved not to tarry long in England and told his beloved Sally that he must now leave her, for he had made a vow not to tarry in Britain: she endeavoured to dissuade him from his intentions; but finding it to no purpose, desired she might accompany him: he asked her why she desired to be wretched? telling her he was doomed to perpetual misery: but she was resolutely bent to follow him wherever he went; and accordingly sold what the knight had settled upon her, in order to carry the money with her.

Quarll, hearing of a ship bound for the south seas, which in her return was to touch at Barbados, and the captain of her having been first mate of the ship to which Quarll did formerly belong, encouraged him to venture the voyage, so accordingly went to the commander in order to agree with him about it. The captain, after some talk, began to remind their former acquaintance, but wondered to see him so much altered as to his condition, Quarll, being very handsomely dressed, and his behaviour much better polished than formerly, so desired him to give him an account how this strange alteration had happened, and by what means he came to this good fortune.

"Good fortune, do you call it, says Quarll, "I suppose then

you look upon men by their outward appearance, but did you know the world as well I do, you would judge the contrary: now," adds he, "I'll give you a short account of my past life, and then I'll

leave you to say, whether I am not rather the perfect scorn and mock of fortune," so related to him his past misfortunes, which Quarll told in so moving a manner, that it almost drew tears from the captain's eyes. As soon had made an end, "Well," says the captain, I thought that my way of living brought upon me more troubles than land men are subject to, for since I saw you I have been shipwrecked twice, once upon the coast of Guinea, where I lost the ship and cargo, and but five men saved; the other time, homeward bound from the East- Indies, a violent storm arose, and drove upon the coasts of France, where with great difficulty we made the bay of Biscay, and there cast anchor in order to refit our ship, which was very much damaged in the late storm; but about twelve o'clock the same night we came there, a most violent hurricane blew in upon us, broke our cables, and drove us ashore, where again I loft the ship and cargo, but all the men saved: thus I think I have been unfortunate; but since they're past, never think of them; we shall have a pleasant voyage, and as you say you have a mind to reside at Barbados, where I must touch at in my return, I'd have you lay out your money in the woollen manufacture, and cutlery ware, which are very good commodities in those parts." Quarll thanked him for his advice, and parted with him.

Away then he goes to Sally, and told her what he had been doing, and whither he intended to go. Sally answered, what was his pleasure should be hers, and that she would be a partner in his fortunes and misfortunes go where he would. So Quarll went and bought the goods which the captain advised him to, and sent them on board, and soon after followed with himself and wife.

They had not been long at sea before his darling Sally fell sick and died, to his inexpressible grief; wishing ten thousand times he had died with her. He began to be extreme melancholy, took no rest, and would eat no victuals. The captain was afraid that he would die also, and did all he could to divert him; but was a long time before he could bring him to his former temper.

They sailed on with a side wind for the space of a month, but it changing full in their teeth, and very high withal, obliged them to cast anchor, in order to lie by till the wind did serve; but seeing themselves made upon by a pirate, they were obliged to weigh their anchor, and make the best of their way before the wind, in order to avoid being taken by those infidels, who pursued them from four of a Friday in the morning, till ten at night the next Sunday, at which time there arose a storm, the sky looked very black, the wind being at northwest, and clouds began to rise and move towards them, having hung all the morning in the horizon, so that they took in their top-fails, and furl their main-sail; the sea run very short, and broke in upon their deck; however they put right before the wind, and sailed so for three weeks, when they made Cape Horn, they had no sooner got round the cape, but the wind veered to the south, and it fell flat calm, which continued for two days, when the wind sprung up at southwest, and they scudded before the wind very swift, and made an island, whose name they none of them knew, the ship having never been the coast before:, but there they found wood, water, and herbs of several sorts, some seals and sea-fowls; here they refreshed themselves for four days, and then weighed anchor, the wind being fair at full south, and traded at several ports on the coast of Peru, Chile and Mexico; from Port Aquapulco they sailed, having a brave. breeze, at north northeast; they had not sailed above one day, before the wind veered to southwest, and blew a violent gale of wind, and there being a great sea; so that their ship took in a great deal of water, the wind continuing two days, increased to a very great storm, which held for one day and two nights more, during which time they perceived themselves near some rocks. The storm rather increasing, and growing dark, they despaired saving the ship; and as the main-yard could not lower, the ship's tackling being disordered by the violence of the storm, Quarll, being bold and alive, took a hatchet as tumbled about the deck, and ran up the shrouds, in order to cut down what stopped the working of the main-yard; but, by that time he was got up, there came a sea which dashed the ship to shatters against the rock, and, with the violence of the shock, flung Quarll, who was astride upon the main-yard, atop of the rock, and having the good fortune to fall in a cleft, was hindered from being washed back again into the sea, and drowned as everybody was that did belong to the ship.

Quarll, in a dismal condition, remained the preceding night in the cleft, being continually beaten with the dashing back of the sea, was both bruised and numbed, so pulled off his clothes that were dropping wet, and spread them in the sun, and being over-fatigued, lays himself down on the smoothest place of the rock he could find, being quite spent with the hardship he had undergone, so slept while his clothes were drying. His sleep, though very profound, was not refreshing; the danger he had been lately in, did so run in his mind, that grim death, was ever before his eyes, which ever disturbed his rest; but Nature, who wanted repose, would be supplied though it be broken: having slept a few hours, he awakes almost as much fatigued as before, and faint for want of nourishment, having taken none for six and thirty hours before, so having looked upon his clothes, which he perceived were not quite dry, turned the other side to the sun, and lay himself down to sleep again, but still nothing but horror entered his mind, his soul was continually harassed with the dismal apprehensions the effects of the late storm had impressed upon him: he dreamed he was in a terrible tempest, and the ship he was in dashed backwards and forwards through the waves with prodigious violence, the clouds pouring down vast streams of liquid fire, and the raging ocean all in flame, in this dismal condition he knew not what to do, but spying some land as he thought, at a little distance from the ship, he was endeavouring to get there, but not daring to venture the sea, which he imagined was like a caldron of oil in a blaze, resolved to try whether he could not jump ashore; but just as he was going to leap, he saw a horrid frightful monster, with glaring eyes and. open month, rush from the boiling flames, and make at him, to devour him, which scared him out of his sleep.

When he awoke he, was very much terrified with his dream, and stared about him in a frighted manner, expecting every minute some creature to devour him, but taking a little courage, put on his clothes, which by this time were quite dry. He then looks about him; but alas! could see nothing but the dreadful effects of the late tempest, dead corps, broken planks, and battered chests floating, and such aspects which at once did fill him with terror and grief.

Turning from those mocking objects, which presented to his eyes the dreadful death he so lately had escaped, he sees at the other side the prospect of one more terrible, hunger and thirst, attended with all the miseries that can make life burthensome. being seized with the terror of the threatening evil, he turns again towards the sea, and looking on the dead corps, whom the sea now and then drove to the rock, and back again.

"Oh! that I was like one of you," said he, "past all dangers; I have shared with you in the terrors of death, why did I not also partake with you of its relief? but why should I complain? and have so much reason to be thankful! had I been cut off, when the cares of saving this worthless carcass intercepted me from seeking the salvation of my soul, I should not have had present opportunity of taking care of it."

So having returned thanks for his late deliverance, resigns himself to Providence, on whom he fully relies, climbs up the rock, and being come to the top, sees land at the inside, bearing both trees and grass: "Heavens be praised!" said he, "I shall not perish upon these barren rocks;" so made a shift to get down to it, the weather then being calm.
---
---
Being come to the other side of the rock, he finds at the bottom of it a narrow lake which separated it from the land; therefore pulling off his clothes, the water being but shallow, he wades over with them in his arms and, dressing himself, walks up a considerable way in the island, without seeing any human creature, or perceiving any sign of its being inhabited, which struck a great damp to his spirits; he walks it over and over, cross ways and long ways, yet could see nothing but monkeys, strange beasts, birds and fowls, such as he had never seen before.
Having ranged himself a weary, he sat down under a cluster of trees that made an agreeable arbour; the place being pleasant and cool, made as it were for repose, and he being still very much fatigued, prompted him to lie down and sleep, during which his mind is continually alarmed with the frightful aspect of grim death: sometimes he fancies himself striving with the rolling waves, stretching out his arms to catch hold of a plank tossing by, which just come at, is beaten back by the roaring billows, whose terrible noise pronounce his death; then other times he thinks himself astride upon a piece of a mast, labouring to keep himself on, and of a sudden washed away, and sunk down by a bulky wave; on every side of him men calling for help; others spent, and are past speaking; here some floating that are already perished, and there others expiring; thus in every object seeing his approaching fate.
Being awaked out of that irksome and uneasy sleep, he falls into as anxious and melancholy thoughts: "I have," said he, "escaped being drowned, but how shall I avoid starving? here's no food for man; but why should I despair? did not Nebucadnezer live upon grass for several years till restored to his nation? cannot I do the same for a few days, by which time, Providence, who has hitherto protected me, may raise me some means to get from hence: so, being entirely resigned, he walks about to see the island, which he found surrounded with rocks, at the bottom of which there was a small lake which was fordable in most places, so that he could with ease wade over to the rock, which he did at every side of the island, to see if he could perceive any ship whereby he might get away: but seeing none, and drawing towards night, he returns and employs the remainder of the day in looking for the most convenient place for him to pass away the approaching night; and having fixed upon a thick cluster of trees, which stood pretty well sheltered from the wind by others that did grow hard by, he remains there; so having chose the highest tree, he gets up as far he well could, fearing some wild beast might devour him if he slept below, where having returned thanks to Heaven for his late great deliverance, he commits himself to its care, then settles, and falls asleep, and slept till hunger waked him in the morning, having dreamt over night of abundance of victuals, which he would fain have come at, but was kept off by a cross cook, who bid him go and fish for some; to which he answered, that he was a shipwreck, and had nothing to fish withal; "Well then," said the cook to him again, "go where you were like to lose your life, and there you shall find wherewithal to support it.
Being awaked, he makes reflections upon his dream, which though he imagined might proceed from the emptiness of his stomach, being customary for people to dream of victuals, when they go to bed hungry; yet at that time it might prove ominous; so driven by necessity, and led by curiosity, he went to the same side of the rock he had been cast upon, where having stood several hours without seeing shipping, or aught that did answer his dream; the air corning from the sea being pretty sharp, and he faint, having taken no manner of food for near three days, he gave over all hopes of relief. Thus submitting himself to the will of Heaven, whom he supposed decreed a lingering death to punish him for his past sins; resolves to return where he lay the night before, and there wait its near hand coming; but being stopped by a sudden noise which issued from a creek in the rock, not far from where he stood, he had the curiosity to go and see what did occasion it.
Being come to the place he heard the noise proceed from, he sees a fine large cod-fish, near six foot long, dabbling in a hole in the rock, where the late storm had cast it.
One under condemnation of death, and just arrived at the place of execution, could not be more rejoiced at the coming of a reprieve, than he was at the sight of this fish, having felt several sick qualms, forerunners of the death he thought he was doomed to. "Heavens be praised, said he, "here's my dream right; where Providence rescued my life from the grim jaws of death, there it has provided me withal to support it.
So having taken off both his garters, he gets into the hole where the fish lay, and having run them through its gills, he hauls it out, and drags it after him, being heavy, and he very weak going along, he finds several oysters, mussels, and cockles in his way, which the sea had cast up and down the rock; having a knife about him, he sat down and eat a few, so refreshed himself, his spirits being exhausted for want of food; this small nutriment very much recruited his decayed strength, and the thoughts of his supply of provision having dispersed the dull ideas his late want had bred in his mind, he cheerfully takes his fish, which he drags with much more vigour than before; and filling his pockets with salt that was congealed by the sun, which he found in the concavities of the rock, away he goes to the place where he lay the night before, in order to dress some of his cod-fish; where being come, he picks up a parcel of dry leaves, and with his knife and a flint struck fire and kindled them, then getting together a few sticks, made a fire presently, and broils a slice of his fish, of which he eat so heartily, that it overcame his stomach, being grown weak with fasting: thus sick and out of order, he applies to the helpless recourse, which was lying down, and having much fatigued and harassed himself with hauling the heavy fish up and down the rock, he fell asleep till the next morning, during which time his rest was very much disturbed with the frightful dream of being attacked by a terrible monster, such as never was heard of either for bigness or grimness, which pursued him, till having ran himself out of breath, he was forced to lie exposed to his fury; but was prevented being devoured. by a grave old gentlewoman of a most graceful and majestic countenance, at whose sudden appearance the monster fled: having recovered breath and strength to speak, he returns the old lady thanks for his deliverance, and begs leave to wait on her home, that he might know where to come and pay his constant duty to her, for this her late great kindness; to which she answered, that she was fixed in no particular habitation, but dwelt at every poor man's house, her occupation being to assist the helpless, but not the slothful and negligent; that he should see her again before it was long; the mean time she bid him not to go on in evil ways, but whenever overtaken not to despair; for she was always at hand: nevertheless, she would not have him too depending, and so went away, leaving him very easy and pleased in his mind, that he had escaped such vast danger.
Having slept quietly the remainder of the right, he awoke in the morning pretty fresh and hearty, but very much disturbed at his late dream, which he feared did presage and prognosticate some approaching evil; but as he could make no comparative allusion of the old lady, who rescued him from the monster; he concludes it must be an inspiration of Providence (whom the grave old lady did personate in his dream,) who lately had preserved him from a death by all appearance unavoidable, to keep him from despair in this, his great extremity, promising to be at hand upon occasion; yet would not have him neglect means to get away from a place where want threatens him; for though he might for a while subsist upon fish, wherewith he may be supplied, being surrounded by the sea; yet he could not imagine which way he could be furnished with clothes and bed against the winter; for want of which he must miserably perish with cold; unless supplied by some such dismal accident as exposed him to the want thereof, which he heartily wishes and prays may never happen again.
Having made these considerations, he, on his knees, returns kind Providence his hearty thanks for all the mercies that had been extended upon him; begging the continuation of its assistance; then, as he took direction from his dream, he watches the opportunity of getting away from that melancholy place, so goes to the other side of the rock to see if he could perceive any shipping in sight.
The wind being pretty high, fed his. hopes, that each succeeding hour would gratify his wishful looks, with that object the preceding could not bring forth; but was disappointed, the night approaching, kept back all probability for that time, so depending on better success the next day, he returns whence he came, and being hungry, makes a fire, arid broil's another slice of his fish, then lays the rest upon broad, green leaves, and strews salt thereon to keep it from spoiling, so goes to rest; and as he lay undisturbed the night before, under the trees, and much more easy than atop, he ventured again, committing himself to the cares of Providence.
But his thoughts, which all day had been disturbed with the dread of those hardships he must probably undergo, if obliged to continue there all winter, did so run in his mind, that it occasioned ideas suitable to those he had formed the day before; and cold being the greatest of his fears, it is also the principal subject of his dream, which presented to his imagination, that he was in a spacious place, paved with hailstones of a prodigious bigness, and surrounded with high mountains of ice, which echoed with shivers; at the further end thereof he saw an old man resembling Time, as he is commonly painted, with heaps of snow and hail about him, and himself very bury with making more; at his side stood a very beautiful woman, whole shape and make was uncommon, and her features and complexion extraordinary; but what surprised him most, was her having three pairs of breasts, wonderfully handsome, and curiously placed, which seemed to adorn her bosom far more than the richest stomacher made of diamonds or pearls could do; so that which in other women would look monstrous, was in her an addition to her matchless beauty.
The sight of that most perfect and complete woman, warmed his blood, which the coldness of the place had chilled, and tempted him to come nearer the charmer; as he advanced, every step he made, seemed to add strength to his limbs, and vigour to his life, which made him desirous to come nearer to the person from whom he received such beneficial effluvias, but was suddenly stopped by the old man's turning towards him with a grim and surly countenance, which threatened his nearer approach with evil.
Not daring to come nearer, he stands still, wondering what business that most charming creature could have with that surly morose old fellow; so listening a while, he perceived she was asking boons of him in the behalf of a vast number of all sorts of creatures that attended her at some distance behind, which he refused in a most churlish manner; and as she still persisted in her suit, following him up and down, the ill-natured old man slyly steps to the frosty mountain, and pulls down a large clod of ice which did stop a gap therein, from whence came out a creature, made and featured like a man, but of a monstrous size, and frightful aspect; his excessive broad checks hanging down on each side of his long picked chin, like two empty bladders; and, his preposterous belly hung down looking just like a sail without wind; that monster was no sooner out, but he had orders from the spiteful old man to drive away the woman and all her attendance, which word of command was no sooner given but it was put in execution; having filled his shrivelled jaws with wind, which then flood out like so many kettle drums, he falls a blowing upon one of the hills of snow, and turns it into a thick shower, which he drove with violence against that angel-like creature and her clients, who immediately fled for shelter. This barbarous treatment to the most deserving of creatures, put him in amaze, to whom the angry old man (seeing he did not go with the rest) came in a fury, saying, "Do you put me to defiance? I'll bury thee in that which I only strewed over them," so went to lay hold of him, which did awake him in a wonderful fright.
Being awake, he made reflections upon his late dream; "All my dreams," said he, "have ever proved ominous, and, if I mistake not, this must have some signification; certainly this old man is Time, laying up a store of frost and snow against next winter, and that goodly woman is Nature, who, being tender over all her creatures, interceded for moderation; and his surly refusal and rough usage prognosticates a forward and hard winter, to whose severity I must lie exposed, being altogether unprovided.
These reflections bred various melancholy thoughts, which almost led him to despair: "Oh!" said he, "that I was but a mouse, a bat, or a yet meaner creature; then should I be below the cruel persecutions of fate; but man, who was created in the noblest form, endued with reason and understanding, animated with an immortal soul; must be aimed at as the only mark worthy its malignant darts; but why do I thus rave at those evils we are the authors of? Had man continued in his original state of innocence, the very name of fate or fortune, would not have been known. Well, since this is the product of sin, I accept this dull lot as justly coming to my share, and humbly submitting to heaven's decree, I thankfully take this dream as a timely warning, and, in imitation of those creatures represented in it, I'll provide what shelter I can against bad weather comes.
Accordingly first he begins to think of making himself a house to preserve him from the injuries of the weather, but having nothing to make it of, nor any instrument but a knife, which could be of little service to him, he resolves to go to that part of rocks where he was shipwrecked, to see if he could discover anything among the wreck that might be serviceable to him, and therefore takes a branch of a tree along with him, and away he goes to the place, where he strips himself, and goes into the water (the water being low discovering the tops of several sharp- pointed rocks) and gropes along with his staff for sure footing, and went up as high as his chin, diving to the bottom frequently, and feeling about with his hands, this he continued doing for almost two hours, but to no purpose, not daring to venture out of his depth, for he well knew that he could do little good there, because he could discover no part of the ship, not so much as the mast, or any of the rigging, so fancied she lay in some deep hole, where it was impossible to get at her.
Thus despairing, and fretting and teasing himself; he calls to mind that he had a hatchet in his hand when he was castaway, and thought probably it might lie in that cleft of the rock, into which he was thrown, so went thither, where looking about, he perceived some thing like the handle of a hatchet just above the surface of the water at the bottom of the rock, so went down to it, and took it up, which to his great joy proved to be the very thing he wanted.
Having got his tool, he dresses himself, and goes on to the island again, intending to cut down some trees to make himself a hut; so looking about for the properest plants for his use, and taking notice of a sort of trees, whole branches, bending to the ground, did take root, and become a plant, he thought they might be the fittest for his purpose, and so cuts a sufficient parcel of them to make his barrack, which was full business for him that day.
The next morning, having paid his usual devotion, he walks out again to look a pleasant and convenient place to make his hut or barrack upon; he walked several hours, and could find none more sheltered from the cold winds than that where he already lay, being in the middle of the island, well fenced on the north and east fides with trees, which did stand very thick: the place being fixed upon, he hews down some trees that did grow in his way, and clears a spot of ground about twelve foot square, leaving one tree standing at each corner, and with the young plants he provided the day before, filled the distance between, quite round, letting them about fix inches asunder, leaving a larger vacancy for the door; his enclosure being made, he bends the branches atop from both sides, and weaves them cross one another, and so makes a cover to if, which being something to thin, he laid other branches over, till they were grown thicker; having finished the top, he goes about closing the sides; so takes large branches, which he strips of their small twigs, and weaves them between the plants as they do for sheep-pens, then makes a door after the fame manner.
His barrack being finished, which took him up fifteen days hard work; "Now," said he, "here's a house, but where's the furniture? this indeed, may keep the weather from me, but not the cold, the ground on which I do and must lie is hard, and doubtless in the winter will grow damp, which, with want of covering, may occasion agues and fevers, the colic and rheumatism, and twenty racking distempers, as may cause me to repent my having escaped a milder death."
In this great confirmation and perplexity, he goes to see if he could spy any shipping riding within sight of the island: as he was walking along, full of heavy and dull thoughts, which weighed his looks to the ground, he happened to find a sort or high grass that grows but here and there, round some particular sort of trees, which he never took notice of before. "Heavens be praised," said he, "I have found wherewithal to keep my poor body from the ground, whilst I am, by Providence, doomed to remain here;" so goes on, intending, at his return, to cut down a sufficient quantity of it to make mats that might serve him instead of bed and bed-clothes.
Having looked himself almost blind, without feeing the least prospect of what he desired, he concludes upon going to cut the grass which he stood in such want of, and spread it to dry, whilst the weather was yet warm; that piece of work kept him employed the remainder of the day, and best part of the succeeding, having nothing but a pocket knife to cut withal: that work being done, wanting a tool to spread and turn his grass, he takes a branch off the next tree, which having stripped of all the small ones about it, all but part of that at the top, being forky, made a tolerable fork; thus being equipped for hay-making, he went on with his work; and as he was at it, he saw, at some distance, several monkeys, as busy as himself, fastening something out of the ground, which they did eat upon the spot, and carried the rest to their home.
His hopes, that those roots might be for his use, those creatures being naturally dainty, eating nothing but what men may, made him hasten to the place he saw them scratching at, that by the herb they bear (which they did tear off) he might find out the root.
Having, by the leaves, which he picked off the ground, found some of the lame, he digs them up, and carried them to his barrack, where being come, he broils a slice of his fish, and in the ashes roasts them, which eat something like chestnuts done in the same manner.
This new-found-out eatable much rejoiced him, and returned his hearty thanks to kind Providence, that had put him in a way to provide himself with bread, and that of the most delicious kind; so as soon as he had dined, he went out on purpose to dig up a good quantity; but as he was going to the place where he had taken notice they did grow pretty thick, he sees a tortoise, of about a foot over, crawling before him; "Heaven be praised," said he, "here's what will supply me both with victuals, and utensils to dress it in; so runs and turns it on his back to keep it from getting away, whilst he went for his hatchet, that he might cut the bottom shell from the top, in order to make a kettle of the deepest, and a dish of the flat part.
Being tired of cod-fish, he dresses the tortoise, an animal seldom eaten but upon extremity, the flesh thereof often giving the flux, nevertheless he ventured upon it, and liked it extremely, some part of it eating very much like veal, which, at that time was a very great novelty to him, having eat no fresh meat for a long time before.
Happening to eat of that part of the tortoise which is the most feeding and less hurtful, he was in no wife discomposed; so having boiled it all, he laid by the remainder to eat now and then between his fish.
Being provided, with a boiling utensil, he often had change, which with the lucky finding out of those admirable roots, he eat the roasted ones for bread, and sometimes boiled them with salt-cod, in a great measure mitigated his misfortune, and softened the hardship he lay under; and seeing but little prospect of changing his present condition by getting away from thence yet a while, he thinks on means to make it as easy as possible whilst he remained in it; for having projected a bed, he takes the grass, which by that time was dry, so falls to work, and a mat being the thing concluded upon, he twills his hay into ropes, the bigness of his leg, then, he cuts a pretty number of sticks, about two foot long, which he drives in the ground, ten in a row, and near four inches asunder, and opposite to them such another row at six or seven foot distance from the first, which made the length of his mat; then having fastened one end of his rope at one of the corner sticks, he brings it round the other corner stake, and so to the next at the other end, till he had laid his frame; then he weaves across shorter ropes of the same, in the manner as they make pallions on board with old cable ends; so when he had finished his mat, he beat it with a long stick which made it swell up, and the grass being of a soft cottony nature, he had a warm and easy bed to lie on.
The comfort and pleasure he found on his soft mat (being grown sore with lying on the ground for the space of a month and more) did so liberally gratify him for the time and labour he had bestowed in making of it, that it gave him encouragement to go about another, a covering being the next necessary wanted; for though the weather was as yet pretty warm, and he in a great measure seasoned by the hardship he had gone thorough, yet the winter approaching, and the present season still favourable for him to make provision against it, he goes and cuts more grass, which being made ready for use, he lengthens his loom to allow for rolling up at one end instead of a bolster, and makes it thicker than the first, which he intends, in cold weather, shall lie upon him instead of blankets.
Being provided with the most necessary furniture he wanted, he thinks on more conveniences, so resolves to make himself a table to eat his victuals upon, and a chair to sit on when at his meals: thus having cut several sticks about four foot long, he drives them in a row a little way in the ground, then takes smaller, which he interweaves between, having made the top, he sets it upon four other sticks, forky at the upper end, which he stuck in the ground, at one side of his barrack to the height of a table; this being done he cuts four more branches such as he judged would do best for the seat and back of a chair, which he also drove in the ground near his table, and having twisted the branches, that did grow to them, with each other from back to front; and across again he weaves smaller between, so bottoms his seat, which completes the furniture of his habitation.
That care being over, another succeeds of a far greater moment, "Here's a dwelling," said he, "to shelter me from the weather, and a bed to rest this poor body of mine, but where is food to support it? here have I subsisted near one month upon a fish, which the late dreadful storm as took away forty lives, lent me to maintain my own : well, since kind Providence has been pleased to preserve my life preferably to so many, who fatally perished in that dismal accident, I am bound, in gratitude, to hold it precious, and since my fish is almost gone, and not certain of more, I must by degrees bring myself to live upon roots, which I hope will never be wanting, being the natural product of this island, so I must eat of the small remnant of my fish but now and then to make it hold out longer; dainties for plenty were not allotted for him that was doomed to slavery, but labour and hard living: and if I meet here the latter, heavens be praised, I have escaped the worse; I can take my rest at my need, and stand in no dread of the severe inspector and task-master.
So being entirely reconciled to the state of life Providence had been pleased to call him to, on whom fully depending, he resolves to make provision of those excellent roots; so with his hatchet, he cuts a piece of a tree, wherewith he makes a shovel, in order to dig them up with more ease; so with it went to the place where he had observed they did grow thickest, which being near the monkeys' quarters, they came down from off their trees in great numbers, grinning as if they would have flown at him, which made him stop awhile; he might indeed, with the instrument in his hand, have killed several, and perhaps dispersed the rest, but would not: "Why," said he, "should I add barbarity to injustice? it is but natural and reasonable for every creature to guard and defend their own; this was given them by Nature for food, which I come to rob them of; and since I am obliged to eat of them for my subsistence, if I am decreed to be here another season, I will set some in a place distant from theirs for my own use.
Having stood still a considerable time, those animals, seeing he did not go forwards, each went and scratched up for itself, so retired, thus gave him the opportunity to dig up a few for himself, and as he was not come to the plain where they did grow thick, he laid them in small heaps as he dug them up, which those sly creatures would, whilst he was digging up more, come down from the trees, where they stood hid amongst the leaves, and steal them away, which obliged him to be contented for that time with as many as his pockets would hold, resolving to bring something next time as would contain a larger quantity; and fearing those animals, who are naturally very cunning, should dig them up and hide them, he comes early the morning following to make his provision; and for want of a sack to put them in, he takes his jacket, which he buttons up, and ties at the sleeves; and as he had observed, that every root had abundance of little offsets hanging at it by small fibres, he pulled off his shirt also, of which he makes another sack to put them in.
Being naked, all but his breeches, and the day being pretty hot, he thought he had as good pull them off too, and fill them, his jacket being but short, and therefore holding but few; so having taken his bundle in one arm, and the shovel in the other hand, he goes to the place he intended to do the day before, and expecting to find the same opposition as he did then, he brought with him some of the roots he had dug up the preceding day, in order to throw them amongst them, and so quiet them; but to his great wonder, and as great satisfaction, those animals, who the time before had opposed him with noise and offensive motions, let him now pass by quietly, without offering to meddle with any when dug up, though he laid them up by heaps in their way, and he at a considerable distance from them.
This surprising reverence from those creatures, set him upon deep reflections on what could be the cause thereof; whether it might not proceed from the proximity of their shape and his; "But then," said he, "my stature and colour of skin is so different from theirs, that they cannot but distinguish I am not of their kind: no, it must be a remnant of that awe, entailed by Nature upon all animals, to that most noble and complete masterpiece of the creation called man, which now appearing in the state he was first created in, and undisguised by clothes, renews a snatch of that respect he has forfeited by his fatal transgression, whichever since obliged him to hide the beauty of his fabric under a gaudy disguise, which often renders him ridiculous to the rest of mankind, and generally obnoxious to all other creatures, making a pride of what he ought to be ashamed of: well," adds he, "since it was my clothes, as bred the antipathy, I will remove that cause, which will suit both the nature of those animals, and my own circumstances; so from that time he resolves to go naked, till the hardness of the weather obliged him to put something on.
So having picked up a sufficient quantity of offsets, to stock about two acres of land, he returns home, leaving behind him a considerable number of roots dug up for those poor animals, that did attend him all the time he was at work, without offering to touch one till he was gone.
Being come home, he fixes upon a spot of ground, near his habitation, and stirs it up as well as he could with his wooden instrument, in order to sow his seed; which having compassed in about twenty days, he implores a blessing upon his labour, and leaves it to time to bring forth. thus having finished the most necessary work about his barrack, he resolves to take a more particular view of the island, which till then he had not time to do; so taking a long staff in his hand, he walks to the lake, which parts the land from the rock, and goes along the side of it quite round the island, finding all the way new subjects of admiration; on the left hand did stand a rampart made of one solid stone, adorned by nature with various forms and shapes, beyond the power of art to imitate; some parts challenging a likeness to a city, and clusters of houses, with here and there a high steeple standing above the other buildings; another place claiming a near resemblance to a distant squadron of men of war in a line of battle; further, it bears comparison with the dull remains of some sumptuous edifice, ruined by the often-repeated shocks of time, inciting the beholders to condolence for the loss of its former beauty, at some distance from thence the prospect of a demolished city is presented to the sight; in another place large stones like small mountains, laid as it were, atop of one another, impresses the mind with an idea of the tower of Babel: and on the right hand a most pleasant land covered with beautiful green grass, like unto camomile, and here and there a cluster of trees, composing most agreeable groves, amongst a vast number of fine lofty trees of diverse height and shapes, who stood more distant, whose irregularity added much to the delightfulness of the place.
As he was walking on, admiring all those wonderful works of nature, having caught cold (not being used to go naked) he happened to sneeze opposite to a place in the rock, which hollowed in after the manner of the inside of some cathedral, and was answered by a multitude of different voices issuing from that place; the agreeableness of the surprise induced him to rouse those echoes a second time; so he gave a loud hem, which was, like his sneezing, repeated in different tones, but all very harmonious; he hemed again, and was so delighted with the repetition, that he could have spent hours in the hearing of it; "But why should I," said he, "waste those melodious sounds, so fit to relate the Almighty's wonderful works, and set forth his praise?" So falls a singing several psalms and hymns, with as much emulation and devotion as though he had been in company with scores of skilful and celebrated choristers.
Having spent a considerable time there with much pleasure, he proceeds in his walk, being resolved to make that his place of worship for the future, and attend it twice a day constantly.
About three or four hundred paces further, having turned on the other fide of a jotting-out part of the rock, he was stopped a second time by another surprising product of Nature; a large stone growing out of the rock, advancing quite over the lake at the bottom it, representing something of a human shape; out of the breast whereof issued a fountain of exceeding clear water, as sweet as milk, and when looked at fronting, was like an antique piece of architecture, which in old times they built over particular springs; and on the other side appeared as if springing from the nostrils of a sea-horse: these three so very different, and yet rightly compared likenesses, being offered by one and the same unaltered object, made him curious to examine what parts of every resemblance helped to make out the others; and having spent a considerable time in the examination, he found every thing which the front had likeness of was employed in making the side- representation, by being in some places shortened, and others lengthened, according to the point of sight.
Being satisfied about that subject, he enters upon another as puzzling; the basin, in which the fountain ran, which was about five yards distant from whence the water did spring, being but about nine foot over, every way, without any visible place to evacuate its over-compliment, and yet keeping of the same height, without dashing or running over, although the stream that fell into it run as big as his wrist; having long time searched into the cause, without any satisfaction, he conjectures it must make its way out somewhere under ground, so went on till he came to the place he had begun his march at, which ended that day's work.
Having been round the island, which, to the best of his judgment, was about ten or eleven miles in circumference, of an oblong form, going in and out in several places, extending from north to south, the south end near as broad again as the opposite; he resolves to employ the next day in viewing the inside, so recommending himself to Providence, as he never failed to do both morning and evening, he goes to bed; but not being sleepy, the over-active faculty in man, roves from one subject to another; his mind runs from his present station to his former, reassuming his part pleasures, which he never must hope to meet with again, and calls in all the evils his present gender of life lays him exposed to these dull thoughts quite dislodge his late-born hopes of Heaven's assistance, and stakes his future dependence on Providence; he snarls and quarrels with his fate, and repines at his condition, which not being in his power to mend, he wishes for eternal sleep, to free his mind of tumult and cares which crowd upon him.
Sleep was granted him, but not rest, his repining is chastised with terrifying dreams of the punishment he had been condemned to; all his past troubles comes upon him, in the most grievous and shocking nature they could appear; his raging wives at once fall upon him, exerting their outmost malice and revenge, which he cannot avoid; but by embracing either an ignominious death, or a severe and vile bondage: those terrible aspects put him in the same pains and agony, as if already feeling the assigned torment.
Having in his dream, with hard strugglings, escaped death, he finds himself in an exceeding hot country, his half-naked body continually bending to the hard and dry ground, grabbling round a noxious weed for fulsome worms; every now and then lashed by cross and severe task-master, who hurries him to work: In this great perplexity he cries out, "Oh, that I had ended my woeful days at the shameful gibbet! sure it would have been a milder fate!" At which he did awake in such a confirmation, that it was several minutes before he could be thoroughly satisfied it was but a dream. Having recalled his dispersed senses, he made this reflection, that it really was the penalty he had been sentenced to, and by Providence preserved from; so setting his present condition in opposition to that, he acknowledges his ingratitude, for which he sorely repents, and on his knees, with weeping eyes, asks pardon, imploring the continuation of Providence's protection, resolving, for the future, never to think or wish to change that state of life it had pleased Heavens to place him in, wholly dedicating the remains of his days to God's worship, holding henceforth as inestimable, the happiness of being freed from those cares which daily flow on them who are concerned with the world, which might cool or slacken his duty to so great a benefactor.
So, having entirely resigned himself to the will of God, he casts off all cares, and banishes from his mind all as could create any; thus resolves to employ those hours, that run between the intervals of time, he had dedicated to divine worship, in the contemplation of the many wonderful works of nature, manifested in such various manners all over the island.
So he walks up the land, which he found very level, covered with a delightful green grass, and adorned with trees of divers sorts, shapes, and height, inhabited with several sorts of curious singing birds, of various colours and notes, which entertained him with their melodious harmony during his walk: In some places stood a cluster of trees, composing agreeable and delightful groves, proceeding from only one main body, whole lower branches, being come to a certain length, applied to the Earth for immediate nourishment, as it were to ease the old stem that produced them, and so became a plant, and did the same.
Having for some time admired the agreeableness and curiosity of the plant, by whom Nature seemed to give human kind instructions; he proceeds looking about, if perchance he could find anything in his way for his own proper use; so took along with him a sample of every different herb he thought might be eatable: crossing the island in several places, he comes at a most delightful pond, about two hundred yards in length, and one hundred and fifty wide, with fine trees spreading their branchy limbs over its brinks, which was surrounded with a beautiful bank, covered with divers kinds of flowers and herbs, so naturally intermixed, which completed it in ornament and convenience, as though intended by Nature for more than mortal's use.
Having walked several times around it, with much pleasure, he sat down awhile upon its bank, to admire the clearness of the water, through which, to his great comfort he saw many different sorts of fine fish, of various bignesses, shapes, and colours; "Heavens be praised," said he, "here is a stock of fresh water fish to supply me with food, if the sea should fail me.
So being sufficiently diverted with their chasing one another, which being of many beautiful and different colours, made a most delightful scene, he proceeds in his walk, and goes to the south end of the island, where he finds another subject of admiration; a noble and spacious wood, whole shades seemed to be made for the abode of peace and pleasure; he walked round it with much delight, which made the time seem short, yet he could guess it to be no less than two miles about.
Having viewed the outside, whose extraordinary agreeableness incited the beholders to inquire into, which, doubtless it enclosed; he had an insurmountable desire to go into it, but was afraid to venture, least there might be destructive creatures as might harm him; yet having recommended himself to the cares of Providence, he ventured into it, finding several pleasant walks, some straight, edged with lofty trees as though planted for pleasure, others crooked and winding, bordered with a thick hedge of piamento's, which did cast a most fragrant smell, here and there a large cluster of bushes and dwarf trees, wherein sheltered several different kinds of wild beasts and fowls; "Sure, said he, "this island never was intended by Nature to lie waste, but rather reserved to be the happy abode of some, for whom Heavens had a particular blessing in store: here is every thing sufficient, not only for the support, but also for the pleasure of life; Heavens make me thankful, that I am the happy inhabitant of so blessed a land.
Being hungry and tired with walking, he goes home, in order, to get some victuals; so having made a fire he boils a slice of his salt-fish with some roots, and then the herbs he brought with him, which proved of diverse taste and all excellent; some eating like artichokes, others like asparagus and spinach; "Now," said he, "what can I wish for more? here I possess a plentiful land, which produces both fowls, flesh, and fish, bears excellent greens and roots, and affords the best of water, which by nature was ordained for man's drink; pomp and greatness are but pageantry, which often times proves more prejudicial to the actor, than diverting to the beholder; ease and indulgence are apt to breed the gout and various distempers, which make the rich more wretched than the poor: now, these evils, thanks to my maker, I stand in no danger of, having but what is sufficient, which never can do any harm.
Thus thoroughly easy in his mind, he proposes to spend the afternoon at the outside of the rock, in viewing the sea, and looking for oysters; so takes in his hand his long staff to grabble in holes, and his breeches, which he ties at the knees to bring them in: being come to a place of the rock he never had been at before, he sees, at a distance, something like linen hanging upon it, which when come at, he found to be the main-sail of a ship, with a piece of the yard fastened to it.
"Alas," said he, "a dismal token of insatiable ambition! which makes men often lose their lives, in seeking what they seldom find, and if ever they do, 'tis commonly attended with a world of cares: happy is he who limits his desires to his ability, aspiring not above his reach, and is contented with what Nature requires."
So falls a ripping the sheet from the yard, which he finds in one place tied with one of his garters (having himself made use of it for want of another string).
"Heavens be praised," said he, "this is no effect of another shipwreck, but a fragment of the unfortunate ship, whose loss was my redemption," with that falls a- weeping.
Having ripped the sail in pieces, he rolls them up in such bundles as he could conveniently carry, and lays them down till he had got a few oysters, so proceeded groping in holes with his stick as he went on.
About forty paces further, he finds a chest in a cleft of the rock, which had been washed up there by the violence of the late storm.
"Heavens," said he, "more fatal effects of fate's cruelty and man's temerity! Was the sea made for men to travel on? Is there not land enough for his rambling mind to rove? Must he hunt after dangers and put death to defiance? What is the owner of this the better for it now? Or, who can be the better in a place so remote, and the access to it so difficult, being not to be approached, but on the wings of Providence, and over the back of death? Now, was this full of massy gold, or yet richer things, I thank my God, I am above the use of it; yet I'll take it home, it was sent here by Providence; perhaps for the relief of some so necessitated and destitute."
So goes to lift it, but could not, therefore was obliged to fetch his hatchet to beat it open, that he might take away what was in it by degrees; so having taken as much of the sail-cloth as he could conveniently carry, with the few oysters he had got, he went home and fetched the tool, wherewith he wrenched the chest open, from which he took a suit of clothes and some wearing linen.
"These," said he, "neither the owner, nor I, do want," so laid them down, the next thing he took out, was a roll of several sheets of parchment, being blank indentures and leaves. "These," said he, "are instruments of the law, and often applied to injustice; but I'll alter their mischievous properties, and make them records of Heavens mercies, and Providence's wonderful liberality to me; so instead of being the ruin of some, they may chance to be the reclaiming of others." At the bottom of the chest lay a rundlet of brandy, a Cheshire cheese, a leather bottle full of ink, with a parcel of pens, and a penknife. "As for these," said he, "they are of use, the pens, ink, and parchment have equipped me to keep a journal, which will divert and pass away a few anxious hours; as for the cheese and brandy, they will but cause me new cares, before I had them, I wanted them not; now, the benefit and comfort I shall find in them (when gone,) will make me hanker after them most; I wish I had still been without them, but now they are here, it would be a sin to let them be lost, I'll take them home, and only use them at my need, which will both make them hold out the longer, and me grow less fond of them.
So by degrees takes home the chest, and what was in it; and now having materials to begin his journal, he immediately fell to work, that, for want of other books, he might, at his leisure, peruse his past transactions, and the many mercies he had received from Heaven, and, that after his decease, whoever is directed there by Providence, upon reading his wonderful escapes in the greatest of dangers, his miraculous living, when remote from human assistance, that in the like extremity they might not despair: thus begins, from his being eight years old (as well as he can remember he heard an old aunt of his say) to the day of his being cast-away, which happened on the 10th of July, 1675, being then twenty eight years of age, resolving to continue it to his death.
Thus having written the preceding account of his shipwreck, and what had befallen him since, to the finding of the chest, which was on the 15th of September, 1675 he proceeds; but calling to mind his last dream but one, which did warn him to make provision against winter, and the season being pretty far advanced, he gathers a good store of fuel and roots, begins to line the outside of his barrack with a wall of turf, and lays the same at top, to keep out the wet; and as he now and then did find small shell-fish and oysters upon the rock, he makes a bridge over the. lake, which in warm weather he did use to wade, that in the winter he might go over dry; so having completed his bridge, which was made of two strong poles, that did reach from the land to the rock, and several lesser branches laid across, pretty close, he retires home, the day being far spent: the following night, being the 18th of September, there arose a violent storm, attended with dreadful claps of thunder, which the many echoes from the rock rendered more terrible, and lightnings flashing in a most frightful manner, succeeding each other, before the preceding was well out of the sky, which put poor lonesome Quarll in such a consternation, that (notwithstanding his reliance on Heaven's protection) he would have given the world (had it been in his possession) to have been within the reach of human assistance; or, at least to have some company, solitude adding much to his terror and affliction.
The glorious rising of the next morning's sun, having laid the mortifying rage of the blustering winds, Quarll, whose late alarm was hardly quelled still suspected its most reviving rays, to be terrifying glances and flashings of lightnings; but having lain awhile, and hearing no noise, but that which still did rage in his mind, was at last convinced the storm was over, and so gets up, with a resolution to go and see if he could discern any effects of the late tempest.
Being come at the other side of the rock, he saw indeed, surprising objects, but not afflicting; the mischief that was done, being to the inhabitants of the sea only, a vast number of which, had, by the obstropulous wind been diselemented; a quantity of stately whitings, fine mackerels, large herrings, diverse sizes of codlings, and several other sorts of fish, with a great number of shells, of different shapes and bignesses, lying up and down upon the rock.
"Heavens be praised!" said lie, "instead of damage to bewail, what thanks have I now to return for this mighty benefit? Here the powerful agent of mischief is, by kind Providence, made a minister of good to me; make me thankful, I am now provided for all the next winter, and yet longer, by which time I'm certain to have fresh supply.
(2)He whom, when in distress,
To GOD makes his address;
And his bounties implore,
Is sure, and may depend
That relief he will send,
And at need help the poor.
Thus having taken up as many fish, as he could hold in his arms, carries them home, and brings his shirt, which he used instead of a sack; so at several times he brought away all the fish, and as many of the shells as he had occasion for, some of which he made boilers and stewpans, of others dishes and plates, some he kept water in, and others fish in pickle; so that he was stocked with necessary vessels, as well as provisions.

Being very weary with often going backwards and forwards for his fishes, which took up all that day to bring them home, he let down to rest himself, and the rundlet of brandy lying by, he was tempted to take a sup, which was at that time very much wanted, his spirits being very low; but was loath to taste it, least he should grow fond of the liquor, and grieve after it when gone: some moments were spent before he could come to a resolution; at last, having considered the use of it, which suited the present occasion; he concludes to take a dram, and so use it like a cordial, as it was at first intended for; but the vessel, out of which he did drink, being at his mouth, the cordial turns to a nectar; one gulp decoys another down; so the intended dram becomes a hearty draught. the pleasantness of the liquor made him forget its nature, so that poor Quarll, who had, for the space of near three months before, drank nothing but water, was presently overcome with the strength of the brandy, and fell asleep in his chair, with the rundlet on his bare lap, from whence it soon fell to the ground, and being unstopped, did run all out.

Being awaked with hunger, having slept from an evening till almost noon of another day, which he knew not whether the succeeding, or the next to it seeing what had happened was sorely vexed, and could have wept at the accident, but considering the liquor which had occasioned it, might perhaps in time, have caused greater mischief; he soon was reconciled with that loss, but could not with that of the right order of the days, which having entirely forgot, hindered the going on of his journal, & was obliged to make only a memorial; that damage being repaired, an other appears of a far greater consequence, the Sunday is lost which he had so carefully observed to that time, how can that be made up?

"Now," said he, "shall I daily be in danger of breaking the Sabbath, knowing not the day! Oh fatal liquor! that ever you were invented to cause so much mischief; murders, adulteries, and blasphemies, are daily, by thy most pernicious use, occasioned; but why should I lay the blame upon the use, when it's the abuse as does the hint, and exclaim against a thing, which being taken in moderation, is of so great a benefit, reviving a fainting heart, raising sinking spirits, warming cold and decayed nature, and assuaging several pains."

So blames himself highly for gratifying his appetite, with that wherewith he only ought to have refreshed nature; and since that often misguided faculty had prompted him to commit the, fault, he did dedicate that day, in which he became sensible of it; in prayers and fasting, and every seventh from that, he sets apart for divine worship only, which he hoped would keep him from breaking the commandments, for keeping holy the Sabbath day; it being not certain that the day appointed by the church for that purpose, was the very day God had sanctified for rest, so went to the place, where the echoes, in many different and melodious sounds, did repeat his thanksgiving to the almighty, which he had fixt upon to pay his devotions, and there spent the rest of the day in prayers and singing of psalms.

The next morning, having breakfasted with some of his usual bread, and a slice of the cheese he found in the chest, he goes about curing of his fish in order to salt them, having laid by as many for the present use, as he thought he could eat whilst fresh; he improves the fair weather to dry one part of the remainder, and keeps the rest in pickle.

The winter being near at hand, and the weather growing damp and cold, hinders him from his walks, so being confined within doors, he employs his idle hours in beautifying his utensils, which were not to be used upon the fire, and bestowed some pains in scraping and polishing the rest of his shells, some, as fine as though they had been nacres of pearl, which made them not only more fit for their intended uses, but also a great ornament to his barrack, which he shelved round with platted twigs after the manner of his table, and so set them upon it.

Thus he spent the best part of the winter, making no further remarks, but that it was very sharp, attended with high winds, abundance of hail and snow, which obliged him to make a broom to sweep it away from about his hut, which otherwise would have been damaged by it.

But shivering winter, having exhausted his frosty stores, and weary with vexing Nature, retired; Boreas also, grown faint with hard blowing, is forced to retreat into his cave; gentle Zephyrs (who till then kept up in his temperate cell) now comes forth to usher in the blooming spring; so mildly slips on to inform Nature of her favourite's approach, who at the joyful news puts on her enamelled garb, and, out of her rich wardrobe, supplies all vegetables with new vesture, to welcome the lovely guest. The feathered choristers also receive new strength, their tender lungs are repaired from the injuries the foggy and misty air did occasion; and thus revived, are placed on every budding tree, to grace his entrance with their harmonious notes.

Quarll also, whom bad weather had confined within doors a considerable time, which had in a great measure numbed his limbs, and dulled his senses now finds himself quite revived, he no longer can keep within, the fair weather invites him out, the singing birds on every side call to him, Nature itself fetches him out to behold her treasures.

Having with unspeakable pleasure walked some time, diverted with the sweet melody of various kinds of singing birds, and the sight of abundance of different forts of blossomed trees and blooming flowers; all things within the island, inspiring joy; he had the curiosity to go and view the sea, so goes over his bridge, and then at the over side of the rock, where he finds more objects, requiring as much admiration, but affording a great deal less pleasure: vast mountains of ice floating up and down in numbers, threatening emersion to all as came in their way.

These terrible effects of the winter, which to that time was a stranger to, occasioned his making these reflections:
He; who on billows roves, riches or wealth to gain,
Is ever in danger, and labours oft in vain;
If fortune on him smiles, giving his toil success,
Each day new cares arise, which mar his happiness;
The only treasure then, worth laying up in store,
Is a contented mind, which never leaves one poor,
He is not truly rich, who hankers after more.
So having returned Heaven thanks for his happy state, being above wishing to enjoy content; he creeps to the northeast side of the rock, at the foot of which lay, an extraordinary large whale, which the late high wind had cast there, and died for want of water. "If this," said he, "is all the damage that has been done last winter, it may be born," so went down and measured the length of it, which was above 30 yards, and proportionally in bigness; there were shoals of small fishes swimming about it in the shallow water wherein it lay, as rejoicing at its death.

"Thus," said he, "the oppressed rejoice at a tyrant's fall; what number of these have been destroyed to make this monstrous bulk of fat; well, happy are they, who, like me, are under Heaven's government only." So with his knife, which he always carried in his pocket, cuts several slices of the whale, and throws them to the small fishes, saying, "'Tis but just ye should at last feed on that which so long fed on you;" and as oil run in abundance from the places he had cut the slices out of, it vexed him to see that wasted, as might turn to good money. "But why," said he, should I be disturbed at it, what use have I for any? Providence takes none, it gives me all gratis;" so goes on feeling for oysters with his staff, which he always walked with, being a great help to him, in climbing up the rock.

Having at last found a hole, where by their rattling at the bottom with his staff, he judged there might be a pretty many, he marks the place, and goes home to contrive some instrument to drag them up, being yet too cold for him to go in the water; and as he had no tool but his knife and hatchet, both improper to make a hole in a board, as requisite to make a rake which was wanting for that purpose; he beats out the end of his chest, in which there was a knot; so having driven it out, he fastens the small end of a pole in it: thus equipped, he went and raked up oysters, which added one dish to his ordinary, and sauce to others; yet at length his stomach growing qualmish with eating altogether fish, and drinking nothing but water withal, he wishes he could have a little flesh, which he might easily, there being animals enough in the wood apparently fit for food, but then he must deprive them of their lives, barely to make his own more easy.

Thus debates with himself for some time, whether or no, it would not be injustice for him (who only by a providential accident was brought there to save his life) now to destroy those creatures, whom (to preserve) Nature has given being, in a land out of man's reach to disturb; yet nature requires what seems to be against Nature for me to grant: I am faint, and like to grow worse, the longer I abstain from flesh.

Having paused a while, "Why," said he, "would I be so scrupulous! Were not all things created for the use of man? Now, whether it is not worse to let a man perish, than to destroy any other creature for his relief? Nature craves it, and Providence gives it; now, not to use it in necessity, is undervaluing the gift, and despising the donor.

So having concluded upon catching some of those animals he had seen in the wood, he confiders by which means, having no dogs to hunt, not guns to shoot; having paused a while, he resolves upon making gins, wherewith he had seen hares caught in Europe; thus taking some of the cords which he found with the sail at the outside of the rock; he goes to work, and makes several, which he fastens at divers gaps in the thick-set within the wood, throughout which he judged that sort of beast (he had a mind for) went.

Impatient to know the success of his snares, he gets up by time the next morning, and goes to examine them, in one of which he found a certain animal something like a fawn, the colour of a deer, but feet and ears like a fox, and as big as a well grown hare; he was much rejoiced at his game, whose mouth he immediately opened to see if he could find out whether he fed upon grass, or lived upon prey. the creature being caught by the neck, and strangled with struggling before it died, had brought up in his throat some of the greens it had been eating, which very much pleased him, accounting those who lived upon flesh as bad as carrion.

Having returned thanks for his good luck, he takes it home in order to dress part of it for his dinner, so cases and guts it; but its proving to be a female, big with three young ones, grieved him to the heart, and made him repent making those killing nooses.

"What pity," said he, so many lives should be lost, and creatures wasted, one would have served me four days, and here are four killed at once, three were of being, not come to perfection, must be thrown away; well, henceforth to prevent the like evil, I'll take alive what I just want, and save all the females." So having stuck a long stick at both ends in the ground, making a half circle, he hangs one quarter of the animal on a string before a good fire, and so roasts it.

His dinner being ready, having said grace, he set to eating with an uncommon appetite, and whether it was the novelty of the dish, or that the meat did really deserve the praise, he really thought he never eat any thing of flesh before comparable to it, either for taste or tenderness. Having dined both plentifully and deliciously, he most zealously returns kind Providence thanks for the late, and all favours received, then pursuant to his resolution; he goes about making nets, in order to take his game alive for the future, and as he had no small twine to make it withal, he was obliged to unravel some of the sail which he luckily had by him, and with the thread, twist some of the bigness he judged proper for that use.

Having made a sufficient quantity, he makes a couple of nets about four foot square, which he fastens in the room of the killing snares; so retired, having implored Heaven's blessing on his labour, and resolved to come and examine them every morning.

Several days passed without taking anything, so that he wanted flesh a whole week, which did begin to disorder his stomach, but not his temper; being entirely resigned to the will of Providence, and fully contented with whatever Heaven was pleased to send.

One afternoon, which was not his customary time of day to examine his nets, being they are too visible in the day for game to run in; he happened to walk in the wood to take a full dimension thereof, so chanced to go by his nets, in one of which was taken two animals, as big as a kid six weeks old, of a bright dun, their horns upright and straight, their shape like a stag, most curiously limbed, a small tuff of hair on each shoulder and hip; by their horns which were but short, they appeared to be very young, which rejoiced him the more, being in hopes to tame, those which he did not want for present use; so carried them home, joyful of his game, depending upon a good dinner, but was sadly disappointed, the animals he found they were antelopes (calling to mind he had seen of them in his travels) and proving both females, which he had made a resolution to preserve, though they were too young to be with kid, and he in great need of flesh yet he would not kill them, so with cords fastens them to the outside of his lodge, and with constant feeding of them in two months time, made them so tame, that they followed him up and down, which added much to the pleasure he already took in his habitation, which by that time was covered with green leaves, both top and sides; the stakes it was made of, having struck root, and shot out young branches, whole strength promising that summer to fill up the vacancy between each plant, made him pull down the turfs where with he had covered the outside and top of his hut, to keep the cold out in the winter.

His former hut being now become a pleasant arbour, gave him encouragement to bestow some pains about it, towards the embellishment of if, which seemingly depends on being well attended; he resolves upon keeping of it pruned and watered, the better to make it grow thick and fast, which answered his intent, for in three years' time, the stems of every plant as composed the arbour, were grown quite close, and made a solid wall of about six inches thick, covered with green leaves without, which lay most regular and even, and within, with a most agreeable smooth bark of a pleasant olive-colour.

His late arbour being, by his care and time, and nature's assistance, become a matchless lodge, as intended by nature for something more than human guest, he now consults to make it as commodious as beautiful.

"Here is," said he, "a delightful dwelling, warm in the winter, and cool in the summer, delightful to the eye, and comfortable to the body; pity it should be employed to any use, but repose and delight: so resolves upon making a kitchen near it, as being the principal and most prejudicial office to a house; thus having fixed upon a place convenient at the next side of his lodge, about six foot from it, twelve in length, and eight in breadth, which he encloses with the turfs as covered the outside of his arbour, before it was sufficiently thick to keep out the cold; then having laid sticks across the top of the walls, which were about eight foot high, he lays turfs thereon, and so covers it, leaving an open place for the smoke to go out off.

The outside being done, he goes about inside necessaries, as fire-places to roast and boil at; thus cuts a hole in the ground at a small distance from the wall, after the manner of stew stoves in noblemen's and great eating-house kitchens; then at another convenient place, he sets two flat stones, about eight or nine inches broad, and one foot long edge-ways, opposite one another, near two foot asunder, then puts a third in the same manner at the end of the other two, so makes a fireplace fit to roast at: then for other conveniences, he weaves twigs about sticks, stuck in the wall one side of his kitchen, where he lays the shells he used for utensils, which both adorned and furnished it.

Having completed that piece of work, he goes and visits his plantations, which he finds in a thriving condition, the roots being, in six months time, grown from the bigness of a pea (as they were when first set) to that of an egg; his antelopes also were come to their full growth, and complete beauty, which exceeded most four footed beasts; having a majestic presence the body and limbs were like a stag, and the noble march of a horse: so every thing did concur to his happiness; for which, having returned his most liberal benefactor his most grateful acknowledgments, he thinks on means to prevent any obstructions, as may intercept the continuation thereof; and as the want of clothes was the only cause he could think of, as might make him uneasy, having but the jacket and hose which were given him on board, to save his own clothes, which when, worn out, he could not recruit; therefore, to accustom himself to go without, he thins those he had, so takes away the lining from the outside of his clothing, in order to wear the thicker in the coldest weather; and so thin his dress by degrees, till at last, he went quite naked.

Having thus concluded, as being the best shift necessity could raise him, he falls a-ripping his jacket, in the lining whereof he finds seven peas and three beans, which were got in at a hole, at the corner of the pocket.

Those few made him wish for more, which he had no room to hope for, being they arc raised by seed, which the island did not produce: "These few," said he, "which at present, are hardly sufficient to satisfy a woman's longing, may, with time and industry, be improved to a quantity, large enough to serve me for a meal; then lays them up against a proper time to set them, so spent the remainder of that summer in walking about the island, watering his lodge, weeding his root plantation, attending his nets, which now and then supplied him with an antelope or goat to eat at intervals between fish, he commonly found on the rock after high winds and storms, never failing to visit the sea, three or four times a week, according as the weather did prove, thus diverted many anxious hours with variety of objects that element affords: sometimes, he had the pleasure of seeing great whales chasing one another, spouting large streams of water out of their gills and nostrils; and other times numbers of beautiful dolphins rolling amongst the waves; now and then a quantity of strange monstrous fish, playing on the surface of the sea, some whereof had heads like hogs, others like dogs, calves, horses, lions, bulls, goats, and several other likenesses, not common to fishes, some chasing another sort, who, to avoid being taken, would quit its element, and seek refuge in the air, and fly some yards above water, till their fins being dry, obliged them to plunge in again.

These pastimes, being generally succeeded with bad weather and dreadful storms, checked the pleasure they gave, with a dread of the evil that threatened to follow, thus commiserating the case of those, whole misfortune it is to be exposed to them.

Having spent several hours in that ominous pastime, he goes to his usual devotion, making the pond in his way, which he had been at twice, or thrice a week, ever since his being in the island, and calling to mind, that in all that time he never saw a young fish, in it, he conjectured something must destroy the small ones, and as he imagined it proved to be; for, at his approach, their flew out of the pond, a large fowl, with a fish in his bill, being too large for it to swallow.

The distance he was at, as also the bird being upon the wing, he could not discern, neither colour nor make; but he had the satisfaction of discovering the cause why the fish did not increase,

being devoured when young by that creature, which, to prevent for the future, he studies on means to kill the destroyer; nets not being proper instruments, it being requisite for that purpose to have one all round, as also to cover the pond, which was impossible, by reason of its largeness, and a less being of no use, the bird probably not coming to a certain place; he wished for a gun, and ammunition fitting, as being the most probable thing to succeed; but no such instrument being in his reach, he ponders again, during which time, a cross-bow offers itself to his mind, but is as distant from his reach as the gun; 'tis true, there was stuff enough in the island to make many, but no tools, but a hatchet and a pocket-knife, wherewith if he made shift to cut and shape a bow, he could not make a latch and spring necessary to it, so he must not think on it; yet, a bow being the only thing he could apply to, he goes about one forthwith, thus having picked a branch of a tree, which had the resemblance of yew and as tough, of which they are sometimes made; he with the tools he had made shift to make one, of about six foot long, and arrows of the same, which he hardens and straightens over the fire; then having slit them at one end about two or three inches, he slips in a bit of parchment, cut sharp at one end, and about three inches at the other, then ties the end close to keep it in, which served for feathers, and with the ravellings of some of the sail he makes a string to it.

Thus equipped for an archer, wanting nothing but skill, which is only to be gained by practice, he daily exercises shooting at a mark for the space of a fortnight; in which time he made such an improvement, that in three shoots he would hit a mark of about three inches square, at near fifty paces distance.

Being sufficiently skilled, he goes and lays in wait for his desired game; so placed himself behind a tree, as near to the pond as he could, where the bird came in few hours after.

The creature being pitched upon the bank, never stood still, but kept running round, watching for a sizeable fish fit to swallow, so that he had no opportunity to shoot; till having at last spied out one, it launched itself into the pond, but raised more easily, which gave him time to take aim, nevertheless he missed it, being in motion; but when come to the top he took it through the body, as it opened its wings, and laid flat on the other side of the pond: he took it up, wonderfully pleased at his good success the0 first time of his practicing his newly-acquired art; yet, having taken notice of the bird's beauty, he had a regret for its death, though he might in time have rued its living; the stock of fish weekly decreasing by his own catching one now and then with a small net, he made for that use, when short of other provisions, and their recruiting prevented by that bird's daily devouring their young.

"'Tis true," said he, "I have by killing this admirable creature, preserved what is much better for my life; but then, I have destroyed that as was certainly made for Nature's diversion, such variety of colours, so regularly placed, and wonderfully ordered, that at the least motion of either the object or beholder, they seemed to interchange each-others seat."

Besides, the inexpressible beauty of the feathers, which were after the nature of a drake, every one distinguished from one another, by a rim round the edge thereof, about the breadth of a large thread, and of a changeable colour, from red to aurora and green; the ribs of a delightful blue, and the feathers pearl colour, speckled with a bright yellow, the breast and belly (if it might be said to be of any particular colour) was that of a dove's feathers, rimmed like the back, diversely changing; the head, which was like that of a swan for make, was purple also, changing according as moved; the bill like burnished gold; eyes like a ruby, with a rim of gold round it; the feet the same as the bill; the bigness of the bird, was between a middling goose and a duck, and the make of a swan.

Having bemoaned the death of that delightful creature, he carefully takes out its flesh, which corrupting would spoil the outside, then fills the skin with sweet herbs, which he dried for that use, then having sowed up the place he had cut open to take the flesh out, he set it up in his lodge.

His good success in archering, made him love the exercise; so, that what odd hours he had in the day, besides those he let a part for his divine worship, and those necessary occupations about his lodge, plantations, and making remarks, he bestowed in shooting at the mark, which in time, made him so expert, that he hardly would miss a standing mark the bigness of a dove, at forty or fifty yards distance, once in ten times, and tolerably would shoot as well flying: having once the opportunity and occasion to try it upon a monstrous eagle, who often flew rounding, over the place where his antelopes and goats fed, near his lodge, whom he shot at, fearing it would damage them and killed with the second arrow.

The summer being over, during which, having been much took up about his habitation and plantations, he had neither time nor opportunity to make remarks, no further than that it was some days very showery, and for the generality very hot; but now the weather being grown something cold, and the wind pretty sharp, he must be obliged to put on some clothes to keep it off, being, as yet, too tender to go any longer without, next to provide for his antelopes, against the near-at-hand winter; so makes a lodge for them at the backside of his kitchen, with sticks, which he drove into the ground about two foot from the wall, and then bends them about three foot from the ground, and sticks them in the said wall, and smaller branches he inter-wove between them, he shuts up the front, and covers the top, leaving both ends open for the animals to go in at, then lays grass (which he got dried on purpose) in the said lodge for them to lie on; thus having dug up a considerable quantity of roots, and being already stocked with salt-fish both dry and in pickle, he was pretty well provided for his cattle, and himself against the ensuing winter, which proved much like the preceding one, only not so stormy.

The succeeding spring having awaked slumbering Nature, and revived what the preceding hard season had caused to droop, every vegetable puts on new clothings, and recovers their wonted beauty; each animal assumes fresh vigour, the beasts in the wood leap and bounce for joy; and each bird on the trees sings for gladness, the whole creation, is, as it were, repaired, and every creature decked with new life; love, by Nature's direction for the increase of every kind, warms their harmless breasts, each animal seeks a mate, our tame antelopes quit their abode, and range the woods for the relief ordained to quell their innocent passion, which being assuaged, they return home, pregnant with young, to their master's great satisfaction, who having given them over, was doubly rejoiced to see them come again in an increasing condition. "Heavens be praised," said he, I shall have a stock of my own, and will not fear wanting."

So having made fitting preparations against their kidding he goes and examines, the improvement of his new plantation, where he found his roots grown still as large as any of those that grew wild. "Make me thankful," said he, "I am now provided with all necessary food, I shall no more need to rob those poor creatures, of that, which Nature had provided for their own proper life; next he goes and views his small stock of peas and beans, which he found in a very promising case; so, whilst the weather was fair, he falls a clearing a spot of ground to set them in, as they did increase.

Turning up the ground he found several sorts of roots, that looked to be eatable, some whereof was as big as a large carrot, others less, he broke a bit of every one, some breaking short and not stringy, he judged they might be eatable; then he smells them, and finding the scent not disagreeable he tastes them, some was sweetish, others sharp and hot like horse-radish, and those he proposes to use instead of spice. "Sure," said he, "these being of a pleasant scent and savour, cannot be of an offensive nature." So having manured his ground, he takes a sample of every root which he judged eatable, and boils them, as the surest way to experiment their goodness.

They most of them proved not only passable good, but extraordinary; some eating like parsnips, others almost like a carrot, but rather more agreeable, some like beets and turnips, every one in their several kind, as good as ever he eat in England, but different colours and make; some being bluish, others black, some red, and some yellow; these, though not wanted, having already sufficient to gratify a nicer taste than his, were nevertheless extremely welcome, being something like his native country fare and product; so having returned thanks for this most agreeable addition to his ordinary; he sets a mark to every herb which those roots did bear, in order to get some of the seed to sow in a ground he would prepare; so being provided with flesh, fish, herbs and several forts of roots, he goes and examines what improvement his pease and beans had made, which he found increased to admiration, the seven pease having produced one thousand, and the three beans one hundred; having returned thanks for that vast increase, he lies them by; in order to set them at a proper season, as he had done the year before.

By this time his antelopes had kidded, one of them having brought four young ones, and the second three; this vast addition to his provisions very much rejoiced him, being sure now not to want flesh at his need, which before he was in danger of, finding but seldom anything in his net; so makes account to live upon two of the young bucks whilst they lasted, killing one as soon as fit for meat, and so now and then another, saving only five to breed, one whereof would be a mate to keep the females in rutting-time from the wood, least, at one time or other they should stay away for good and all.

The old ones being well fed, as he always took care to do, providing for them store of those greens he knew they loved, as also boiled roots for them now and then, of which they arc very fond; the young ones throve apace, and did grow very fat, so, that in three weeks time they were large and fit to eat: he killed one, which being roasted, did prove more delicious than any house-lamb, sucking-pig, young faun, or any other sucklings whatever.

Having lived upon that, with now and then a little fish, about one month, which was as long as he could keep it eatable, having dressed it at two different times, five days interval, eating the cold remains in several manners, reserving one of the other two males for a time he should be scanted and want of flesh, but was unluckily disappointed by a parcel of large eagles, who flying one morning over the place where the young antelopes playing, being of a gay, as well as active disposition, who launched themselves with precipitation upon the male, he reserved for time of need, and one of the females, which he kept for breed, seeing his beloved diverters carrying away by those birds of prey, he runs in for his bow; but came too late with it the eagles being gone.

The loss of his two dear antelopes, especially the female, having doomed the male for his own eating, hardly could forbear weeping, to think of their being cruelly torn to pieces by those ravenous creatures: thus, having for some time lamented his loss, and bewailed their hard fate, he thinks on means to prevent the like evil, for the time to come; and as his bow was not always at hand, he resolves upon making a net, and fasten it between the trees he saw them come in at.

The succeeding winter proving very wet and windy, gave him but little invitation to take his usual walks; so having everything he had occasion for at hand, he kept close to his net- making; for which, having twine to twill, and thread to ravel out, to make the said twine, kept him employed till the following spring, which came on apace.

Having finished his net, and everything as did belong to it, he goes and fastens it to the trees, as he had proposed; then takes a walk to his new plantations, which he found in a thriving condition; for which, and other benefits already received, he resolves, as in duty bound, to attend at his usual place of worship, and sing thanksgiving psalms, which the hardness of the weather had kept him from all the late winter; but coming into his mind, that whilst he was at his devotion, returning thanks for the fair prospect of a plentiful crop, his antelopes would break into the close, the hedge being as yet, but thin, and devour the promising buds, which are the principle occasion of his devotion: this not altogether improper consideration, puts a sad check to his religious intention; and though, there was a vast obligation, to prompt him to the performance of that part of his duty, yet he could not, with wisdom, run the hazard, out of mere devotion, to lose so promising a crop, which he should never be able to retrieve, all his stock of seed being then in grass.

As he was debating in his mind, between religion and reason, whether the latter ought not to be a director to the first, he perceived his antelopes making towards the pease, where, they doubtless would have got in, had he not returned, and drove them another way, which accident did convince him he might find a more proper time to go about his devotion, no man being required to worship to his prejudice; so, having put off his religious duty, till he had better secured his pease and beans, he cuts a parcel of branches, wherewith he stops those gaps, to prevent the creatures going in; so having completed his work, he goes to his devotion, adding to his usual thanksgiving, a particular collect for his lucky being in the way, to prevent his being frustrated of the blessing Heaven so fairly promised to bestow on his labours.

Having paid his devotion, he walks about the island, being all the way delighted with the birds celebrating their maker's praise, in their different harmonious notes. "Everything in Nature," said he, "answers the end of their creation, but ungrateful man! who, ambitious to be wise as his creator, only learns to make himself wretched." So walks till the evening, making several reflections on the different conditions of men, esteeming his present state to that of Adam before his fall, who could not be sensible of happiness, having never known a reverse, otherwise he would have been more careful to prevent; so being come home, and near bedtime, he first eats his supper, and then having performed his customary religious service, he goes to bed, and the next morning, after paying his usual devotion, he takes a walk to his plantations, on which he implores a continuation of the prosperous condition they appear to be in; next he goes to examine his new nets, in which he finds a brace of fowls like ducks, but as large again, and exceeding beautiful, the drake (which; he knew by a coloured feather on his rump) was of a fine cinnamon colour upon his back, his breast of a Mazarine blue, the belly of a deep orange, his neck green, head purple, his eyes, bill and feet red, every colour changing most agreeably as they moved; the duck was also very beautiful, but of quite different colours, much paler than the drake's.

The disappointment in catching those delightful fowls instead of ravenous eagles, as he did purpose, no ways displeased him, but rather was rejoiced to have such beautiful fowls to look at; yet, it went much against his mind, to deprive those creatures of their liberty (the greatest comforts in life) whom Nature took much pains to adorn. "But," said he, "they were created for the use of man; so, in keeping them for my pleasure, they will but answer the end of their creation, their confinement shall be no stricter than my own, they shall have the whole island to range in;" so he pinions them, and puts them in the pond; then makes baskets for them to shelter in, which he places in the branches of those trees that hung closest to the water, taking particular care to feed them daily with roots roasted and boiled; and the guts of the fishes, and other creatures, he used for his own eating, which, made them thrive mainly, and take to the place; so that they bred in their season.

The five antelopes had, by this time, kindled and brought sixteen young ones: his pease and beans also were wonderfully improved, having that season enough to stock the ground the year following. Thus he returned kind Providence thanks for that vast increase, and concludes to live upon the young antelopes as long as they lasted, reserving only one, for suck of the old ones, to keep them in milk, of which he had taken notice they were very flush, designing to draw it daily for his own use; so that, in a little time he had enough to skim for cream, which he did use for sauce instead of butter, and made small cheeses with the rest: now having a pretty store of dairy-ware, he resolves to make a place to keep it in:, the kitchen wherein he was obliged to lay his salt-fish (which commonly smells strong) not being a proper place for cream and milk, so makes a dairy- house at the other side of his dwelling, with branches of trees, after the manner of a closs arbour, and thatches it over with grass; which answering the kitchen in form and situation, made uniform wings, that added as much to the beauty as convenience of the habitation.

So having completed his dairy, he proceeds in his resolution of making cheese, having learned the way in Holland; and for want of rennet to turn his milk, he takes some of the horse-radish seed,

which, being of a hot nature, had the same effect; so having curd to his mind, he seasons it to his palate; then with his hatchet, he cuts a notch round in the bark of a tree, about eighteen inches in circumference, and a second in the same manner six inches below that; then slits the circle, and with his knife gently opens it, so parts it from the tree; thus he makes as many hoops as he judged would contain his paste, which being girded round with cords to keep them from opening, he fills with the said, and lays them by, till fit to eat; observing the same method he had taken notice they did whom he saw make them.

This being done which completed his provisions, he returns thanks for those blessings which he had been so liberally bestowed on him. "Now," said he, "Heavens be praised, I exceed a prince in happiness; I have a habitation strong and lasting, beautiful and convenient free hold, a store of comforts, with all necessaries of life, free-cost, which I enjoy with peace undisturbable, and pleasure uncontrolled; yet, I think there is still something wanting to complete my happiness, if a partner in grief lessens sorrow, certainly it must in delight augment the pleasures. What objects of admiration are here concealed, and like a miser's treasure, hid from the world! If man, who was created for bliss, could have been completely happy alone, he would not have had a companion given him."

So walks about thoughtful till bed-time; "Sleep," says he, "which unfits men for company, is the fittest state for me who can get none, so that I could under its dark shades pass away the remainder of my lonesome life, those anxious hours, which vex my soul, would inoffensively slip away."

In that dull disposition he goes to bed, and as vexation commonly stupefies the senses, he soon fell asleep: the night also being windy added to his heavy disposition, but his disturbed mind finds no repose, it still runs on upon the subject, that took it up the day before, and forms ideas suitable to its inclination; and as solitude was the motive of its being disturbed, he indulges it with the thoughts of company, so dreams that the fame of his station, and happy state of life was spread about the world, that it did prompt a vast number of people from all parts to come to it, which at last did induce several princes to claim a right to it, which being decided by a bloody war, a governor was sent, who laid taxes, demanded duties, raised rents, and warns him to be gone (having fixed upon his habitation for himself to dwell in, being sadly disturbed with that dream) he cries out in his sleep, this is a great punishment for my uneasiness; I could I not be contented with being lord of this island, without provoking Heavens to bring me under the power of extorting governors.

There happening a great noise, he starts out of his sleep, with the thought of hearing a proclamation, cried out, "Alas!" said he, "'tis too late to proclaim an evil which is already com; but being thoroughly awake, and the noise still continuing, he found he had been dreaming, which very much rejoiced him; so puts on his clothes, and hastens to the place he heard the noise come from.

Being within forty or fifty yards thereof, he saw a number of monkeys of two different kinds, the one sort squealing and fighting against the other, without intermixing, but still rallying as they scattered in the scuffle. He stood some time admiring the order they kept in, and the battle still continuing as fierce as at first, he advanced to see what they fought about; for he took notice they very much strove to keep their ground.

At his approach the battle ceased, and the combatants retiring at some distance, left the spot of ground, on which they fought, clear, whereon lay a considerable quantity of wild pomegranates, the wind had shook off the trees the night before, which were the occasion of their strife.

His coming having caused a truce, every one of those creatures keeping still and quiet during his stay, he resolves to use his endeavours to make a thorough peace; and as that difference did arise from the fruit there present, to which he could see no reason, but that each kind had an equal right, he divides it in two even parcels, which he lays opposite to each other towards both the parties; so retired a little way, to see whether his expedient should decide the quarrel, which answered his intent, those animals quietly coming to that share next to them, and peaceably carries it away, each to their quarters; this occasioned several reflections on the frivolous, and often unjust quarrels that arise among princes, which create such bloody wars, as prove the destruction of vast numbers of their subjects; if monarchs, said he, did always act with as much reason as these creatures, how much blood and money would they save? Thus goes on to his usual place of worship, in order to return thanks, that he was free of that evil, the dream, whereof he had so tortured his mind, though he confessed he justly deserved the reality, for his uneasiness in the happiest of circumstances.

Having paid his devotion, he takes a walk to see how his pease and beans came on, which he found in a very improving disposition, each stem bearing a vast number of well-filled codds.

"Heaven's be praised!" said he, I shall eat of this year's crop, and have sufficient to stock my ground the ensuing one."

Thus being plentifully supplied for necessaries and in a pleasant island, every thing about him being come to perfection, and still promising improvement; his dwelling, which seems intended by Nature for some immortal guest, being by time, yearly repaired and improved, leaving no room for care; yet the unwise man, as though enemy to his own ease, cannot be cemented with the enjoyment, of more than he could reasonably crave, but must disturb his mind with what concerns him not:

"What pity," said he, "so delightful a habitation, attended with such conveniences, and situated in so wholesome an air and fruitful a land, should at my death lose all these wonderful properties, being become useless for want of somebody to enjoy them, what admiration will here be lost for want of beholders? But what kind of man could I settle it upon, worthy of so fine an inheritance? Was it at my pleasure to choose myself an heir, such as appears virtuous, whose weak mature confides to chastity; every constitution cannot bear excess, want of courage occasions mildness, and lack of strength good temper; this virtue is made a cloak to infirmity; but, why do I thus willingly hamper myself with those cares Providence has been pleased to free me of?"
Leave the misered the knowing care,
Who'll succeed him, or be his heir;
Thus racks his soul with discontent,
Least what he raked for should be spent.
His gold to him is far more dear,
Than all his friends or kindred near.
Thus he holds the island. from Providence, he freely bequeaths to whom Providence shall think fit to bestow it upon, and that he may the better know the worth of the gift, he draws a map of the whole estate, and made an inventory of every individual tenement, appurtenances, messages, goods and chattels, as also a draught of the terms and conditions he is to hold the here- mentioned possessions upon, viz..

Imprimis. A fair and most pleasant island, richly stocked with fine trees, and adorned with several delightful groves, planted and improved by nature, stored with choice and delicious roots and plants for food, bearing excellent pease and beans, likewise a noble fish-pond, well stocked with diverse sorts of curious fish, and a spacious wood, harbouring several sorts of wild fowl, and beasts fit for a king's table.

Item. A dwelling commenced by Art, improved by Nature, and completed by time, who yearly keeps it in repair, as also its furniture.

Item. The offices and appurtenances thereof, with the utensils thereunto belonging; which said island, dwelling, &c. are freehold and clear from taxes in no temporal dominion, therefore screened from any impositions, duties and exactions; defended by Nature from invasions or assaults; guarded and supported by Providence, all which incomparable possessions, are to be held upon the following terms, viz.

THAT, whomsoever, by Providence settled in this blessed abode, shall, morning and evening constantly (unless prevented by ill weather or accident) attend at the east-side of this island, and within the alcove Nature prepared for the lodgement of several harmonious echoes, and there pay his devotion, singing thanksgiving psalms to the great origin and director of all things, whole praises he'll have the comfort to hear repeated by melodious voices.

NEXT, he shall religiously observe and keep a seventh- day for worship only, from rising of the sun till the going down thereof; therefore, shall the day before, make all necessary provision for that day.

THAT, he shall after any tempestuous wind or storm, visit the sea at the outside of the rock, at the East, South, West and North sides, or ends, in order to assist anyone in distress.

HE shall not be wasteful of anything whatsoever, specially of any creatures life, killing no more, than what is necessary for his health, but shall every day examine his nets, letting at liberty the over-plus of his necessity, lest they should perish in their confinement.

HE must also keep every thing in the same order and cleanness he shall find them in; till and manure the ground yearly, set and sow plants and seeds fit for food in their proper seasons.

Having written this at the bottom of the map he had drawn, being supper-time he takes his meal, then goes to his usual evening-devotion, and after an hour's walk to his bed, so slept quietly all night, being easy in his mind.

The next morning he takes his usual walks, and visits his nets; in that he had set for eagles, he found a fowl as big as a turkey, but the colour of a pheasant, only a tail like a partridge; this having no sign of being a bird of prey, was loath to kill it; but having had no fresh meat for above a week, he yields to his appetite and dresses it, so eats part thereof for his dinner, it was very fat and plump, and did eat much like a pheasant, but rather tenderer and fuller of gravy.

Though he was very well pleased with the bird he had taken, yet he had rather it had been one of the eagles, which held his young antelopes in jeopardy, but as he could not destroy them with his net, which had hung a considerable time without the intended success, he projects the prevention of their increase, by destroying their eggs, so leaves his nets wholly for the use they had been successful in, and searches the clefts of the rock next to the sea, where those birds commonly build, and having found .several nests, he takes away the eggs that were in them (being then their breeding-time) so carries them home, in order to empty the shells, and hang them up and down in his habitation, amongst the green leaves which covered the ceiling thereof; but having accidentally broke one, and the yolk and white thereof being like that of a turkey, he had the curiosity to boil one and taste it, which eat much after the manner of a swan's, the rest he saved to eat now and then for a change, so reaps a double advantage by robbing those birds, lessening thereby the damage they might do him in time, and adding a dish to his present fare.

In this prosperous way he lived fifteen years, finding no alteration in the weather or seasons, nor happening all the time any transactions worthy of record, still performing his usual exercises, and taking his usual walks with all the content and satisfaction his happy condition could procure, entirely forsaking all thoughts or desires of ever quitting the blessed station he then had in his possession.

Thus having walked the island over and over, which, though delightful, yet the often repetition of the wonders it produces, renders them, as it were, common and less admirable, so he proceeds to view the sea, whose fluid element being ever in motion daily affords new objects of wonder.

The day being very fair, and the weather as calm, he sat himself down upon the rock, taking pleasure in seeing the waves roll, and as it were to chase one another, the next pursuing the first, on which it rides when come at, and being itself overtaken by a succeeding, is also mounted on, thus, wave upon wave till come to a bulky body, too heavy for the undermost to bear, sunk altogether.

"This," said he, "is a true emblem of ambition, men striving to outdo one another, are often undone."

As he was making reflections on the emptiness of vanity, and the insolidity of pride, returning Heavens thanks that he was from the world, which abounds in nothing else. A ship appears at a great distance, a sight he had not seen since his shipwreck.

"Unlucky invention," said he, "that thou would ever come into men's thoughts! The Ark, which gave the first notion of a floating habitation, was ordered for the preservation of man, but its fatal copies daily expose him to destruction."

So having returned Heavens thanks for his being out of those dangers, he makes a solemn vow, never to run in them again, though it was to gain the world; but his resolution proved as brittle as his nature was frail: the men on board, had spied him out with their perspective-glasses, and supposing him to be a shipwreck that wanted relief, lent their long-boat with two men to fetch him away.

At their approach his heart alters its motion, his blood stops from its common course, his sinews are all stagnated, which entirely unframes his reason, and makes him a stranger to his own inclination, which struggling with his wavering resolution, occasions a debate between hope and fear; but the boat being come pretty nigh gave hope the advantage, and made his resolution yield to his revived inclination, which being now encouraged by a probable opportunity of being answered rushes on to execution, quitting all his former reliance on Providence, depends altogether upon his getting away, blessing the lucky opportunity of seeing his native country again, for which pleasure he freely quits and forsakes all the happiness he did enjoy, gladly abandoning his delightful habitation and plentiful island, so thinks no more of Providence, his mind is entirely took up with his voyage; but, disappointment which often attends the greatest probabilities, snatches success out of his hand before he could grasp it, so intercepts his thought-infallible retreat, the boat could not approach him, by reason of the rocks running a great way into the sea underwater, nor could come at the boat for sharp points and deep holes, which made it unfordable as well as unnavigable; so that after several hours striving in vain on both sides, to come at one another; the men, after they had strove all the could but to no purpose, said something to him in a rage, which he understood not, went without him, more wretched than he was when he was first cast away; his full dependence upon a retreat made him to abandon all further reliance on Providence, whom then he could implore; but now having ungratefully despised Heaven's bounties, which had been so largely bestowed on him, he has forfeited all hopes of assistance from thence, and expects not from the World: Thus destitute, and in the greatest perplexity, he cries out:

"Where shall I now fly for help? The World can give me none, and I dare not crave any more from Heaven. Oh cursed delusion! but rather cursed weakness! Why did I give way to it? Had I not enough of the world, or was I grown weary of being happy?" With that, he falls a-weeping. "Could I shed a flood of tears, sufficient to wash away my fault, or ease me of the remorse it does create; but why does my distracted fancy propose impossibilities? Is not the ocean sufficient to rid me of this wretched life? Then adieu infectious world, thou magician of iniquity! the thoughts of which are now more offensive than the most nauseous odour of an old sepulchre."

So was going to cast himself into the sea; but a vast large monster, raising out of the water, with its terrible jaws wide open, looking at him in a most dreadful manner, stopped the execution of his desperate design: thus, death appearing in a different shape than he had proposed to meet him in, frightens away his resolution of dying:

"I may," said he, "condemn myself, but vengeance belongs to God alone, who rejects not tears of repentance; but always extends his mercies towards the penitent; and since St. Peter, after thrice denying his LORD and MASTER, was by repenting and weeping over his sin, received again into favour; so I hope these my weak but sincere tokens of repentance will be accepted off, for ever divorcing myself from the world, and never think of its alluring pleasures, but to despise them: and for the better performance of that pious resolution, he fits that woeful day apart (in which he did commit that fatal deed) for prayer and fasting: thus he went home, and having eat nothing since the day before, he spent the remainder of that in fasting and praying, singing penitential psalms till dark night, that Nature urged him to repose.

The pains and labour he had been at in the days climbing up and down the rock, dragging himself to and through, to come at the boat, having very much racked his limbs, and the disappointment of his full dependence on the said promising success; as also the tormenting remorse, and heavy grief for his sinful reliance thereon, did much fatigue his mind, rendered sleep, which is ordained for the refreshment of Nature, of no manner of help to him; his thoughts are continually disturbed with frightful visions, all his past dangers glare at him, as if threatening their return; but that which terrified him most was the frightful idea of the terrible monster, which did rise out of the sea at that instant he was going to plunge himself in it.

Being awaked out of his restless sleep, rather more fatigued than when he lay down, having still the terrible aspect of the. sea monster in his mind, he made several reflections on the execrable nature of his intended sin, admiring the immense goodness of Providence, who, to deter him from the committing of the enormous act, did order that (past-imagination) terrible object, as the most suitable to the barbarity of his design, to strike in him that terror which the gender of death he had fixed upon could not. Thus having with tears acknowledged the enormity of his resolution, he returns Providence thanks for its inestimable goodness, who (notwithstanding his late most ungrateful elopement) did preserve him from eternal, as well as temporal ruin; so having paid his devotion, and sung a thanksgiving psalm, he takes a little nourishment, his spirits being low with his past fatigue and fasting; and as he could not put out of his eyes the terrible aspect of the monster, which being beyond any chimerical conception, he resolves to draw it according to the idea he had in his mind.

"Perhaps," said he, "having often the representation before mine eyes, 'twill make the object more familiar, thus less frightful." So takes pen and ink and a sheet of parchment. "Now," said he, "how shall I represent what is past imagination to conceive; a form without likeness, and yet comparable to the most terrible part of every frightful creature; a vast large head, resembling that of a lion, bearing three pairs of horns, one pair upright, like that of an antelope, another pair like a wild goat's, two more bending backwards; it's face armed all round with darts, like a porcupine; vast great eyes, sparkling as a flint struck with a steel; its nose like a wild horse, always snarling; the mouth of a lion, and teeth of a panther; the fences of an elephant, and the tusks of a wild boar; shouldered like a giant, with claws like an eagle, bodied and covered with shells like a rhinoceros, and the colour of a crocodile."

Having similed every different part, he proceeds in the representation thereof; which being finished, put him in the greatest of admirations:

"Sure," said he, "if Nature had a hand in thy making it was to assume in one creature, all that the fiercest and dreadfulest animals, that are most frightful and terrible; now perhaps, this being constantly before me, may come less in my mind." So fixes it against his wall. "This," said he, "will be also a memorandum of my late vow, never to endeavour, or wish to go from hence, what ever opportunity offers, though attended with never so great a probability of success and prospect of gain."

Fully settling his whole mind and affection on the state and condition Heavens has been pleased to place him in, resolving to let nothing enter into his thoughts, but his most grateful duty to so great a benefactor, who has so often and miraculously rescued him from death.

Thus having entirely banished the world out of his mind, which before often disturbed it, he limits his thoughts within the bounds of his blessed possession, which affords him more than is sufficient to make his life happy, where plenty flows on him, and pleasure attends his desires, abounding in all things that can gratify his appetite, or delight his fancy: a herd of delightful antelopes bouncing and playing about his habitation divert him at home, and in his walks he is entertained with the harmony of diverse kinds of singing birds; every place he comes at offers him new objects for pleasure: thus all seems to concur in completing his happiness.

In this most blessed state he thinks himself as Adam before his fall, having no room for wishes, only that everything may continue in its present condition; but it cannot be expected that fair weather, which smiles on his beauty, will change. The sun must go its course, and the seasons take their turn, which considerations must for the present admit some small care, he is naked, and his tender constitution susceptible to the cold; therefore the clothes he was cast away in being worn out, he is obliged to think of providing something to defend his limbs from the hardness of the approaching winter, whilst it is yet warm; so having considered what to make a wrapper of, he concludes upon using some of the same grass he made his mats of, on which he lay, being soft and warm, very fit for that purpose; so he goes and cuts down a sufficient quantity, which, when ready to work, he. makes small twine with, and plats it in narrow braids, which he sews together with some of the same, and so shapes a long loose gown that covered him to his heels, and a cap of the same.

By that time he had finished his winter-garb, the weather was grown cold enough for him to put it on; the frosty season came on apace, in which there fell such a quantity of snow that he was forced to make a broom and sweep it away from about his habitation twice a day; as also the same he made to the places he had occasion to go to, tossing the snow on each side, which before the winter was over did meet atop; and so covered it all the way, which obliged him to keep within doors for a considerable time, and melt snow instead of water, least going for some he might chance to be buried among the snow.

The winter being over, and the snow dissolved, the gay spring advances apace, offering Nature its usual assistance, repairing the damages the late frost had done, which joyful tidings made everything smile; Quarll also finds himself revived, did take his former walks, which the preceding bad weather had kept him from, though there had been no considerable storm the winter before.

He having a mind to view the sea, being come to the outside of the north-weft end of the rock, he sees at the foot thereof something like part of the body of a large hollow tree, the ends whereof were stopped with its own pitch, and the middle, which was slit open from end to end, and kept gaping by a stick laid across.

This put him in mind of canoes which the Indians paddle up and down their lakes and rivers with, and being on that side of the rock next to the island California, he fancied some of them were come to visit his island, though not many in number, their canoes holding, at the most, but two men, and for the generality one only; yet as some of these people are accounted great thieves, daily robbing one another, he hastens home to secure what he had, but was too late; they had been there already, and had taken away the clothes he had found in the chest, which being, by far, too little for him, hung needless on a pin behind his door; had they been contented with that, he would have found no miss; but they carried away some of his fine shells, and what grieved him most, the fine bird he had taken such pains to dress and stuff, and care to preserve, as also his bow and arrows.

Having missed these things which he much valued, he hastens to the outside of the rock, with his long staff in his hand, in hopes to light on them before they could get into their canoe; but happened to come too late, they being already got near half a league from the rock; yet they did not carry away their theft, there arising some wind, which made the sea something rough, did overset their canoe, so that what was in it was all loft, but the two Indians, who most dexterously turned it on its bottom again, and with unexprimable activity leapt in it, one at the one side, and the other at the opposite, so the canoe being trimmed at once, they paddled out of his sight.

Having seen as much of them as he could, he walks to the north-east side, in order to see if he could perceive any effect of the high wind which happened the night before.

Being come to the outside of the rock, he perceives at a distance something like a large chest, but having no lid on it, taking that to be the product of some late shipwreck, he grieved at the fatal accident,

"How long," said he, "will covetousness decoy men to pursue wealth at the cost of their precious life? Has not Nature provided every nation and country sufficiency for its inhabitants, that they must rove on this most dangerous and perilous sea, which may be titled death's dominions, many perishing thereon, and not one on it being safe."

As he was bewailing their fate whom he imagined had been cast away, he sees two men come down the rock, with each a bundle in his arms, who went to that which he had taken to be a chest, and having put their load in it, pushed it away till come to deeper water, then having got in it, with a long staff shoved it off, till they could row to a long-boat that lay at some distance behind a jotting part of the rock, which screened it from his sight, as also the ship it did belong to.

The sight of this much surprised him, and made him cease condoling others' supposed loss, to run home and examine his own, well knowing those bundles he saw carried away must needs belong to him, there being no other movables in the island, but what was in his lodge.

Being come home he finds indeed what he suspected, those villains had most sacrilegiously rifled and ransacked his habitation, not leaving him so much as one of the mats to keep his poor body from the ground; his winter-garb also is gone, and what else they could find for their use.

The loss of those things which he could not be without, filled him with sorrow.

"Now," said he, "I am in my first state of being, naked I came into the world, and naked shall I go out of it," so fell a-weeping. Having grieved a while, "Why," said he, "should I thus cast myself down? Is not Providence, who gave me them, able to give me more?"

So having resolved before winter to replenish his loss, he rests himself contented, and gives the ruffians evil action the best construction he could.

"Now I think on it," said he, "these surely are the men, who about twelve months since, would charitably have carried me hence, but could not for want of necessary implements, and now, being better provided, come to accomplish their hospitable design; but not finding me, supposed I was either dead or gone; so took away what was here of no use; much good may what they have got do them, and may it be of as much use to them as it was to me."

Thus walks out in order to cut grass to dry, and make himself new bedding and a winter-garb. Having walked about half a mile, he perceives the same men coming towards the pond.

"Heavens be praised," said he, "here they be still; now when they see I am not gone, nor willing to go they will return my things, which they are sensible I cannot do without." So goes up to them.

By that time they had caught his two old ducks, which being pinioned could not fly away as the rest did: he was much vexed to see the best of his stock thus taken away, yet as he thought they were come to do him service, he could grudge them nothing, as would anywise gratify so good an intent. So having returned them thanks for their good will, he told them he was very happy in the island, so made a vow never to go out of it.

These being Frenchmen, and of an employment, where their politeness is of little use, being fishermen, not understanding what he said, only laughed in his face, thus went onto the purpose they came about; so having as many of the ducks as they could get, they proceeded towards the house, where they had seen the antelopes, some of which not running away at their approach, they proposed to catch hold of them.

Being come to the place where they used to feed, which was near the dwelling, the young ones not being used to see any men in clothes, nor anybody but their master, presently fled, but the two old ones, which he had bred up, were so tame, that notwithstanding of the strangers, they stood still; only when the men come to them, they crept close to him, which gave the men opportunity to lay hold on them, who, notwithstanding Quarll's begging and praying, they tied a halter about their horns, and so barbarously led them away.

Quarll was grieved to the heart to see his darlings, which he had taken such care to breed up, and who were become the principal part of his delight, following him up and down, and by their jumping and playing before him, often dispersed melancholy thoughts, all these endearing qualifications augmented his grief to Ice them thus hauled away: he weeps, and on his knees begs they may be left; and though they understood not his words, his actions were so expressive and moving, that had they had the humanity of cannibals, which eat one another, they would have yielded to so melting an object, as the poor broken hearted Quarll was; but the inflexible boors went on, cruelly hauling and dragging the poor creatures, who, as though sensible of the barbarity of the act, did look back to their afflicted master, as craving his assistance, which at last so exasperated him, that he was several times tempted to lay on the ravishers with his long staff; but as often was stopped by the following consideration.

"Shall I," said he, "be the destruction of my fellow-creature, to rescue out of their hands animals, of which I have an improving store left, and deprive them of their healths, and perhaps of their lives, to recover what costs me nought? Let them go with what they have, and the merit of their deed be their reward."

Thus he walks about melancholy, bemoaning his poor antelopes' fate, and his own misfortune.

"They were used to liberty," said he, "which they now are deprived of, and for which they will pine and die, which for their sake I cannot but wish, for life without liberty is a continual death, which holds during life."

As he was walking thinking, as 'tis usual, after the loss of any thing one loves, of the pleasure he had during the enjoyment, the ruffians, having secured the poor animals, came back with ropes in their hands.

"What do they want next," said he, "have they not all they desire? Would they carry away my habitation also? Sure they have no design on my person, if so they will not take it so easily as they did my dear antelopes."

Thus resolved to exercise his quarter-staff, if they offered to lay hands on him. the villains, whose design was to bind him, and so carry him away, seeing him armed and resolute, did not judge it safe for them to advance within the reach of his weapon, but keep at some distance, divining how to seize him.

Quarll, who by their consulting, guessed at their design, did not think proper to let them come to a resolution, so makes at the nearest, who immediately takes to his heels, and then to the next, who immediately does the same, thus he follows them about for a considerable time; but they divided in order to tire him with running, till the night approaching, and the wind rising, made them fear their retreat might be dangerous, if they deferred it, so they went clear away, which being all he desired, he returned as soon as he saw them in their long-boat, which they rowed to their ship that lay at anchor some distance from the rocks.

These wretches being gone, he returns Heavens thanks for his deliverance; and as his bridge had favoured their coming, he pulls it off, and only laid it over when he had a. mind to visit the sea; so goes home to eat a bit, having not as yet broke his fast; so having eaten some of his roots and cheese and being wearied with hunting those boors, he consults how to lie, his bed and bedding being gone; as also his winter-gown, and the nights being as yet cold; so, after a small time of consideration, he concludes to lie in the lodge, which was left vacant by the stolen antelopes' absence, whose litter being made of the same grass as his mats were of, he lay both soft and warm.

When laid down, being sore fatigued he soon fell asleep; and as the plunderers had the preceding day took up his cares, they filled his mind in the night; he has them continually before his eyes, sometimes with his beloved antelopes in their pilfering hands, as other times, barbarously hauling them by the horns, with a halter, which they ought to have about their own necks. These acts of austerity provoke his anger, and urge him on to revenge; thus he lifts his staff, which of a sudden is turned into Hercules's club, startled to see that wonderful change, he stops from laying on the intended blow.

"Rescuing," said he, "my darling animals I shall lose my most precious and inestimable peace of mind, what can atone for the life of a man?"

Whilst he was making those reflections, the men got clear away with the fowls and antelopes, so left him in deep melancholy. Thus as he was bewailing his loss, calling to mind the agreeable pastimes they had often been to him, and the many anxious hours he had dispersed with their diversion, a grave gentlewoman appeared before him, of a most agreeable, yet demure countenance, dressed in plain dove-coloured clothes, in most places thread-bare, and in others patched with diverse sorts of stuffs, yet genteel and becoming; he starts at her appearing, wondering what she could come for, having nothing more to lose.

"I come not," said she, "to seek ought from thee, but to restore what thou hast lost."

He being overjoyed at the words, looks about expecting his beloved antelopes, and what else the men had taken away; but seeing nothing, he thought that vision proceeded from vapours, which the great grief for his late loss had occasioned, so falls a-thinking till being a second time interrupted by her, bidding him look her in the face.

"Be satisfied, be satisfied woman," said he, "why I neither know thee nor what thou meanest."

"Well then," replied she, "I'll inform thee of both; I am Patience, whom all the world strive to grieve, and whom none can provoke, and what I promise to restore thee is content, which you throw away after worthless things." So she vanishes, at which he awakes.

Having made reflections upon the latter part of his dream, the first part thereof being but a repetition of what happened the days before, he makes this application:

"This," said he, "is a check for my discomposing that peace upon such a frivolous account, which by Providence was intended I should enjoy, having supplied me with all necessaries to maintain it."

He therefore makes a resolution never to be vexed, let what will happen, but with patience submit to the will of GOD, who has the direction of all things; so, having paid his usual devotion, he goes into the kitchen, in order to break fast, and then to take his customary walk. Whilst he was eating there arose a noise in the air, as proceeding from a quantity of rooks, jackdaws, crows, and suchlike birds, whole common notes he was acquainted with, and as the noise approached, he had the curiosity to go and see what was the matter, but was prevented by the coming of a large fowl which flew over his head as he was going out; he turned back to admire the bird, whole beauty seized him with admiration; the pleasure of seeing so charming a creature quite put out of his mind the curiosity of looking from whence proceeded the disagreeable noise without, which easing as soon as the bird was sheltered, made him imagine those carrion birds had been a-chasing that beautiful fowl, who seeing itself out of danger stood still very calm and composed, which gave him the opportunity of making a discussion of every individual agreement as composed so delightful an object, it was the bigness and form of a swan, almost headed like it, only the bill was not so long nor so broad, and red like coral; his eyes, like those of a hawk, his head of a Mazarine blue, and on the top of it a tuff of shining gold-coloured feathers, which did spread over it, hanging near three inches beyond all round; its breast, face, and part of its neck milk- white, curiously speckled with small black spots, a gold-coloured circle about it, its back and neck behind of a fine crimson speckled with purple, its legs and feet the same colour of its bill, its tail long and round, spreading like that of a peacock, composed of six rows of feathers all of different colours, which made a most delightful mixture.

Having spent several minutes admiring the bird, he lays pease and crumbled roots both roasted and boiled before it, as also water in a shell; so withdrew to give it liberty to eat and drink; and stood out peeping to see what it would do, who, being alone, having looked about him, picks a few pease and drinks heartily, then walks towards the door, in a composing and easy manner, much like that of a cock.

Quarll, being at the outside, was of twenty minds whether he should detain him or let him go; his affection for that admirable creature equally prompts him to both; he cannot bear the thoughts of parting with so lovely an object, nor harbour that of depriving it of its liberty, which it so implicitly did entrust him withal. Thus, after a small pause, generosity prevails over self-pleasure.

"Why should I," said he, "make the place of its refuge its prison?"

So makes room for him to go, who, with a slow pace, walks out; and having looked about him a final time, mounts up a considerable height, then takes its course north-west.

The bird being gone out of sight, he made reflections on the adventure, which he judges to be a prognostic of some rebellion or revolution in Europe; so having recommended his native country to the protection of Heavens, begging for a continuation of peace, and an end of those unhappy divisions, which often prove the ruin of nations; he goes and sets down in his memorial-book the transactions of that year being 1689, and the 15th since his being in the island, which proved more fruitful in events than any of the preceding; the picture which he had drawn of the terrible sea-monster, being against his wall he accustomed himself with the frightful object that constantly disturbed his mind, he draws that of the two ruffians, committing their barbarity, and hangs it by the place; the idea whereof being to him more obnoxious than the preceding, he could not suffer it to be long in his sight so takes it down, and draws on the back-side of it, the villains on a gibbet.

"Now, said he, "this being what ought to be the end and explanation of the history, shall now be the right side of the picture."

There happening nothing the remainder of the year, worthy of record, he employs it in his customary occupations, as pruning and watering his lodge and dairy, making his mats to lie on, as also his winter-garb, every day milking his antelopes and goats, making now and then butter and cheese, attending his nets, and such like necessary employment.

The mean time, the French mariners, who probably got money by what they had taken from him the year before, returned, it being much about the same season, and being resolved to take him away, and all they could make anything of, out of the island, were provided with hands and implements to accomplish their design; as ropes to bind what they could get alive, and guns to shoot what they could not come at, saws and hatchets to cut down logwood and brazil, pick-axes and shovels to dig up oris-roots and others of worth, which they imagined the island did produce; likewise flat-bottomed boats to tow in shallow water, where others could not come, and thus by degrees to load their ship with booty; but ever-watchful Providence blasted their evil projects, and confounded their devices, at the very instant they thought themselves sure of success: The implements in a flat- bottomed boat were towed to the very foot of the rock, by a young fellow, who being lighter than a man, was thought fittest to go with the tools, which pretty well loaded the boat.

Their materials being landed to their great satisfaction, the men on board embarked in two more of the same sort of boats, but were no sooner in them, but a storm arose, which dashed their slender bottom to pieces, and washed them into the sea, in which they perished, also overset the flat-bottomed. boat on shore, with the load and lad underneath it.

The storm being over, which lasted from about eight in the morning, till almost twelve at noon, when Quarll, according to his custom, went to see if he could perceive any damage done by the late tempest, and if any distressed by it stood in want of help.

Being at that side of the rock he used to visit, he could see nothing but a few fishes and shells the sea had left in the clefts.

"If this," said he, "be all the damage that has been done, make me thankful, it will recruit me with fresh fish and utensils." So he goes on to the N.W. part, where he sees a battered boat, floating with the keel upwards.

"This," said he, "bodes some mischief," but thought it not to be of any consequence; having gone about fifty yards further, he spies a small barrel at the foot of the rock, with several planks and fragments of a ship, floating with the tide.

"Alas!" said he, "these are too evident proofs of a shipwreck, to hope otherwise."

As he was looking about, he hears a voice cry out, much like that of a man, at some distance behind a part of the rock; being advanced a small matter, beyond where he was, "Heavens be praised," said he, "there is somebody, whom I am luckily come to save, and he most fortunately come to be my companion, I cannot but rejoice at the event, though I heartily grieve for the accident."

So hastens to the place where he thought the cries came from, which, as he advanced he could discern to be too shrill for a man's voice.

"Certainly," said he, "this must be some woman by the noise." This lets his blood a-glowing, his heart alters its motion.

"Now," said he, "joyful Providence has completed my happiness, I shall have a companion and a help mate," and goes on with fresh vigour, as though he had recovered his strength, and got new limbs: the rough and savage rock, which was before, in a manner inaccessible, is now made easy to walk; he climbs the high places with activity, and goes down the steep as nimbly, and soon arrives where he judged the person to be, yet seeing nothing, but what he took to be a chest, begun to be disheartened.

"Sure," said he, "this is not a second illusion, to decoy my fancy after what is not to be had!"

Thus his joy of a sudden turned into a deep melancholy, but the creature underneath, who having heard some noise near at hand, ceased crying, to listen, yet seeing nobody come, cries out again, something louder than before. This revived him quite and repeals his hopes.

"It is a woman," said he, "and in that chest."

So was a-going to break it open, but stops of a sudden.

"What am I going to do? how do I know the cause of her being thus locked up, though women are in a manner become a merchandize, yet they never are packed up or chested? She must be in there for a punishment, which in some countries is inflicted on witches."

The boy, who heard a voice calls out in French, which Quarll not understanding, he was afraid to let it out; but at his mentioning Christ being intelligible to him, made him change his opinion,

"For Christ his sake doth she say? That holy name witches seldom make use of; however in that name I'll let her out, if she be under condemnation, was I not so? Had she by Heaven been decreed to die, she would not been here."

So with his staff he endeavoured to break that which he took to be the lid of the chest, but proved the bottom; and as he was striking, the boy underneath calling to him to turn it up, did thrust his hand under the side, which he perceiving, though he understood him not, stood still, finding his mistake.

"This," said he, "is a flat-bottomed boat such as the Frenchmen used the year before, when they came and plundered me, now, am I safe if I turn it up? Doubtless they are come in greater numbers."

So pauses awhile, but the lad (whom he took to be a woman) still continuing his moan, he was moved to compassion, and having considered the boat could not hold any great number, he ventures:

"Let what will come on it, or who will be under; for the poor woman's sake I'll relieve them, there cannot be many men, however, I'll let but one out at a time, if he be mischievous I'm able to deal with him."

So he puts the end of his staff where he had seen the hand, and lifts it up about a foot from the ground, out of the opening immediately creeps out the boy, who on his knees falls a-begging and weeping, expecting death every moment, as being the merited punishment for the evil purpose he was come about: Quarll who expected there was a woman besides, fearing the gap the youth came out at, would be too uneasy for her to come through, made motions for the boy to help him, in order to set the boat on its bottom, which he did: Quarll seeing the implements instead of the woman, was as much vexed as disappointed, his countenance changes, sometimes looks at the things, and then at the boy, who seeing him appear angry, thought of nothing but present death, again falls on his knees, holding up his hands, almost drowned in tears, begging for mercy in such a moving manner, that Quarll could not forbear shedding some tears, and though the late disappointment of his proposed happiness, and the sight of the preparations made for his intended ruin, had moved him to anger against that mercenary nation; he helps the young fellow up by the hand, and the night coming on apace, he takes one of the hatchets that lay by, and gave another to the boy, then falls a knocking the boat to pieces, and directed him to do the same, which accordingly he did.

The boat being demolished, they carried the boards up higher on the rock, as also the rest of the things, least in the night some storm should raise as might wash them back into the sea, it being then too late to bring them away: having done they each of them took up what they could carry, and so went home. The young Frenchman finding a kinder treatment then either he deserved or expected was extraordinary submissive and tractable, which made Quarll the more kind and mild; so instead of condemning his evil attempt, commiserated his misfortune, and in room of resentment showed him kindness; thus having given him of what he had to eat, he puts him to bed in the lodge, wherein he did lie, till he had got his mats made up, then went to bed himself, but could not sleep for thinking of his late disappointment, which did intercept those pleasures he so much depended on, thinking himself sure of a female partner, who in sharing happiness with him, would have much added to his bliss.

Having tossed and tumbled a considerable time, he begins to be heavy spirited, Nature is fatigued and must be refreshed; thus he falls asleep, and as his hopes the preceding day had indulged his desires, his mind is so impressed in the night with the idea of the female object, that he dreams he has her by his side, condoling her for the dangers she has gone through, congratulating her lucky escape, and greeting her happy arrival into so blessed an abode.

Thus expressing his joy, in possessing the only object as could complete his happiness, with all the softness and eloquence the most passionate love can impress, he reaches out his arms to embrace the lovely phantom his inclination had breed in his imagination; but having groped awhile, and finding nothing, he starts out of his sleep at this most shocking disappointment.

Being awaked, the late delusive pleasures called to his mind the real, which he had formerly enjoyed and which he then did hanker after,

"What is man," said he, "without that part of himself, out of which God made him a mate? Adam, who though possessing all the world, was still wanting, till he had a woman to keep him company."

In this melancholy disposition he again falls asleep, and dreams afresh in which his imagination gluts his inclination with those pleasures, it so much desired; fruition to him is but like liquor to a man sick of a violent fever, which only for a minute quenches his heat, but augments the distemper; so at last destroys the patient; excessive love is but short-lived, what is violent is not lasting, time with pleasure runs fast away, but dwells long with sorrow, cares weakens love, and indifferences breeds discontent, then jarrings follow which introduces division; the mother of poverty.

These dismal accidents, incumbent to inconsiderate love, coming into the amorous dreamer's mind, whose great heat being quenched, took time to confider his condition, and seeing himself liable to them, is struck with such a fear as blots all pleasures out of his thoughts, and fills them with dread of future cares, which he unadvisedly run himself into, and all for the sake of a short pleasure.

Starting out of his sleep at the approach of those sad troubles he returns Heaven thanks that it was but a dream, and begs pardon for having given it much way to the concupiscence of flesh; so gets up, though sooner than ordinary, lest he should fall asleep, and dream again of women.

Having walked about till he thought it time for the boy to rise, he calls him up, and takes him to the place that he usually went every morning and evening to sing psalms; where the youth being come, and hearing so many different voices, and seeing no body, was scared out of his wits, and took to his heels, making towards the rock as fast as he could; but as he was not acquainted with the easiest and most practicable parts thereof, Quarll had made an end of his psalm, and overtook him before he could get to the sea-side, where he certainly would have cast himself into with the fright; but Quarll's coming, who, by the boy's staring, guessed his disorder, not having the benefit of the language, endeavoured to calm him by his pleasing countenance; so prevented his drowning himself; but could not keep off a violent fit, the fright had occasioned, which held him several minutes.

The fit being over, he and the boy took away, at diverse times, the remains of the chest, and of what was in it, which they could not carry home the day before; so taking up two guns, "Now," said he, "these unlucky instruments, which were intended for destruction, shall be employed for the preservation of that they were to destroy." So takes them to his lodge, and sets them at each side of the door; then being dinner-time, he strikes a light, and sets the boy to make a fire, whilst he made some of the fish fit to fry, which he picked up upon the rock the evening before; then takes dripping he saved when he roasted any flesh, to fry them withal. The boy, who had lived some time in Holland, where they use much butter, seeing dripping employed in room thereof, thought to please his mailer in making some, and as he had seen milk and cream in the dairy-arbour, wanting a churn only; there being a small roundlet lying by empty, he takes one of the ends of it, in which the next day he beat butter.

Quarll seeing the youth industrious, begins to fancy him, notwithstanding the aversion he had conceived for his nation, ever since the ill treatment he had received from his country men; and as speech is one of the most necessary faculties to breed and maintain fellowship, he took pains to teach him English.

The lad, being acute and ingenious, was soon made to understand it, and in six months capable to speak it sufficiently, so as to give his matter a relation of his late coming, and to what intent.

"The men," said he, "who about one year since carried away from hence some antelopes, with extraordinary ducks, and several rarities, which they said did belong to a monstrous English hermit, whose hair and beard covered all his body, having got a great deal of money by showing of them, did encourage others to come; so several joining together, hired a ship to fetch away the hermit, and what else they could find, therefore brought with them tools, and guns to shoot what they could not take alive."

"Barbarous wretches," replied he, "to kill my dear antelopes and ducks! pray what did they intend to do with me?"

"Why," said the boy, "to make a show of you."

"To make a show of me! sordid wretches, is a Christian then such a rarity amongst them? Well, and what were the saws and hatchets for?"

"To cut down your house, which they intended to make a drinking booth of."

"Ho, monstrous! what time and Nature have been fifteen years in completing, they would have ruined in a moment; well, thanks to Providence, their evil design is averted. Pray, what is become of those sacrilegious persons?"

"They are all drowned," said the boy.

"Then," replies he, "the Heavens are satisfied, and I avenged; but how came you to escape, for you were with them?"

"No," replied the youth, "I was upon the rock when their boat was dashed against it, and was overset with the same sea, under the flat bottomed boat, where you found me."

"That was a happy overset for you; well, is there no gratitude due to Providence for thy escape?"

"Due to Providence," said he, "why, I thought you had saved me? I'm sure you let me out."

"Yes," replied Quarll, "but I was sent by Providence for that purpose"

"That was kindly done to," said the boy, "well, when I see him I will thank him; does he live .here about?"

"Poor ignorant creature," replied Quarll, "why, Providence is everywhere; what! Did you never hear of Providence, what religion art thou?"

"Religion," answered the youth, "I don't know what you mean, I am a fisherman by trade, which my father did live by."

"Well," said Quarll, "did he teach you nothing else, no prayers?"

"Prayers," replied the lad, "why, fishermen have no time to pray, that's for them who have nothing else to do, poor folk must work and get money, that's the way of our town, covetous wretches!"

"Well," said he, "I grudge them not of what they possess, since it's all the happiness they aspire at; but you shall learn to pray, which will be of far more advantage to you than work, both here and hereafter."

So from that time begins to teach him the Lord's prayer and the ten commandments, as also the principles of the Christian religion: all which instructions the youth taking readily, won his affection the more; and likewise taught him to sing psalms, which qualified him the more to be his companion in spiritual exercises, as well as in temporal occupations.

Now having company, he is obliged to enlarge his bed; the lodge being wanting for his antelopes, against breeding time, so adds to his mats; his other provisions also wanting to be augmented, and he having both tools and boards, out of the flat- boat which he had taken to pieces, he and the lad went about making large boxes to salt flesh and fish in; then with the boards that were left they made a table for his dwelling that he had before, and one for his kitchen, as also shelves in the room of those that were made of wicker; then having recruited his shell- utensils that were stolen the year before. He was completely furnished with all manner of conveniences, and Providence applying him daily with other necessaries, there was no room left him for wishes, but for thanksgiving, which they most religiously daily paid.

In this most happy state they lived in peace, and concord the space of ten year, unanimously doing what was to be done, as it lay in each of their way, without relying on one another.

Quarll who before, though alone, and deprived of society (the principal comfort of life) thought himself blessed, now cannot express his happiness, there being none in the world to be compared to it, heartily praying he might find no alteration till death; but the young man not having met with so many disappointments in the world as he, had not quite withdrawn his affections from it; his mind sometimes will run upon his native country where he has left his relations, and where he cannot help wishing to be himself: thus, opportunity offering itself one day as he went to get oysters, to make sauce for some fresh God-fish which Quarll was dressing, he saw at a distance a ship, at which his heart fell a-panting, his pulses double their motion, his blood glows warmer and warmer, till at last inflamed with desire of getting at it, he lays down the bag he brought to put the oysters in, as also the instrument to drudge them up with; and takes to swimming: the men on board haying spied him out, sent their boat to take him up; so he went away without taking his leave of him he had received so much good of; who having waited a considerable time, fearing some accident would befall him, leaves his cooking, and goes to see for him; and being come at the place where he was to get the oysters, he sees the bag and instrument lie, and nobody with them; having called several times, without being answered, various racking fears tortured his mind, sometimes he doubts he is fallen in some hole in the rock, there being many near that place where the oysters were; so with his staff, which he always carried with him when he went abroad, at the other side of the rock, he grabbled in every one round the place, and feeling nothing, he concludes some sea-monster had stolen him away; so falls a-weeping, condemning himself as the cause of this fatal accident, resolving for the future to punish himself by denying his appetite, and only eat to support Nature, and not to please his palate.

Having given over hopes of getting him again, returns home in the greatest of afflictions, resolving to fast till that time the next day; but happening to look west-ward, in which was the point the wind did stand, he perceives something like a boat at a great distance; so wipes the tears off his eyes, which obfuscated his sight; then looking steadfastly, he discovers a sail beyond it, which quite altered the motive of his former fear.

"No monster," said he, "has devoured him, 'tis too plain a case that he has villainously left me; but what could I expect of his son, who had projected such evil against me?"

So went home, and made an end of dressing his dinner, and afterwards hangs up the picture which he had taken down upon his account, being the emblem of what he deserved. So resting himself contented, (being but as he was before, and rather better) having more conveniences, and tools to till his ground, and dig up his roots with; so, having recommended himself to Providence, he takes his usual works and recreations, resolving that no cares mould mar his happiness for the future, being out of all those irresistible temptations way, of which the World abounds in, and daily lay the best men's hopes in jeopardy.

Being again alone, the whole business of the house lies upon his hands, he now must prune, and trim his habitation, that daily harbours him, being made of fine growing plants which yearly shoot out young branches; so makes them grow out of shape; he must also till the ground, set and gather his pease and beans in their season, milk and feed his antelopes daily, make butter and cheese at proper time, dig up his roots, fetch in fuel and water, when wanted, attend his nets, go eagle-nesting, and every day dress his own victuals; all which necessary occupations, besides the time dedicated for morning and evening devotions, did keep him wholly employed, which made his renewed solitude less irksome, and having walked all that afternoon to divert his thoughts, admiring all the way the wonderful works of nature, both in the surprising rocks which surrounded the island, and in the delightful creatures, and admirable plants that are in it.

Being weary with walking, he returns home thanking kind Providence for settling him in so blessed a place, and in his way calls at his invisible choir, where having sung a thanksgiving psalm, and his usual evening hymn, he goes to supper, and then to bed, with a thoroughly contented mind, which occasions pleasant dreams to entertain his thoughts.

During his sleep his fancy is delighted with being in Nature's garden of pleasure, where none but her friends are permitted to enter. The place appeared very spacious, and of an admirable form, full of all sorts of Nature's works, both animals, vegetables, and minerals, every individual thing excelling perfection, and though some were distant, yet all appeared as at hand.

The lofty trees, which stood on a level ground, covered with curious grass, embalmed with many different coloured flowers, exceeding in beauty any carpet that the most expert artist could make, did spread their branchy arms over creatures of all kinds, which lay beneath their delightful shades: there the bold lion lies by the innocent lamb, the fierce panther near the harmless sheep, the ravenous wolf with the mild goat, leopard and deer, tiger and hare reposed together in peace; on the trees eagles, vultures, falcons, and hawks, quietly did perch, with the turtle and the dove.

These most agreeable objects, joined with the delightful noise of the fountains falling into their basins, and the purling streams running their course, together with the various harmonious notes of diverse kinds of singing-birds, did put him into an ecstasy.

"Sure," said he, "this is the Garden of Eden, out of which unfortunate Adam was cast after his fall, as being a dwelling only for innocence."

Having walked a little way, there being on every side curious lanes, every one affording new objects of admiration; he comes to a walk, edged with orange and lemon trees, full of fruit and blossoms, at the foot of which was a narrow bank, bordered with jonquils, tuberoses, jacents, and other delightful flowers, both for sight and smell: at the end of it there was an arbour of the same, but so beautiful, that at first sight he took it for a tapestry, the most expert artist had exerted himself in making, to show the curiosity of trade and greatness of his skill: In it there sat three ladies of uncommon beauty; the middlemost, who was the lustiest, appeared to be the eldest, being of a most sedate countenance, a moderate number of years having both established her judgment and settled her features; she, at her right-hand, seemed to be of a weaker constitution; she had in her hand an olive-branch bearing fruit, which, when gathered, was immediately succeeded with blossom; so that it never was without the one or the other. The lady who sat on the left side was more jolly and gay, yet looked somewhat careful; she had in her hand a long vessel, broad at one end, and sharp at the other like a horn, bending towards the point, full of all sorts of fruits.

Having stood still a short space of time, looking at those ladies, thinking it ill manners to interrupt their conversation; they perceiving his modesty would not permit him to advance, but got up and went another way, to give him the opportunity of viewing the garden; so he went quite round, till come to the place he first did begin his walk, where he law a stately cock, of an extraordinary size, strutting from animal to animal, taking from most of them something, whilst they were asleep, which having secured, he falls a-crowing in such a loud manner, that he startled all the other creatures; who being awake, and every one missing something, challenged him with it, who having crowed a second time in an insulting and daring manner, strutted most haughtily away, at which the losers being much offended, consulted together on means to retake by force, what he had in so clandestine a manner taken from them, so chose the lion for their director; but the watchful cock, who whilst they were indulging themselves, had carefully made sufficient provision to maintain what he had done, so bid them all defiance.

There happening a great noise of squealing, waked him out of his dream, and his mind being impressed with motions of war, which at first seized him with terror, but being something settled, and the noise still continuing, he perceived it did proceed from the two different kinds of monkeys in the island, who were fighting for the wild pomegranates which the high wind had shook off the trees the preceding night, which proved very boisterous.

Having guessed the occasion of their debate, he gets up, in order to go and quell their difference, by dividing amongst them the cause thereof; so getting up, he opens the door, at the outside of which an old monkey of each sort, were quietly waiting his levy, to entice him to come, as he once did before, and put an end to their bloody war.

He was not a little surprised to see two such inveterate enemies, who at other times never meet without fighting, at that juncture agree so well.

That most surprising sign of reason in those brutes, who knowing his decision would cease their comrades' difference, came to implore it, which put him upon these reflections:

"Would princes," said he, "be but reasonable, as those who by nature are irrational, how much blood and money would be saved?"

Having admired the uneasiness of those poor creatures, who still did go a few steps forward and then backward to him; he was in hopes to decoy one or both into his lodge, by throwing meat to them; but those example-giving animals, hearing their fellows in trouble, had no regard to their separate interest, so took no notice of what he gave them, but kept moving to and again with all the tokens of uneasiness they could express; which moved him, that he hastened to the place, where his presence caused immediately a cessation of arms, and each party moved a considerable distance off each other, waiting his sharing the wind-falls; which being done, they quietly took that heap as lay next each kind, so went to their different quarters.

This accident, which in some manner made out his dream of wars, brought it also fresh into his mind, which being full of cares about his country, whom he much feared, if any should happen in Europe, would be involved therein; and calling to remembrance the indigent disposition he left it in, he feared it would lay it open to some usurping prince's power; but left further speculation should occasion evil prognostication as may disturb his peace, so leaves the event of all things to the direction of Providence, and so goes home to set down his dream, and the year he dreamed it, which was in 1690.

Fourteen years more being past, every thing keeping its natural course, there happening nothing extraordinary, each succeeding year renewing the pleasures the proceeding did produce: thunders and high winds being frequent, though not equally violent, he thought it not material to record them, or their effects, as blowing and throwing fishes, shells, empty vessels, battered chests, &c. upon the rock, only transactions and events wonderful and uncommon, and there happening a most surprising one a few days after, which though of no great moment, is as worthy of record as any of far greater concern, being a wonderful effect of Providence, manifested in a miraculous manner, though not to be said supernatural.

One morning, when he had roasted a parcel of those roots, which he used to eat instead of bread, and this he commonly did once a week, eating best when stale, having spread them on his table and chest to cool, he went out to walk, leaving his door open to let the air in.

His walk, though graced with all the agreements Nature could adorn it withal to make it delightful, a grass carpet, embroidered with beautiful flowers of many different colours and smell under his feet to tread on; before and on each side of him, was fine lofty trees of various forms and height, clothed with pleasant green leaves trimmed with rich blossoms of many colours to divert his eye; a number of several sorts of melodious singing- birds perching in their most lovely shades, as though Nature had studied to excel man's brightest imagination and exquisiteness of Art; yet all these profusenesses of Nature's wonder, are not sufficient to keep away or expel anxious thoughts from his mind; it runs upon his two dear antelopes, the darling heads of his present stock, whom he took such care to bring up, and were become so engaging always attending him in those fine walks, adding by their swift races, active leapings, and other uncommon diversions to the natural pleasantness of the place, which now, by their most lamented absence, is become a dull memorandum of the barbarous manner they were ravished away from him.

In these melancholy thoughts, which his lonesomeness every now and then did create, he returns home, where Providence had provided a remedy for his grievance; a companion far exceeding any he ever he had, waits his return, which was a beautiful monkey of the finest kind, and the most complete of the sort, as though made to manifest the unparalleled skill of Nature, is lent him by Providence to dissipate his melancholy.

Being come to his lodge, and beholding that .wonderful creature, and in his own possession, being at the furthest end of it, and he at the entrance thereof, to oppose its flight, if offered, he is at once filled with joy and admiration.

"Long," said he, "I endeavoured in vain to get one, and would have been glad of any, though of the worst kind, and even the meanest of the sort, and here kind Providence has sent me one of an unparalleled beauty."

Having a considerable time admired the beast, who all the while stood unconcerned, now and then eating of the roots that lay before him, he shuts the door and goes in, with a resolution of staying within all day, in order to tame him, which he hoped would be no difficult matter, his disposition being already pretty familiar, little thinking, that Providence, who sent him there, had already qualified him for the commission he bore; which having found out by the Creator's surprising docility, he returns his benefactor his most hearty thanks for that miraculous gift, this most wonderful. animal, having by its surprising tractability and good nature joined, to its matchless handsomeness, gained its master's love, beyond what is usual to place on any sort of beasts, he thought himself double recompensed for all his former losses, especially for that of his late ungrateful companion, who notwithstanding all the obligations he held from him, basely left him, at a time he might be most helpful; and as he fancied his dear Beaufidelle (for so he called that admirable creature) had some sort of resemblance to the picture he dreamed of him, he takes it down, thinking it unjust to bear in his sight, that vile object could not any wise claim a likeness to so worthy a creature as his beloved monkey.

One day as this lovely animal was officiating the charge, it had of its own accord taken, being gone for wood, as wont to do when wanted, he finds in his way a wild pomegranate, whose extraordinary size and weight had caused to fall off the tree, he takes it home, and then returns for his faggot, in which time Quarll, wishing the goodness of the inside might answer its outward beauty, cuts it open, and finding it of a dull luctitiousness too flat for eating, imagined it might be used with things of an acid and sharp taste; so having boiled some water he puts it into a vessel with a sort of an herb, which is of the taste and nature of creasses, and some of the pomegranate, so lets them infuse some time, now and then stirring it, which the monkey having taken notice of did the fame, but one very hot day happening to lay the vessel in the sun, which made it turn sour.

Quarll, who very much wanted vinegar in his sauces, was well pleased with the accident, and so continued the souring on it, which proving excellent, he made a five gallon vessel of it, having several, which at times he found upon the rock.

Having now store of vinegar, and being a great lover of pickles, which he had learnt to make by seeing his last wife, who being an extraordinary cook, and made of all sorts every year; he calls to mind he had often in his walks seen something like mushrooms, so makes it his business to look for some, thus having picked up a few, of which Beaufidelle (who followed him up and down) having taken notice, immediately ranges about, and being nimbler footed than his master, and not obliged to stoop so low, picked double the quantity in the same space of time; so that he soon had enough to serve him till the nest season.

His good success in making that sort of pickle, encourages him to try another; and having taken notice of a plant in the wood, that bears a final green flower, which before it is blown looks like a caper, he gathers a few, and their taste and flavour being no ways disagreeable, he judged, that when pickled, they would be pleasant, so tries them, which according to his mind were full as good as the real ones: he gathers a sufficient quantity, with the help of his attendant, so stocks himself with two as pleasant pickles, as different sorts; but there's another which he admires above all, none to his mind like the cucumber, and the island producing none, left him no room to hope for any; yet (as likeness is a vast help to imagination) if he could but find anything, which ever so little resembles them in make, nature or taste, it will please his fancy: He therefore examines every kind of buds, blossoms, and seeds, having at last found that of a wild parsnip, which being long and narrow, almost the bigness and make of a pickling cucumber, green and crisp withal, full of small flat seed, not unlike that of the thing he would fain have it to be, he pickles some of them, which being of colour and near upon the make, he fancies them quite of the taste.

His beans being at that time large enough for the first crop, he gathers some for his dinner, the shells being tender and of a delicate green, it came into his mind, they might be made to imitate French beans.

"They are," said he, "near the nature, I can make them quite of the shape, so be they have the same savour; so he cuts them in long narrow slips, and pickles some, the other part he boils, and there being none to contradict their taste, they past current, for as good French beans as any that ever grew.

The disappointment .of having something more comfortable than water to drink, being retrieved by producing in the room thereof, withal to make his eatables more delicious, he proceeds in his first project, and taking necessary cares to prevent that accident which intercepted success in his first undertaking, he accomplishes his design, and makes a liquor no wise inferior to the best cider; so, that now he has both to revive and keep up his spirits, as well as to please his palate and suit his appetite.

Having now nothing to crave or wish for, but rather all motives for content, he lies down with a peaceable mind, no care or fear disturbing his thoughts, his sleep is not interrupted with frightful fancies, but rather diverted with pleasant and diverting dreams, he is not startled at thunder or storms, though never so terrible, his trust being on Providence, who at sundry times, and in various manners has rescued him from death, though apparently unavoidable, being for above thirty years miraculously protected and maintained in a place so remote from all human help and assistance.

Yet, notwithstanding his firmness and whole trust on Providence, he is obliged to give way to the weakness of his nature; a strange and mocking noise is heard at a distance in the air, which having reached the place where he flood, covers it with darkness for several minutes, at which he is so alarmed, that he thinks himself past all hopes, till the noise being ceased, and that which intercepted the light dispersed, his scared senses returning to their proper seat, and his strayed reason repealed, he is ashamed of the weakness of his faith, and begs pardon for his late mistrust of the continuation of Providence's protection, who had all along given him all imaginable reason to depend on it at all times; thus having opened his door, he steps out to see if he could discover the cause of the late most surprising and sudden darkness, in a bright sun-shining day, which having found out by the vast number of dead birds of several kinds, laying up and down the ground, he was seized with no small amazement, though with less fear.

From that most surprising aspect, he infers there had been a battle of those creatures in the air, the great number of which had occasioned the late decrease.

Having made reflections upon that astonishing transaction, he can draw from thence no other inference, but a prognostication of dreadful wars in Europe, from which he begs Heavens to protect his native country: and lest the dead birds that lay in great numbers should (with laying) infect the island, he and his monkey carried them to the other side of the rock, so threw them into the sea, only as many of them as had soft feathers on their breasts and bellies he plucked away to stuff a pillow for the beast, being a little too hot at nights for it to lie upon the bed; so having cleared the place and being tired with often going up and down the rugged rock, he stayed at home the remainder of the day, and at night goes to bed; but as the late omen of approaching evil had preoccupied his thoughts in the day, with cares concerning his country, his mind run upon it in the night; so dreams he sees wives weeping and melting in tears, taking their leaves of their indulging husbands, hanging destitute of strength about their necks, whole grief did weigh them to the ground: turning from that afflicting object, he sees another as shocking; the old father bathed in tears embracing his only son, bidding him farewell, and with him to all the comforts of this life, and support of his age; moving his eyes from that, they light on full as bad a sight, the tender mother swooning in her dear child's arms, whom an inexorable press-gang is hauling away. Thus every face expressing grief for a relation or a friend; not being able to see those terrifying objects (which the town did abound in) he betakes himself to the country, that by keeping from the afflicted, he may avoid grief.

Having quit the town, he finds himself on a sudden, in a place as full of terrors, where he saw gores of blood here and there, loose horses kicking and prancing about, some dragging their late rider by the stirrup, others wounded and their guts hanging out, at a distance crowds of men in flame and smoke, confusedly moving like heaps of dust in a whirl-wind, leaving behind them as they moved vast numbers of men and horses, both dead and dying; some without legs, others without arms, and abundance with but one of each.

At a distance from thence, some in pursuit of their enemies, hacking and cutting them down all the way before them, like wood for fuel, others flying from being slain, cast themselves into rapid rivers, where they perish by thousands.

As he was looking at those terrible objects, he finds himself of a sudden surrounded by rustical soldiers, holding their swords and bayonets to his breast, asking him in a surly manner, whether high or low; at which being very much startled, not knowing what to answer, being a stranger to their meaning, he told them he was an Englishman, which they appearing to be also, made him hope for better usage;, but they seizing him in a violent manner, saying he might be English, and yet an enemy to the country, then he awaked in a wonderful fright; but being come to himself he concludes, that his dream did proceed from his late surprise, at the preceding day's astonishing transactions; so having again recommended his country to Heaven's protection, he goes about making the bed for his monkey, as he had concluded on before, and with some sail-cloth makes a case, so stuffed it with the feathers he had saved for that purpose.

The night being come, he lays the couching which he made for the beast, by his own bed, who very readily went to it, being very soft and easy.

And as cares for his country, had in the day occupied his thoughts, his mind in the night is impressed with the subject, though not with so dismal an idea as the proceeding, having since been diverted with such objects as removed the terrifying aspects, as before offered themselves to his imagination, which now is taken up with being in St. James's Park, where he had formerly taken pleasure, and which he fancies had since lost many of its former agreements.

As he was walking, a report was raised, that a certain great person (who by his late great services to the nation, had gained a title to the palace) was just deceased, having before his death entailed the same upon a foreign prince of great renown; this surprising piece of news occasioned a hidden alteration in everybody's countenance, some looked pale with grief, others red with wrath, but everything in Nature seemed to express a feeling for the loss, the trees shed half their virtues, and the grass withered.

This dull scene having lasted some small time, the trees and grass recover their former verdure brighter than before; the lofty oaks, which he fancied bordered the mall, bore fine roses in vast number.

This additional beauty in those noble plants so already famed abroad for their toughness and strength, prompts people of all nations, to come and refresh themselves under their lofty and fragrant shades.

Having with great satisfaction admired the surprising improvement of the oaks, which to his imagination did prognosticate prosperity to the nation; then he walks on northwards where seeing abundance of thistles, which made him wonder they were permitted to grow in a place where everything ought to contribute to its agreements and pleasantness; but having considered the stoutness of the plant, which denoted their being well rooted, he judged it impossible to clear the ground, besides, the bees loving to fettle on them, probably sucking more honey from their blossoms, than any more agreeable or sweeter scented flower, for that reason he imagined might be the occasion they were not gathered.

Walking back again, he meets with several noblemen, some with a blue cordon, others with green; each with a gardening tool in their hand, going to turn up and till the ground, between that where the thistles did grow, and that where the oaks stood. he was startled to see those great persons, who hardly will concern themselves with their own lands and possessions, labour to improve that wherein every private person had a share; he stood some time admiring their dexterity, and readiness at their work; then walks on to the mall, which he found thronged with a quantity of all nations, every one having a rose in their hand, wherewith they diverted themselves as they walked.

Having gazed about him a considerable time, he had a fancy to go and see how the noble gardeners went on with their work; where being come, he finds, to his great admiration, the ground had been so wonderfully well manured, that the oaks and thistles had struck their roots through it, and did meet; so growing together, had produced a plant which bore both roses and thistles, to everybody's wonder, which ever since made the thistles so valued, that but few great or fine gardens, that have not more or less of them.

His monkey being startled out of his sleep, in a mighty fright, running behind his back squeaking, awaked him in the midst of his amazement; thus being exceedingly pleased with his late dream, of which he conceived a mighty good omen to old- England, differing so very much from the preceedings, both in nature and signification.

Thus, though earlier than he usually did rise, he gets up to set it down, whilst fresh in his mind, and also the year, being 1707; then goes to take a walk before breakfast, and the beast with him, who, being not yet recovered of its late fright, keeps close to his master, every now and then looking behind, as though still fearing, at which Quarll concludes the creature must needs have been disturbed in its sleep the night before, with some frightful dream, which made him wonder that an animal void of reason, and incapable of reflections, should be susceptible to imagination.

The day being past without anything extraordinary happening, he made no further remarks, but followed his usual occupation, and then went to his rest, and the monkey to his new bed, as the night before; which he took care to draw as close to its master as he could; then having been twice or thrice about the room, examining every corner, he lies down and sleeps quietly, till the dawning of the morning, at which time he starts up again as the night before.

Quarll being a second time awaked in the same manner, and much about the same hour, concludes the cause must proceed from the pillow, and resolves to experiment it himself the next night, at which time crowds of terrifying aspects appears in his imagination, which allure his whole faculties and set all his senses in an uproar; his eyes are took up with frightful objects, and his ears filled with a terrible noise, at which the rest of his senses have left their offices, and are become useless.

Being awake the next morning, he finds himself inclined to believe that the pillow had really some influence on the imagination; but as one night's experience was not a sufficient solution to his enquiry in that supernatural operation, having often dreamed before he used the pillow, and resolves to try it several nights successively; during which his monkey slept very quiet, and he as disturbed: this works a great way towards the persuasion of what he had a strong fancy to believe; yet, to be better satisfied of the reality of it, he lays by the pillow for three or four nights together, during which time both he and the beast did sleep very quiet.

This added much to his opinion, that evil effluvias issued out of those feathers the pillow was stuffed with; but as he formerly dreamed and had many nights intermission between those that were entertained with dreams, he will once more try before he fully concludes that it is so: thus puts it again under his head that night, and as it was the last experiment, it proved also the most troublesome, being at the time terrified with more shocking objects than the preceedings, which though they represented fierce and bloody battles to his imagination, yet were less terrible to him, having not as yet discerned his native country engaged therein, whom now he finds to be the principal party concerned, on whom all success depends, and which cannot be strove for, without vast expenses, and irretrievable loss of his dear countrymen, for which his heart did bleed, as flush as those for those whom he dreamed he did see in their gore.

Having with terror and grief fatigued his eyes with the most shocking and afflicting effects of war, men and horses lying as thick upon the ground as grass in a meadow, and streams of blood running like so many brooks, applied by a strong spring, he lifts up his eye to Heaven imploring an end to that execrable devourer of mankind.

And whilst his eyes were still fixed to the heavens, he sees victory rising through thick clouds of obstacles approaching to her, which having overcome, did settle over the army his countrymen belonged to, over whose head she shook and flourished her colours, pointing at approaching peace, attended with plenty; but in a sudden there arose an infectious mist out of the ground, which cramping the Englishmen's hands, that they could no more use their conquering arms; which fatal accident having both encouraged and strengthened the enemy, they fell on the unfortunate remains of the army, with unmerciful fury; who now having lost all their support and dependence, were most cruelly cut to pieces; at which most dismal and afflicting object he did awake; and though this dream was a sufficient proof of the feathers' influence, yet he cannot be satisfied but it must be ominous, having so much relation to the preceedings; so sets it down with them, and for a more certain conviction of what he had all cause imaginable to believe; he is resolved to try his monkey once more the night following; but the beast, who had not yet forgot the uneasiness that that bed had caused him, chose to lie on the ground, which entirely convinced Quarll that there was a malignant quality into those feathers; so throws them into the sea, and fills the case with a sort of soft moss, which grew at the bottom of a particular tree, on which the creature lay very quiet ever after.

And as his yearly stripping the eagles of their eggs, had prevented their increase, it also favoured and advanced that of the creatures in the island, on whose young they did feed; so that the number of the wild monkeys being considerably augmented, made their food scant, which caused them now and then to come and steal somewhat out of Quarll's ground. Beaufidelle, whose good keeping and warm lying had made to thrive in bigness and strength exceeding his kind, finding some of them stealing his master's roots, did beat them away, which obliged those subtle creatures to come several together, the better to be able to encounter him, which Quarll having taken notice of, and being willing to add a new sport to his usual diversions, cuts a stick of the length and bigness that the creature could manage, which he gave him, and taking his own staff exercises it before him, who did the same with his; and apprehending what use it was given him for, he had it often in his hands, and with it drove away the others when they came, though ten or a dozen together; so that the roots were very well guarded, by his continual watching, which made those sly and spiteful creatures watch an opportunity to take him at a disadvantage: thus finding him one moaning as he was going for water by himself, as he was wont to do; and being then without his staff, of which they flood in great fear, a considerable number fell upon him, and did so bite and beat him, that he lay as dead; but his master appearing, who being uneasy at his extraordinary stay, was gone to see what was the occasion thereof, did put them to the flight; and so left the poor creature with just breathe enough to keep the life of it in, and scarce strength sufficient to draw it.

Quarll being come to the place where his beloved Beaufidelle lay in a most dismal bloody condition, he could not forbear shedding tears to see him thus miserably dying; but finding still breath in him, gave him hopes of his recovery: and taking him up in his arms, with all the care he could, he hastens home, and gives him a little of the liquor he had made, which by that time had got both body and spirit; then having laid him upon its bed, and covered him with his winter- wrapper, he makes a fire and warms some of the laid liquor, and fresh butter, wherewith he washes its sores; so lays him down again, giving him all the careful attendance he could during its illness, which held but one week, at the end of which it died, to his unspeakable grief, who from that time did grow so melancholy, that he had not the courage to go on with his memorial, till having a most remarkable dream about twelve months after, he changed his resolution, so proceeded in his memoirs; and as he did let down his dream, he also did the death of his beloved beast, happening near the same time.

Having spent the year but dully, for want of his diverting company at home, whom to put as much out of his mind as he could, he walked the spare hours he had left from his usual occupation; thus being one day something fatigued, having lost that wonted alacrity his wonted cheerfulness did create, he sat down under the next cluster of trees he came at, and being in a dull disposition, he was soon lulled asleep, at a lonesome note of a certain sort of melancholy bird, who shuns others' company (though of its own kind) at all times but in breeding time; which having placed itself in the thickest and shadiest part of the grove, where Quarll had made choice to lie, he falls a singing his melancholy notes, which being suitable to his disposition. of both body and mind, soon lulled him asleep, during which he dreamed that he saw an old man sitting in a large circle, around which all the signs of the zodiac were, and the old gentleman appeared extreme busy stringing of small beads, some white and some black; and when he had strung a certain number, he began another string, and so on. He had the curiosity to tell how many he put in a string; so keeps an account of the next he did begin, and tells just 60; having made as many of those strings as there were beads in each, he puts them together, and begins again to string, mixing white and black as they came to his hand, twisting every sixty string in parcels, till he had made sixty of them, which he neatly plaits together, so proceeded as from the beginning, and makes 24 of those plaits, which he weaves together, making a flat piece of bead-work, changeable upon black, which, when looked upon one way seemed pleasant, and being seen from another as disagreeable. He worked on till he had made three hundred and sixty four such pieces, then lays them up in a bundle; so goes to work again, beginning to string as at the first.

Having looked himself weary with seeing still the fame, of which he could make nothing, he goes away leaving the old gentleman stringing his beads; who seeing him go, lays by his work and follows him, and having overtaken him, asked him what he had been looking at all that time; he being surprised at the surly question, he modestly replies, he had been admiring his work, in which doing he hoped there was no offence.

"No," said the old man, "providing you learn something by what you have seen."

To which he answered, it was impossible for him to learn such a mysterious business, with once seeing it done; so much less, being entirely a stranger to it.

"A stranger to it are you?" replied the old man, in a surly manner, "and have wasted so much of my work; I am TIME, whom you have often ill-used, and those white and black beads, that you have seen me string, are good and bad moments, I crowd into minutes, which I link into hours; thus weave days, wherewith years are composed. You have seen me complete the present, which is reckoned the year 1713. I tell thee before the ensuing is ended, I will grace the British throne with an illustrious race, to the end of kings' reigns."

So vanished. Then he awaked in a great surprise, and goes home pondering on his dream, of which he inferred that if there be any signification in the roving conceptions of the mind, this must prognosticate the speedy ascension of some great monarch upon the English throne; so sets in his memorial that most remarkable dream, which happened in 1713. Heartily wishing the accomplishment thereof, for the quiet and prosperity of his dear country.

There happened nothing after for the space of four years, but great thunders and lightnings in the summer, and abundance of hail and snow in the winter, with now and then storms which did leave several sorts of fishes in the clefts and holes of the rocks, and sometimes fragments of staven ships, and battered casks, or broken chests, with a plank and such like products of shipwreck, not worth recording; so, for want of employment, he has several idle and sullen hours in the day-time, which his late beloved animal's diverting company made to slip away with pleasure; and for want of which they now creep slowly on, being loaded with dull and heavy thoughts, which made those walks irksome, he at that time took for ease; that by the diversity of objects abroad, his mind might be withdrawn from his anxious solitude.

Having one day perused his memorial, as he commonly did once a year, the dream he had in 1713, wherein TIME did predict such great happiness to his country the year ensuing, made such an impression in his mind, that he always thought of it; so being walking, and the day proving extraordinary hot, he goes to shelter himself in one of his natural groves, where having lain himself down on the grass, he was soon lulled asleep; during which, the idea he had conceived of his former dream, represented to his imagination a most majestic and graceful monarch, sitting on a magnificent throne, round which did stand many delightful olive-plants, which much added to his lustre.

Having, with a great deal of pleasure, gazed at the most graceful countenance of the king, which denoted justice, equity, love, and clemency; he gave Heaven thanks for the mighty blessing bestowed on his country, so comes away, in order to return to his island, with the additional happiness to the many he already enjoyed.

Being come from court, on his journey he meets the same old gentleman, of whom he dreamed the year before, who taking him by the hand, said:

"I find you have been to see the accomplishment of my prediction, now I'll tell the more,
E'er one thousand seven hundred and forty is written,
All divisions will cease in Great- Britain.
Next I show you what I have done, to secure the arrival of my prophesy."

So takes him upon a high place, from whence he could see in the cabinet of all the princes in Europe, in several of which he took notice lay a vast heap of rich and costly things, but confused, shapeless, and fit for no use.

"Now," said the old man to him, "these are disappointments and defeated projects, made to intercept what I did determine."

So vanishes; at which he awaked exceeding glad to find himself safe in his blessed island, and wonderfully pleased with his dream, which betokened so much good to his dear country: this was the conclusion of his records in 1724.
ED. DORRINGTON.
FINIS
---
Endnotes
(1) N.B. The lines marked with (") are set down word for word with his memoirs, for these reasons.
I thought it a pity to alter anything from his notions of the pleasures of a country life.
And the rather because it gives as very lively ideas of the perfect happiness he enjoys in his solitude.
(2) Least the reader should think, these and the following verses to be the effect of my own brain, I solemnly protest they are what I found in his memoirs, written with his own hand.

---
BACK TO COVER PAGE
BACK TO INDEX
Comments/report typos to
Georges Dodds
and
William Hillman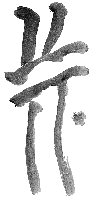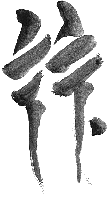 BILL HILLMAN
Visit our thousands of other sites at:
BILL & SUE-ON HILLMAN ECLECTIC STUDIO
ERB Text, ERB Images and Tarzan® are ©Edgar Rice Burroughs, Inc.- All Rights Reserved.
All other Original Work ©1996-2007 by Bill Hillman and/or Contributing Authors/Owners
No part of this web site may be reproduced without permission from the respective owners.