Official Edgar Rice Burroughs Tribute Site
Since 1996 ~ Over 10,000 Webpages in Archive
Volume 1777
Presents

TARZAN THE MUSICAL
Part III: After The Show
A Travel Memoir by
Bill & Sue-On Hillman

Next morning we arose early to keep a date with Lia and her husband at their hotel. We had promised Ron de Laat that we would leave some ERB collectibles with her so that she could deliver them to him. (Lia showed newspapers with the full page colour photos and raves from critics)

Broadway critics, upon reading the reviews of Disney's International production in the Dutch papers, seemed bewildered by the European reaction. Although there were many encouraging reviews in America (See ERBzine 1677) clever barbs in many of the New York papers showed just how stodgy and cliquish some of the Broadway elite are when dealing with popular entertainment. The New York Times went so far as to slam the original with gems like '... a writhing green blob with music' : )

Reviews in the Dutch papers, however, were overwhelmingly positive:

"Visual effects truly out of this world. . . A worthy successor to 'The Lion King' "-- Metro
"Spectacular aerial acrobatics, rocking pop songs and true passion are but a few of the ingredients of (this) dynamic musical" -- SP!TS
"Larger than its American predecessor ... A true jaw-dropper" -- NRC Handelsbad
"Pulling out all the stops to create a true spectacle" -- TROUW:
"Tarzan is een show van je welste!" -Parool-
"Spectaculaire vlieg-acrobatiek, swingende popnummers en oprechte emotie..." -Sp!ts-
"Ron Link slingert recht het hart in" -Telegraaf-
"Chantal Janzen... De perfecte Jane" - Parool
"Chaira Borderslee is hartverwarmend..." -Trouw-
"Clayton Peroti speelt Tark... met verve" -Volkskrant-
"Jeroen Phaff speelt Korchak krachtig en klein" -Trouw-
"Chantal Janzen brings humour and chemistry to Tarzan the Musical" – Telegraaf
". . . a physical tour de force with beautiful sets, attractive choreography and two convincing leading actors." - Telegraaf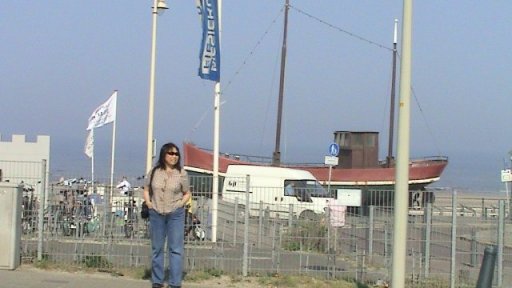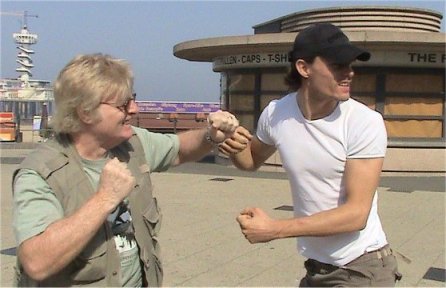 We were back to being tourists and strolled along the beach. Our stroll was suddenly interrupted by a scream from a charging
young man shouting our names. It was Ron Link followed by his mom and dad. . . we had failed to recognize him without his loin cloth costume : ). They were on their way to join the rest of the family at the hotel. JoN met Tarzan's charge and grappled with the tawny barbarian. He proved to be no match for Tarzan who brought him down in a headlock – a hold that had served him so well in the past in his battles with bolgani. Suntanners on the beach were startled by the apeman's frightful victory cry and all eyes turned toward him as, "he took his woman in his arms and smothered her upturned, panting lips with kisses." <g> [Tarzan of the Apes] More photos and tall tales followed and we promised to stay in touch as we parted ways.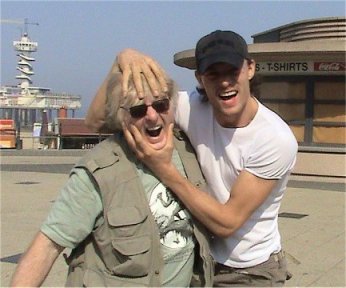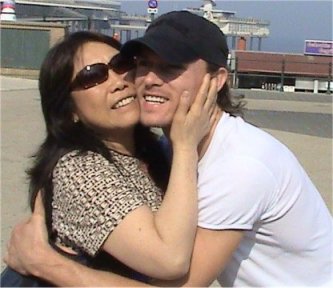 The remainder of Monday the 16th was spent exploring the beach and the long pier extending out into the North Sea. At the end was a "free bungee" jump. It was a windy day, so Dej declined the offer although JoN, still pumped from his beach battle with the apeman, bravely took the plunge -- as evidenced in the accompanying photo. <g>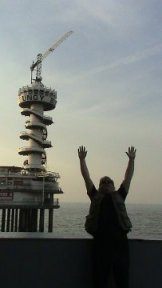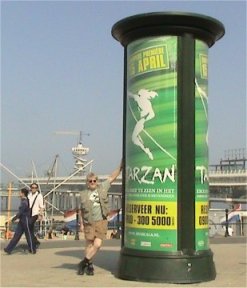 Carrying on down the beach, we found many unusual sculptures depicting fairy tales: the boy in the dike, etc. We wandered back past CircusTheater, hoping to look through the rest of the Tarzan souvenirs, but Monday was "blackout day" – rest day for the performers.

---


Tuesday was our return trip to Amsterdam to catch a flight to the Yorkshire area of England. We took the tram from Schevinengen to Mudurodam, where we stopped to check out miniatures of famous buildings and structures found around the major cities of Holland.

There was a Chinese ice sculpture display set up in a special structure kept at sub-zero temperatures. Most visitors accepted the down-filled parkas provided, but not these two Canucks from the Canadian frozen tundra ;-) The sculptures were beautiful, and many represented fauna from Tarzan's world. These provided great photo ops, even the ice slide that could have sent JoN on his way to Issus.

As we neared the end of the walkabout tour of the tiny village, we were thrilled to catch another glimpse of the Fortis CircusTheater! The miniature was perfect in every detail, down to the minute playbills of Tarzan in the glass cases, and the panoramic view of a swooping Tarzan on the circular tower of the theatre.

We took the train from The Hague to Schiphol airport where we caught the evening flight to Newcastle, England. Our friends met us at the airport, and it was a wonderful reunion as we have not seen each other since 1979! Of course, we all still look the same. <g>

The next few days were spent visiting old stomping grounds: venues where we performed and recorded in during our three tours of England in the late '70s; historic buildings such as Durham cathedral with the incredible circular stained glass window; Alnwick Castle where films such as Harry Potter, Elizabeth, and Robin Hood were made; Whitby Abbey and resort as well as Scarborough for the incredible fish 'n' chips that only as the English can make.
| | | |
| --- | --- | --- |
| Tracing Dracula's steps up to Whitby Abbey | Locked out ofAlnwick Castle | The Castle Dungeon |
The highlights of our short visit to England were the evenings of reminiscing with our friends, and catching a concert by Mick Sandbrook and our old bandmates from our Album #9 Durham recording sessions many years ago. At that time they were called Desperado but for many years since have been known as Raised on Rusks or just The Rusks.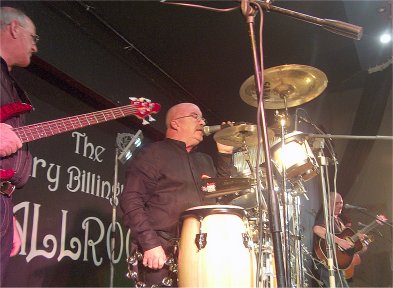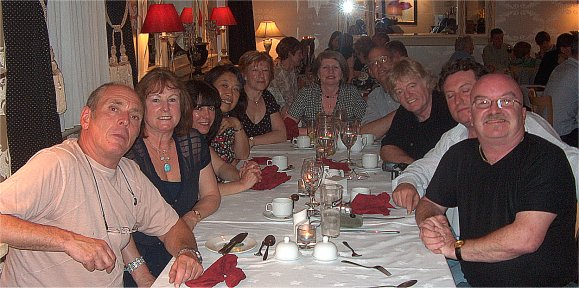 Our final stop was at the village of Thirsk where we visited our old veterinarian friend James Herriot in his study. After reading the Dutch reviews of the Tarzan production he lent us his famous All Creatures Great and Small car which we took to Newcastle Airport in time to fly back to Amsterdam and on to Winnipeg. : )

.

All too soon, our European holiday came to an end. We arrived home on the 25th, still pumped from the wonderful memories - of opening night, making new friends, and visiting old friends - all because of ERB and Tarzan.

---


Shortly after returning home we received a long letter from Lia, Ron Link's aunt, who reported that accolades continue to pour in for the Dutch Tarzan Musical:
"Yesterday (May 7th) Ron Link was nominated for a Musical Award in Holland as New Talent. Monday the 21st of May he will know if he will receive this award. The musical Tarzan did receive a lot of nominations (see www.stichtingmusicalawards.nl). Chantal Janzen is nominated for best female leading part and also Clayton Peroti (Tark) and of course Phil Collins for his music, Pichón Baldinu (aerial design) and Bob Crowley (décor and costume). It will be a very exciting evening in our media-city Hilversum."

---

The next international premiere for Tarzan the Musical will be in Hamburg, Germany at the Neue Flora Theater on October 19, 2008. Edgar Rice Burroughs' Tarzan legend lives on.




---

Tarzan the Musical in Holland
Contents: ERBzine.com/holland

.
Tarzan the Musical On Broadway, NY
Tarzan the Musical in Europe



The Worlds of Edgar Rice Burroughs

WEBJED: BILL HILLMAN
Visit our thousands of other sites at:
BILL AND SUE-ON HILLMAN ECLECTIC STUDIO
All ERB Images© and Tarzan® are Copyright ERB, Inc.- All Rights Reserved.
All Original Work ©1996-2008/2010 by Bill Hillman and/or Contributing Authors/Owners
No part of this web site may be reproduced without permission from the respective owners.