R.E. Prindle Presents
Horning Into Africa
by
W. S. Van Dyke ~ 1931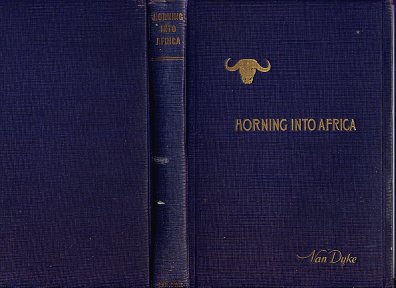 Click photos for full-screen images
---
INTRODUCTION ~ LOOKING BACK - PREPARATIONS FOR THE TRIP
---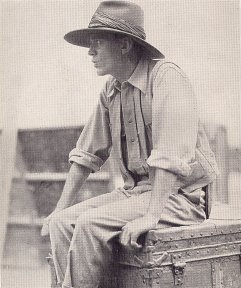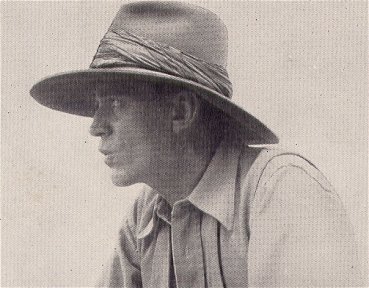 Colonel W. S. Van Dyke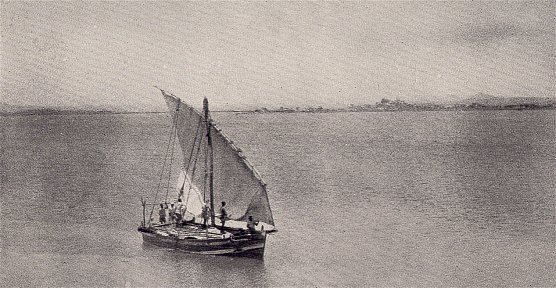 An Arab Dhow off the African Coast, Loaded to the Gunnel with Vermin and Smells.
These little ships often traverse two or three thousand miles of ocean.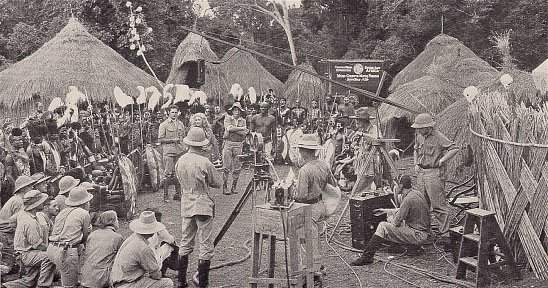 With "Mike" and Camera in The Heart of Uganda.
This picture is reproduced for the simple reason it is about the only time on record
anyone ever caught me with my back to the camera.
---
CHAPTER I: AMAZING SAFARI
---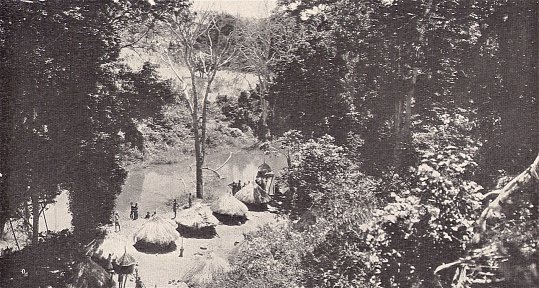 A Native Village of Kukuas on the Banks of the Thika River in North Kenya.
They are more picturesque and less odoriferous looking at them from a distance.
And it is somewhat safer, to keep the distance.
---
CHAPTER II: WHAT A TRIP -- AND HOW
---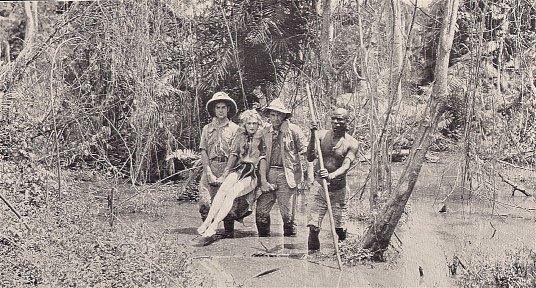 African Swamp Land -- evil looking and evil smelling.
One moment ou are on firm ground and with the next step, you could go out of sight in the "goo."
Full of reptilian and germ life and not recommended for constitutionals.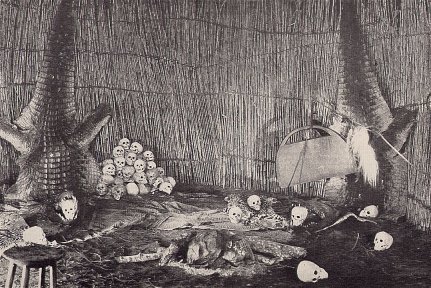 Ju-ju and Witchcraft. Interior of a Medicine Man's hut way up among the Alunas.
Cannibalism is not practiced, or if at all, it is in secret,
as the governments have inconsiderately denied them this playful little pastime.
---
CHAPTER III: AFRICA OR BUST -- OR BOTH
---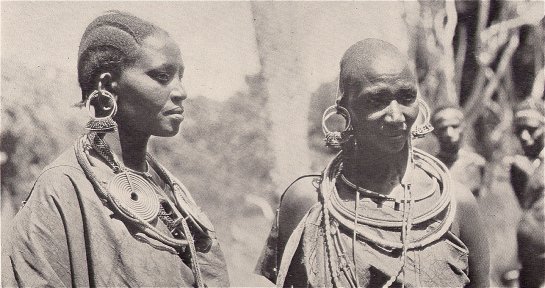 High Types of Kukua Women.
Their dazzling beauty is not so valuable in Africa as their strong backs.
The one on the right is worth only three goats.
---
CHAPTER IV: AFRICA AND BUSTED
---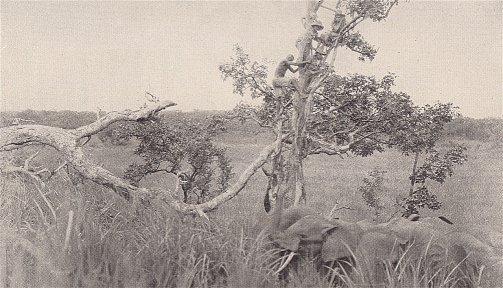 My Actors Learned To Climb Trees and Climb Fast in Africa.
These are real African elephants and a lot closer to the camera than I was.
---
CHAPTER V: CIVILIZATION BEGINS TO FADE
---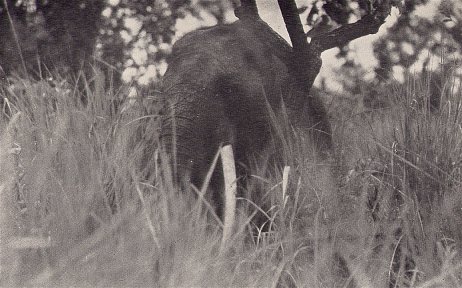 What Elephants Look Like When They're Coming.
It is moments like this when the elephant gun shrinks to about the size of a cap pistol, and you long for nothing quite so much as a tank.
Probably one of the greatest thrills in Africa is to be in the tall grass with one of these fellows and have him slightly disconcerted.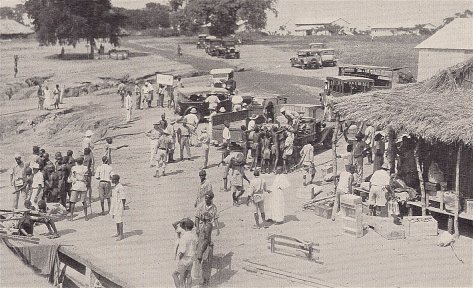 Unloading from a River Boat at Rhino Camp.
And reloading to trucks on the shores of the White Nile. From here we went into the Congo.
The Clothing most of the natives wore in this district would have made Eve look dressed up.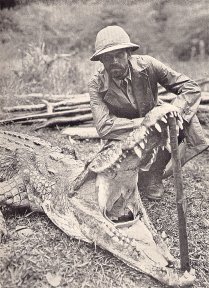 Nice, Pearly, White Teeth
that need very little cleaning by the birds, but the nest of leeches, which you can see in the lower jaw,
often affords a hearty repast for the plover.
---
CHAPTER VI: AFRICA -- SAVAGE AT LAST
---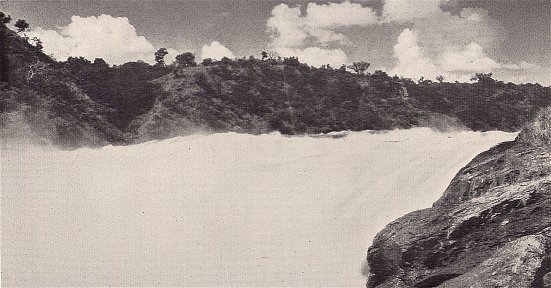 Top of murchison Falls
Where the entire waters of the Victoria Nile flow into a gap fifteen feet wide with a two hundred foot drop.
Incidentally makes the noice of the discharge of a big naval gun sound like a dud blast of a seidlitz powder.
---
CHAPTER VII: I BECOME A HERO
---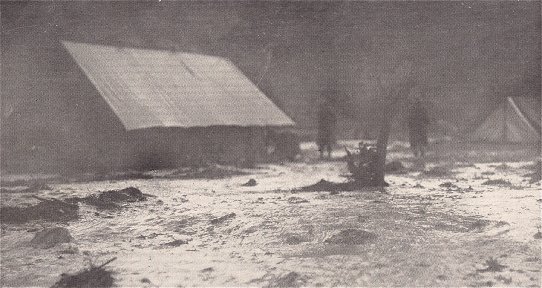 Early Morning After a Night of Flood.
Some of the tents are still standing due to huge trenches
we had dug around them somewhat after the manner of a Flanders' battlefield.
---
CHAPTER VIII: WHY I DISLIKE CROCS
---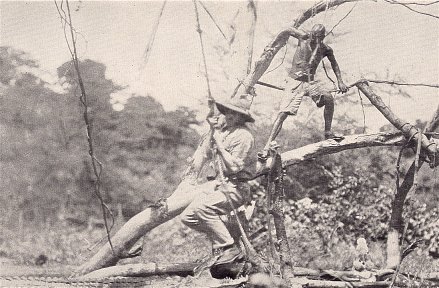 Harry Carey, Who Nearly Lost His Foot Trying to Kid the Crocodiles,
and a couple of them are nearly laughing themselves to death.
Just a little recreation to highlight the day's toil.
---
CHAPTER IX OUR FIRST NATIVE TROUBLE
---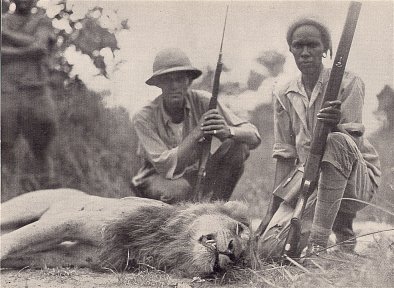 This One Got Obstreperous.
Of all the animals in Africa, the lion is possibly the easiest to hunt and kill.
One party of Americans killed fifty-six lions in three weeks -- wanton slaughter of a noble beast,
who probably has more mercy in his heart than the humans who hunt him.
---
CHAPTER X: THE FIRST LION
---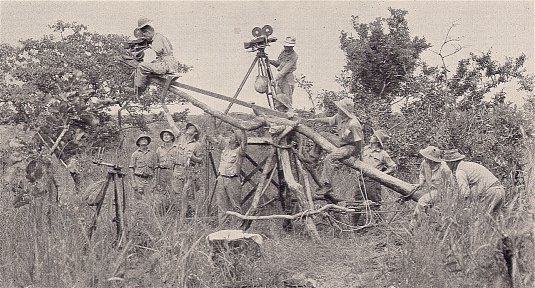 A Triumphant Engineering Feat.
An elevator to raise our cameras above the level of the elephant grass,
when we got the elephants where we wanted them.
The reason the writer is not in this picture is that the elephants were coming at the moment.
---
CHAPTER XI: ON INTO THE CONGO
---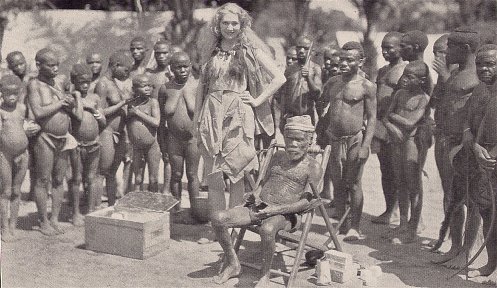 Edwina Looks Pleasant Here, But She's Not.
At this moment she is suffering from (name the disease yourself) and asphyxiation.
Her blonde hair was ever a source of wonder and delight to the pygmies.
The Chief seated in the foreground is the proud possessor of several cubes of salt
-- a mark of affluence and power in the Congo.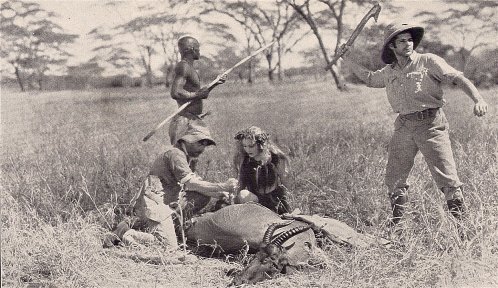 Harey Carey, Edwina Booth, Duncan Renaldo and Mutia Oomooloo and the body of a topi.
Standing over the body of a topi from which they had just driven three lions.
They go on with the scene whiel the three lions sit not far off and wonder what foolishness this is
. . . It was.
---
CHAPTER XII: MORE NATIVE TROUBLE
---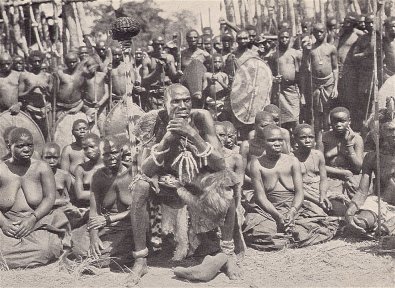 One of Our Little Pet Playmates and a Few of His Wives.
He did very well by himself.
I was never sure whether or not all the people standing behind him were his children.
And I don't think he knew.
---
CHAPTER XIII: SERENGETI PLAINS
---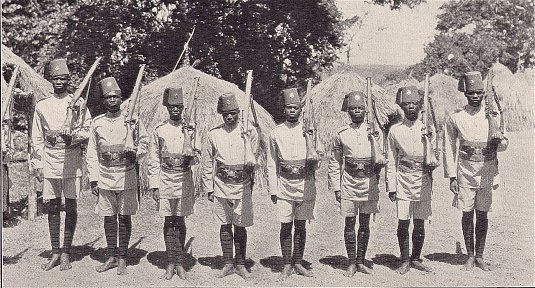 Iscari, The King's Crack African Rifles
and there is no better fighting force in the world nor more loyal.
In times of peace they act as Africa's Royal North West Mounted Police with just as fine a reputation.
Their only mounts are shanks' mares.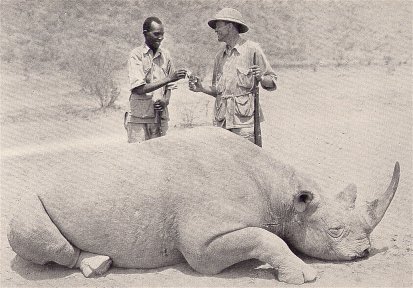 This Poor Fellow Died Hard
and gave us a few very unpleasant moments.
I expected to get a large block of stock from the Lucky Strike people when I sent them this picture.
They mailed me six packages.
---
CHAPTER XIV: CAMP ON THE DUMA
---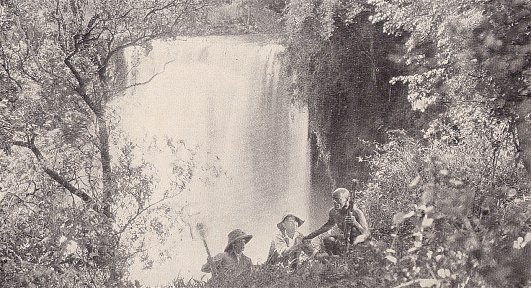 At the Top of the Thika Falls.
Another African torrent which represents enough power to light all of Kenya Colony.
It is a pity this picture was not taken in color.
There were several rainbows holding petting parties in the spray.
---
CHAPTER XV: M. G. M. GOES HUNTING
CHAPTER XVI: GAME STORIES TRUE AND OTHERWISE
---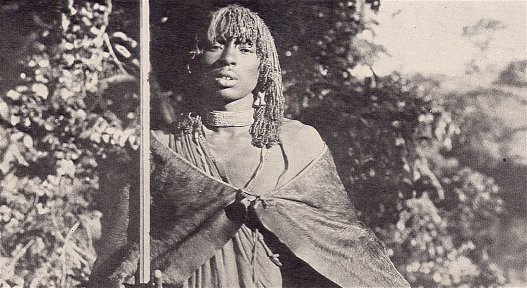 A Beau Brummel of the Masai.
Hair plaited with blood, mud, and cowdung. Earrings of iron and copper.
Spear of malleable iron which he himself smelts from the ore.
One of the finest and most fearless fighting men in this or anybody else's land.
---
CHAPTER XVII: MODUS OPERANDI
---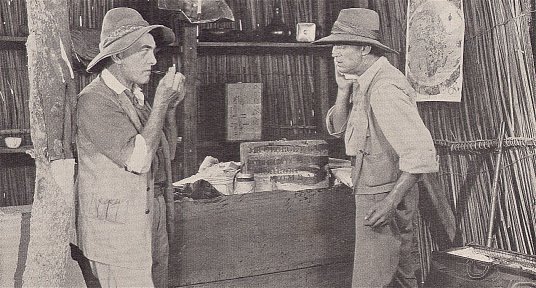 Nursing a Sore Jaw After Trying to Steal Harry Carey's Last Can of Tobacco.
If I remember rightly, this picture was taken just after I had accidentally bumped myj aw
against Harry Carey's fist while stealing his last can of tobacco.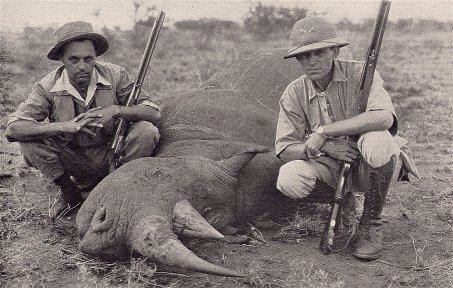 Dickinson, Myself, and One of the Enemy
at about the time when the little red bug was found.
Note the parrot-like mouth of the rhino.
---
CHAPTER XVIII: STOPPED AT LAST
---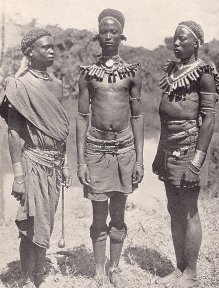 Kukua Warriors In All Their Finery, and Mean As They Make 'em.
Notice the cute little native black jack in the hand of the one on the left,
and he'd love to use it on anything, black or white.
---
CHAPTER XIX: THE BEGINNING OF THE END
---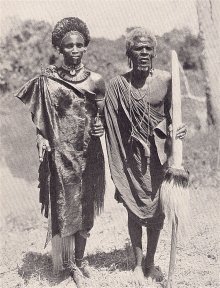 Kukua Royalty, Father and Son, with Ju-ju Stick and Amulets.
The vestment of the young lad is of kongoni hide soaked in oil,
while the old lad has a good-sized piece of cloth bought from the Dukor Store.
In such habiliments they feel far more dressed up than a grenadier.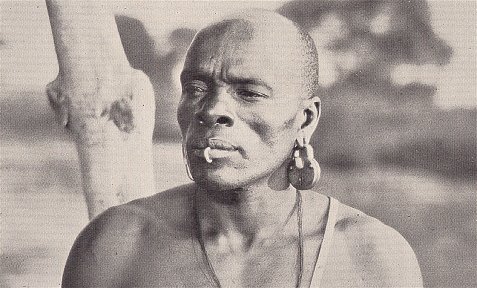 Mutia, Never Did Know What It Was All About.
He just did what the crazy white man told him to do and nearly stole the picture.
---
CHAPTER XX: WE EVACUATE
---
Horning Into Africa is one of the 1,100 books described in the
PERSONAL LIBRARY OF EDGAR RICE BURROUGHS PROJECT
www.ERBzine.com/dan
The book is featured on Library Shelf UV with the following entry: