First and Only Weekly Webzine Devoted to the Life and Works of Edgar Rice Burroughs
Since 1996 ~ Over 10,000 Webpages in Archive
Volume 1183
Presents
Our 2004 European Trip - Part II
by Wayne James
with (most) photos by Edie James

We spent the end of our trip in Edie's favorite city, Paris, France. We were able to spend five days there, just wandering, seeing the sights, and relaxing.

While we were there we had an opportunity to eat in Edie's favorite landmark, the Eiffel Tower. On the first floor above ground level is Restaurant Jules Verne. The doorman was very nice, but he would not let us in because, "First you must have a reservation, and second monsieur must wear trousers." When I asked how far in advance the reservations must be made, he said they sometimes have some available for the same day. Since my jean shorts were not acceptable we made reservations for the next day at 11:45 (lunch reservations may be made from 11:45 until 13:30 and dinner reservations had a similar window in the evening). However, we hit another snag... you must give a local telephone number with your reservation. Well I knew where our hotel was, but I could not remember the name and I had no clue as to its telephone number. I finally located a piece of paper in my wallet with the hotel name and address on it. Apparently what I had was not the same as what it used in the telephone book, because directory assistance could not give the number to him. Then Edie remembered that the hotel desk clerk had given me a business card. Back to the wallet... and there is the number! We have our reservation! This man was very nice and patient through the entire conversation. However this was an instance where Edie and I imagine that he just wanted to say one of Kevin Kline's lines from the movie French Kiss. "Les américains, you make my a-- twitch."

We returned the next day, properly attired, and had a very nice lunch. The first course was cold chicken on a bed of greens with a sweet dressing. The second course was rabbit with a béarnaise sauce and a few vegetables. Dessert was berry pastries for me and something chocolate for Edie.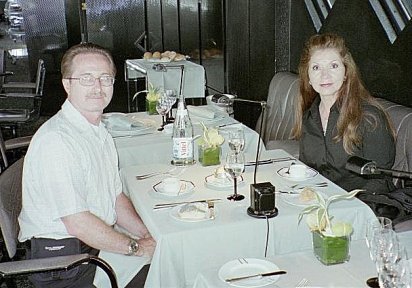 ---
Disneyland Paris
The Chaparral Theater Presents
Disney's Tarzan
THE ENCOUNTER - LA RENCONTRE
While we were in Paris we HAD to visit Disneyland Paris which is patterned after Disneyland in California. There are a few minor differences, but basically they have the same layout. Disneyland Paris has not changed the Swiss Family Robinson tree house to a Tarzan tree house, but they do have a new show.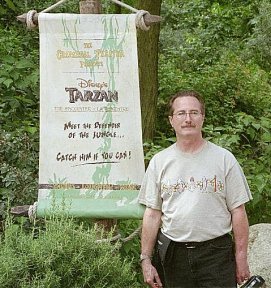 Several months before our trip, we had received a flyer that advertised a new Tarzan show called Disney's Tarzan: The Encounter and that was our primary objective. This show is a half hour acrobatic musical of the Disney Tarzan story. There are some similarities to Tarzan Rocks, but The Encounter is different. In Tarzan Rocks the acrobatics are on roller blades and the show is longer. In The Encounter the show is acrobatic dancing (without wheels) into which the discovery of the baby, a little of Tarzan's life, the encounter with the Porter expedition, and a musical score (mostly in French) is interwoven.

I video taped the show and Edie did the still photography. Below are some of the better still shots to give you an idea of the show. If it comes to the U.S. or you have an opportunity to travel to Paris, we highly recommend this show.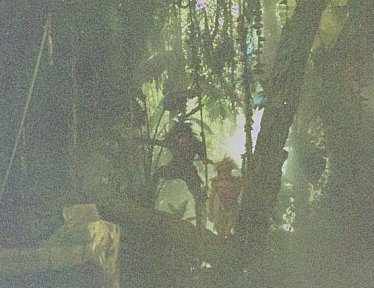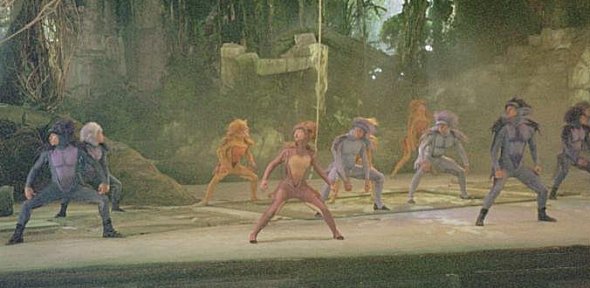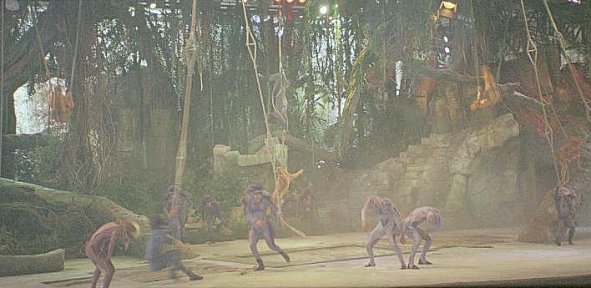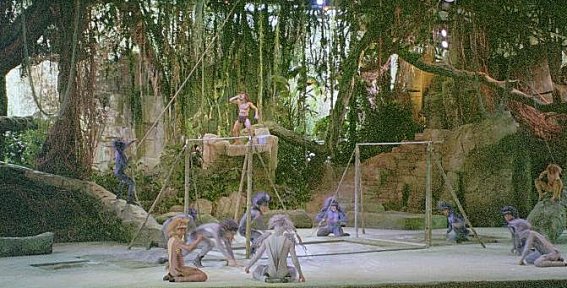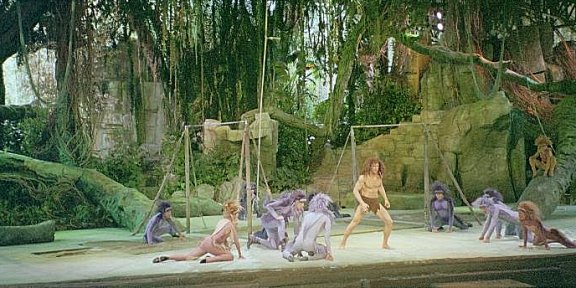 Other Wayne James Features in ERBzine
WAYNE JAMES BIBLIO-PRO-PHILE





BILL HILLMAN
Visit our thousands of other sites at:
BILL AND SUE-ON HILLMAN ECLECTIC STUDIO
ERB Text, ERB Images and Tarzan® are ©Edgar Rice Burroughs, Inc.- All Rights Reserved.
All Original Work ©1996-2004/2010 by Bill Hillman and/or Contributing Authors/Owners
No part of this web site may be reproduced without permission from the respective owners.