First and Only Weekly Webzine Devoted to the Life and Works of Edgar Rice Burroughs
Since 1996 ~ Over 10,000 Webpages in Archive
Volume 1182
Presents
Our 2004 European Trip - Part I
by Wayne James
with (most) photos by Edie James

This was the year for another trip to Europe. Edie has family in Belgium so we spend a good part of the vacation in Belgium. We stayed at a Bed and Breakfast in Wavre, Belgium for 10 days. This is the little town Edie's mother was raised in and some of Edie's family still lives here. Some we can walk to and for others we take a short train ride. At this time of year there is a carnival in the town square and while we were walking one day I heard the cry of a bull ape. I quickly put my back against a stone wall and searched for the source of the cry. There! In the distance something moved. I crept slowly and silently toward the movement. From my belly in the underbrush I saw the ape man. As it turned out he was no threat, he was just out for fun.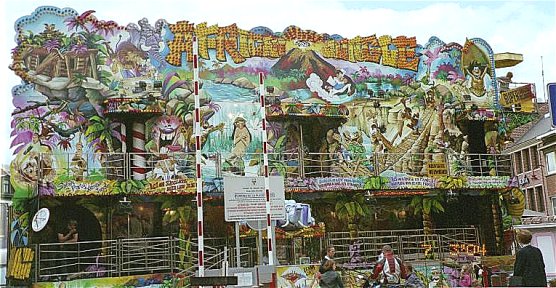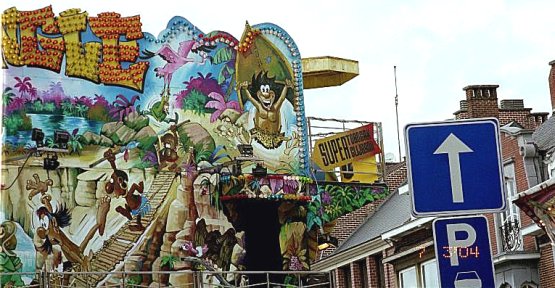 We also spent some time wandering Brussels. After one particularly long and arduous trek it was left up to me to hunt down lunch. Well my Danish blood must have been hollering loud because I found the Danish Tavern.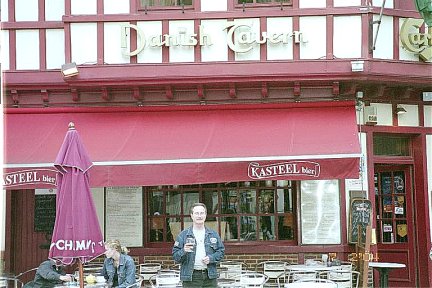 When we go to Europe we do most of our traveling by train. We can get a multi-day, multi-country EuroPass for a relatively inexpensive price if we purchase it in the U.S. before we leave. This year we purchased a 10 day, four country pass. This pass was good for as much train travel as we wanted for any 10 days within a 90 day period. This year our four countries were BeNeLux (Belgium, Netherlands, Luxembourg), France, Germany, and Austria. The trains are very prompt and, for us, having an automobile is not necessary.

Thus equipped for travel we not only traveled around Belgium, but we also made some day trips to Luxembourg and to Amsterdam for lunch and shopping. While we were in Amsterdam we came across some kids playing music for donations and smoking a joint (which is legal there). Edie was not ready with the camera and missed getting a shot of it actually passing around.

After our stay in Belgium we headed out on the second part of the trip. We had an invitation from Walter and Veronika Tauser to spend some time with them in Austria so we took them up on it. We made our arrangements, while still in the U.S., to take a night train from Brussels to Salzburg (by way of Paris). It was not until we were getting off the train in Salzburg, at 04:40, that we realized that all the long distance trains have names and we had just spent the night in a sleeper compartment of The Orient Express. This is supposed to be the real article. It just no longer goes to the Orient.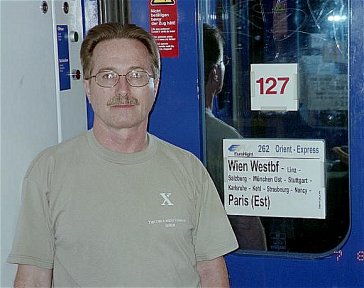 We had about a three hour lay over in Salzburg before we could catch the next train south to Villach. In Villach Walter and Veronika picked us up. We met Walter and Veronika Tauser when they attended their first Dum-dum in 2003 at Louisville. The Dum-dum was the first part of their vacation, which went through Nashville and ended in Orlando. We had the good fortune of getting to know them and becoming friends. Walter has been an ERB fan for a long time and has, as he puts it, "a few things."

When they found out that we were planning a trip to Europe in 2004 they invited us to Austria to stay with them. At that time we were not sure just what our plans would include, but we told them we would keep them apprised.

We tried having a travel agency set up a side trip to Austria for us, but they could not come up with a schedule that we could manage. It was beginning to appear that we would not be able to make the trip, but Edie was not willing to give up that easily. She went on-line and worked out a schedule that would allow us to make a journey to Austria that would fit in with our other travel plans. It meant taking a round-about route (Brussels, Paris, Austria) which added about four hours to the trip, but she did it. It was well worth it to see our friends again.

We crammed all our luggage and the four of us into their automobile and took the short beautiful ride to their home in Ossiach. Before having breakfast on their patio I just had to get out the bottle of Tarzan beer for Walter. It made the journey just fine.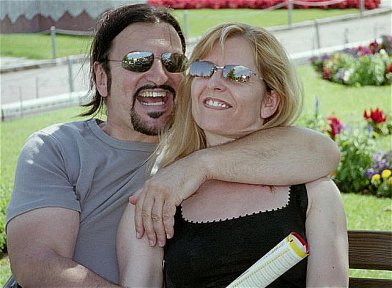 The first day we spent at a park called Minimundus. This park has miniature scale models of buildings and structures from around the world. It even has a working model of a shuttle launch. The shuttle itself is at least six feet tall. There is a countdown and launch that takes the shuttle to the top of the gantry. All the famous structures of the world are there.

The second day started early as they wanted to take us to Venice, Italy. We left the house around 06:00 and in about three hours we were on a ferry taking us to Venice. On the ferry was a group of school children who entertained us with songs in German, Italian, and English.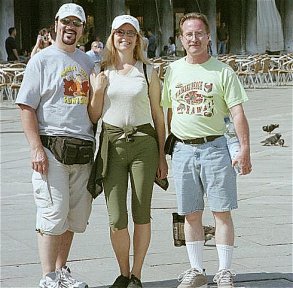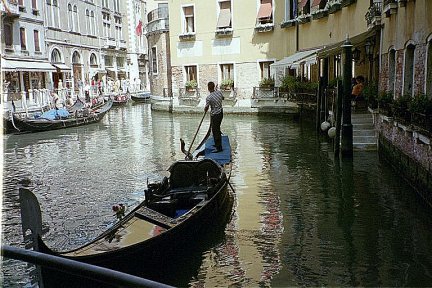 Venice is an amazing city. We wandered all morning, found a place to eat a wonderful Italian lunch, and wandered some more. It was very hot and we were all worn out. Around 16:00 we decided to sit down in the shade for water and a rest.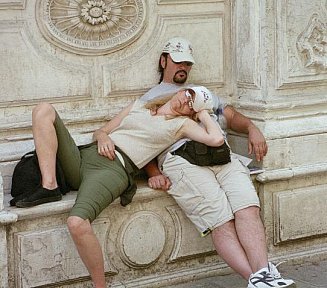 On our ferry trip back to the car we were fortunate enough to have the same group of singers on the ferry again. They had ended their day at the same time we did.

The third day we stayed close to home. Walter showed me part of his collection and we spent time on the computer giving each other tips about places to find things on the web. The women were busy in the kitchen fixing a delicious Austrian dinner. After an early dinner we packed up the automobile and went on a short tour of Ossiach, after which they drove us to Villach. We had some time before our train was due so we went on a little walking tour. We took the short train ride from Villach to Salzburg and arrived in plenty of time to catch The Orient Express on it's return to Paris. Time passed far too quickly during our stay in Austria.

We found lots of treasure while in Europe. Some is ERB related and some is not. Most of the ERB related is Disney Tarzan items from The Disney Store in Paris. Some of the items came from Belgium. All are shown below, but the best ERB treasure is the show at Disneyland Paris. Find out just what this was in "Our 2004 European Trip" - Part II.


Two coloring books and a Rahan book. Rahan swings through the trees, has a holler, and is very friendly with the animals. He has also figured out how to use a skin for gliding like a flying squirrel.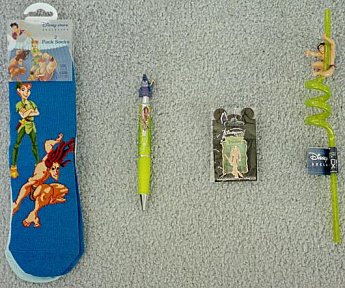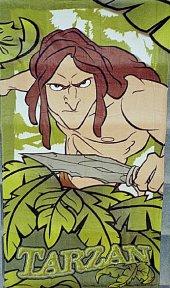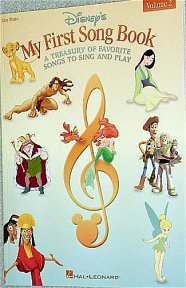 Beach Towel ~ Song Book ~ Movie Poster

Childs' socks (lighter pair behind does not have Tarzan on them), ink pen, hat pin, and curly straw. A song book in English. There was another book at Disneyland Paris that had Tarzan songs in it, but it was much thicker and heavier and did not have Tarzan on the cover. We did not get it because we had to carry all our stuff back and this display of Tarzan treasures was only a small part of what we brought back.
Other Wayne James Features in ERBzine
WAYNE JAMES BIBLIO-PRO-PHILE





BILL HILLMAN
Visit our thousands of other sites at:
BILL AND SUE-ON HILLMAN ECLECTIC STUDIO
ERB Text, ERB Images and Tarzan® are ©Edgar Rice Burroughs, Inc.- All Rights Reserved.
All Original Work ©1996-2004/2010 by Bill Hillman and/or Contributing Authors/Owners
No part of this web site may be reproduced without permission from the respective owners.