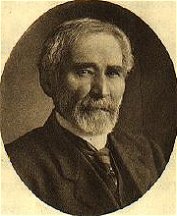 William Henry Hudson, the son of Anglo-American immigrants, was born in an estancia house – Los 25 Ombues, near the Chichitas river in the district of Quilmes, Province of Buenos Aires, Argentina – on the 4th of August 1841. This was the house associated with his earliest and happiest memories. Naturalist, novelist, short story writer, Hudson is one of those writers whose work awaits rediscovery by each new generation. In 1885, W. H. Hudson published The Purple Land, a novel about the Banda Oriental, in present-day Uruguay. It is an account of a South American arcadia, a pleasant wilderness that might, if history had turned out differently, have become another British colony (the subtitle of the novel is The Purple Land that England Lost). There are passages in this work which extol the virtues of British colonial rule. The hero, Richard Lamb, bitterly condemns the generals who traded 200 British soldiers for the freedom of Uruguay, which thereupon fell, as he see it, into the hands of the local rabble. Hudson was a man with a dual allegiance – to England, the land of his ancestors, and Argentina, the land of his childhood.

A great part of Hudson's originality can be traced to his biculturalism. Hudson's South American romances are unique works of fiction, with their exotic subject matter and rambling Quixotic narratives written in elegant English prose. Hudson's reputation with the English-language public has declined since Virginia Woolf praised his work in the Common Reader. However, his novel Green Mansions (1904 ), with its romantic story of the pursuit of the bird girl, Rima, has never been out of print . His autobiographical memoir, Far Away and Long Ago (1917), gives an account of his childhood on the pampa. If he had written nothing else, Hudson would be remembered for this poignant memoir which also contains most of the autobiographical material available to the student or researcher. The Hudsons' attempt to settle on the pampa at Quilmes was a slow decline into something near ruin. William's father had to give up sheep farming, sell off his land and open a grocery store. This too failed, and eventually he had to eke a living from growing potatoes. The humiliation of this early family defeat marked Hudson for life, eventually driving him at the age of 32 into a kind of exile in London. Yet, for the child, there were compensations: the family house was full of books and it was possible to get some sort of an education from the travelling schoolteachers who would turn up from time to time and stay for a while. After catching rheumatic fever from a exposure to a hailstorm while out herding cattle, the adolescent Hudson was accorded some of the privileges of the invalid, wandering alone on the plains, observing animals and birds, but also taking careful note of the habits and idiosyncrasies of the human inhabitants. For Hudson, no distinction can be made between the world of humans and the world of animals. All life is endowed with a specific genetic history and adapts to the conditions in which it finds itself. Aware of Darwin's Origin of Species, Hudson believed that nature is not cruel, but merely indifferent to that fate of humans. It was thus in early life that Hudson developed the powers of observation and passion for wildlife that turned him into a naturalist. Before he turned to writing as a full-time profession , he was a professional ornithologist and bird collector, shipping specimens to museums in Britain and the USA. One of his biographers describes him as even looking like a bird, with his eagle's beak of a nose.

In 1874, he departed for England, the land of his grandfather and his American mother's ancestors. When his brother saw him off on his final journey to England he said: "Of all the people I have ever known you are the only one I don't know." This statement still stands as a salutory warning to biographers ( see for example W. H. Hudson, Ruth Tomalin, Faber 1982). In London he met and married a decent older woman who owned a bare and gloomy London boarding house. His friend and first biographer, Morley Roberts, called it "a grim jail" which held "a prisoner of genius, whose only true home was under the open sky" (Morley Roberts, Eveleigh Nash and Grayson 1924). It was hardly a love match, and there were rumours of passionate love affairs. However, his wife's income from boarders and the free lodgings she provided enabled Hudson to develop his writing career during the difficult early years. All his work was written in English and first published in Britain between 1885 and 1922. Outwardly, his life during his English exile was uneventful, yet his writings give off a sense of painful regret for a lost Eden. As a writer of sketches and essays on nature themes for the London journals, he liked to explore the countryside of Southern England, staying in country inns or private lodgings from where he wrote letters to his friends. Books like Nature in Downland (1910) and A Shepherd's Life (1910) caught the nostalgic mood of the Edwardian period, and link him with the gentleman naturalists of the English tradition such as White of Selborne and his Sussex-based contemporary, Richard Jefferies, who died while still young. He was more than a sentimental naturalist, however: he was an accurate and dispassionate observer of the whole dynamic pattern of the English countryside, people, animals, crops, trees and plants. For ornithologists, his Birds of the River Plate is an indispensable reference and valuable collectors' item. Hudson was a pioneer in the field of ecology. He was a dedicated conservationist, and was particularly concerned with the protection of living birds.

For the Argentine reader his work in Spanish translation (he wrote exclusively in English ) has made a unique contribution to criollo literature and has enabled the creation of the national myth of a gaucho nation. His South American romances, and his nature writings – especially A Naturalist in the River Plate (1892) and Idle Days in Patagonia (1893) – are required reading by Argentine school children in Spanish language translation. Despite Hudson's pro-British attitudes, he always saw himself as one of the poor and powerless, representative of a culture that is still politically unformed and vulnerable and of a continent in which democracy and the rule of law are still rare. It was that semi-barbarous life of the plains that Hudson remembered and celebrated in his childhood memoir and masterpiece Far Away and Long Ago. This extraordinary book is the result of a period of Proustian recall which was triggered by being confined to bed when he was already an old man. There is a memory of an adored mother and a childhood lost and hyper-sensitivity and the love of solitude mingle with a sense of permanent exile, as if he has been shut out of some original Eden. Fear of extinction drove Hudson's passionate recourse to memory as the only means of preserving the past and language becomes the vehicle of that memory and the only refuge against extinction. If we want to discover the uniqueness and originality of Hudson, however, we must return to his criollo work. Among Argentine critics, his reputation has been well served by Ezequiel Martinez Estrada whose book, El Mundo Maravilloso de Guillermo Enrique Hudson (1951), contains an interesting account of Hudson's metaphysical world. For Estrada, Hudson is the supreme interpreter of Argentine reality "Nuestras cosas no han tenido poeta, pintor ni interprete semejante a Hudson, no lo tendran nunca". For Jorge Luis Borges Borges, The Purple Land bears comparison with Huckleberry Finn as a great novel of the Americas.