Heroes of the Dark Continent or How Stanley Found Emin Pasha ~ The Great New Pictorial Africa ~ 1890 ~ Historical Publishing Company ~ Illustrated with 500 engravings and colored plates. 590 pages plus 2 pages of advertising.
A COMPLETE HISTORY OF ALL THE GREAT EXPLORATIONS AND DISCOVERIES IN AFRICA, FROM THE EARLIEST AGES TO THE PRESENT TIME, INCLUDING A FULL, AUTHENTIC AND THRILLING ACCOUNT OF STANLEY'S FAMOUS RELIEF OF EMIN PASHA, REPLETE WITH ASTOUNDING INCIDENTS, WONDERFUL ADVENTURES, MYSTERIOUS PROVIDENCES, GRAND ACHIEVEMENTS, AND GLORIOUS DEEDS AS REPRESENTED IN THE DEVOTED LIVES AND SPLENDID CAREERS OF SUM BRILLIANT CHARACTERS AS HENRY STANLEY, EMIN PASH, GEN. GORDON, AND ALL THE OTHER GREAT TRAVELLERS, HUNTERS AND EXPLORERS, WHO, FOR MORE THAN ONE THOUSAND YEARS, HAVE MADE AFRICA A LAND OF WONDERS BY THEIR HEROISM AND UNPARALLELED DARING.
This book covers the whole history of African exploration and discovery. The illustrationsk are very detailed and beautiful. J.W. Buel ihas written many other tales of the world. He has also included tales of adventures among wild animals, ferocious reptiles, and curious and savage races of people who inhabit the Dark Continent. On the second page are illustrations of African people.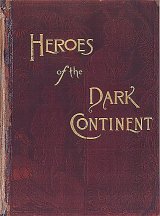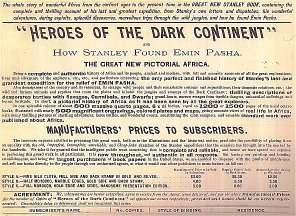 From ERBzine 1151
Excerpts: The Origin of Tarzan: The Mystery of Tarzan's Creation Solved
by Sarkis Atamian with Foreword by George T. McWhorter
Copyright 1997 by Sarkas Ataman ~ Published by Publication Consultants

PO Box 221974 ~ Anchorage, Alaska 99522-1974

With few exceptions, five generations of critics have laid much of Burroughs' inspiration at the doorsteps of Kipling, Haggard, and Wells. But Mr. Atamian points the arrow directly at two lesser know writers, Paul Du Chaillu and J. W. Buell, as the major sources, both direct and subliminal, of the Burroughs mind-fix. He shows that Buell and Du Chaillu provided essential background reading which Burroughs used systematically for his themes, situations and, significantly, for his nomenclature.

From the Foreword of The Origin of Tarzan
George T. McWhorter, Curator
Burroughs Memorial Collection
University of Louisville

Page 84 and 85:
". . . ERB wrote the Return [of Tarzan], from start to finish, in 70 days! That is as fast as lightning for a novel given the complexities of the plot. ERB could not have had time for a leisurely stroll through the book shelves doing "research," in a dozen books -- he wouldn't even have time for a quick reading of them. But he could and did read one book (or had already read it) which contained most of the important items he needed for more than half of the Return after Tarzan's dissipation in Paris. The book was Buell's Heroes! And there are traces of it in the Beasts [of Tarzan] and [The Jewels of] Opar, and even Tarzan [of the Apes].

"In summation, there could be hundreds of words from a dozen different sources which coincidentally could be used by ERB. But here, there are two books (Paul Du Chaillu's Explorations and Adventures in Equatorial Africa and J. W. Buell's Heroes of the Dark Continent) in which all these words and ideas can be related to their contexts in ERB. And these original contexts and sources appear within 30 to 100 pages of each other (depending on the book), which contain all the original cognates, themes, and symbols.

"In varying degrees, all of the first six Tarzan books in the chronology have a Buell influence. The least of these is Mirambo-Aruwimi in Tarzan of the Apes and Baynes (and a companion) who hunt big game together in the Son of Tarzan, the fourth book in the chronology. Admittedly, these are weak. In the second volume, the Return , of the 26 chapters, only the first six have no connection Buell. In the remaining 20, the actions, plots, themes, and names are all in Buell from the theme of castaways, to cannibalism: from the lost and ruined city of Opar and its treasure vaults to La; from Arabs to Manyuema; from fifty frightful men and dwarfs to superior breeding males. In the Beasts, Kai-Shang and Fuchan are minor parts, but totally related to Buell and vital in identifying a major source. In Opar, the entire theme of Opar, La, and the historical allusions and La's appearance and statements, as well as the high-priestesses and Amazonian theme is totally related to Buell. In Jungle Tales, of 12 chapters, five of them revolve around central characters, themes and names from Buell, form the N'Ganga to Du Chaillu's Bukawai; from exploding bullets to Teeka; from Rabba Kega in Tarzan and the Black Boy, to Jungle Joke. In chapters five, six, seven (of Jungle Tales), which form a trilogy, the main names, themes and plots are entirely from Buell, from witchcraft to Tibo."

OTHER:
The Story of Man ~ 1889 ~ Philadelphia: Historical Publishing Co. ~ 720 pages tanned with 600 detailed Black and White engravings and numerous colored plates.
A Nemesis of Misgovernment ~ 1904 ~ Buel wrote this after he visited Europe at the turn of the century. It is mostly about Czarist Russia before the Revolution. There are over 150 B/W illustrations - some are full page showing life in Russia at the time
Beautiful Paris ~ 1894 ~ Galveston: J. Singer Book Co. ~ Introduction by J. W. Buel ~ 400 views taken by A. Pepper, Official Photogarphyer of the French Government.
Sea and Land ~ 1887 ~ Photos
The Savage World ~ 1891 ~ Historical Publishing Co.
A complete Natural History of the World's Creatures, fishes, reptiles, insects, birds and mammals. . Founded upon the theory of the progression of species and in accordance with genetic revelation scriptural truths and the harmony of nature with introduction decribing the geological ages, changes in earth's crust, fossil remains of extinct animals and monsters of the ancient seas. Embellished with over 1500 Elegant Engravings and 2 magnificent colored plates (#53 & #54). Copyrighted 1891 by H S Smith published by Historical Publishing Co.
Conquering The Dark Continent ~ 1899 ~ Illustrated with Black and White Drawings ~ Official Publishing Company England's battle with the Boers in the Transvaal including an exhaustive history of the settlement of Cape Colony, wars with the kaffirs, Matabeles, Zulus, the diamond and gold mines of South Africa and a history of exploration, discovery, conquest and development by all the famous travelers that have traversed the Dark Continent, etc
Heroes of the Plains: Life and Wonderful Adventures of Wild Bill, Bufallo Bill and Exploits of Gen Custer, Kit Carson, California Joe, Capt. Jack, Capt. D.L., Payne, and White Beaver. ~ 1882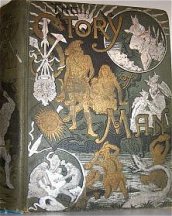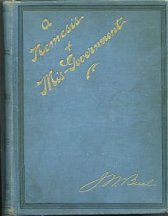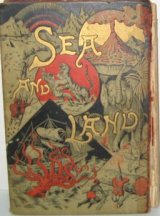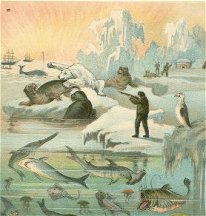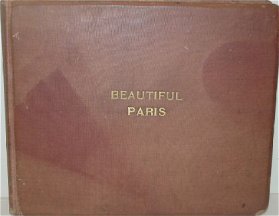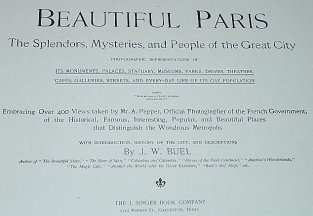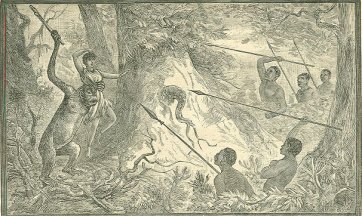 A chimpanzee capturing a woman ~ Sea and Land illustration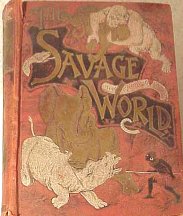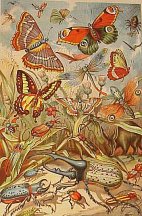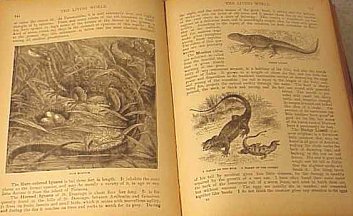 America's Wonderland: 1893 Photos by J. W. Buel