Official Edgar Rice Burroughs Tribute Site
Since 1996 ~ Over 10,000 Webpages and Webzines in Archive

Comics & Collectibles Emporium
TARZAN DELL COMICS #40-59
Click for Full-Size Images
40
1953/01
Tarzan faces Death on the Desert
Tarzan on the Trail of the Leopard Men
(Mabu: The Day of Departure)
Brothers of the Spear
52 Page Comic Magazine. Lex Barker cover
Daisy Red Ryder Air Rifle ad inside back cover
Wheaties advertisement on back cover
READ IT HERE

41
1953/02
Tarzan and the Tower of Ta-Dan
Tarzan Makes War
(Mabu: The Spear)
Brothers of the Spear
52 Page Comic Magazine. Lex Barker cover
Sketch of Tarzan's Cats on last page
Wheaties advertisement on back cover
READ IT HERE
---
42
1953/03
Tarzan and the Stork Men
Tarzan and the People of the Veil
(Mabu: Into the Great Plains Country)
Brothers of the Spear
52 Page Comic Magazine. Lex Barker cover
Daisy Red Ryder Air Rifle ad inside back cover
Wheaties advertisement on back cover
READ IT HERE

43
1953/04
Tarzan and the Man-Eating Tree
Tarzan and the Spotted Death
(Mabu: Canoe Ride)
Brothers of the Spear
52 Page Comic Magazine. Lex Barker cover
Wheaties advertisement on back cover
.
READ IT HERE
---
44
1953/05
Tarzan and the Little Spearmen
Tarzan and the Strange Balu
(Mabu: Down the River)
Brothers of the Spear
52 Page Comic Magazine. Lex Barker cover
Sketch of Argus and the vulture of Pal-ul-don
on last page
Wheaties advertisement on back cover
READ IT HERE

45
1953/06
Tarzan and the Haunted Plantations
Boy and the Shamba Raider
(Mabu: The Elephant's Problem)
Tarzan Returns to Cathne
Brothers of the Spear
52 Page Comic Magazine. Lex Barker cover
Tarzan's World, dangina, on last page
Wheaties advertisement on back cover
READ IT HERE
---
46
1953/07
Tarzan Defends a City
Boy Faces the Fangs of the Mamba
Tarzan and the Treasure of the Apes
(Mabu: Silent Journey)
Brothers of the Spear
52 Page Comic Magazine. Lex Barker cover
Wheaties advertisement on back cover

47
1953/08
Tarzan and the Ancient Terror
Tarzan Fights for His Own
(Mabu: The River People)
Boy and the Horned Monster
Brothers of the Spear
52 Page Comic Magazine. Lex Barker cover
Jungle Canoe Trip game on last page
Wheaties advertisement on back cover
READ IT HERE
---
48
1953/09
Tarzan Traps a Rogue
Boy Trails the M'Bongo Spears
Tarzan and the Hunter Wasps
(Mabu's Reward)
Brothers of the Spear
52 Page Comic Magazine. Lex Barker cover
Jungle World, mushrooms, on last page
Wheaties advertisement on back cover
.
READ IT HERE

49
1953/10
Tarzan Builds a Home
Boy Meets Bolgani
Tarzan and the Thipdar's Prey
(Mabu: Reunion)
Brothers of the Spear
52 Page Comic Magazine. Lex Barker cover
Jungle World, thipdars, on last page
Shwinn Bikes ad inside back cover
Wheaties advertisement on back cover
READ IT HERE
---
50
1953/11
Tarzan and the Precious Poison
Boy Goes Hunting
Tarzan, the Mark of Evil
(Mabu: Kaino's Skill)
Brothers of the Spear
52 Page Comic Magazine. Lex Barker cover
Lionel Train ad inside back cover
Wheaties advertisement on back cover
.
READ IT HERE

51
1953/12
Tarzan and the Terribs' Captive
Boy and the Elephant's Child
Tarzan and the Raging River
(Mabu's New Friend)
Brothers of the Spear
52 Page Comic Magazine. Lex Barker cover
Full page drawing of Tarzan on last page
Daisy Red Ryder Air Rifle ad inside back cover
Wheaties advertisement on back cover
READ IT HERE
---
52
1954/01
Tarzan and the Savage Horde
Boy Falls Among Enemies
Tarzan and the Serpents of Pal-ul-don
(Mabu: The Terror Wind)
Brothers of the Spear
52 Page Comic Magazine. Lex Barker cover
Drawing of Ther Serpent of Pal-ul-don on last page
Daisy Red Ryder Air Rifle ad inside back cover
Wheaties advertisement on back cover
READ IT HERE

53
1954/02
Tarzan and the King Panther
Boy Delivers a Letter
Tarzan and the Ancient Weapon
(Mabu: The Manga Hunt)
Brothers of the Spear
52 Page Comic Magazine. Lex Barker cover
Full page drawing of Boy's Pets on last page
Wheaties advertisement on back cover

.

READ IT HERE
---
54
1954/03
Tarzan and the Man Killers
Boy Finds the Isle of Leopards
Tarzan and the Revolt of Hathor
(Mabu's Manga)
Brothers of the Spear
52 Page Comic Magazine. Lex Barker cover
Wheaties advertisement on back cover
READ IT HERE

55
1954/04
Tarzan and the Crossbows of Karfu
Boy and the Leopard's Call
Tarzan and the Isle of Apes
(Mabu: Day of Departure)
Brothers of the Spear
52 Page Comic Magazine
Wheaties advertisement on back cover
READ IT HERE
---
56
1954/05
Tarzan and the Ostrich Clan
Boy and the Mighty Wings of Argus
Tarzan and the War of the Buffaloes
(Mabu: The Red Elephant)
Brothers of the Spear
52 Page Comic Magazine
Wheaties advertisement on back cover
.
READ IT HERE

57
1954/06
Tarzan and the Swords of Alur
Boy and the Chacma Raiders
Tarzan and the Lost Safari
(Mabu: More New Secrets)
Brothers of the Spear
52 Page Comic Magazine
Schwinn Bicycle ad inside back cover
Wheaties advertisement on back cover
READ IT HERE
---
58
1954/07
Tarzan (Untitled - white apes in Pal-ul-don)
Boy (Untitled - Jad-bal-ja and ostriches)
Tarzan (Untitled - baboons and Roman soldiers)
(Mabu: The Hyena Attacks)
Brothers of the Spear
52 Page Comic Magazine
Daisy Air Rifle ad inside back cover
Wheaties ad on back cover
.
READ IT HERE

59
1954/08
Tarzan (Untitled: crossing Great Barrier Swamp on Gorgo)
Boy (Untitled: "Boy! Dombie!
It is good that I have found you...")
Tarzan (Untitled: Having finished the education of two hunting panthers...)
(Mabu: Day of Days)
Brothers of the Spear
52 Page Comic Magazine
Post Sugar Crisp ad on back cover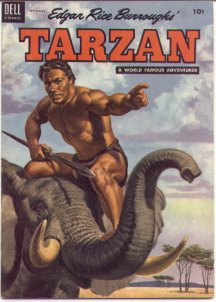 60
1954/09
Tarzan and the Bolas of Monga
Boy Plays Hide and Seek
(Mabu: Arrival)
Brothers of the Spear
"A World Famous Adventurer" printed on cover
Tarzan's World, pacco the zebra, inside front cover
Sheaffer Pen ad on back cover
READ IT HERE
For More Information on the Dell Series Visit:
The Duane Adams Dell Tarzan Comics Series
Covers ~ Credits ~ Contents ~ Summaries ~ Reviews
Issues 41 - 50: ERBzine 1553
Issues 51 - 60: ERBzine 1569
Many thanks to contributing ERB researchers and comics aficionados:
Kiatuk (Doug Denby) ~ Wayne James ~ lionman (Duane Adams)
Tantor (Kenneth Webber) ~ ikaros (The Rev Dr Sherwood Forrester)
Woola (Stanley A. Galloway) ~ Ron de Laat ~ Miguel Arcila Montoya (Colombia)
The Hillman Collection




WEBJED: BILL HILLMAN

Bill & Sue-On Hillman Eclectic Studio
Some ERB Images and Tarzan© are Copyright ERB, Inc.- All Rights Reserved.
All Original Work ©1996-2010 by Bill Hillman and/or Contributing Authors/Owners
No part of this web site may be reproduced without permission from the respective owners.
.