The First and Only Weekly Online Fanzine Devoted to the Life and Works of Edgar Rice Burroughs
Since 1996 ~ Over 10,000 Webpages in Archive
Volume 0992
Presents
TARZAN IN THE HOLY LAND III
By Eli Eshed
A Gallery of Israeli Tarzan Book Covers
Shimony ~ Ramdor
---
Covers of Hebrew Burroughs books
Published by SHIMONY from the '30s to the '50s
---
The Shimony editions were published beetween 1938-1955.
In all they published 10 of the first 11 TARZAN books.
TARZAN THE TERRIBLE was not included but was later
translated to Hebrew by another publisher.
Five of the ten --
SON OF TARZAN, TARZAN THE UNTAMED, TARZAN AND THE GOLDEN LION,
TARZAN AND THE ANT MEN, and TARZAN LORD OF THE JUNGLE
-- were published as two volumes each with different names for each book.
TARZAN THE UNTAMED (in two parts)
| | |
| --- | --- |
| | |
| Part 1: Tarzan Fights the Germans | Part 2: Tarzan the Invincible |
---
THE SON OF TARZAN
Vol. 2: Tarzan's Son

TARZAN & THE GOLDEN LION
Vol. 2: Tarzan and the Treasure

TARZAN AND THE ANT MEN
Vol. 2: Tarzan at the Slaves Quarters
---
RAMDOR EDITIONS
---
This series of original Hebrew stories, mostly by "l HELD" (pen name of variouis writers) was published 1965-1969. There were were 32 issues in all.
1. CAPTIVE OF THE GORILLA GOD
2. IN THE KINGDOM OF THE WHITE APES
3. THE BEAST ARMY OF TARZAN
4. TARZAN AND THE WEAPONS SELLERS
5. TARZAN AND THE ELEPHANT KING
6. KIDNAPPERS IN THE NIGHT
7. KING OF JUNGLE AND REVENGE
8. TARZAN AT THE DEATH HOLE
9. BOY AT KIDNAPPERS HAND
10. TARZAN AND THE WHITE APES
11. TARZAN AND THE SATANIC INVENTION
12. TARZAN AND THE NIGHT PEOPLE:
Tarzan encounters an ancient cult which sacrifices people to stop the end of the world.
It is found out that they were right.
13.TARZAN AND THE BLUE FISH MONSTERS:
Tarzan fights intelligent species from under the sea who are threatening the world with atomic experiments.
14. TARZAN IN THE JAWS OF THE HIPPOPOTAMUS
15. JUNGLE PYGMIES AND THE RAGING GIANT
23. TARZAN AND THE CIRCUS THIEVES
24. TARZAN AND THE WORLD CONQUERORS
26. TARZAN AND THE SECRET BASE
29. TARZAN AND THE RED LION
30.TARZAN AND CHIEF ZOLLEMO
An alternative version of the story about the first meeting between Tarzan and Jane, here the grand daughter of a British officer.
31. TARZAN AGAINST THE PLANE KIDNAPPERS: Tarzan fights air terrorists.
32. TARZAN AND THE FREEDOM FIGHTERS: Tarzan helps black wariors to free their country from Spanish overlords.
---
Ramdor Editions 1 - 10
---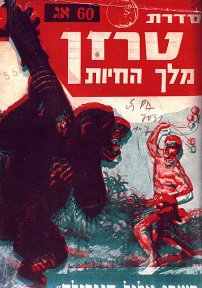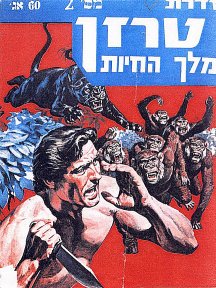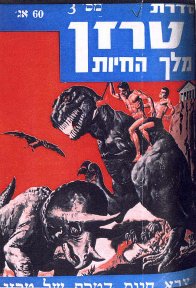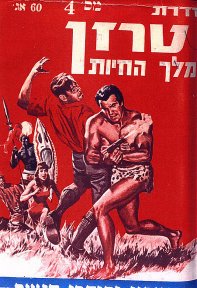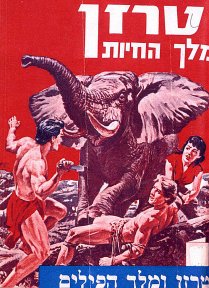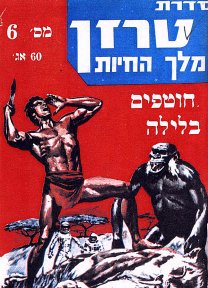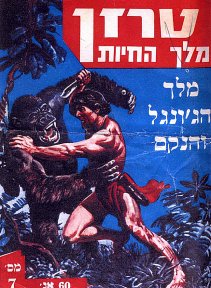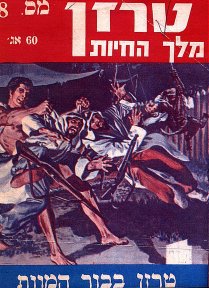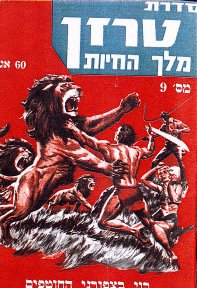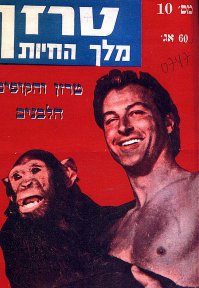 ---
Ramdor Editions 11 - 32 (incomplete)
---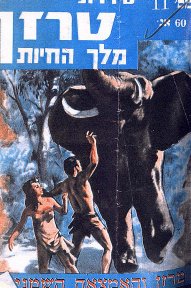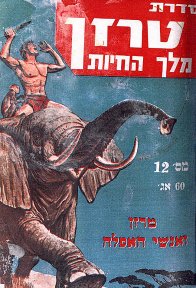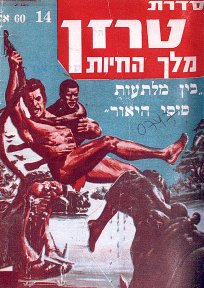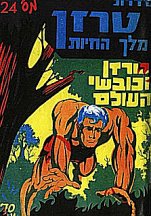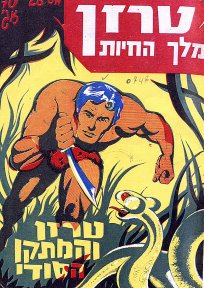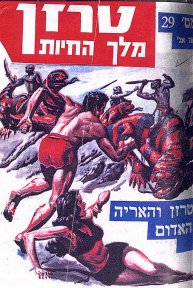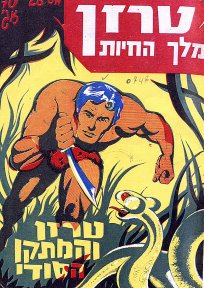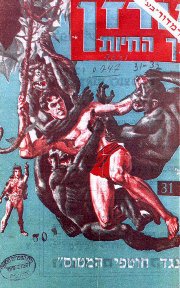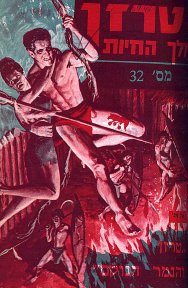 ---
---


Volume 0992

WEBJED: BILL HILLMAN
Visit our thousands of other sites at:
BILL AND SUE-ON HILLMAN ECLECTIC STUDIO
All ERB Images© and Tarzan® are Copyright ERB, Inc.- All Rights Reserved.
All Original Work © 1996-2002/2011 by Bill Hillman and/or Contributing Authors/Owners