The First and Only Weekly Online Fanzine Devoted to the Life and Works of Edgar Rice Burroughs
Since 1996 ~ Over 15,000 Webpages in Archive
Volume 0989
Presents
ERB ECLECTICA 2002.12.27
ERB Newsmagazine 2002.12.27


TARZAN GOES WEST
Burroughs went along with cowboy star, Ken Maynard, calling his wonder horse, Tarzan,
until the name "Tarzan" started to appear in the titles of Maynard's films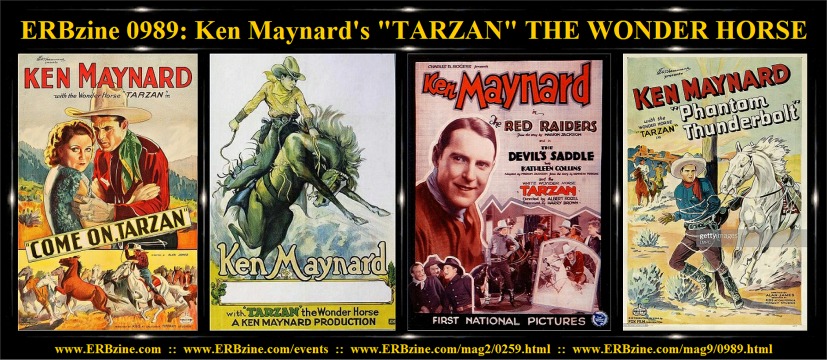 Ken Maynard on the original Tarzan
with the Cole Bros. Circus in Texas, 1940.

Ken Maynard's wonder horse Tarzan in front of trailer ~
April, 1958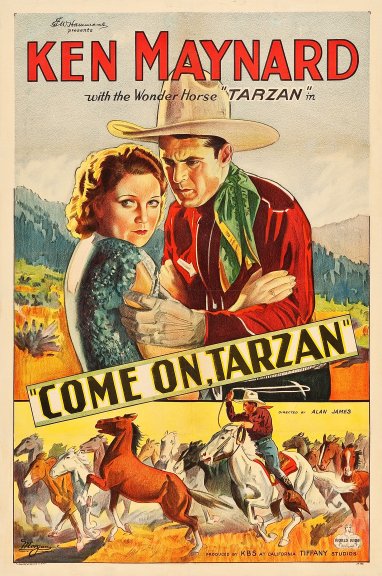 .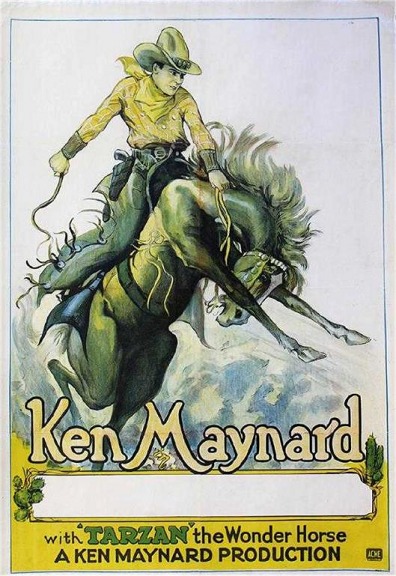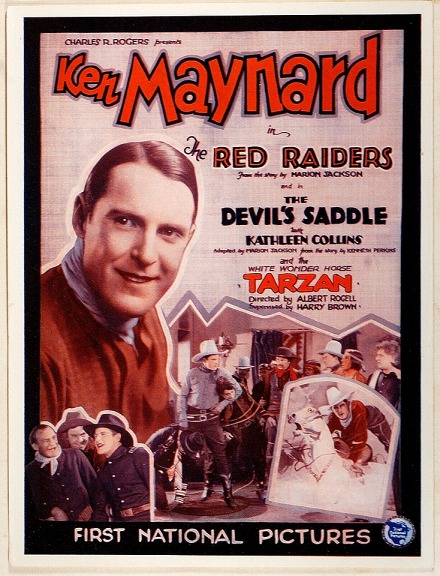 .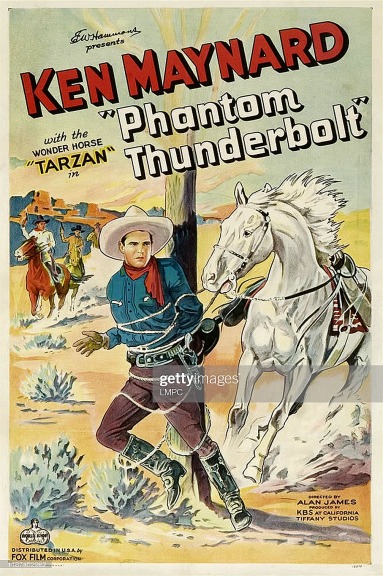 ---
TARZAN AND THE LOST CITY
featured on
New Music For Films, Vol. 2
by Christopher Franke
(Soundtrack)
On Sonic Images
This second album in the series of original film music by Christopher Franke includes orchestral and electronic suites from his scores for the films
"Solo,"
"Tarzan And The Lost City,"
"The Inheritance,"
"Pacific Blue" and
"Terror In The Mall."

Read the reviews and hear samples in AU, Real Audio and MP3:
http://www.sonicimages.com/action.lasso?-database=Products.fp3&-layout=CGI&-response=/2001/sub/misc/detail.htm&-op=eq&Product+ID=4906002&-maxRecords=1&-search
Musical Selections
Title Track
~ Opening
~ Morning Ride
~ Attack on the Village
~ Damaged Goods
~Jane's Arrival
~ The Dam Breaks
~ Broken Dreams
~ Escape
~ A New Friendship
~ The Chase
~ Deadly Flight
~ Near Death
~ Dance Lesson
~ The Race
~ Fight for Opar
~ Finale
Credits:
Composed by Christopher Franke
Performed by Christopher Franke
and the Berlin Symphonic Film Orchestra
Conducted by Alan Wagner
Recorded and Produced by Edgar Rothermich
Mastered by Edgar Rothermich
Music Supervisor: Rudy Panke
Design: Doerte Lau and Andreas Adamec
Catalog No: 828-274-906-2
Label: Sonic Images Records
Release Date: Feb 29, 2000

Price: $9.98

REVIEW EXCERPTS
"The selections from "Tarzan And The Lost City" are some tongue-in-cheek action music. "Jane's Arrival" is one of my favorite tracks. It starts off with a soft and lyrical melody (which also appears in other tracks). Then a jungle rhythm kicks in and the great melody keeps playing. Most of the tracks carry a great and intense rhythm."

"Tarzan and the Lost City" opens the album with the epic side of Franke's writing. It starts with textural patterns and sampled vocals, but soon takes off in a more traditional, thematic vein. Unfortunately, the synth sweetening takes over where it doesn't have to (unlike with much of Hans Zimmer's work), making for some wet and heavy music. The inclusion of real instruments does make this much more listenable than something like his own "Babylon 5." Plus, of all the scores represented here, "Tarzan" has some of the most interesting samples. The music itself is incredibly basic on every level. This leads to some pure and majestic thematic materials, but also to some clichéd action passages (not Franke's strong suit).

Synth wizard Christopher Franke may be best known among Sci-Fi fans for his atmospheric accompaniment to "Babylon 5," but his talents certainly aren't limited to generating supplementary music solely for that series. His CD's 16 tracks spotlight selections from five other relatively recent projects, including six energetic cues from "Tarzan and the Lost City"

EDGAR RICE BURROUGHS BOOK JACKETS
Tarzan ~ Mars ~ Pellucidar ~ Non-Series ~ Alternate Jackets
In 1999, Normand Design began the Edgar Rice Burroughs Dust Jacket Reconstruction Project. My intention was to produce high quality reproductions of some of the most exciting and sought-after dust jackets in book collecting.

Advances in digital imaging tools have made it possible for all collectors to have reproduction jackets gracing the volumes in their libraries, and indeed, there has been quite a proliferation of "laser-copies" and color photocopies in the book collecting market. When it comes to reproducing painted artwork, these methods suffer from the limitations of the equipment in being able to adjust colors for the greatest range and balance.

I painstakingly adjust the color and clean each image to assure brightness and detail. I work from several sources to obtain the best reproduction available. The type is completely reset with digital fonts to match the originals—even to kerning and typos. The jackets are complete and printed in one piece on glossy paper. I'm sure you will be pleased.
Phil Normand
phil@recoverings.com
.
Visit the RECOVERINGS site for illustrations, descriptions and order information.
www.recoverings.com
---
ERB Pulp Magazine Cover Art
From the Jerry Schneider Collection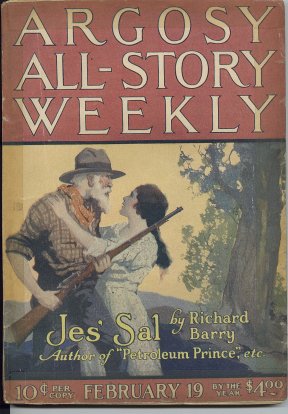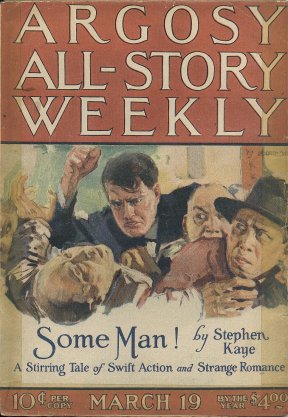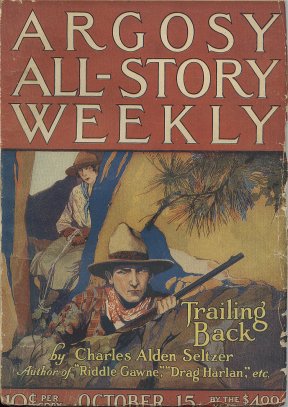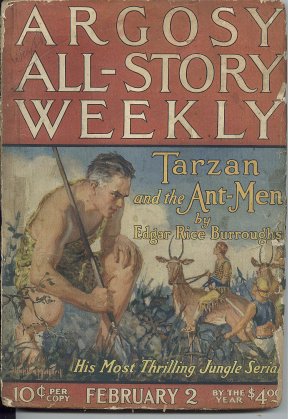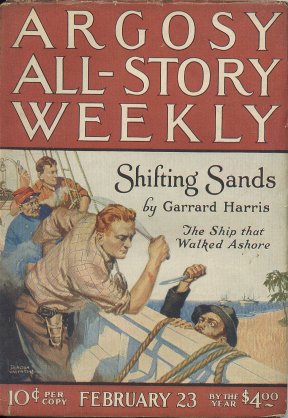 See more ERB pulp covers in our Illustrated Pulp Bibliography
www.erbzine.com/mag2/0220.html
COLLECTORS
Discover the exciting new
EDGAR RICE BURROUGHS
UNIFORM EDITION HARDCOVER COLLECTION
Jerry Schneider's ERBville Press
http://www.angelfire.com/film/locationbooks/erb.htm
Contact: jerry@oxy.edu
Read ERB Stories in PDF Format at ERBville
---
BURROUGHS ILLUSTRATED
Rare 1964 Offset Print Fanzine ~ 10 pages, 8 1/2" by 11"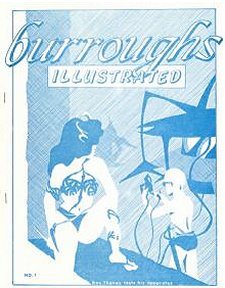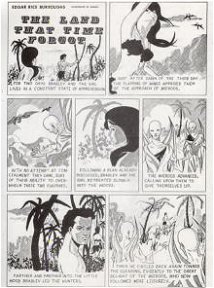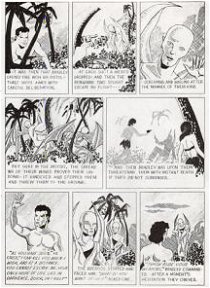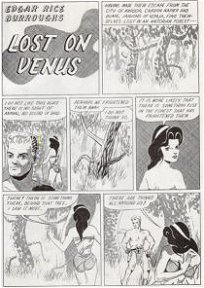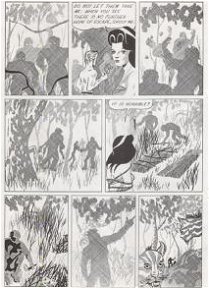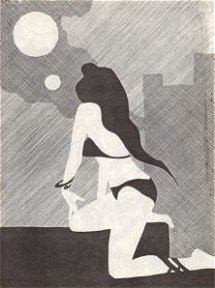 Art by 23-year-old Wehrle who has gone on to do book covers, magazine illustrations and comics.
This early work is less finished, but shows the time put into it and some fledgling design ability.
---
---
John Carter Fun Trivia Quiz:
10 Quizzes by AWKINS
http://www.funtrivia.com/dir/4224.html
SAMPLE QUESTIONS
JOHN CARTER QUIZ 3:
Based on The Warlord of Mars
JOHN CARTER QUIZ 4:
Based on Thuvia, Maid of Mars
Question 1:
Where did John Carter travel to after leaving Matai Shang's secret tower?
Helium
Okar
Ptarth
Kaol

Question 2:
What are Tals, Xats and Zodes?
Wild animals
Units of land measurement
Units of time
Units of weight

Question 3:
Who helped John Carter kill the Sith?
Tars Tarkus
Gur Tus
Kar Komak
Torkar Bar

Question 4:
Who is the father of Thuvia?
Kulan Tith, Jeddak of Kaol
Thuvan Dihn, Jeddak of Ptarth.
Bar Comas, Jeddak of Warhoon
Tal Hajus, Jeddak of Thark

Question 5:
What is the white furred, 6 limbed creature of the frozen north?
Calot
Sorak
Apt
Banth

Question 6:
Who is Jeddak of Jeddaks, Ruler of Okar?
Talu
Sorav
Kadabra
Salensus Oll

Question 7:
Who was the controller of the magnetic tower switch?
Dotar Sojat
Dak Kova
Solan
Djor Kantos

Question 8:
How does Phaidor die?
She was stabbed
Assassination
She was killed by Banths
Suicide

Question 9:
How many comprise the royal tribunal that proclaimed John Carter 'Warlord of Barsoom'?
50
19
25
31

Question 10:
Which is the odd book out?
The Warlord of Mars
A Princess of Mars
Thuvia, Maid of Mars
The Gods of Mars

Question 1:
Who arranged for Thuvia to be kidnapped?
Kulan Tith
Vas Kor
Kar Komak
Astok

Question 2:
To whom was Thuvia betrothed?
Kulan Tith
Nutus
Kar Komak
Vas Kor

Question 3:
Who made the impression of the key to Cathoris' flyer?
Kar Komak
Nutus
Kulan Tith
Vas Kor

Question 4:
Where was Thuvia taken after being kidnapped?
Lothar
Kaol
Aaanthor
Helium

Question 5:
Hortan Gur is Jeddak of?
Tarthan
Thurds
Torquas
Tharks

Question 6:
What was unusual about the inhabitants of Lothar?
All of these
They neither ate nor drank
They conjured images with their minds
There were no females

Question 7:
Who or what was Komal?
A statue
A clan of yellow men
A wizard
A God

Question 8:
Who was the bowman who did not vanish?
Kar Komak
Tal Hajus
Tars Tarkas
Than Kosis

Question 9:
Who is the Jeddak of Dusar?
Thuria
Zitidar
Utan
Nutus

Question 10:
What happened to Kar Komak?
He ran off
He was killed by Carthoris
He vanished
He died saving Carthoris

Take the full test and check your score at:
http://www.funtrivia.com/dir/4224.html
---
1941 Christmas Release

The New York Times Review
by
Bosley Crowthers

God Rest ye, merry gentlemen, let nothing you dismay ~ especially the current offering at the Capitol, which is just another Tarzan film, that's all, and not an anthropologist's nightmare, as a serious person might suspect. Metro calls it "Tarzan's Secret Treasure," and that's as good a title as any, for it tells in truly comic-strip hyperbole of a shockingly outrageous attempt by a couple of greedy scientists to ravish the ape-man's paradise of its gold. And it concludes in the customary fashion with Tarzan conscripting his faithful friends, the beasts, to put the outsiders in their places and to save his African solitude for himself, his mate and his youngster, who has grown to be quite a lad.

Don't let it throw you, Christmas revelers. It is all in the spirit of fun. And although there is nothing about it which would distinguish it from other Tarzan films save the introduction of Barry Fitzgerald as a kindred soul in the wilds and the fact that Johnny Weissmuller has added a few words to his vocabulary in the animal scenes, especially those which star a chimpanzee, and the fanciful concept of the whole thing is, as usual, pleasantly lacking in guile. Obviously, the Capitol is playing to juveniles this week.
---
Print out 10 full pages of Tarzan art for your colouring book and Mickey will help you colour them.

Visit Mickey at:
Disney Coloring Pages
---

NEWS SHORTS

---

Tarzan gets the 'Smallville' treatment in new show
It worked for Superman, so why not for another comic book orphan? The WB is set to follow up "Smallville," its hit series about the Man of Steel's angsty teen years, with a similar look at young Tarzan. Taking a page from Crocodile Dundee," the pilot follows Tarzan as he's taken from the jungle to New York City, where his uncle runs Greystoke Enterprises. Action will focus on Tarzan's efforts to reintegrate into society alongside characters such as the uncle, a NYPD detective and, of course, Jane. Warner Bros. will produce the show, tentatively called "Tarzan," and David Nutter, whose credits include "Smallville" and "The West Wing," will direct. This will be the 15th television incarnation of Tarzan.

---

New from from McFarland:

Human Prehistory in Fiction Charles De Paolo
ISBN: 0-7864-1417-0 ~ 172pp. references, bibliography, index $32 softcover 2003

It has a chapter devoted to ERB's THE LAND THAT TIME FORGOT as well as chapters on other early writers (e.g., Wells, Verne) and their view on early man.

---

The current issue of "Comic Book Artist" magazine, issue #22, October 2002,
features a big, honkin' tribute to the Gold Key artists of the 1960s. This chunky publication is worth all six dollars and ninety-five cents! It features articles on the history of Dell and Gold Key, and the split between the two; a previously unpublished Russ Manning interview by Shel Dorf from 1969; article on Giolitti, the Turok artist (with a cover gallery of 84 Turoks reprinted); interview with Manning assistant Mike Royer; interview with Tarzan/Jungle Twins artist Paul Norris; interview with Korak artist Dan Speigle; interview with cover artist extraordinaire George Wilson; interview with writer Mark Evanier (who got his start at Gold Key before moving on to write & edit the ERB, Inc. comics that were published exclusively in Europe in the late 1970s); writer and dino expert Don Glut (another contributor the the Manning/ERB, Inc. studios); and a list of "Top Ten" Gold Key artists, including Manning, Marsh, Spiegle, and Frank Thorne (later the Korak artist for D.C.) -- all lavishly illustrated with Tarzan & ERB art, some unpublished, some from Europe, etc. Cover is a stylized modern interpretation of Magnus, Robot Fighter.

Recently picked up an ERB-knockoff titled "Valley of No Return" by Richard A. Booth, Northwest publishing, Inc., Salt Lake City, UT, 1995. It's an oversized (but thin) green paperback lost race story about a geologist stranded in the Arctic who discovers a lost valley populated with dinosaurs, prehistoric cats & wolves, and an Indian-like tribe. Story is amateurish but not unreadable -- I believe this is a vanity publication. Of interest to ERBites is the back cover blurb, "In the traditon of Edgar Rice Burroughs, whose grand adventures have for years been passed from parents to their older children, Richard A. Booth has concocted a fantastic adventure of heroism and love which will delight adventure fans of all ages. The adventure continues in 'Return to the Valley', a Northwest Publishing book soon to be released." However, the tale seems to owe more to Kioga than ERB. Cover art by D. Cude looks like a Frazetta knockoff, with a T-Rex & naked babe. No sign of the sequel, so I don't know if it was ever published. My copy is signed. $7.95 cover price (I paid $3.50 used).

~ Lord Passmore


---
---
---


Volume 0989

WEBJED: BILL HILLMAN
Visit our thousands of other sites at:
BILL AND SUE-ON HILLMAN ECLECTIC STUDIO
All ERB Images© and Tarzan® are Copyright ERB, Inc.- All Rights Reserved.
All Original Work © 1996-2002/2019 by Bill Hillman and/or Contributing Authors/Owners