The First and Only Weekly Online Fanzine Devoted to the Life and Works of Edgar Rice Burroughs
Since 1996 ~ Over 10,000 Webpages in Archive
Volume 0973
Presents
MOTES & QUOTES
ERB Newsmagazine 2003.01
---

---
ILLUSTRATION
JANUARY, 2003
ISSUE NUMBER FIVE: A BIG 80 PAGES!
The Art of Roy G. Krenkel
The Preliminary Studies of Frank Frazetta
The Art of Albert Staehle
The Art of Nell Brinkley
The Art of James Dwyer
...and much more!
http://www.illustration-magazine.com
The article on Roy G. Krenkel is written by ERB fans and art aficionados David Burton, Richard Garrison and Russ Cochran.

There are almost twenty full-color, amazing-detail reproductions as well as a generous portion of monochrome pieces. Much of the art is Burroughs-related and all of it is incredible. In addition there are two full pages with 18 reproductions of RGK's paperback book covers, most of them the Ace books.

There are several other well-illustrated articles on illustration-artists (and a letter to the editor from the ERB art specialist Robert Barrett), but for ERB art enthusiasts, in addition to the RGK feature article, there is also one by David Winiewicz entitled "Frank Frazetta: The Creative Moment," with many preliminary sketches which turned into fully worked out paintings including "Beyond Thirty/Lost Continent," "Pellucidar," and "Tarzan and the Lost Empire."
Single issues are $9
http://www.illustration-magazine.com
Telephone: 314-822-1580.
Thanks to Bob Zeuschner
---
OB'S COVER GALLERY
---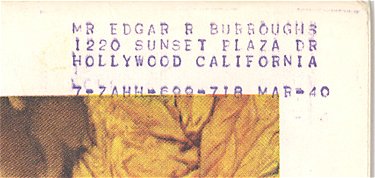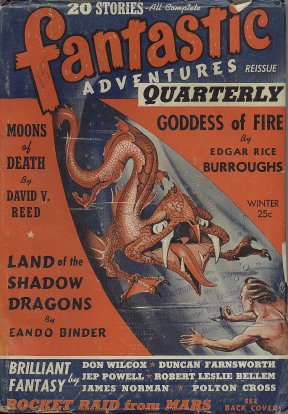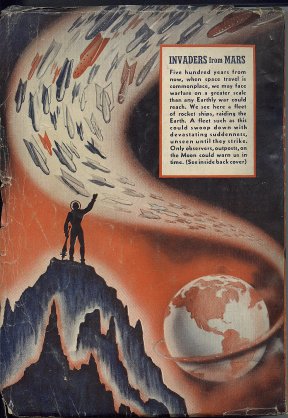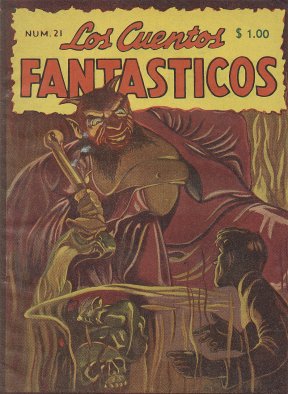 Above Covers from the Jerry Schneider Collection
Jerry Schneider's ERBville Press: Uniform ERB Editions
http://www.angelfire.com/film/locationbooks/erb.htm
---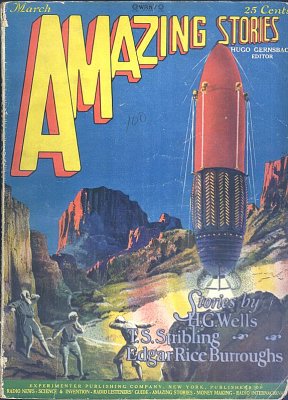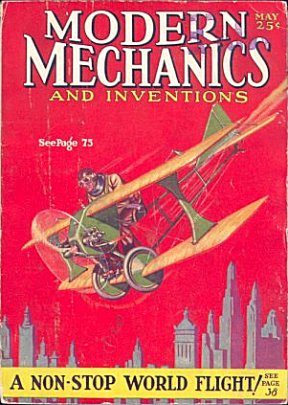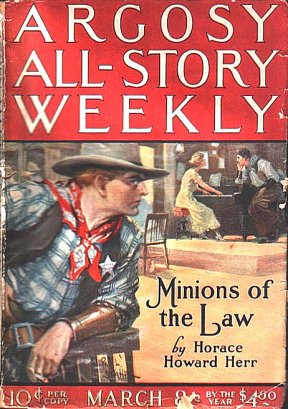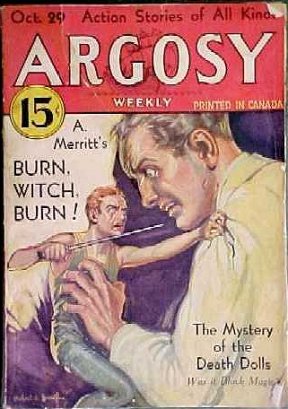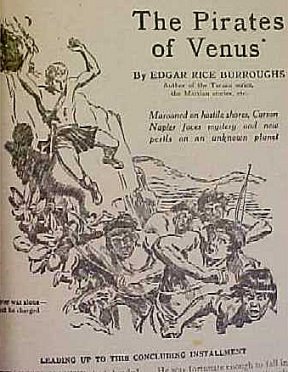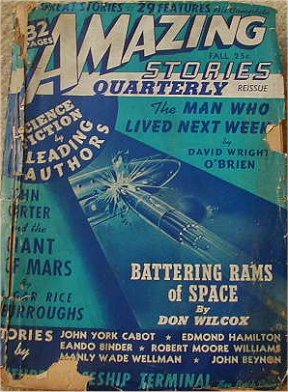 See more ERB pulp covers in our Illustrated Pulp Bibliography
http://www.erbzine.com/mag2/0220.html
---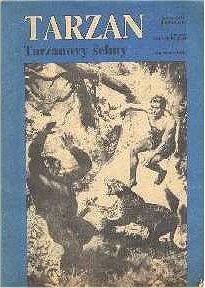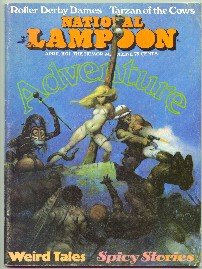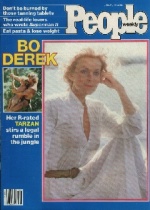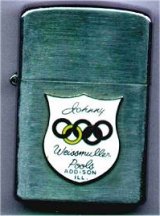 ---
CAUGHT IN OUR SITE
---
Design Concepts features
JOHN CARTER OF MARS: DRAWINGS OF SETS AND LOCATIONS
Set Sketches for John Carter of Mars 1970's version.
These are sketches, not finished art work for a film that was never made.
Designs & drawings by Bruce Grimes colour washed with oils by St John Earp.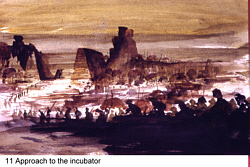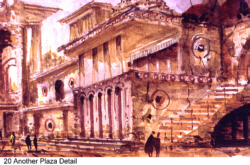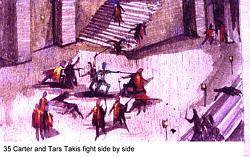 ---
Rotary Club of Oak Park - River Forest Banner
http://oprfrotary.home.att.net/pages/banner.html
Our Banner honors five of our communities' most famous citizens, and depicts (from left to right) Ernest Hemingway and Frank Lloyd Wright. Short biographies follow:

Edgar Rice Burroughs (1875 - 1950) Known the world over as the creator of the Tarzan series of adventure books, Burroughs was a prolific author in many fictional genres. His writings and characters have entertained many generations of readers and moviegoers.
---
Hilites of Tarzan's Treehouse Vine Cutting at Disneyland
---
With Special Guest
Danton Burroughs
Read the whole story at the Laughing Place Site
http://www.laughingplace.com/News-ID500040.asp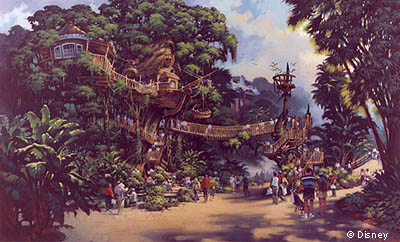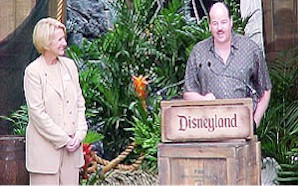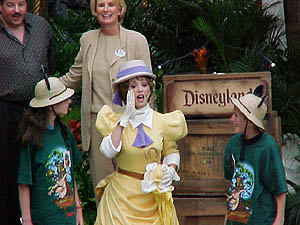 Jungle drums rang out a message of danger. A young lady scampered across a bridge high above. "Welcome to the wild jungle here at Disneyland! May I introduce myself. My name is Jane, Jane Porter and I'm here to study the creatures of the wild and I'm loving every minute of it!"

Jane then introduced the Executive Vice-President of the Disneyland Resort, Cynthia Harriss, who announced, "Tarzan's treehouse was created especially to help all of us discover the adventurous fun of the jungle." She went on to thank the "unique and imaginative perspective of Edgar Rice Burroughs." Ms. Harriss then introduced Danton Burroughs, grandson of Tarzan author Edgar Rice Burroughs.

Danton began by thanking Ms. Harriss for her invitation to "swing by from Tarzana" which was founded in 1919 by his grandfather. Mr. Burroughs said, "My grandfather would be so proud to see the classic character Tarzan get a permanent tribute right here at Disneyland beside many other classic adventures made famous by Walt Disney. He'd be delighted to see new generations of children and young minds of a new century come to know the adventure of Tarzan, King of the Apes." Having already viewed the treehouse, he stated that he was sure his grandfather would have "loved all of this!" He spoke of his grandfather's desire to develop Tarzan into animation. He had even started a company named Tarzan Toons. His grandfather wrote that the film "must have the excellence of Disney." Danton concluded his remarks by thanking all those involved in the treehouse's creation. "It is a great honor to my grandfather Edgar Rice Burroughs and his creation, may it continue for ages to come."

Tarzan's gorilla buddy, Terk, then appeared and using jungle drums summoned the "Lord of the Apes" who appeared atop an elephant. The elephant let Tarzan down by the newly created smaller tree which serves as the Treehouse entrance. Tarzan grabbed a group of vines hanging by the entrance. Jane announced, "In the spirit of adventure that dwells in the hearts of all children, young and old we hereby officially open Disneyland's newest attraction, Tarzan's Treehouse!" Tarzan pulled on the vines revealing the attraction's new sign, a jungle style ribbon cutting.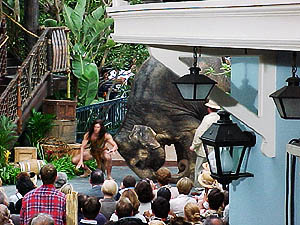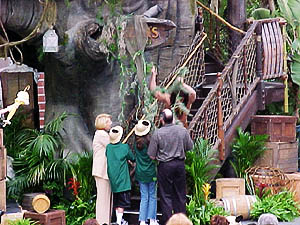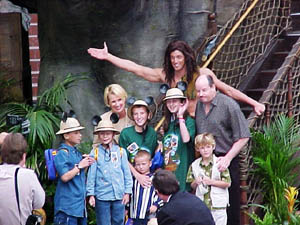 Volume 0973



WEBJED: BILL HILLMAN
Visit our thousands of other sites at:
BILL AND SUE-ON HILLMAN ECLECTIC STUDIO
All ERB Images© and Tarzan® are Copyright ERB, Inc.- All Rights Reserved.
All Original Work © 1996-2002/2010 by Bill Hillman and/or Contributing Authors/Owners
No part of this web site may be reproduced without permission from the respective owners.