The First and Only Weekly Online Fanzine Devoted to the Life and Works of Edgar Rice Burroughs
Since 1996 ~ Over 10,000 Webpages in Archive
Volume 0972
A Burroughs Biblio-Pro-Phile


Bob Hyde's
Odyssey of a Tarzan FANatic
Chapter LV

A PHOTOGRAPHIC TOUR OF
THE BOB HYDE COLLECTION:

PART 3: The Burroughs Room II

---
THE BURROUGHS ROOM II
---
Two walls with photos of all the men who have portrayed Tarzan in films & TV.
All are autographed.

Tarzan daily strips in binders
---
Book case of first editions, some autographed by ERB
Others autographed by the artist or dedicatees
---
[T] Original ink drawing of page 25 for the comic book "The Beckoning" by Tom Yeates,
Autographed to me at 1993 ECOF.
]B] Original ink drawing by Gray Morrow Sunday page #2931 (October 18, 1987)
(a return trip to Pellucidar). Autographed to me on July 16, 1971.

Video tapes of Tarzan
and related films



---
Top down, then left to right:
Original ink drawing of Tarzan by Gray Morrow for me on November 18, 1987.
Original ink drawing by Bob Lubbers, done for 1993 DUM-DUM (here in Pittsburgh)
Autographed (56.11.20) original ink drawing of Tarzan for me by John Celardo
Original pencil drawing of Tarzan by Russ Manning, February 1970
Original ink drawing (half a page) by George Evans for Malibu comic book (1993)
Same half-page hand-colored
Original ink drawing by Paul Reinman, autographed June 1949
Original ink drawing by Dan Barry, autographed March 30, 1948
Part of a book case with first editions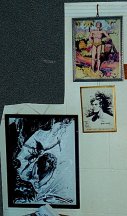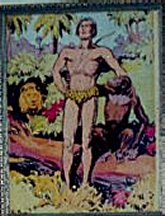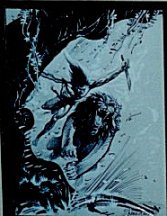 Print by Rex Maxon, premium from Tip Top Comics (1937)
Original ink drawing by Rex Maxon for me (July 20, 1946), autographed.
Ink drawing by Mark Wheatley commissioned by me (1991)
[TL] Original ink drawing by Charles Jenkins, one of a series in MUSCULAR DEVELOPMENT magazine. This one was used in December 1967 issue.

[B] An original ink drawing by Mike Grell, commissioned by me in 1992

[M] Hand-copied ink coppy of Sparkler Comics cover #14 (September 1942) copied by Al Dellinges (July 1985), originally done by Hogarth. I saw Hogarth draw part of the original cover in June 1942 at his home studio.

[R] A cloth display of many badges.
[TL-R] A pennant for the film "Tarz & Jane & Boy & Cheeta"
Right of film pennant is a poster from Tarzana
Print of a Frank Frazetta painting
Oil portrait of ERB by Bob Horvath
[B] Original pencil drawing by Mike Kaluta for me of Carson Napier and Duare (1974)
Photo of a John Carter painting
Ad for Pabst beer (1950) picturing Johnny Weissmuller
Ink drawing of Tarzan by Bob Horvath (1991)
Tarzan tea pot (1990)
---
Original ink drawing by Ruth Hawk of a full page newspaper ad
for the start of the Ron Ely series, autographed to me October 23, 1966.

Certificate of Honorary Lifetime Membership in The Burroughs Bibliophiles,
signed by George McWhorter

Coat-of-Arms for the Greystoke family
Half-sized copy of window card for TARZAN THE APE MAN

Caps from Burroughs conventions
A row of books from Amereon Publishing and Bison Books
Framed portrait of Johnny Weissmuller


Books in 26 different languages
---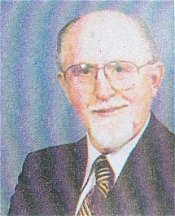 Bob Hyde
Copyright 2002 Clarence B. Hyde
BACK TO
Bob Hyde's
ODYSSEY OF A TARZAN FANatic
Navigation Chart and Introduction



Volume 0972



WEBJED: BILL HILLMAN
Visit our thousands of other sites at:
BILL AND SUE-ON HILLMAN ECLECTIC STUDIO
All ERB Images© and Tarzan® are Copyright ERB, Inc.- All Rights Reserved.
All Original Work © 1996-2002/2010 by Bill Hillman and/or Contributing Authors/Owners
No part of this web site may be reproduced without permission from the respective owners.