Official Edgar Rice Burroughs Tribute and Weekly Webzine Site
Since 1996 ~ Over 10,000 Webpages in Archive
Volume 0971
A Burroughs Biblio-Pro-Phile


Bob Hyde's
Odyssey of a Tarzan FANatic
Chapter LV

A PHOTOGRAPHIC TOUR OF
THE BOB HYDE COLLECTION:

PART 2: The Burroughs Room I

---
THE BURROUGHS ROOM I
---
Tarzana Chamber of Commerce Plaque
Photo of oil painting of ERB by J. Allen St. John
Original pencil drawing of Tarzan by Hogarth (1941)
Original charcoal drawing of Tarzan done for Bob Hyde by St. John (1945)
Original St. John cover painting: Invisible Men of Mars (Amazing 1941)

An original Tarzan Sunday page drawing by Hogarth
Sunday page #961 ~ August 7, 1949
A gift to Bob Hyde from Hogarth
(autographed November 1957)
---
[T] Hogarth oil painting and St. John charcoal
[B] An Achievement Award Plaque 1992
[B] A 1958 photo of the ERB warehouse.

R & B] Amazing Stories cover art
---
Original J. Allen St. John preliminary sketch of interior illustration for Tarzan's Quest
Honor Plaque 1989
Reprint editions, Burt and G&D

---

Around corner:
Original panel by Hal Foster from Prince Valiant page #307 for Dec. 17, 1942 autographed to Bob Hyde on April 21, 1945, during visit to Foster's studio.

[M] A watercolor preliminary painting by Frank Schoonover for the dust jacket of Rider O' the Sky (non-Burroughs)
[B] Photocopy of the actual dust jacket.
---
1940 Burroughs:
Wartime G&D
1948 Burroughs
postwar G&D
Canaveral

Whitman editions
Miscellaneous publishers with Burroughs tales,
S-F Book Club
Big Little Books
Paperbacks

Double rows of paperbacks
[R] Original Bob Lubbers Tarzan Sunday page
#1183 (Nov. 8, 1953), hand-colored by Lubbers
and autographed to me on
November 3, 1959, in his studio.
---
Comic books, comic strips, pulps
In preparation
---
[l] My painting (1943) of Tarzan and Jad-bal-ja
[R] Jeff Jones Burroughs calendar (1998)

Larger photo of the
John Coleman Burroughs wall section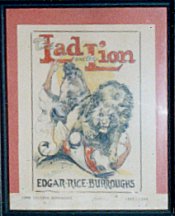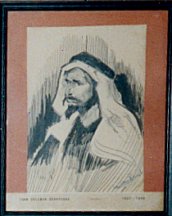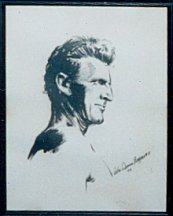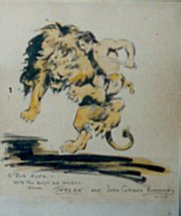 1. Watercolor preliminary dj by John Coleman Burroughs
2. Ink drawing of Arab for Lad & Lion by JCB (not used in the book).
3. Print of ink drawing of John Carter by JCB.
4. Water color of same scene as frontispiece for Tarzan the Magnificent, done for me (1941)
---
British first editions
[T] A brick from the old A.C. McClurg building in Chicago
Animal figures & pieced together Tarzan figure (1967)

British paperbacks and British annual comic albums.
[T] Fanzines and copies of daily Tarzan strips
---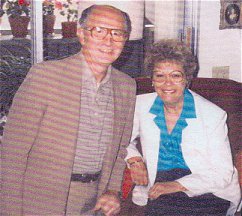 Bob and Alice Hyde ~ 1986


BACK TO
Bob Hyde's
ODYSSEY OF A TARZAN FANatic
Navigation Chart and Introduction



Volume 0971



WEBJED: BILL HILLMAN
Visit our thousands of other sites at:
BILL AND SUE-ON HILLMAN ECLECTIC STUDIO
All ERB Images© and Tarzan® are Copyright ERB, Inc.- All Rights Reserved.
All Original Work © 1996-2002/2010 by Bill Hillman and/or Contributing Authors/Owners
No part of this web site may be reproduced without permission from the respective owners.