The First and Only Weekly Online Fanzine Devoted to the Life and Works of Edgar Rice Burroughs
Since 1996 ~ Over 10,000 Webpages in Archive
Volume 0970
A Burroughs Biblio-Pro-Phile


Bob Hyde's
Odyssey of a Tarzan FANatic
Chapter LV

A PHOTOGRAPHIC TOUR OF
THE BOB HYDE COLLECTION:

PART 1: The Outer Rooms

---
DINING ROOM
---
A print of the Disney Tarzan,
Hogarth Tarzan statue on top of cabinet

Another print of
Disney's Tarzan

Original oil painting of a sailboat at dock
by J. Allen St. John (non-Burroughs)
---
LIVING ROOM
---
Center is a pencil and charcoal drawing
by Frank Schoonover (non-Burroughs).

Four side pieces are original water color paintings
by natives of the Congo (non-Burroughs).
---
TV ROOM
---
A print by Joe Jusko

Below: Lion from Dreyfus Investment calendar (inspiration for Joe?)
Far right: Ink portrait of ERB by George Evans
Right below: Ink drawing by Virgil Finlay (non-Burroughs)

Burnt wood portrait of ERB
by Fred Lukas
---
[T] Print of a Roy Krenkel painting of Tarzan
[B] Part of a poster for Elmo Lincoln Tarzan serial
[R] Photograph of Tarzan the Ape Man window card

[L] Print of All-Story Weekly cover, 16.04.08, for Thuvia, Maid of Mars
[M] painting on papyrus with Egyptian hieroglyphic symbols in the oval
cartouche spelling TARZAN, done in Egypt along the Nile for me
[R] Enlarged photocopy of a panel of Bob Hyde (bad guy)
from a Tarzan Sunday page by Gray Morrow.
---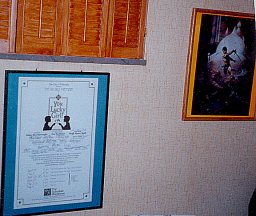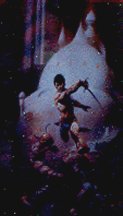 [L] Poster from the ERB stage play production of You Lucky Girl
at the Palmdale (CA) Playhouse, autographed by everyone listed.
[R]A print of a Frank Frazetta painting for the dust jacket of
SF Book Club edition of Swords and Synthetic Men.
---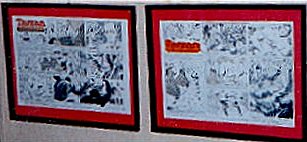 [L] A print of the cover of the All-Story, October 1912.
[R} Four original ink drawings by Gray Morrow for Tarzan Sunday pages,
with Bob Hyde as "bad guy" characters in two stories.
---
[L] Original ink drawing by Tom Yeates, autographed.
[B] Original daily Tarzan strip by Dan Barry, autographed.
[R] Print of J. Allen St. John painting
(commissioned by Vernell Coriell)

[L] Print of a preliminary water color by Frank Frazetta
for pb cover of Beyond the Farthest Star
[B] Small print of a painting by Tom Yeates
[R] Watercolor painting of the dust jacket for Tarzan the Invincible, done in 1943 high school art class by Art Beniott
---
Circus poster featuring Elmo Lincoln from 1950 tour
Original painting from the Congo (along steps to basement)
---
HALLWAY TO LAUNDRY ROOM
---
Unauthorized poster for Rainer Beer.
Beyond are shelves of books of various authors on many subjects

Same shelves with books of many subjects.
---
HALLWAY TO BURROUGHS ROOM
---
[L] Original ink drawing by Tom Yeates
[B] Print of a furniture store ad: "Johnny Weissmuller reincarnated as a chair."
[M] Large poster of Tarzan by Charles Ren
[R] Metal poster of old Tarzan Ice Cream cups

Burroughs reference books
Books by Burroughs-like authors
Duplicate variant Burroughs books

Continued in Part II:
The Burroughs Room I
Copyright 2002 Clarence B. Hyde
BACK TO
Bob Hyde's
ODYSSEY OF A TARZAN FANatic
Navigation Chart and Introduction



Volume 0970



WEBJED: BILL HILLMAN
Visit our thousands of other sites at:
BILL AND SUE-ON HILLMAN ECLECTIC STUDIO
All ERB Images© and Tarzan® are Copyright ERB, Inc.- All Rights Reserved.
All Original Work © 1996-2002/2010 by Bill Hillman and/or Contributing Authors/Owners
No part of this web site may be reproduced without permission from the respective owners.