The First and Only Weekly Online Fanzine Devoted to the Life and Works of Edgar Rice Burroughs
Since 1996 ~ Over 10,000 Webpages in Archive
Volume 0958

An ERBzine Photo Journal of ECOF 2002
FRIDAY MORNING AT ERB, INC. TARZANA
PREPARING FOR THE AFTERNOON ECOF TOUR

In preparation for the afternoon invasion of ERB fans attending the 2002 Tarzana ECOF convention,
Danton Burroughs unearths a treasure trove of rare, seldom-seen ERB-related memorabilia.
Seen below is the ornate John Carter sword carved by Danton's father, John Coleman Burroughs.
JCB had used this sword as a model for the many book and comic strip illustrations
he had made of the Warlord of Mars.
Danton also unearthed another intriguing hand-carved model -
a fully positional, many-limbed Barsoomian thoat.
---
Bill Hillman standing by the Ventura Boulevard entrance to the ERB, Inc. grounds and
at ERB's burial site in the front garden of the Burroughs offices.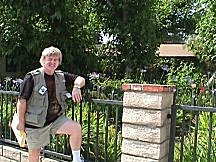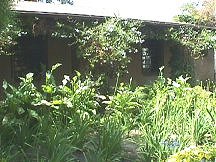 ---
The rear entrance to the ERB office complex with the entrance to the famous warehouse on the right.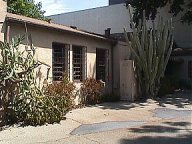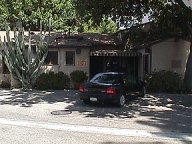 ---
Danton unearths his grandfather's long-forgotten scrapbooks of newspaper clippings from the '20s-'40s.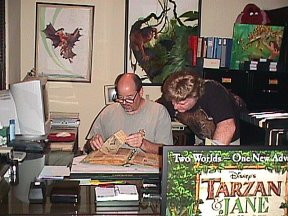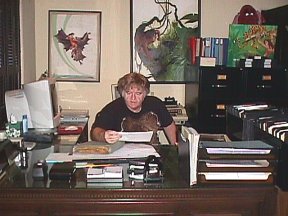 ---
Bill Hillman explores the mysteries of ERB's famous carved desk and
presents Danton with a print of JCB watercolour of Danton's brother John.
Sue-On Hillman spends the morning photocopying
the thousands of clippings in ERB's rare personal scrapbooks.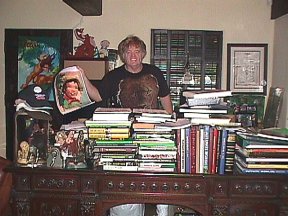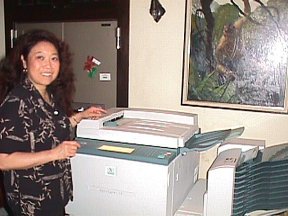 ---
Bill scanning photos and clippings in the Burroughs front office
amid a backdrop of original Tarzan art by
N. C. Wyeth (The Return of Tarzan) and Zdenek Burian (Czech artist)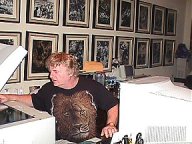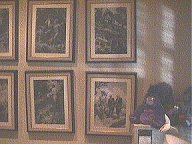 ---
Danton with his dad's Barsoomian sword and scabbard surrounded by
priceless displays of memorabilia, art, statues, magazines, photographs, and rare first editions.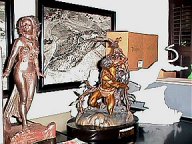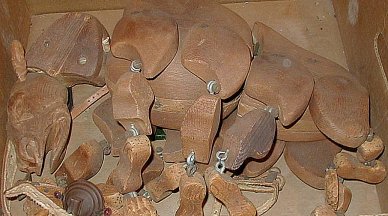 Photo courtesy of Abner Perry (Bruce Wood)
A closeup view of JCB's hand-carved model thoat

---
See ERBzine 0959 where Danton plays host to the scores of fans as
they arrive for the afternoon tour of the Burroughs offices.
Photo mosaics of the later tour of Tarzana Ranch are featured in ERBzines 0954 and 0955.
Visit the tribute sites devoted to the life and works of John Coleman and Jane Ralston Burroughs.



Volume 0958



WEBJED: BILL HILLMAN
Visit our thousands of other sites at:
BILL AND SUE-ON HILLMAN ECLECTIC STUDIO
All ERB Images© and Tarzan® are Copyright ERB, Inc.- All Rights Reserved.
All Original Work © 1996-2002/2010 by Bill Hillman and/or Contributing Authors/Owners
All scanned material courtesy ERB Inc. Offices