The First and Only Weekly Online Fanzine Devoted to the Life and Works of Edgar Rice Burroughs
Since 1996 ~ Over 10,000 Webpages in Archive
Volume 0873
Presents
ERB ECLECTICA
ERB Newsmagazine 2003.04.18

---
BURROUGHS BULLETIN INDEX FOR ISSUE NUMBER 54
LOST ON VENUS EDITION
Compiled by George T. McWhorter
The entire Bulletin Index is located at:
www.burroughsbibliophiles.com/bbindex/
---
ADAMS, DUANE: Dell Tarzan #1: Tarzan and the White Savages of Vari" (BB#54, p.10-14)
BARRETT, ROBERT R.: "Pirate Blood a First Draft? Not Likely! (BB#54, p.32-33)
BROWN, HOWARD V. (Artist): Cover illustration for June, 1929 issue of THRILLING WONDER STORIES
featuring story by the two sons of ERB. (BB#54, p.32)
BULFINCH, THOMAS: LEGENDS OF CHARLEMAGNE, 1924, with title page illustrated by N. C. Wyeth (BB#54, p.8)
BURROUGHS, EDGAR RICE (artist): 1892 cartoon of Michigan Military Academy cadet on horseback. (BB#54, p.36)
BURROUGHS, JOHN COLEMAN (artist): Unpublished illustration sent to THRILLING ADVENTURES
editor Leo Margulies in 1941 (BB#54, p.33)
CAHAN, SAMUEL (artist): Drawing for serial version of "Lost on Venus" for ARGOSY, 1932 (BB#54, P.34)
CLARKE, ARTHUR C.: CHILDHOOD'S END cover illustration by Richard Powers (BB#54, p.4)
DE PROROCK, BYRON KHUN: Title page of DIGGING FOR LOST AGRICAN GODS,
The Record of Five Years' Archaeological Excavations in North Africa by Byron Khun de Prorock (BB#54, p. 6)
DELL TARZAN #1: "Tarzan and the White Savages of Vari" by Duane Adams (BB#54, p.10-14)
DUMAS, ALEXANDER (1802-1870): Photo of the author of The THREE MUSKETEERS (BB#54, p.5)
FOSTER, HAL (artist): Sunday Tarzan panel, 1937 (BB#54, p.21)
HARRIS, FRANK (1856-1931): Mini-photo (BB#54, p.7)
HOGARTH, BURNE (artist): Sunday Tarzan panel, 1939. (BB#54, p.27)
HOMER (flourished before 700 B.C.): Bust of the Greek poet of The Iliad and The Odyssey (BB#54, p.3)
HUXLEY, ALDOUS (1894-1963): Photo (BB#54, p.9)
KANE, GIL (artist): Sunday Tarzan panel, 1980 (BB#54, p.26)
KRENKEL, ROY (artist): Preliminary sketch for PIRATE BLOOD cover design (BB#54, p.35)
KUBERT, JOE (artist): DC Tarzan panel, 1973. (BB#54, p.19)
LOST ON VENUS: First edition dust jacket by J. Allen St. John (BB#54, front cover)
LOST ON VENUS: Paul Stahr cover for ARGOSY (BB#54, back cover)
LOST ON VENUS: Drawings by William Stout (BB#54, p. 16, 20, 23, 25)
LOST ON VENUS: Boston Post Sunday Magazine serial with four illustrations by unidentified artist, August 7, 1938 (BB#54, p.31)
LOST ON VENUS: Samuel Cahan drawing for ARGOSY serial version (BB#54, p.34)
LOST ON VENUS: Fortunino Matania drawing for serial version in The Passing Show, Dec.23, 1933 (BB#54, p.34)
LOST ON VENUS: First edition dust jacket art by J. Allen St. John (BB#54, front cover)
LUBBERS, BOB (artist): Sunday Tarzan panel, 1951 (BB#54, p.22)
LUBBERS, BOB: Photo with Thomas Yeates and Scott Tracy Griffin (BB#54, p.17)
MANNING, RUSS (artist): Illustration for "Tarzan of the Apes in the Land That Time Forgot," 1974. (BB#54, p.28)
MARSH, JESSE (artist): Illustrations for Dell Tarzan #1: "Tarzan and the White Savages of Vari" (BB#54, p.10, 11, 13, 14)
MATANIA, FORTUNINO (artist): Drawing for serial version of "Lost on Venus" entitled "The Castle of Doom"
in THE PASSING SHOW, Dec.23, 1933. (BB#54, p.34)
MAXON, REX (artist): Sunday Tarzan panel, 1931 (BB#54, p.29)
MORROW, GRAY (artist): Sunday Tarzan panel, 1988. (BB#54, p.24)
POWERS, RICHARD (artist): Cover art for CHILDHOOD'S END by Arthur C. Clarke (BB#54, p.4)
PRINDLE, RONALD E.: "Tarzan and the River, Part II: "Edgar Rice Burroughs in Aspic"
by R. E. Prindle and Dr. Anton Polarion. (BB#54, p.3-9)
PRINDLE, RONALD E.: Photo (BB#54, p.9)
PROUST, MARCEL (1861-1942): Photo (BB#54, p.4)
ST. JOHN, J. ALLEN (artist): First edition dust jacket art for LOST ON VENUS. (BB#54, front cover)
STAHR, PAUL (artist): Front cover illustration of "Lost on Venus" for ASRGOSY serial, 1933. (BB#54, back cover)
STOUT, WILLIAM(artist): Drawings for LOST ON VENUS (BB#54, p.16, 20, 23, 25)
STOUT, WILLIAM (asrtist): Drawing for "Greystoke" film publicity (BB#54, p.19)
TARZAN AND THE RIVER, Part II: "Edgar Rice Burroughs in Aspic" by R. E. Prindle and Dr. Anton Polarion. (BB#54, p. 3-9)
"Tarzan and the White Savages of Vari" from Dell Tarzan #1 by Duane Adams (BB#54, p.10-14)
"Tarzan 90th Birthday Panel" at San Diego Comic-Con, 2002 with Tom Yeates, Bob Lubbers, Bill Stout,
Alex Simmons, Bill Willingham, moderated by R. C. Harvey (BB#54, p.17-30)
"Tarzan's Ape-English Dictionary" with two illustrations by Jesse Marsh for Dell Comics #1:
"Tarzan and the White Savages of Vari." (BB#54, p. 14)
THRILLING MYSTERY: Cover by unidentified artist for July, 1940, featuring "Hybrid of Horror"
by John Coleman Burroughs and wife Jane Ralston Burroughs (BB#54m p.33)
THRILLING WONDER STORIES: Cover illustration by Howard V. Brown for June, 1939 issue featuring story
by the two sons of Edgar Rice Burroughs. (BB#54, p.32)
VULGATE LANCELOT: See: "Tarzan and the River, Part II: "Edgar Rice Burroughs in Aspic" by R. E. Prindle (BB#54, p.3-4)
WYETH, ANDREW (artist): "Launcelot and Guenever" from ARTHUR PENDRAGON OF BRITAIN
by Sir Thomas Malory, 1943. (BB#54, p.3)
WYETH, N. C. (artist): Title page illustration for LEGENDS OF CHARLEMAGNE by Thomas Bulfinch, 1924. (BB#54, p. 8)
YEATES, THOMAS (artist): Photo with Bob Lubbers and Tracy Griffin at San Diego Comic-Con 2002. (BB#54, p.17)
-Pen & ink Tarzan drawing. (BB#54, p.18)
-"Tarzan 90th Birthday Panel" discussion group. (BB#54, p.17-30)
---

TIGER TRIVIA

---

Where in the world can you find the most tigers?
Texas. According to a People Magazine article, Texas in the United States may have more tigers than India. Tigers, of course, are not native to Texas, but as many as 4,000 of the big cats are owned by Texans as "pets." It is estimated that only 3,000 tigers, mostly wild, roam India. Texas is one of a handful of states with no laws on the keeping and breeding of big cats. A bill that would regulate ownership of dangerous big cats may soon become law.

---


Do lions and tigers roam the same territory?
No. Lions are today found naturally only in Africa. (Thousands of years ago, lions were common throughout southern Europe, southern Asia, eastern and central India and over the whole of the African continent.) Even in Africa lions have been wiped out in the north. Tigers are found in Asia. They range throughout India from the Himalayas to Cape Comorin, except in the deserts. They are also found in Burma, Malay Peninsula, Sumatra, Java, and Bali. Some species are also found in southern China (South China tigers) and in southeastern Russia (the Amur or Siberian tiger).


---


Are today's tigers descended from sabre-tooth tigers?
Despite the misleading name, sabre-tooth tigers are NOT the ancestors of today's tigers. In fact, sabre-tooth tigers belonged to a separate branch of cat evolution which became extinct many millions of years ago. Tigers (and all other carnivores) are descended from animals called miacids that lived during the age of the dinosaurs about 60 million years ago. These small mammals evolved over millions of years into several hundred different species, including cats, bears, dogs and weasels.

---

Tarzan's Cheeta enjoying retirement
Associated Press
April 13, 2003

---

PALM SPRINGS, Calif. | Cheeta lives in this desert resort town like a lot of old movie stars, painting, playing the piano and watching his old movies. But as Palm Springs' only retired chimpanzee, he stands out.

The last actor to have played the lead chimpanzee role in the Tarzan movies of the 1930s and '40s, Cheeta is 71 now — the oldest chimp in the world, according to the Guinness Book of Records.Guinness Book of Records.

''He's just part of the family,'' said Dan Westfall, who adopted Cheeta from Tony Gentry, an animal trainer who worked in Hollywood. Gentry, Westfall's uncle, originally left instructions in his will to have Cheeta euthanized after his death because he worried that the 142-pound chimp would wind up in a research lab. His nephew talked him out of that by promising he'd always take care of Cheeta.

Westfall and Abe Karajerjian care for Cheeta and other animals, including orangutans and monkeys, at a house they have nicknamed Casa de Cheeta.

Cheeta spends his time playing with preschool toys, thumbing through magazines including National Geographic and playing the piano. In addition to his old movies, he likes watching Animal Planet and cartoons on television.

Cheeta's handlers hope to sell some of his paintings — which they describe as "Ape-Stract" — to raise money for a sanctuary for homeless primates.

---

ELEPHANT HERD RESCUES ANTELOPE FROM KZN BOMA
Independent Online
April 8, 2003

---

A conservation team were left baffled when 11 elephants arrived at their camp in Empangeni, Zululand to rescue a herd of antelope who were being held in a boma.

Conservationist Lawrence Anthony said on Tuesday that a private game capture company had been working on the Thula Thula Exclusive Private Game Reserve capturing antelope that were to be relocated for a breeding
programme.

Shortly before relocation the antelope were being housed in a boma enclosure.

The team were settling in for the night when a herd of 11 elephants approached the boma, he said.

"The herd circled the enclosure while the capture team watched warily, thinking the herd were after lucerne being used to feed the antelope," Lawrence said.

"This went on for quite a while until the herd seemed to back off from the boma perimeter fence."

The herd's matriarch, named Nana, approached the enclosure gates and began tampering with the metal latches holding the gates closed.

She carefully undid all the latches with her trunk, swung the gate open and stood back with her herd.

"At this stage the onlookers realised this was not a mission for free food, but actually a rescue," said Lawrence.

The herd watched the antelope leave the boma and dart off before they walked off into the night.

Thula Thula resident Ecologist Brendon Whittington-Jones said: "Elephant are naturally inquisitive, but this behaviour is certainly most unusual and cannot be explained in scientific terms".
Submitted by Robert Zeuschner
---

Woman attacked by tiger while painting 'Tarzan's' home

---

Sunday, February 3, 2002

A Florida woman has been attacked by a tiger while decorating the home of a former Tarzan actor.

Carol Pistilli was bitten on the back of her head by four-year-old Bobo as she painted part of his cage.

Steve Sipek has a permit to keep two lions, four tigers, a black leopard and a cougar in his home.

He allows the big cats to wander the premises and even sleeps in the same area. A sign outside his home in Loxahatchee warns trespassers will be eaten, reports the Florida Sun-Sentinel.

Wildlife officers say Mr Sipek looks after his animals well and the incident was an accident. Mrs Pistilli, 58, is in hospital but her injuries are not thought to be life-threatening.

It is reported she had fed some of the big cats steaks a few minutes before the attack and thought the animals had gone outside when she walked into their cage.

Mr Sipek said: "She didn't think to close the door. She started painting and he pounced on her. Bobo, he's a wonderful cat. He wouldn't hurt anybody. He's a puppy, not a tiger."

Mr Sipek starred as Tarzan in two films under the name Steve Hawkes. He says he fell in love with big cats when a lion dragged him away from a fire on a film set.

---

COLLECTOR'S DEN

---
1926 STUDIO YEARBOOK

A 1920s silent era Studio Yearbook from FBO studios.
Featured is a two-page spread on
TARZAN AND THE GOLDEN LION
based on the novel by Edgar Rice Burroughs

Also included is a series of 26 KRAZY KAT cartoons based on the George Herriman comic strip,
26 ALICE cartoons by WALT DISNEY,
Gene Stratton Porter, H.C. Witmer's HER FATHER SAID NO with great prizefight graphics and art by Russell Patterson, and comedies, George O Hara, etc.
Ice Cream Premiums

Tarzan Cup Lid Premiums
http://www.biglittlebooks.com/premiums.html
Dixie Cup: Famous Faces Under the Lid
http://www.go-star.com/antiquing/dixiecup.htm

In the mid-1930s, the Lily-Tulip Corporation contracted with Whitman to publish small premium books containing stories using characters from popular BLBs. The purpose of the books was to promote Tarzan Ice Cream.

The first 12 books were copyrighted in 1934 and 1936. They were numbered, had black and white illustrations, were a square 3 1/2" x 3 1/2", and contained 128 pages. Each premium could be acquired by saving and trading in 12 Tarzan Ice Cream cup lids. A coupon was printed on the back cover of each book, and if 12 coupons were collected, they could be turned in for a "Grand Prize." Among the choices of prizes were such items as: "Tarzan and the Lion Man," a hardcover book; a four-blade scout knife with Tarzan's picture on both sides of a pearl handle. Because of the emphasis upon the product, these small books are often referred to as the
---
Burroughs Family Album
---
| | |
| --- | --- |
| Edgar Rice Burroughs and Maureen O'Sullivan at a May Co. 1932 book signing | Ed and Emma Burroughs |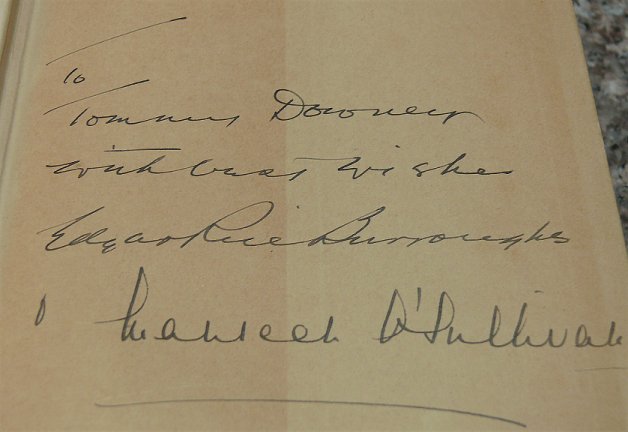 Autograph page photo from the William Stephen Collection
After graduating from Pomona, John Coleman Burroughs did preliminary work, with friend and former Otis Art Institute classmate, Bob Clampett, on an animated version of John Carter of Mars. Clampett, who had developed the Porky Pig and Merrie Melodies cartoons at Warner Brothers, convinced ERB of the potential of developing his fantastic stories into animated features. Since Clampett was still holding down a full-time job at Warners, the work on their short test film had to be done at night and on weekends. Clampett did the animation, while Jack and wife Jane painted the cells and designed the characters. ERB took the finished product to MGM but, although they were interested, they believed that such a project should involve the wildly popular Tarzan which already had a proven name. So, in 1936, Burroughs travelled to Chicago and New York to lay the ground work for launching a Tarzan cartoon feature under the company name Tarzantoons, Inc. He even convinced J. Allen St. John to help out with the project but when Leon Schlesinger offered Clampett a chance to head up his own production unit at Warners, the Tarzan project fizzled. If they had sold A Princess of Mars, it would have been the first full-length serious cartoon ever done -- preceding Disney's Snow White by quite few years. The Tarzan cartoon was to be a short, featuring a serious Tarzan, with the animals providing comedy relief.
---

WONDERWORLD #9 August 1973.

---

40 page semi-pro fanzine formerly published as GRAPHIC STORY WORLD by Richard Kyle. Graphic stories include PELLUCIDAR, an adaptation of the Edgar Rice Burroughs novels by Roy Thomas and Ross Andru, "The Victims" by Michael Greg and Hermann Huppen, "Penn and Crisis" by Dan Spiegle, articles on Dell Comics by Russ Manning and European comics by Jean Pierre Dionnet, an Interview with Richard Corben, reviews and columns. GRAPHIC STORY WORLD is considered one of the best and most professional of the early comic art fanzines.


---

ConLang Word Generator
http://www.fantasist.net/wordgen.shtml

---

Simply choose a language you'd like your new conlang to sound similar to, type in the number of words you'd like to generate and click on the Generate Word List button. It's just that easy!
Generate a language based on: Barsoomian

---

Fimmel Answers Call of the Jungle for WB's 'Tarzan'

---

By Nellie Andreeva

LOS ANGELES (The Hollywood Reporter) --- Calvin Klein model Travis Fimmel is swinging into action with the WB Network. After an extensive search of four countries, the 22-year-old Australian has been tapped for the title role in the network's drama pilot "Tarzan," from Warner Bros. Television and producer Laura Ziskin. Another newcomer, Sarah Wayne Callies, has been cast as Jane.

The contemporary take on Edgar Rice Burroughs' enduring tale of Lord Greystoke revolves around Tarzan as a young man as he is brought from the jungle to his childhood home, New York, by his uncle, the head of powerful Greystoke Enterprises, and centers on Tarzan's relationship with Jane, a fiery police detective.

"Travis is a wonderful young man, he's got not simply a great look but that feeling that you get that this is gonna be a big star," WBTV president Peter Roth said. "He's got a quality about him that is every bit as special as what I remember experiencing when we first met ('Smallville' star) Tom Welling (news)."

Fimmel's background is well suited to his first acting role. He grew up on the family farm in Victoria, Australia, where he regularly milked cows. He also loved hunting foxes and often camped out in the wild.

As for Callies, Roth said everyone at the studio was "blown away" by her audition tape. "She is one of the most exciting young actresses I've seen in many years," he said.

Eric Kripke wrote the script for the pilot, which Roth said "combines the icon of Tarzan, the romance of true young love and the action of a great action series." Ziskin and Kripke are executive producing with David Gerber and the pilot's director, David Nutter (X-Files).

Travis Fimmel

The new WB Tarzan series (reprising the Kellers' notion of Tarzan fighting crime in New York) starts filming February 24 in Vancouver. The series then moves to Toronto, which will sub for NYC. No word whether they've found the "sensitive, soulful" ape man they were looking to cast.

Submitted by Lord Passmore
---

Tarzan (TV): Johnny Weissmuller, Christopher Lambert, Casper Van Dien, and now The Hollywood Reporter indicates that 22-year-old Australian Calvin Klein model Travis Fimmel has won the title role in this contemporary TV series update of Edgar Rice Burroughs' classic tale. Fimmel came to notoriety last year in his first campaign for CK - the black & white one-sheet for Calvin Klein underwear caused minor traffic accidents when it was released as the giant bulge distracted many drivers who pondered whether all Aussie men are hung like that (for the record - yes). "Spider-Man" producer Laura Ziskin will be handling the show for The WB network, whilst the story itself has the ape-raised Tarzan brought to NYC by his uncle who is the CEO of the powerful Greystoke Enterprises corporation and its there he meets fiery police detective 'Jane'. No doubt the loincloth will have to be a little on the long side to help hide things so that newcomer Sarah Wayne Callies as 'Jane' won't reach for the wrong dangling vine.

Contributed by Sparkdog

---
Tarzan of the Apes
Penguin Books edition
20th-century Classic
Edgar Rice Burroughs - Author
John Seelye - Introduction & Notes
$8.95
Book: Paperback | 4.88 x 0.59in | 320 pages
| ISBN 0140184643 | Oct 1990 | Penguin Classic
---

MARS NEWS

---

Mars Exhibit
Karpeles Manuscript Library Buffalo
January 1, 2003 - March 31, 2003
http://www.rain.org/~karpeles/buffrm.html

---
Earthlings wanting to know more about Martians may want to head to Buffalo, New York. A museum in Buffalo is opening a new exhibit that chronicles everything Martian -- from rare pieces of the Red Planet to Orson Welles' notes from his pandemonium-causing "War of the Worlds" radio broadcast. Earth's nearest planetary neighbor -- only 35 (m) million miles away -- has fascinated people for thousands of years. Highlighting the exhibit are pieces of two of the only 13 confirmed Mars meteorites known to man. The biggest of the two is no larger than a thumbnail. The exhibit at the Karpeles Manuscript
Library Museum runs through the end of March.

---

Martian gullies 'carved by water'
Nature
Thursday, 20 February, 2003



---

The gullies on Mars that have longed puzzled scientists could have been carved by melting snow. Previous explanations have included water bubbling up from underground springs or frozen carbon dioxide. The latest theory, by a US geologist, depends on the slight "wobble" of the planet. Over the course of hundreds of thousands of years, Mars slowly tilts on its axis, changing by more than 20 degrees. The idea is that one of the poles becomes tilted toward the Sun and it heated more than usual. According to Philip Christensen, a Professor at Arizona State University at Tempe, this creates water vapour that falls as snow closer to the equator. If the snow is later melted by the Sun as the axis of the planet shifts, it could cause trickles of water capable of making the sort of gullies seen on Mars.

Liquid water: The research is based on images from two unmanned Mars spacecraft: Nasa's Mars Odyssey and Mars Global Surveyor. Dr Christensen, principal investigator for Odyssey's camera system, said: "Snow on Mars is most likely to accumulate on the pole-facing slopes, the coldest areas. It accumulates and drapes the landscape in these areas during one climate period, and then it melts during a warmer one. "Melting begins first in the most exposed area right at the crest of the ridge. This explains why gullies start so high up." The gullies were discovered in 2000 by Mars Global Surveyor, suggesting liquid water was present near the surface of the planet no more than a few thousand years ago. It led to calls to send robots to the Red Planet to search for definitive evidence. Nasa is sending two rovers to Mars later this year to gather data. A landing craft delivered by the European Space Agency will also dig for water.

---

presents
Mars Global Surveyor ~ Mars Orbiter Camera
Geodesy Campaign Mosaic
This mosaic was assembled from Wide Angle red images from the Mars Orbiter Camera.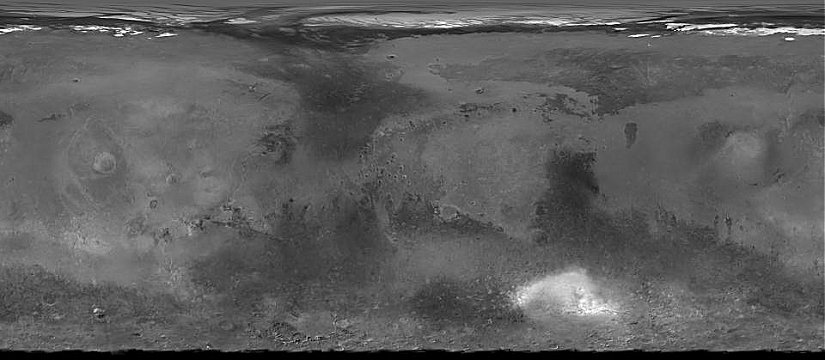 Volume 0873



WEBJED: BILL HILLMAN
Visit our thousands of other sites at:
BILL AND SUE-ON HILLMAN ECLECTIC STUDIO
All ERB Images© and Tarzan® are Copyright ERB, Inc.- All Rights Reserved.
All Original Work © 1996-2003/2010 by Bill Hillman and/or Contributing Authors/Owners
No part of this web site may be reproduced without permission from the respective owners.