The First and Only Weekly Online Fanzine Devoted to the Life and Works of Edgar Rice Burroughs
Since 1996 ~ Over 10,000 Webpages in Archive
Volume 0855
Presents
TARZAN IN THE HOLY LAND VI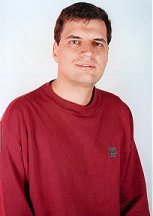 By Eli Eshed
---


A NEW ISRAELI BOOK ABOUT ALTERNATE HISTORY
The Character of Tarzan is featured in this book

---
---

THE GOLEM: A STORY OF A ISRAELI COMICS
by Eli Eshed and Uri Fink

---

Recently, in 2003, there was published by Modan an imaginary book by Eli Eshed (this writer) and Uri Fink about the history of a comics series in an alternative state of Israel. This is an Israel in which there was a fully developed and incredibly succesful comics industry since the 40s as a result of the success of a particular series hero. The series and the book are called THE GOLEM and the hero is a Hebrew superhero to finish all Hebrew superheroes. The book described the history of the series since the 1940s when it was drawn by young comics artist, Jack Kirby (Jacob Kurtzberg in that reality) who had immigrated in that alternate universe to Palestine like many other Jews up to the year 2003. It described and brought "examples" from many comics stories in which the Golem is collborating with various real well known Israeli personalities such as Izchak Rabin, Moshe Dayan and Ariel Sharon. It also involved imaginary ones such as the Jungle King, Tarzan, in Africa (in finding the ten lost tribes of Israel in Africa and in fighting African leader Idi Amin at 1976 which involved the Entebe raid to free Israeli hostages). Another fictional hero included was a version of his fellow fampus (in our reality) super hero Danidin the invisible boy from the famous book series of that name.

Specifically for the book were created a song and a movie clip with limited animation about the Golem adventures .in the style of the '70s where, according to the alternate reality in the book, it was created.

Though imaginary, the book is based on real events and personalities of Hebrew popular culture peoples such as Pinchas Sade Asher Dickstein and Giora Rotman who are presented as writers and artists of the series in the alternative world. Imitations of their stories and art (as a "Golem artworks") were specifically and succesfully made by Uri Fink. The book has won a great success in Israel and is something of a cult book. It serves as a kind of "last word" about the Israeli comics super hero.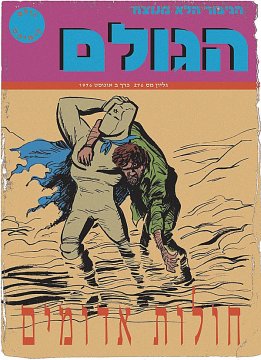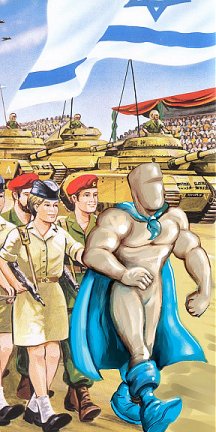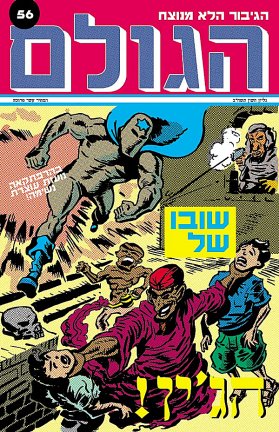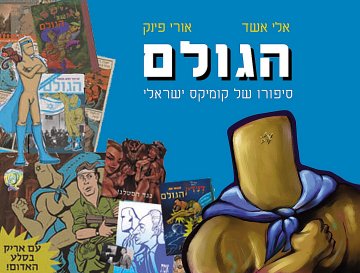 RELATED SITES ON THE WEB
---

Tarzan Novel Translations

---
These are covers of translated Burroughs Tarzan books published by Mizrachi in 1972-1984 and 1997. In all this publisher published the first 12 Tarzan books -- minus No. 11 - Tarzan, Lord of the Jungle, which was not published for some reason. However, this title exists in an older Hebrew translation, as were all the first 10 books and No. 15. Tarzan at the Earth's Core (No. 13) was also translated by well-known writer, Shraga Gafni (who also translated No. 12 in 1997) for Mizrhachi but unfortunately it was never published. The covers are adapted from the US Ballantine editions by Robert Abbett.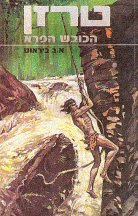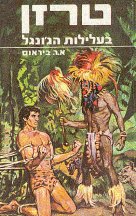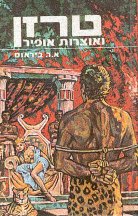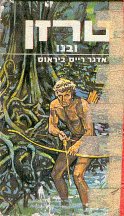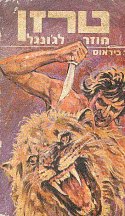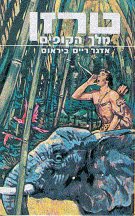 ---

TARZAN COMIC REPRINTS

---

These are covers of the Tarzan comics series published by Mizrhachi. They came out around the time of their translated Tarzan novels in 1972-1979. There were 48 issues, mostly based on the European series and reprinted US strips. The first five -- and the best -- were by Russ Manning. Nos 6-17 were by Lubbers and Nos. 18-48 were by Celardo.





---

ORIGINAL TARZAN COMICS IN HEBREW

---

These are sample pages from an original Hebrew Tarzan comic. It is an adaptation the first Tarzan novel, Tarzan of the Apes and it appeared in the children's magazine AARETZ SHELANU 19 1959 in 13 parts. The writer and artist was Dani Planet.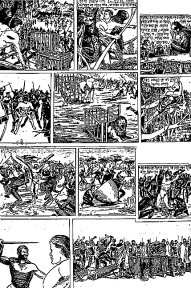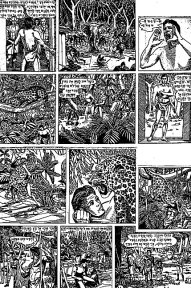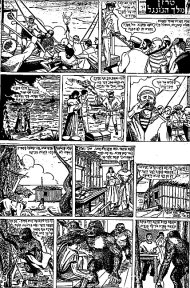 ---
These are pages from the second Plant Tarzan story "TARZAN VEHABOHANA HAGADOL" (TARZAN AND THE BIG BOHANA) . It was published at HARETZ SHELANU in 1960 in 13 parts alongside another non-comics Tarzan story TARZAN VETAALUMAT AATOM (TARZAN AND THE ATOM MYSTERY) by "yariv Amazya."

In contrast to the earlier story which was an adaptation of the first Tarzan book, this was an original story in which Tarzan fights with Arab slavers. Dani Planet had drawn many comics stories at TAARETZ SHELANU in the '50s and the '60s and is best known for a juvenile sf novel about time travel to the past.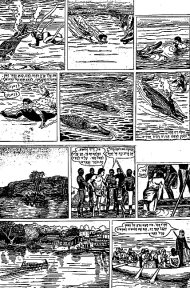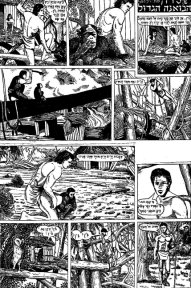 ---

TARZAN IN ADVERTISING

---

An advertisment for pens that appeared in the children's magazine DAVAR LEYLADIM at the '60s.

Editor's Note: Full-sized, readable scans of these sample comic pages are too large to include at this site. Those wishing to see Eli's much larger scans are invited to send me your request and I will forward an attachment via e-mail. Bill Hillman


Volume 0855



WEBJED: BILL HILLMAN
Visit our thousands of other sites at:
BILL and SUE-ON HILLMAN ECLECTIC STUDIO
All ERB Images© and Tarzan® are Copyright ERB, Inc.- All Rights Reserved.
All Original Work © 1996-2011 by Bill Hillman and/or Contributing Authors/Owners
No part of this web site may be reproduced without permission from the respective owners.